No Hard Feelings review - tough-minded yet tender |

reviews, news & interviews
No Hard Feelings review - tough-minded yet tender
No Hard Feelings review - tough-minded yet tender
Story of sexual and social displacement is quietly revelatory
Saturday, 14 November 2020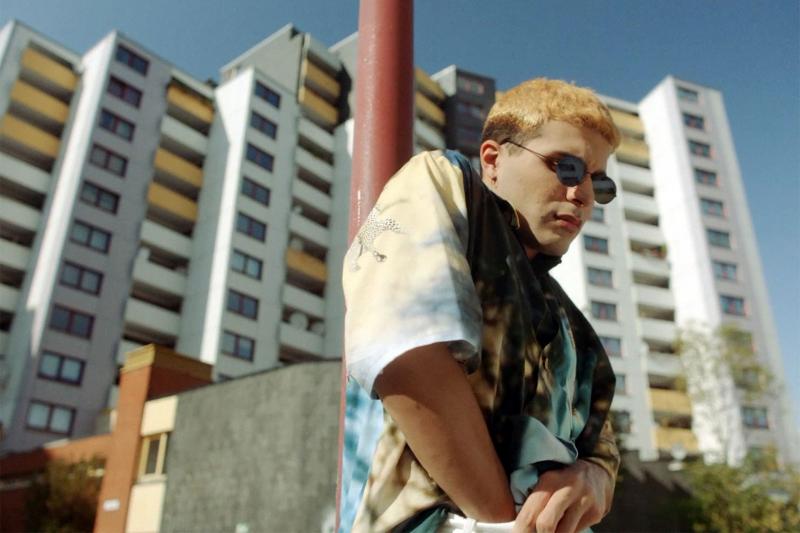 Culture club: Benjamin Radjaipour as Parvis
Love triangles rarely feel more truthful or more tender than in No Hard Feelings, a beautiful film that announces debut director Faraz Shariat as a filmmaker worth reckoning with.
The semi-autobiographical story of a young German-Iranian man's budding relationship with a closeted asylum seeker whose countrymen think that being
gay
is "shit", the movie also comes with one of the loveliest depictions of sibling affection and support to be seen in years: the triangle here embraces sexual desire, to be sure, alongside currents of feeling within families and between friends that help defend against an often-heartless world.
The film's centrepiece, and presumably a version of the director and co-writer himself, is Parvis (Benjamin Radjaipour), the German-born out-and-proud son of Iranians who long ago made a home for themselves in provincial Germany and yet hanker after the country they left behind. (In one telling scene, Parvis clocks that his mum has been browsing at properties in Tehran on her laptop.) Sexually unabashed, Parvis finds an unlikely partner in Amon (Eidin Jalali, gently touching and pictured below), an indrawn Iranian who is being housed alongside his sister Banafshe (an entirely winning Banafshe Hourmazdi) at the very refugee detention centre where Parvis is assigned to community service following a minor offence.
Parvis is initially drawn to the livewire who is Bana, a fiercely intelligent and warmhearted woman who won't submit to a marriage of convenience, even if that very refusal may result in her deportation from Germany. But with Bana keeping an ever-watchful and encouraging eye on the two men in her midst, Parvis allows himself to forego the world of Grindr in favour of something more permanent with Amon, who in turn risks ostracism from a macho, taunting community all too keen to address the absence in Amon's life of a girlfriend. "Have you ever had sex?" one of the men asks him. "Your sister doesn't count."
The screenplay by Shariat and Paulina Lorenz touches glancingly and with unerring grace on many a topic, not least Parvis's parents' acceptance of his sexuality. Of far greater concern to these grocery store owners is whether this apparent freewheeler has any real understanding of what a previous generation had to do in order to make the comparative ease of their son's life possible. Radjaipour, in one of any number of superb performances on view here, makes clear that Parvis's hedonism coexists with a burgeoning awareness of displacement in all its forms and the psychic cost that can entail along the way. A manchild whose maturation is keenly felt, Parvis keeps a teddy bear on his bed but can talk tough when needed. His shy smile notwithstanding, it is Parvis who gives voice to the commonplace expression that gives the film its title. That in turn is followed by a withering putdown directed towards a random hookup who has the effrontery to inform Parvis at the end of their time together that he's "not normally into ethnic guys".
On occasion, Shariat indulges a visual flourish or digression too many when we want to keep on course with characters we've come to care deeply about: particularly deft use is made of video footage of Parvis as an attention-grabbing boy that helps contextualise the adult we see before us. At the same time, the film's plea for a more porous world where people can be who they wish and live where they want is underscored by repeated references to a more hopeful future. No Hard Feelings is too smart to settle for an entirely rosy finish for these three soulmates, but the shining future of its director already seems guaranteed.
The film's plea for a more porous world is underscored by repeated references to a more hopeful future
rating
Explore topics
Share this article