Riders of Justice review - revenge, coincidence and the meaning of life |

reviews, news & interviews
Riders of Justice review - revenge, coincidence and the meaning of life
Riders of Justice review - revenge, coincidence and the meaning of life
Anders Thomas Jensen directs Mads Mikkelsen in brilliantly genre-busting black comedy
Numbers never lie: Otto (Nikolaj Lie Kaas), Markus (Mads Mikkelsen); in back, from left, Emmenthaler (Nicolas Bro) and Lennart (Lars Brygmann)
All events are products of a series of preceding events. Or is life just a chain of coincidences? And if so, what's the point in anything?
Danish
director Anders Thomas Jensen's brilliantly inventive, genre-busting black
comedy
starts with a bicycle theft, which leads to a train crash, which leads to a wildly over-the-top
bloodbath
and revenge scenario.
This is led by the PTSD-hardened military man Markus (Mads Mikkelsen, a Jensen stalwart), recalled from a tour of duty in the desert because his wife, Emma, was killed in the train crash. His teenage daughter, Mathilde (Andrea Heick Gadeberg), survived it, as did Otto (Nikolaj Lie Kaas) the tech statistician who happened to give up his seat to Emma seconds before the crash.
There are comparisons to be made with Tarantino, the Coen Brothers or Martin McDonagh, but the perfectly paced Riders of Justice has its own unique take on the world, and manages to be both sad and deeply funny. Otto, for example, who is haunted by demons from his past, is an unlikely hero, as is his even more broken colleague Lennart (Lars Brygmann), who we first meet at their work presentation. This features an algorithm that, after endless hours of programming, comes up with the not very startling news that someone on a lower income drives a Kia while a wealthier person drives a Mercedes. Not surprisingly, they're fired.
And that's why Otto, fatefully or coincidentally, depending on how you look at it, is on an earlier train than usual. Soon he is convinced that the crash was no accident because an ex-member of the motorcycle gang Riders of Justice was on the train with his lawyer, days before he was due to testify against the gang in a trial. And a suspicious-looking man got off at the previous station after throwing an expensive Joe & the Juice sandwich away – who would do that unless they'd planned the attack?
The police aren't interested in his theories, even though "the numbers never lie," as Otto tells them, after reeling off the mind-boggling statistical odds. So he, Lennart and their facial-recognition-expert friend Emmenthaler, another deeply maladjusted person (the wonderful Nicolas Bro) hack various files, come up with a possible match for the suspicious man and approach the initially unimpressed Markus, all of them fizzing with neuroses. Emmenthaler's revolve around his weight. On one level, this is a revenge of the nerds.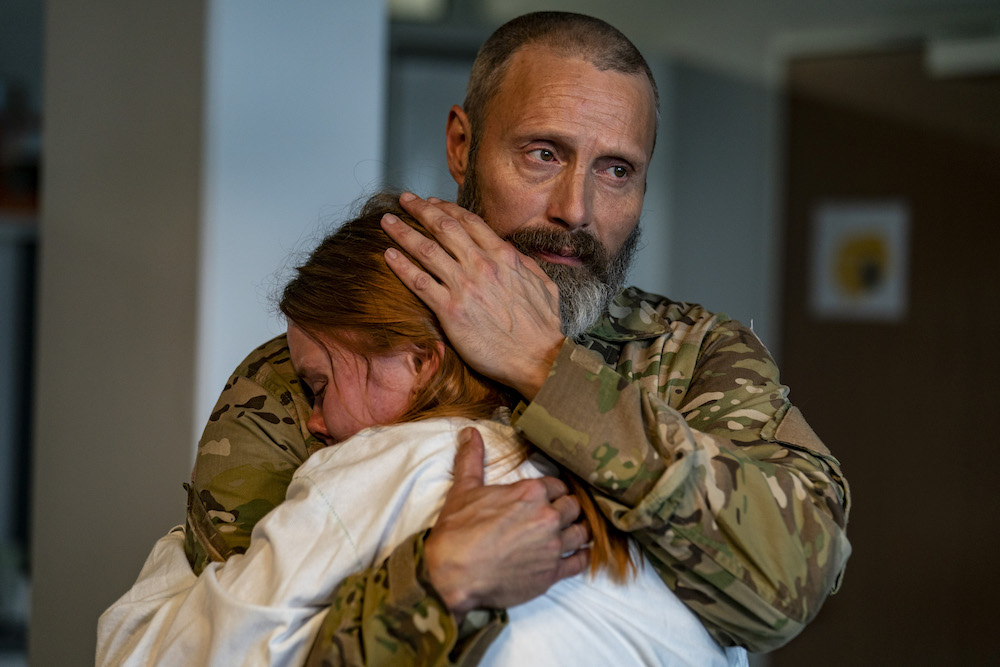 Markus has been dealing with Emma's death by drinking beer and giving his daughter's boyfriend, Sirius (Albert Rudbeck Lindhardt; Another Round) a black eye. "I didn't mean to hit him so hard. Who is he? Is he your boyfriend?" he asks her. "I don't know, now you've hit him," Mathilde (pictured above with Markus) sobs as she locks herself in her bedroom.
He's not the most comforting of fathers, being of the "No good will come from talking about it" persuasion. Mathilde is trying to make sense of her mother's death, wondering if God had a purpose. After all, her grandpa believed in God. "Yes, but he wasn't all that smart," Markus reminds her. There's no point in driving herself crazy with "false hopes about souls and little angels in the clouds". Her mother is nothing now, she's gone.
Mathilde is desperate to take up the hospital's offer of crisis psychologists, but Markus is having none of it. "Violence is the only strategy you know," she tells him in despair. So it's with enormous relief that she encounters Lennart, Emmenthaler and Otto as they emerge from the large barn beside the house. She assumes that her father has had a change of heart. Lennart is only too happy take on a psychologist's mantle and "treat" Mathilde. It's all right, the others reassure Markus – Lennart's had over 25 shrinks in 40 years and "is in personal contact with every diagnosis." His unorthodox methods, such as getting Mathilde to drink Coca Cola while standing on her head, are given credence by the teenage Sirius, whose mother is a psychologist. "Classic cognitive therapy. Lennart does not use gradual exposure but flooding," he asserts.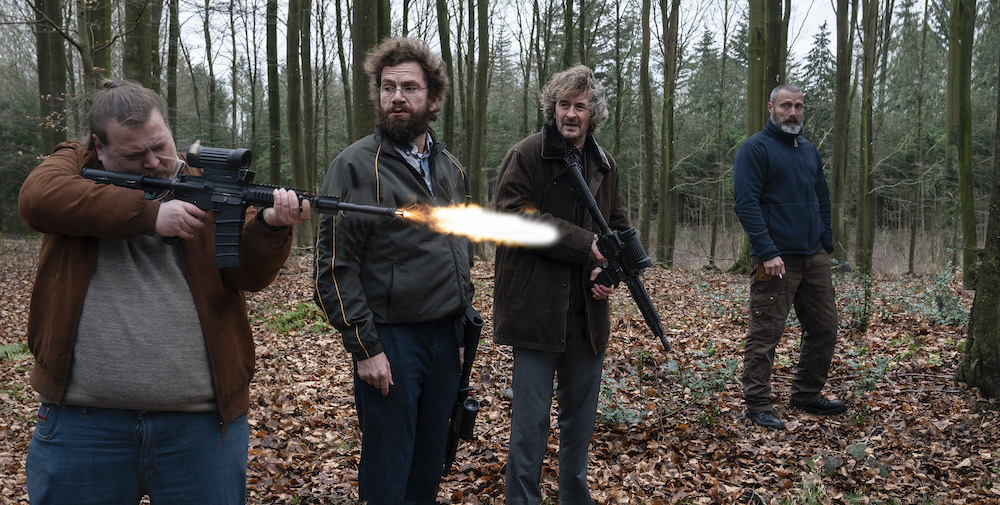 For crisis psychologists, they are remarkably fractious. Emmenthaler curses an awful lot. "Something is way off," says Mathilde, gazing out of the window at the four men as they set out on a mission to gun down gang members (in a typically original twist, the ungainly Emmenthaler, pictured above, left) turns out to be a dab hand at assembling and shooting a rifle). It doesn't matter, it works, says Sirius. "Look, your dad's interacting."
Soon the bizarre household is joined by Bodashka (Gustav Lindh; Queen of Hearts), the motorcycle gang's Ukrainian trafficked sex slave, rescued from death at the last moment. He fits right in as an au pair, grateful that no one's raping him. Lennart, who knows too much about being raped, empathises. This may sound as if Jensen has jumped the shark, but no. The quirky mix of philosophy, fairy tale, violence and psychological truth means that Riders of Justice delivers on every level. Though Joe & the Juice doesn't come out of it well.