Rye Lane review - finding love south of the river |

reviews, news & interviews
Rye Lane review - finding love south of the river
Rye Lane review - finding love south of the river
Riffing on the well-worn tropes of romantic comedy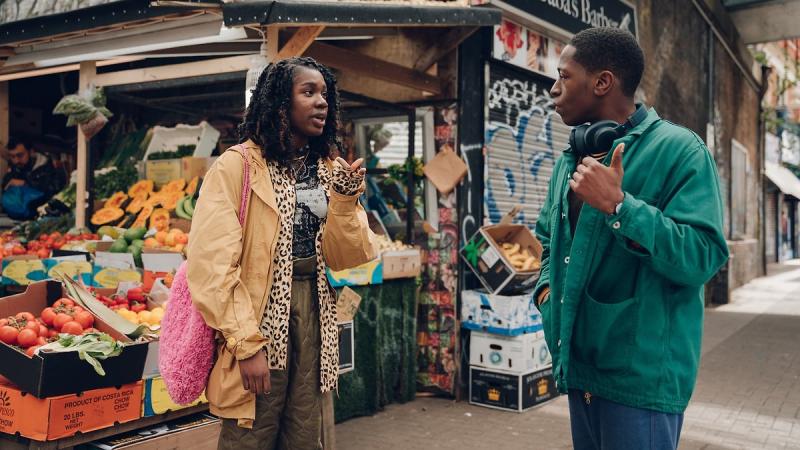 In the market for love: Vivian Oparah and David Jonsson
There's a huge amount to admire in Rye Lane, a new romcom set in south London. It's the first feature directed by Raine Allen-Miller, who has conjured up a love letter to the neighbourhoods she grew up in.
The street markets and much-loved Peckhamplex cinema, Brockwell Park with its walled garden and hilltop views, Brixton's arcades with their mix of food and fabrics from all over the world, are all captured here in eye-popping colour.
It's refreshing to see this part of the city in all its multi-cultural glory and to escape the well-worn tourist landmarks that usually signify London on screen. So it's a bit of a shame that the narrative formula of Rye Lane is not quite as fresh as its locations.
The film starts with a meet-cute. Dom (David Jonsson) is crying in the unisex toilets at an art gallery opening having been reminded that his long-term girlfriend dumped him for his best friend. Yas (Vivian Oparah) overhears Dom's sobs and takes pity on him. An aspiring costume designer who has just come out of a relationship, she sets about shaking off Dom's blues.

Yas is something of a Manic Pixie Dream Girl, that character who only exists in movies – a free-spirited maverick prepared to pull off outrageous stunts to lighten up someone. Katharine Hepburn in Bringing up Baby, Liza Minnelli's Sally Bowles in Cabaret, and Madonna in Desperately Seeking Susan are the type.
Oparah (above left) brings a lot of energy to the role of Yas and is very watchable on screen, while Jonsson (above right) works hard at the role of the Emotionally Reticent Male who needs coaxing out of his shell.
Uptight accountant Dom is a little reminiscent of Colin Firth's characters in Bridget Jones' Diary and Love, Actually and it's worth looking out for a generous brief appearance by the real thing. But it's hard to imagine Yas or Dom ever being in love with their exes, who are both so pretentious and selfish that they barely rise above the level of caricatures in their scenes.
The script (co-written by Nathan Bryon, who created the TV comedy Bloods) is a barrage of cute/smart back-and-forth quips between the couple. It's often very funny, but at times the relentless striving for laughs feels strained, as does the candy-colored art direction and fish-eye lens that Raine Allen-Miller deploys.
Her previous directing experience, crafting zippy short promos for Nike and Virgin, means that she absolutely knows how to make images sing on screen, and they work well alongside a well-chosen sound track. But it would be good if Rye Lane sometimes changed gear and slowed down just a touch.
Carping aside, this is still a very enjoyable 88 minutes in the cinema and it's a joy to see so much Black British talent on both sides of the camera.