Saint Frances review - relatable and honest |

reviews, news & interviews
Saint Frances review - relatable and honest
Saint Frances review - relatable and honest
Abortion, periods, post-natal depression: taboo busting with a light touch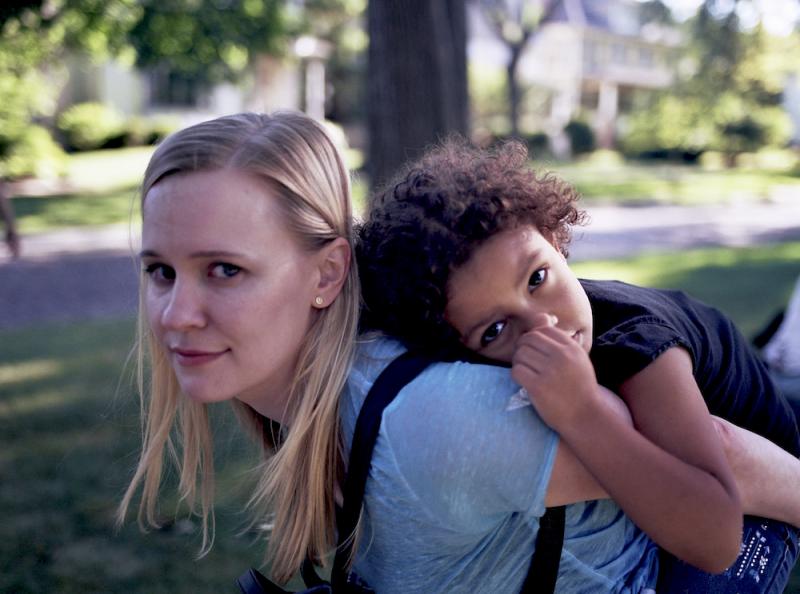 The babysitter's club: Bridget (Kelly O'Sullivan) and Frances (Ramona Edith Williams)
"I'm for sure getting rid of it," 34-year-old Bridget (cool, understated Kelly O'Sullivan, who also wrote the script; she was creatively inspired by Greta Gerwig's Lady Bird) tells her younger, casual boyfriend Jace (an endearing Max Lipchitz) when she finds out she's pregnant.
Alex Thompson's realistic debut feature, full of fine performances from relatively unknown actors and acclaimed at SXSW in 2019, busts taboos with a light touch. There will be blood: menstrual blood, lots of it from the start, more consistently featured than in I May Destroy You. After Jace and Bridget have sex – period sex, though unintentionally – for the first time, they end up with blood on both their faces, and the theme continues, with Bridget's abortion leaving her haemorrhaging in inconvenient places, including her employers' white chair.
An under-achieving college drop-out and ex-waitress, she's a temporary nanny to opinionated, bossy Frances (an enthrallingly natural Ramona Edith Williams), the six-year-old daughter of two moms, Maya (a brilliant Charin Alvarez, pictured below) and Annie (Lily Mojekwu), who are in an interracial marriage and live in a leafy Chicago suburb with a "Black Lives Matter" sign on their lawn.
Although Bridget and Franny get off to a shaky, mutually sullen start – Bridget isn't keen on kids – their relationship blossoms. And talk of periods is never far away. Franny's already thinking about what she'll use. "A clear cup is more better for the environment," she proclaims. "I have to find whatever is comfortable for my body because everyone is different."
The family set-up looks idyllic but tensions set in after Maya gives birth to Wally, their second baby, which is when they call on Bridget for help (she flunked a first, lacklustre interview before the baby was born). Annie, a lawyer, is always at work and feels guilty about it, as well as insecure about Maya's love. Post-natally depressed Maya feels that she's doing everything wrong (a staunch Catholic, her prayers to the Virgin Mary don't help. And she pees whenever she laughs or coughs).
Bridget – who also feels a failure: no career, no permanent partner, not ready for kids – describes Maya to Jace: before Wally, she was a happy, vibrant woman, now "she's a bare-boobed, unshowered, perpetually crying milk machine". Not a good advertisement. Meanwhile at home, Jace is helping Bridget get through the medical abortion procedure with lots of deep uterine massage, reading Harry Potter aloud and making quips with her about the size of the blood clots she's passing. It's remarkably straightforwardly – and originally – handled.
One of the few wrong notes in the film is Bridget's unlikely attraction to Franny's smug guitar teacher (Jim True-Frost; Prez in The Wire). "The song just arrives," he tells her before they sleep together (more blood leakage, of course, which bothers him, unlike the laid-back Jace). "It feels weird taking credit for it." And there's a jarring, sickly scene in a church after Wally's christening, when Frances pretends to be a priest hearing Bridget's confession.
But although sentimentality does creep in, Bridget's life feels convincingly un-Hollywood. It's 26-year-old millennial Jace (Bridget says she's on the cusp of being a millennial and therefore less prone to self-indulgence) who has unprocessed feelings about loss that he records in his journal. "I don't feel loss," says Bridget. "Don't put that on me...It was a pocket of cells and I'm pissed people want me to think it was a kid." By the end of this refreshingly honest film, Bridget's confidence has grown, mainly due to her bond with Frances, Maya and Annie. Frances's parting shot as she starts school and says goodbye is a plan to call Bridget as soon as she gets her period, "so we can talk about it". And talking about awkward things without shame is what this film endorses - and does well.
Saint Frances is in cinemas from 24 July