San Sebastian Film Festival: Latin films thrive |

reviews, news & interviews
San Sebastian Film Festival: Latin films thrive
San Sebastian Film Festival: Latin films thrive
Child soldiers, favela crime, social injustice, right-wing coups, slackers and sharks
Monday, 30 September 2019
Dreaming of another life: Cassia Nascimento in Pacified
Ever since Latin American cinema re-emerged in the 1990s from years in the shadow of dictatorships, films have been distinguished by a number of trends, including dramas about the dictatorship years and the social and psychological consequences; social and family dramas; the experience of young people; the quirks and characters of everyday life.
All of these themes were represented – still fresh, relevant and exciting – in San Sebastian, that preeminent annual
shop window
for the region's films.
Among the very best was the drama Pacified. Directed by Paxton Winters, this follows in the fine tradition of favela films in Brazil that goes back to the Thirties and includes some landmark films, not least Fernando Meirelles's City of God. Whereas that film charted the rise of the drug gangs that consumed Rio's favelas in the 1970s, this is a contemporary tale that takes its title from the "pacification" police who aimed to clean up those neighbourhoods in the lead-up to Rio's 2013 Summer Olympics. The film actually opens with the Games' closing ceremony (the fireworks viewed from a favela hilltop) but with the gangs still very much in business.
It centres on characters who really do wish a life without violence, chief amongst them 13-year-old Tati (hugely engaging newcomer Cassia Nascimento), a smart, good-natured, Afro-haired girl whose mother is an addict but does her own best to stay out of trouble, and Jaca (Bukassa Kabengele, pictured below), the favela's former overlord, who's released from a long prison term rehabilitated and wanting nothing more than to open a pizzeria – Italian cooking being something he picked up in prison and "the only thing I'm good at that doesn't hurt people."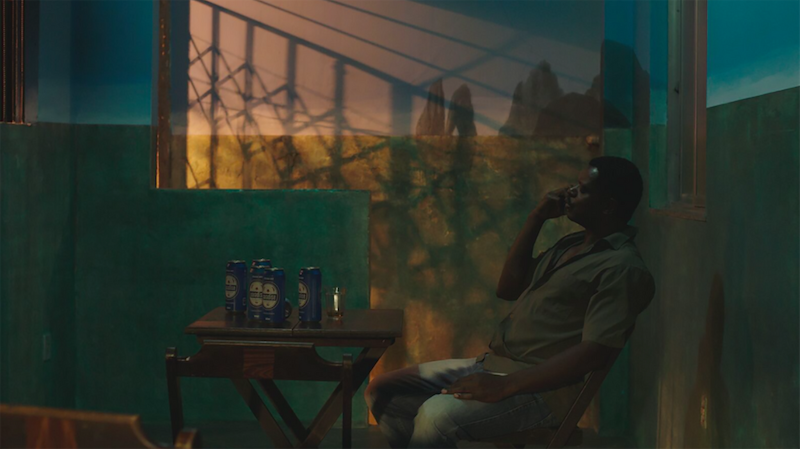 Jaca faces the usual dramatic predicament for a man in his situation, namely the pressure to return to a life of crime, along with a new one, the fact that Tati may be his daughter.
It's a quietly powerful drama, unusually devoid of actual violence given the genre, instead revealing the myriad psychological effects of drug and gang culture on individuals (addiction, suicidal depression, constant fear) and founded on the touching bond that develops between Jaca and Tati. It's notable that the rueful, but still formidable Jaca has come to learn more about life behind bars than he ever did while ruling the roost.
Winters directs with the intimate feel for the milieu that comes from the director having lived in favelas himself. And cinematographer Laura Merians colourfully captures the teeming vibrance of this piecemeal world; one highlight is an extraordinary aerial shot that follows Jaca as he carries a fridge on his back up the favela steps that go on and on, seemingly forever. Pacified walked away with San Sebastian's top prize, the Golden Shell, as well as best actor for Kabengele and cinematographer for Merians.
Monos has already been lauded as having heady intimations of both Apocalypse Now and Lord of the Flies, in its tale of child soldiers in an unspecified Latin American civil war. It's directed by the Colombian-Ecuadorian Alejandro Landes. Those aforementioned allusions notwithstanding, it's difficult to think of another film quite like it.
It opens on a mountain top that iterally touches the clouds, where the Manos (monkeys) seem completely on top of their sole task, to guard an American hostage referred to as the Doctura (Julianne Nicholson). With comic monikers such as Rambo, Smurf, Lady and Big Foot, they appear to be a happy collective as they train, party (with a rave-like intensity) and pair off romantically. On occasion they're visited by Messenger (Wilson Salazar, pictured above), a dwarfish paramilitary drill sergeant, who takes them through their paces.
The guerrilla idyll is disturbed by an accident (involving a cow, of all things) which opens up rivalries and a growing schism in the group. As they're forced to relocate from the mountain into the jungle, the Monos turn on eachother, while the increasingly desperate Doctura spies a chance to escape.
Eliciting compelling, persuasive performances from both Nicholson (I, Tonya, Masters of Sex) and her young co-stars, Landes creates a grippingly immersive drama, its atmospheric strangeness balanced by leavening shards of violence and the terrible reminder at every turn that these are just youngsters, ill-equipped for either war or self-government.

Tremors is the second film this year (the other is La Llorona) from a director, Jayro Bustamante, who by all accounts is putting Guatemalan cinema on the map. This one concerns a huge social problem in Latin America, homophobia. When middle-class family man Pablo (Juan Pablo Olyslager, pictured above left) finally decides to accept his homosexuality and lead a new life, he's completely unprepared for the backlash – from his family, his boss and his evangelical church. Suddenly unemployable, ostracised, his boyfriend attacked, Pablo has a bitter choice: if he ever wants to see his children again, he must submit himself to a 'treatment programme' overseen by the church.
Bustamante offers a vibrant portrait of Guatemala City's street life, its bars, fast food joints and gay clubs, alongside a colder depiction of the stuffy, repressed and repressive domains of the monied elite and their evangelical partners in intolerance. The film's title alludes to both the earthquakes that shake up the city, and the threat posed by Pablo and his friends on this deeply conservative society.
The Mexican drama Workforce follows the fall-out when a young labourer dies while working on a luxury apartment. The owner's lawyers erroneously claim that the man was drunk on the job and refuse compensation. His brother, also a builder on the same site, at first attempts to pursue the claim, before his obsession with the owner and the home itself takes him into uncharted waters. Director David Zonana offers a highly original provocation, which looks at the injustice of the class divide with a cool, satirical eye. His discernably Latin style involves naturalistic performances from a mix of professional and non-professional actors and long, static takes in which every inch of the frame has something going on – and into which comes one sudden jolting surprise.
In 2004 the Chilean Andrés Wood kick-started his country's cinema renaissance with Machuca, a heart-breaking film that viewed the Pinochet coup though the eyes of three children. With Spider the director revisits the same period but through the uglier prism of the right-wing extremists who set out to undermine Salvador Allende's government through violent means, in order to pave the way for takeover. Most chillingly, the film catches up with these characters today – two well-to-do pillars of society, the other still a rabid, racist terrorist.
On a lighter note, two films reflected the talent for gentle, observational comedy of many of the region's young directors.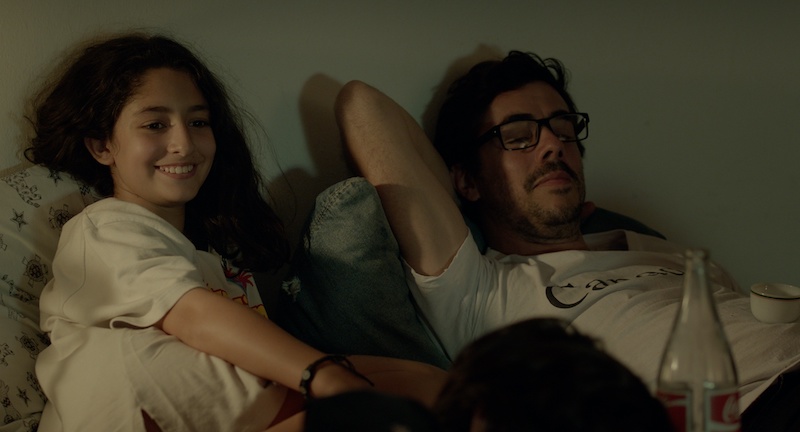 The Good Intentions, by Argentine Ana García Blaya, follows the fortunes of three children in Buenos Aires, who spend equal time with each of their separated parents – Gustavo, a dope-smoking, music and football-loving slacker (he runs a record shop that doesn't actually sell records) and more responsible mum Cecilia, now with a new partner who's a bit of a stiff. The system works well, especially for Gustavo, who gets to be the 'fun' parent without any of the care. But then Cecilia decides to move with the kids to Uruguay. The oldest, Ana, wants to stay with dad. Gustavo agrees, though the look of bewilderment on his face is priceless.
From Uruguayan director Lucía Garibaldi, The Sharks isn't a monster movie – though some believe they have spotted a shark off the coast of a sleepy beach resort – but an enigmatic snapshot of a young girl investigating her sexuality. Teenage Rosina is a loner, with something of a mean streak (the film opens brilliantly with her running away from her father – and the camera – after injuring her big sis in the eye). She spends her free time helping dad maintain some summer houses, where she meets another of his workers, an offhand older boy who doesn't quite share her attraction. And so, shark-like you might say, Rosina starts to stalk the object of her affection. Very little happens, plot-wise, Garibaldi instead entrusting her lens to the singular, photogenic self-possession of her star, Romina Bentancur, who doesn't let her down. The final cunning manifestation of a teenage woman scorned is simply delicious.
Monos, Workforce and The Sharks are playing during the London Film Festival 2-13 October

Winters directs with the intimate feel for the milieu that comes from the director having lived in favelas himself
rating
Explore topics
Share this article