See How They Run review - a whodunit pastiche set in Fifties London |

reviews, news & interviews
See How They Run review - a whodunit pastiche set in Fifties London
See How They Run review - a whodunit pastiche set in Fifties London
Tom George's glossy film debut starring Saoirse Ronan is ingenious but lacks bite
Friday, 09 September 2022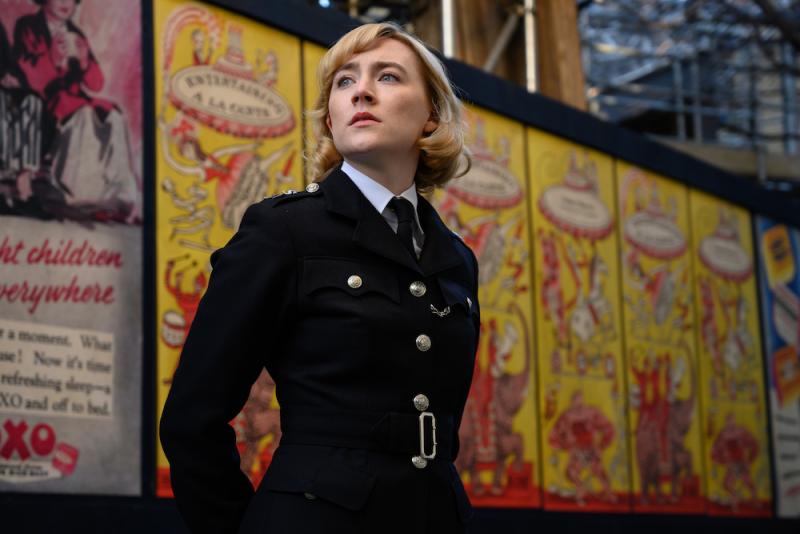 Saoirse Ronan as over-enthusiastic Constable Stalker
A starry cast headed by Saoirse Ronan and Sam Rockwell doesn't quite manage to bring this lavish, light-hearted period pastiche to life, though it looks good – nice cars, lovely costumes, a quasi-Wes Anderson vibe – and there are mild chuckles to be had.
Filmed during the pandemic in an empty theatre-land, it's Bafta-award-winning director Tom George's film debut and fans of BBC Three's brilliant mockumentary, This Country, which he directed, may be startled at his new trajectory. This Country's creator and star, Charlie Cooper, is also on board as a melancholy theatre usher, as is Paul Chahidi (the vicar in This Country) as Agatha Christie's disobliging butler. But this whodunit, written by Mark Chappell, is a much more conventionally merry – and rather muddle-headed – caper.
The Mousetrap is the film's raison d'être. It's 1953 and the play is celebrating its 100th performance with an after-show party, featuring a marvellous cake and, of course, the cast, including Ruth Wilson as a glamorous impresario, Sian Clifford as producer John Woolf's mystically-inclined, paranoid wife and Pippa Bennett-Warner as his mistress. Adrien Brody, who looks like he's having fun doing slapstick, is Leo Kopernick, a Hollywood director in charge of creating a film of the play for Woolf (Reece Shearsmith), who'll stop at nothing to get it made.
Real facts underpin the story. Dickie "Come in, darling" Attenborough (Harris Dickinson) and his wife Sheila Sim (Pearl Chanda) were in The Mousetrap's original cast (Woolf was its producer; he also produced The African Queen) and the film's plot hinges on an interesting clause in the play's contract in which Christie stipulated that it can't be made into a film until six months after it closes (of course it never has).
Kopernick is a brash Yank, a drunken womaniser and a cad who no one likes. He's soon in a punch-up involving an enjoyably camp David Oyelowo as pretentious Mervyn Cocker-Norris, the potential film's screenwriter (both pictured above). Kopernick thinks his effort is dull as ditchwater and story-boards a new one, which serves as a meta-style mirror to See How They Run's limp ending, in which Shirley Henderson makes a brief appearance as Agatha.
After falling into the cake – such a shame to ruin it - and the seafood buffet at the party, Kopernick is murdered while looking for a change of clothes in the costume department. However this doesn't stop him providing a narrative voiceover during flashbacks. George uses a Sixties-style split-screen technique to show various viewpoints, to no great effect.
Enter Saoirse Ronan as naïve police constable Stalker and an underwhelming Sam Rockwell as Inspector Stoppard (get it?), who looks like he's going through the motions as her slovenly, alcoholic boss (pictured below). They've been assigned to the case because everyone else is busy with 10 Rillington Place.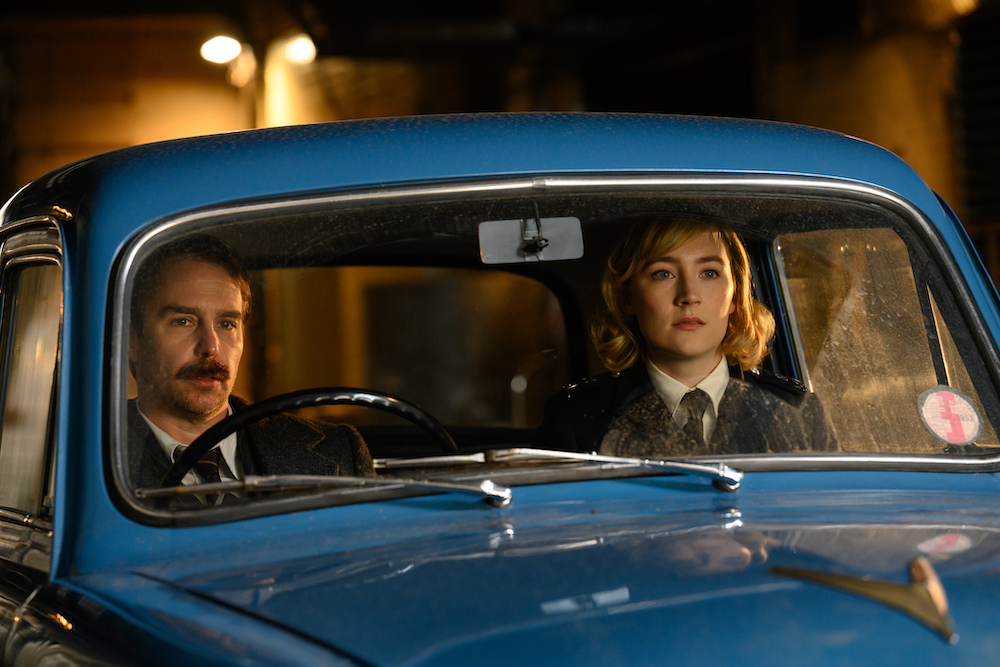 She never stops writing everything down in her notebook, including his instruction not to jump to conclusions. Which doesn't stop her doing exactly that. Bad jokes abound. Kopernick was hit by a ski and "it was downhill from there," she tells her boss. "What part of France are you from?" she asks the manager of the Savoy, where Kopernick caused havoc with his endless fights with Mervyn. "Belgium," is the reply. "He's a man of his word, he went to Eton," is another zinger. Not exactly belly-laughs, but good family fun.
"Keep your eyes peeled," Stoppard tells her as he slopes off to the Coach and Horses, pretending he's going to the dentist, and our eyes water as Stalker stares ahead, unblinking, from her seat in the car (a stylishly curved, shiny Morris Minor). She's full of mad verve, a cinephile, endearingly thrilled at being close to stars like Dickie and Woolf (she loves The African Queen). We only get a unconvincing glimpse of her home life – she's a widowed mother of two – making both her and Stoppard, who lives in a ridiculously squalid hovel, seem one-dimensional and flimsy.
Although by the drawn-out ending you don't care much who dun it, the sumptuous surroundings of Agatha's country house, where everyone is gathered in typical Christie style, are a pleasure, as are the theatre interiors and costumes. An ingenious premise and a bit of fun, but not quite sharp enough.