Strange Way of Life review - Pedro Almodóvar's queer Western |

reviews, news & interviews
Strange Way of Life review - Pedro Almodóvar's queer Western
Strange Way of Life review - Pedro Almodóvar's queer Western
A sheriff and his old lover spark again in a thin frontier drama
Tuesday, 26 September 2023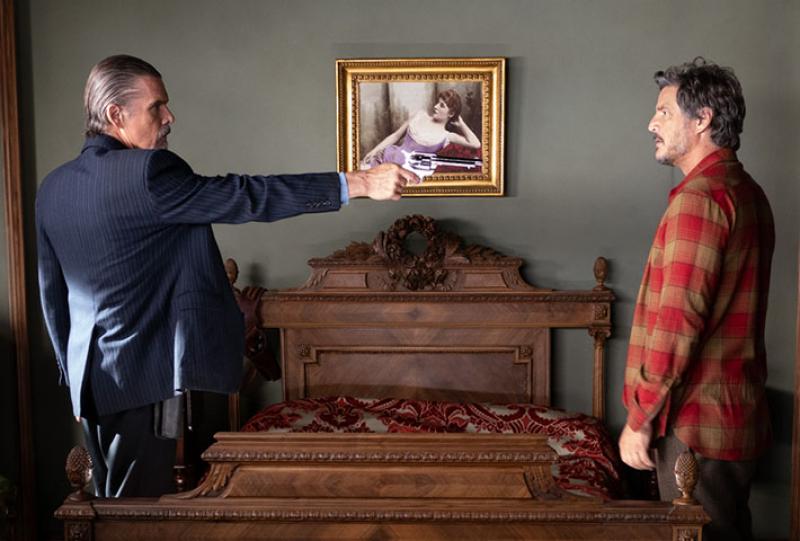 Bedroom probems: Ethan Hawke and Pedro Pascal in 'Strange Way of Life'
Less is more, except when it isn't. Among the latest batch of overlong Oscar-tipped movies by celebrated auteurs such as Christopher Nolan (Oppenheimer with a running time of 181 minutes) and Martin Scorsese (Killers of the Flower Moon, 207 mins), it's a relief to find the iconic Spanish filmmaker Pedro Almodóvar bucking the trend with a 31-minute short that doesn't test the audience's mental and physical stamina.
His second English-language movie is visually more ambitious than its predecessor, The Human Voice (2020), a short monologue adapted from Jean Cocteau and starring Tilda Swinton. Strange Way to Live is a queer Western made with the director's signature style and colourful palette, but also with a surprising reverence for the beloved tropes of classic American horse operas. So we get the lone cowboy riding into a town aptly named Bitter Creek, we get a grizzled sheriff, we even get a fistfight in the dust, and a gunfight in the corral. (In fact the movie was shot on the very same sets in the Almería desert of southern Spain where Sergio Leone shot his trilogy of Spaghetti Westerns starring Clint Eastwood.)
Ironically, what we don't get in Strange Way of Life is quite enough strangeness or a feeling that the movie has turned a genre inside out in Almodóvar's unique way. Co-produced by his own El Deseo company and Saint Laurent, whose head designer Anthony Vaccarello also served as the film's costume designer, everything looks so lovely – the velvet bedspreads, the cowboy's lime-green jacket, the wallpaper – and is about as subversive as a luxury fashion brand commercial.
The plot is more of a pastiche than a genre-bender. The stranger riding into town is Silva (Pedro Pascal, star of The Mandalorian and The Last of Us) who's come to Bitter Creek in search of its gravel-voiced lawman Jake (Ethan Hawke), with whom he had a torrid love affair a quarter of a century ago. "I came here because I wanted to see you again. I've wanted to see you for a long time," says Silva. "Bullshit!" replies the ex-lover, who suspects that Silva's only shown up to protect his outlaw son (George Steane), a prime suspect in the murder of Jake's sister-in-law.
The sex spark between the two men reignites over dinner and quite a few drinks. "You look impressive dressed as a sheriff," says Silva to Jake in his sleek designer outfit, to which Jake replies, "I'm not just dressed as a sheriff. I am a sheriff!" Pretty soon, they're thrashing away under Jake's sumptuous bedspread. The next morning, still in a post-coital glow, Silva asks Jake, "Can I borrow a pair of your underpants?", which isn't a line I can remember hearing in any John Ford movie. Nevertheless it gives Almodóvar his cue for a lovingly protracted shot of the Sheriff''s pristine underwear drawer.
The obvious precursor to Strange Way of Life is Brokeback Mountain (2005), and in fact Almodóvar turned down the opportunity to film that Annie Proulx story about cowboys finding solace in each other's arms. At one point Silva even quotes the Heath Ledger character in Ang Lee's film: "Years ago you asked me what two men could do living together on a ranch." But there are other more recent films, such as The Rider (2017), First Cow (2019), and The Power of the Dog (2021), significantly all made by female directors (Chloé Zhao, Kelly Reichardt and Jane Campion respectively), in which latent homosexuality plays a part.
Yet the history of the queer Western can also be traced back to the innuendo of Howard Hawks's Red River, to Sam Peckinpah's Ride the High Country or even his Pat Garrett and Billy the Kid. Cowboys often live in homosocial groups so it doesn't take much for the sex dynamics to be teased out. The Western is a male genre, full of anxieties about masculinity, as Almodóvar himself points out in a recorded Q&A screened at the end of Strange Way of Life.
In terms of length, the new film resembles The Human Voice, but its plot has more in common with Almodóvar's 2019 feature, Pain and Glory, in which the spark between two former male lovers is rekindled after decades. Perhaps a director celebrated for his female characters in films such as All About My Mother, Volver, and Women on the Verge of a Nervous Breakdown is now shifting his attention to the opposite sex.
Strange Way of Life is a minor work by a master filmmaker because unlike its lush orchestral score by Alberto Iglesias, the dramatic content of the movie feels a bit thin. On the other hand, Almodóvar serves up half an hour of fetishistic fun and at least provides the beginnings of an answer to Heath Ledger's question.