The Sweeney |

reviews, news & interviews
The Sweeney
The Sweeney
Legendary Seventies cop show reduced to rubble by director Nick Love
Monday, 10 September 2012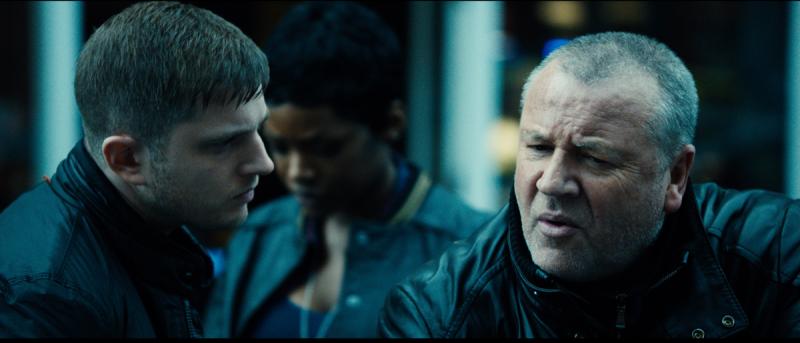 Ben Drew (left) and Ray Winstone are Carter and Regan, but not as we know them
If you saw previous Nick Love efforts like The Football Factory or Outlaw, you'll know he likes nothing better than a lairy swagger down Geezer Street while slaughtering innocent bystanders. He's at it again here, with this glaringly unnecessary remake of Seventies cop show The Sweeney, a TV institution that very nearly justifies the use of the crassly abused-to-death term "iconic".
Love rightly decided that merely mimicking the original was neither possible nor desirable. Love wrongly decided to cast Ray Winstone as DI Jack Regan and Ben "Plan B" Drew as his stalwart sidekick, George Carter, the twin frontmen of the Met's rough, tough Flying Squad (Sweeney Todd = Flying Squad, right?)
The production notes waffle on about the "great relationship" this pair possess on screen, but it's the kind of chemistry you get from a combination of your head and a brick wall. Winstone merely reprises the familiar gravel-voiced thug routine he's been lumbered with by too many slow-witted casting directors, while Drew, who looks more like his grandson than his partner in crime-fighting, talks in a retarded sink-estate mumble and shuffles about furtively as if he's trying to sell you some crack (Winstone with Damian Lewis, pictured above).
In its heyday 30-odd years ago, The Sweeney portrayed the Flying Squad as a law unto itself, doing the dirty jobs nobody else would tackle and regularly being hauled before purple-faced senior officers to account for their excessive use of force and contempt for rules. Now, with the police force relegated to the role of social outreach workers mummified by bureaucracy, Love's version takes this to farcical extremes.
Where John Thaw's Regan was impatient and abrasive, Winstone plays him as a rampaging bully, always about to start a fight with anybody from senior police officers to little old ladies. Someone only has to look at Regan the wrong way to provoke threats, growls, snarls and a torrent of abuse. A criminally misused Damian Lewis plays Haskins, Regan's immediate superior, in a role which consists of limply issuing orders which Regan ignores. Haskins can only respond by gazing at him sorrowfully. Steven Mackintosh fares better as the beady-eyed internal affairs guy out to shut the Sweeney down, and he gets the truest line in the film, to Regan: "You're a dinosaur. You're extinct."
When Ian Kennedy Martin created the TV Sweeney, he placed his protagonists within a credible framework where rules (and ribs and noses) got broken but results could just about be said to justify the means. There was a sense that police work was morally ambiguous because there was no way it couldn't be (Ben Drew runs out of ammo, pictured above).
All that was a bit too complicated for Love, who has dreamed up a fantasy Sweeney who seem to be based in a glass-and-neon skyscraper in Docklands, and drive Ford Focuses which have no trouble out-running Jaguar XK villainmobiles. John Thaw and Dennis Waterman used to go down the pub after a hard day's gangbusting, but Winstone's bunch take over a swanky Corney & Barrow wine bar and behave like braying bond traders on bonus day.
Especially counter-intuitive is Regan's relationship with fellow officer Nancy, played by Hayley Atwell (pictured right). If the notion of the picturesque Ms Atwell as a kicking, punching, shooting, boozing Flying Squad officer is enough to make you clutch the furniture for support, it's exceeded by the idea of her being wildly turned on by a wheezy old fat bloke who can barely get up a flight of stairs. This does at least generate one amusing scene where our heroes go out for a meal and slobby Regan has to eat lettuce while everybody else is gorging on deep fried brie and chips.
Otherwise, apart from a prolonged and dramatic shoot-out in Trafalgar Square, this is a movie with no soul and no point. If you ever liked The Sweeney, you'll hate this. If you didn't, you won't bother going anyway.
Watch the trailer for The Sweeney