theartsdesk Olympics: Walk, Don't Run |

reviews, news & interviews
theartsdesk Olympics: Walk, Don't Run
theartsdesk Olympics: Walk, Don't Run
Olympic racewalking forms the backdrop to Cary Grant's last film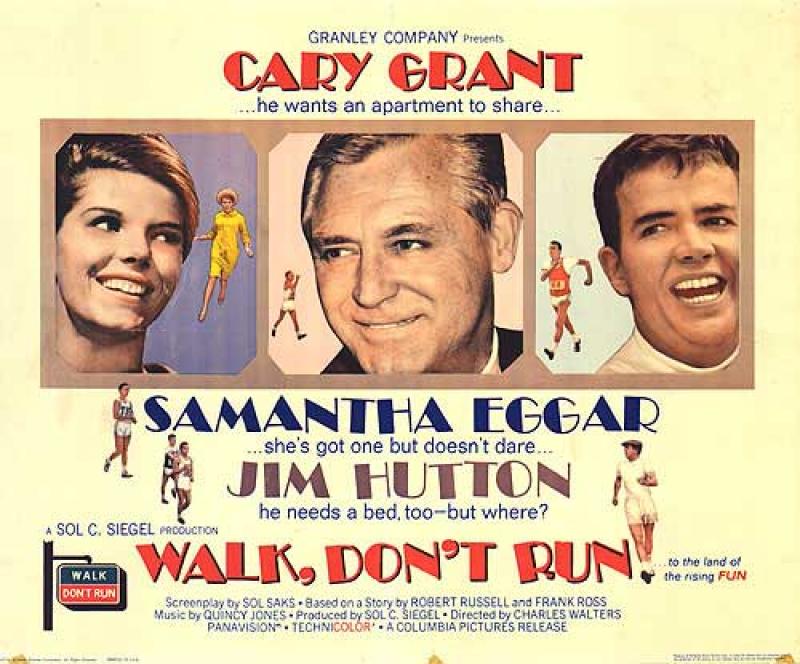 Chuckles a-plenty as romance comes to the XVIII Olympiad
Though this 1966 comedy was a light and fluffy thing, it was gazed upon benignly by the critics, mostly because it was a late vehicle for the well-oiled Cary Grant charm machine. It proved to be his last film, in fact. Others viewed it equally fondly because it contained scenes of Grant in his boxer shorts, a challenge he tackled with panache despite his 62 years.
The flick's Olympic connection is central, though ludicrous. British industrialist Sir William Rutland (Grant) makes a business trip to Tokyo, but arrives two days early. The city is hosting the 1964 Olympics and all available accommodation has been snapped up by the visiting throngs. Dedicated cinéastes will instantly detect the similarities to 1943's The More the Merrier, which concerned a housing shortage in wartime Washington DC. Sir William visits the British Embassy looking for assistance, and happens to spot an ad for a temporary apartment-share. It has been placed by prim and fastidious Englishwoman Christine Easton (Samantha Eggar), who had intended to find herself a female flatmate, but succumbs to Rutland's pushy persuasiveness.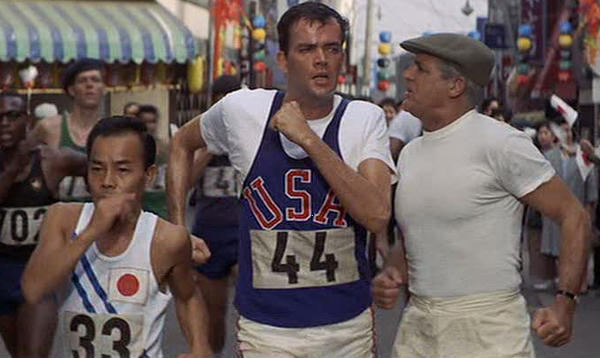 The piece is nudged from romcom to farce when Rutland decides that, despite Ms Easton's protestations, he'll share his portion of her space with a visiting American, Steve Davis (Jim Hutton), a member of the American Olympic racewalking team. Grant was evidently considered too senior to play Eggar's love interest, so he's cast as matchmaker to herself and Hutton, a role he relishes after being irked by Eggar's fiancé, a drab diplomat played by John Standing (Hutton, Grant and Japanese competitor, pictured above). It's all quite silly, but director Charles Walters shot it during the real-life Tokyo Olympics, and copious location scenes of both the city and various Olympic events (not least the intrinsically preposterous race-walking) lend colour to the proceedings. Music buffs will also relish the jazzy soundtrack by the great Quincy Jones, who was brought into the project at Grant's urging.
Grant was considered too senior to play Samantha Eggar's love interest, so he's cast as matchmaker to herself and Jim Hutton
Explore topics
Share this article