Hidden Door Festival, Edinburgh - transforming spaces |

reviews, news & interviews
Hidden Door Festival, Edinburgh - transforming spaces
Hidden Door Festival, Edinburgh - transforming spaces
Now in its fifth year, this celebration of vibrant art in disused buildings is better than ever
Young Fathers at Hidden Door
Having sprung up in 2014, taking over a group of disused vaults behind Waverley train station, the festival's mission to transform redundant spaces in
Edinburgh
has left an immovable, and much needed, creative footprint on the city. In 2017 this not-for-profit festival, which is run entirely by volunteers, re-opened the Leith Theatre, a stunning venue which had lain in disuse for almost three decades.
Having breathed new life into this incredible space, which is now gradually becoming used more and more, largely thanks to this festival's work, they returned to Leith Theatre for this year's festival, as well as opening up the old State Cinema round the corner. The cinema's art-deco building, designed by architect James Miller, first opened to the public in 1938, but after myriad uses, has lain empty, abandoned and badly damaged by fire for years. Though now owned by a property developer and set to be turned into luxury flats (though with the impressive red and cream facade to remain), it was give one final opening as a public arts space. While the Leith Theatre is somewhat charmingly dilapidated, the cinema building is dark, stark, and downright spooky. The juxtaposition between the two spaces was fascinating, and the packed programme of music, visual art, theatre, dance and spoken word completely set alight this small corner of north Edinburgh for the festival's 10-day duration.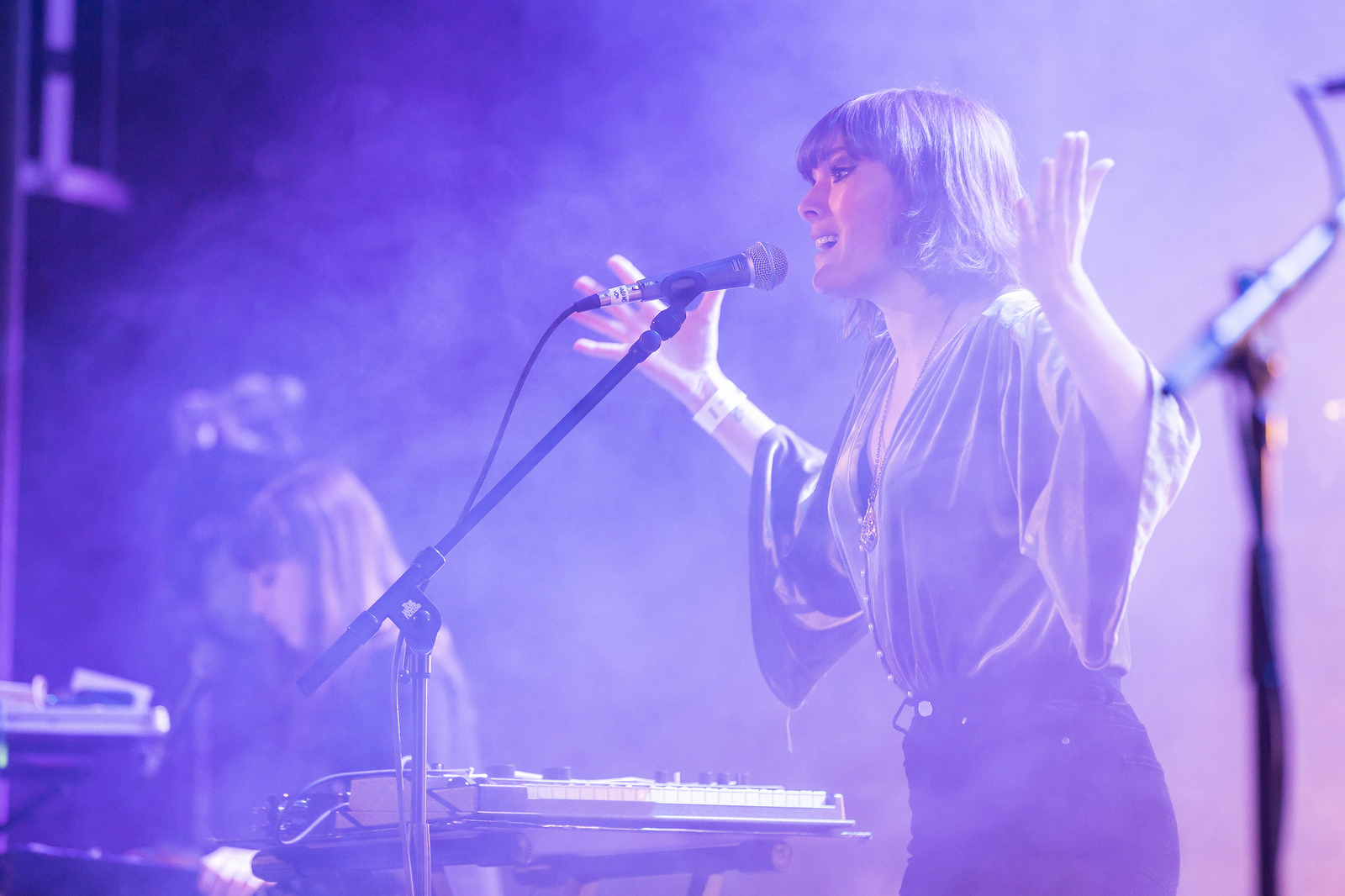 Hidden Door deliberately made a statement of intent with an all-female line-up for their opening night at the Leith Theatre. Welsh singer Gwenno (pictured above) kicked off proceedings singing songs from her new album Le Kov, written entirely in the Cornish language. She was a captivating performer, with a style slightly reminiscent of Kate Bush but with echoes of various other-wordly musical greats ranging from Bowie to Beach House. A sharp contrast to Gwenno's dreamy pop were punk rock girl band Dream Wife, whose lead singer Rakel Mjöll gave an energetic, bracing performance. On the following evening, American duo Sylvan Esso took to the stage. Comprised of singer Amelia Meath and producer Nick Salmon, their blend of upbeat, dynamic dance music was infectious. With such a powerful set of electronic pop tunes, you'd be forgiven for being surprised to learn Meath was originally one third of the Appalachian-style female folk trio Mountain Man. That said, the honest, soulful quality to her live singing - which was unwavering despite an astoundingly energetic performance that featured squats and high kicks - gave an unmistakably tender, human quality to this high-driven electronic music.
A major development for this year's festival was Hidden Door's collaborations with other Edinburgh festivals. A night curated by with Edinburgh Jazz and Blues Festival saw Scottish funk sextet James Brown is Annie, London Afrobeat Collective and Submotion Orchestra give a jazz slant to Friday 1st June's music programme. Performing work from their album Kites, Submotion's sound ranged from sultry jazz to full blown electronica, and was accompanied by some pretty incredible light projections which spanned the hall. There were a couple of issues with the sound mixing, though Ruby Wood's smooth honeyed vocals came across as crisp and clear in the upstairs balcony, despite being somewhat lost downstairs closer to the stage.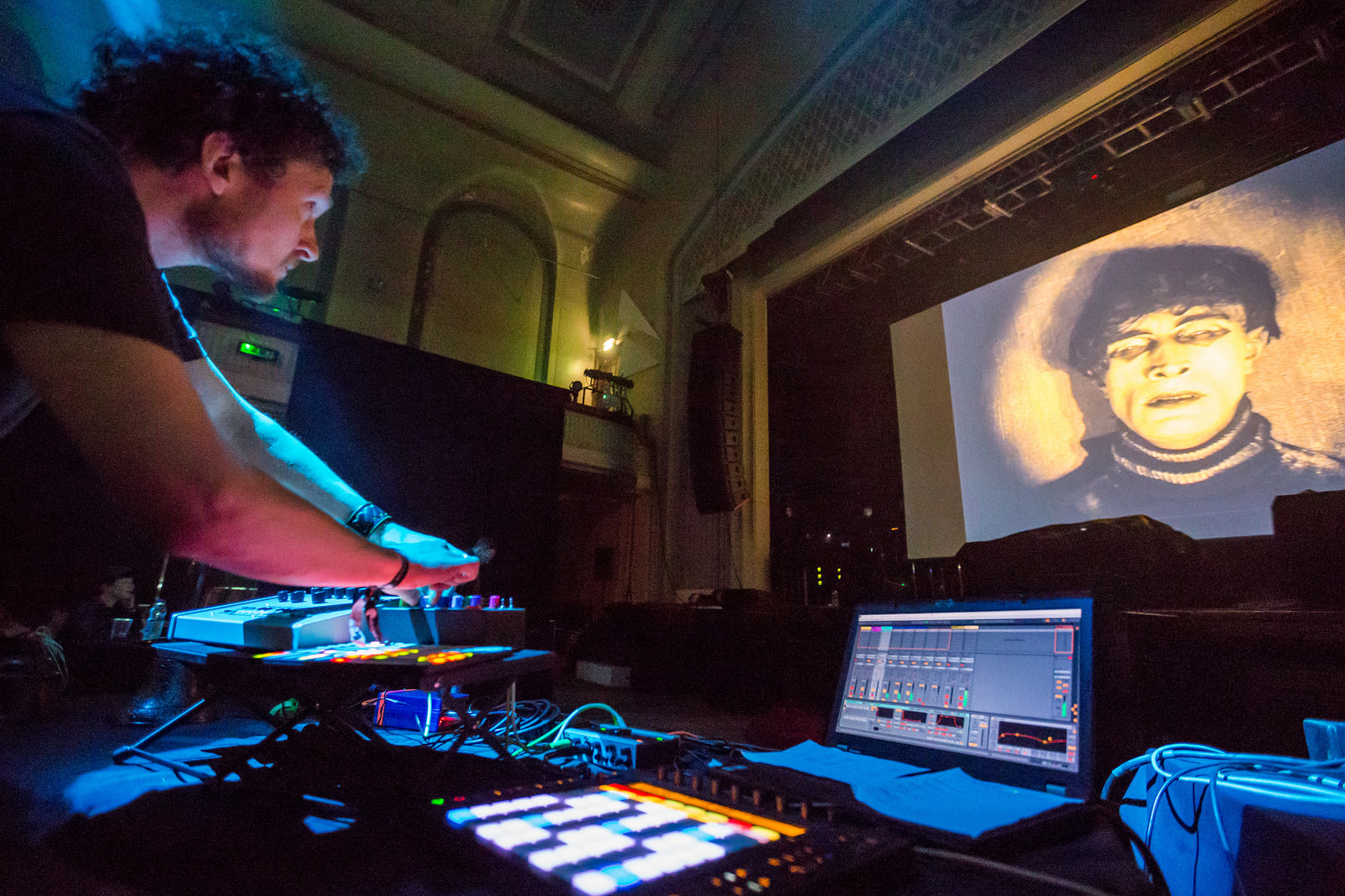 Another partnership with a different festival was a screening of the 1998 horror film Blade to celebrate its 20th anniversary, put on in conjunction with the Edinburgh International Film Festival. The screening was given an interactive twist, with 90s vampire fancy-dress encouraged, vials of 'blood' on sale and interactive games throughout the theatre. Carrying on the horror theme in the film programme, the 1920 German silent film The Cabinet of Dr Caligari, was given a live electronic soundtrack, which, although had a very modern sonic landscape was perfectly matched to the eerie quirks of the film. Performed by some of the foremost musicians of their genre - The Reverse Engineer, Midi Paul, Matthew Collings, WOLF and Heir of the Cursed - the multi-layering of sounds and eerie harmonic tweaks brought a real tension to the film, which, although made nearly a century ago still packs a pretty scary punch.
For the first time this year, Hidden Door invited film submissions, with film-makers competing for the Hidden Door Film Jurors' Prize for Innovation. Shortlisted entries varied in lengths from four and a half to ninety minutes. Though some had clear narratives, others were more abstract, and some downright weird. One such film was Brian M. Ferguson's six minute piece Umbilical Glue, which focuses on a young girl with an obsession with belly-buttons. With bright colours and punchy shots, it's almost like a grotesque piece of pop art, that manages to manages to make something oddly disturbing from a relatively benign subject matter in a very short space of time. The overall prize was won by Edinburgh filmmaker Daniel Cook, whose half hour film The King and I explores the lives of those on the margins of 'normal' society.
Another first for 2018 was Hidden Door's dance strand (pictured below). This was notably impressive, with pop-up performances taking place in the courtyard and of the roof of the theatre, and some very sophisticated contemporary dance on the stage. Korean dancer Jung In Lee gave a transfixing solo performance in her internationally toured piece Skins showing incredible strength and control, with complete precision in the tiniest of movements.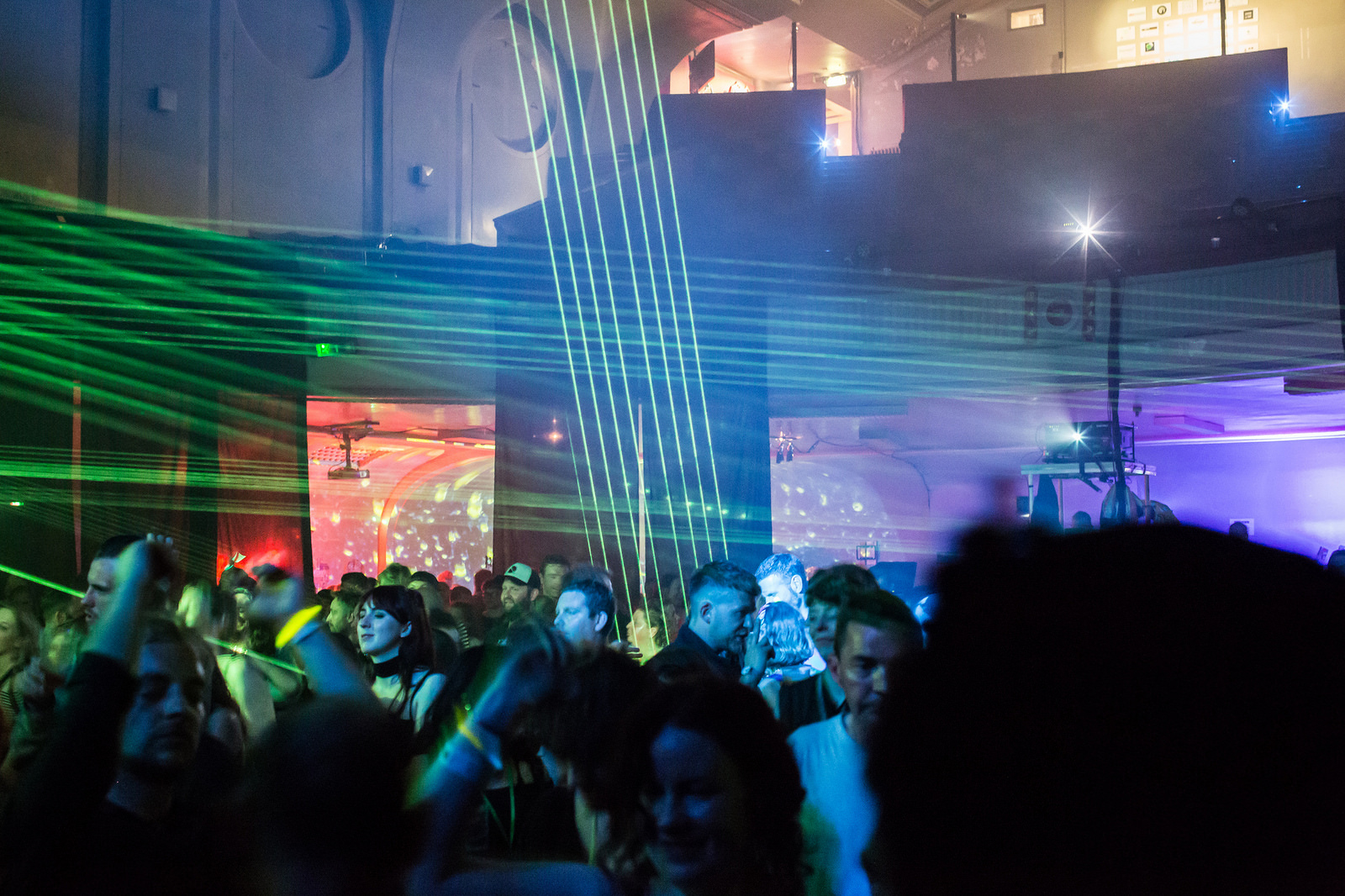 The festival's highlight though, was undoubtedly, the much anticipated performance from Mercury prize-winning Edinburgh hip hop trio Young Fathers. Their set was raw, gritty and visceral as they gave an almost tangible energy. Playing from their recently released Cocoa Sugar, as well as previous material, if you needed proof that the crowd were elated to see them play back on home turf, the resounding singing along to Get Up, from the album Dead was surely it. This was a truly special performance, and something which will surely go down in Edinburgh's musical history. The lack of live venues for bands like Young Fathers to play in Scotland's capital has long been bemoaned, so to witness a group like this, who are from Edinburgh, perform in this recently resurrected space was breathtaking. We can only hope it's a sign of things to come.
To round off a triumphant 10 days, the closing night saw producer, guitarist and vocalist Nabihah Iqbal take to the stage with a fairly ambient set. Having been recently performing as a producer under the moniker Throwing Shade, her new, guitar and vocal led direction is slightly stripped back, with her release of her more poppy album The Weighing of the Heart late last year. Her songs are very listenable and her guitar playing was solid, although sometimes the singing was a touch out of tune. To finish the night, DJ Archie Fairhurst - known as Romare - gave a tremendous set, his sound reminiscent of early Daft Punk, but with a distinctly contemporary feel. With seriously sophisticated light design and fabulous projected visuals to boot, this was a great ending to what was a truly wonderful festival.
2018's festival has been a real hive of creativity, a melting pot of art and culture. After pulling off such an ambitious programme with such success, it will be very exciting to see where Hidden Door goes next.
Young Fathers' set was raw, gritty and visceral as they gave an almost tangible energy
rating
Explore topics
Share this article