Sunshine on Leith |

reviews, news & interviews
Sunshine on Leith
Sunshine on Leith
Dexter Fletcher's Proclaimers musical is feelgood fun
Peter Mullan plays against type and gives his singing voice an airing in 'Sunshine on Leith'
There will be some who will sneer at this film, but ignore them. Director Dexter Fletcher has fashioned a wonderfully enjoyable movie from a play by Stephen Greenhorn (who also wrote the script), in which a good-natured story about family, love and friendship is set to the music of The Proclaimers.
Davy (George MacKay) and Ally (Kevin Guthrie) are lifelong friends, squaddies returning from a tour of Afghanistan in which one of their friends was killed and another seriously injured. But this isn't a film about trauma or loss, as we see the two burst into a song-and-dance routine as they skip through the streets of Edinburgh (the UK's most beautiful city playing a starring role) to their homes in Leith, belting out "I'm on My Way". It's during this early segment that The Proclaimers, twin brothers Charlie and Craig Reid, have a brief, amusing cameo as two blokes coming out of a boozer on Constitution Street.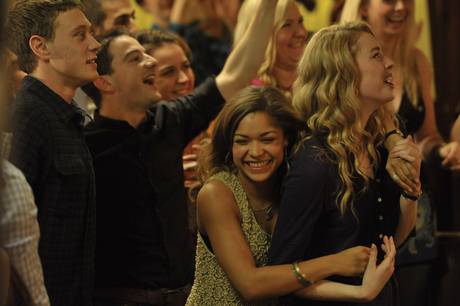 Ally rekindles his relationship with Davy's sister, Liz (Freya Mavor), who introduces Davy to her colleague Yvonne (Antonia Thomas, all pictured together, right). Meanwhile Davy and Liz's parents, Rab and Jean (Peter Mullan and Jane Horrocks), are about to celebrate their silver wedding anniversary.
So far, so yucksome, you may think - but then Greenhorn throws several flies into the ointment and the course of true love at Rab and Jean's anniversary party takes a wrong turn as a secret is revealed, a question is popped and a fight breaks out. Let's just say the three men and the three women leave separately and Greenhorn resists the temptation to have everybody kiss and make up by the end of the film.
The plot occasionally feels a little contrived and the dialogue sometimes jars, but the songs never feel shoehorned into the narrative. In fact their poetry is sometimes given newer and deeper meaning, as with "Sky Takes the Soul" - written about the Tamil Tigers - in the film's intense and claustrophobic opening scene in Afghanistan, when the soldiers come under attack while in an armoured vehicle. "It could be tomorrow or it could be today/When the sky takes the soul, the earth takes the clay", sung to a military beat, is fearful and menacing at the same time.
The cast, expertly directed by Fletcher, are uniformly appealing - even when saying some clunky lines - and they can all carry a tune nicely. Horrocks we know can sing, while Mullan, playing completely against type as a softhearted dad, performs a very passable "Oh Jean" (as Horrocks's character is fortunately called). There are some magnificent set pieces and the finale is, what else, "I'm Gonna Be (500 Miles)", The Proclaimers' biggest hit. It's cheesy and predictable but the perfect ending to an unapologetically feelgood movie.
Sunshine on Leith is on UK release from today