Album: The Rolling Stones - Hackney Diamonds |

reviews, news & interviews
Album: The Rolling Stones - Hackney Diamonds
Album: The Rolling Stones - Hackney Diamonds
Sixty years on, the Stones strike a new seam of rolled gold
High rollers: Mick, Keith and Ronnie cab it up on the way to the Hackney Empire, London, 6 September
It's been a while since Mick Jagger, Keith Richards and Ronnie Wood sat down together at the Hackney Empire to introduce their first album of new songs in 18 years, and their single, "Angry", is now approaching 20 million views on YouTube.
The album is released this Friday, and a raft of four- and five-star reviews are already in: after a week of listening to a record company stream, they are on the money. Hackney Diamonds is 45 concentrated minutes of peak-level Rolling Stones, a bravura performance benefiting from the level of focus and detail the band, under the producer's baton of Andrew Watts, bring to it. It feels like, for the first time in a long time, Mick and Keith are on the same mission. Which explains its cohesiveness, of sound, vocals, guitar work, intention, the quality and build of the songs, the whole palette.
I love 1997's Bridges to Babylon, but it's a schizophrenic record of disparate parts compared to Hackney Diamonds.They've also brought some decidedly starry guest artists into the fold – Lady Gaga, Stevie Wonder, Paul McCartney, Elton John, Bill Wyman, and two cuts featuring Charlie Watts – doing what they do best, but in overdrive, at full throttle, and sounding as good as they've ever been, but fresh too, with an energy and drive that borders on the supernatural, given their cumulative year count. Ageing process? What ageing process? Five strings, three notes, two fingers, and one asshole seems to be the formula for eternal life for Keith Richards. His riffs certainly contain the elixir of youth, because as he says, solos come and go but riffs last forever. That's a truism that finds its proof in many of these songs. Keith's riffs raise energy, while Ronnie's solos release it, and together it's like some kind of kundalini spiralling and weaving up the spine. You want it raised and released.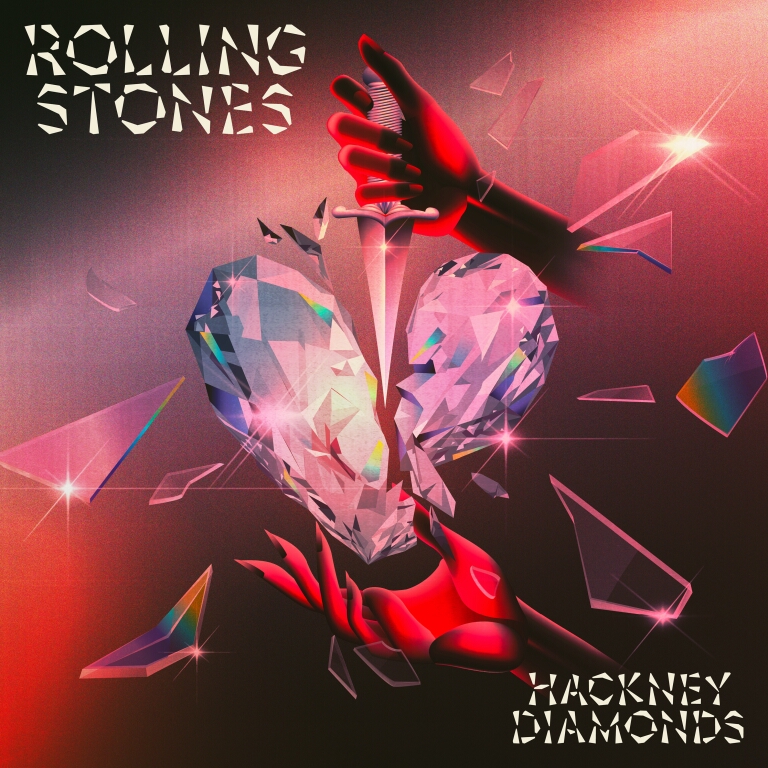 Mick's singing, meanwhile, is phenomenal. He's realised that it's all about the vowels, not the consonants, bending and stretching words the way he does the notes on his harmonica. The overly studied enunciation of recent decades is gone. He's let it loose, tapped his root, and vocally and lyrically, there's a strong London feel, too. In fact, Hackney Diamonds is maybe their most London-centric album since Between the Buttons. And while the riffs are fit as a butcher's dog, Mick's choruses grab you with impeccable sing-along pop hooks. It's as if the best bits about the Stones have been added to the pot and allowed to simmer and concentrate before serving up in this brand new dish.
"Angry" is the arresting opener, reminiscent of "Start Me Up's" clarion call riff from 42 years ago. It's funny, simple, dumb, and precision-built, like a rocket with three stages – the launching riff, Keith's solo and handclaps, then the rolling and tumbling of those thickened, driving guitar lines overlaying each other on the 'I'm off to Brazil' verse, after which everything just levitates.
"Get Close" follows, chopping out a sharp, jagged riff over Steve Jordan's thunderously funky drums, the two of them entwining and rising up to meet Mick's poppy, impassioned "close to you" chorus head-on. It features the album's first blast of brass, too – the trumpet and sax of Ron Blake and James King.
Starting out on its trail as an acoustic ballad, "Depending on You" builds in layers towards another perfectly formed sing-along chorus, constructed to fall together into one irresistible body, complete with strings, a Stones classic that leaps into life on its terms, not on the back of nostalgia.
It's as if the best bits about the Stones have been added to the pot and allowed to simmer and concentrate before serving
The thuggish riffery that Keith and Ronnie rack out on "Bite My Head Off" sounds like they've chopped up and ingested 1977 Steve Jones in dried and powdered form, lit the fuse, blew out the windows, raised the roof and let Paul McCartney go mad on bass. It's Pistols-like punk but with that Stones sense of unstoppable propulsion, a wall of sound divvied up by Keith and Ronnie and turned into some kind of kinetic sculpture. As riffs go, it's big and solid enough to have its own postcode. As for Mick's vocal, it's King's Road punk, scorched and seared by the heat of Ronnie's lead guitar rearing out of McCartney's fuzzed-up Hofner.
On "Whole Wide World" Mick's lyrically casts a rare backwards look at their past – perhaps inspired by visiting Exhibitionism's recreation of their Edith Grove gaff at the Saatchi Gallery end of the King's Road. Keith and Ronnie's guitars and plugged in to an effects box similar to what you hear on Some Girls (or, indeed, on early-Eighties Cure), while to follow, "Dreamy Skies" is one of their sweet fireside cowboy songs, a strum and steel guitar ballad augmented by Benmont Tench's Hammond, and featuring the first flourish on the album of Mick's harmonica.
"Mess It Up", the first of two songs featuring Charlie Watts on drums, is the one dip in the set, an over-studied dance number that doesn't quite get off the floor. A shame, as embedded in its heart is the 'really want to tell the truth' nugget Mick put out on social media a few years ago, and which sounds fresher and bouncier than what we get here. In contrast, Charlie's second track, featuring Bill Wyman and Elton back on keys, is a chippy rock number with a cool Sixties-style chorus, sung by Mick in his sarky London voice, double-tracking on the bridge, and with Ronnie bouncing on his soles through a sinewy solo. Charlie, Bill, Keith, Ron, Mick – a quintet heard here for the very last time. It's a grower that bounces along, and has a good fade out too, right down to the crash of Charlie's last cymbal.

Keith cops from his own "Tumbling Dice" for the opening flourish of "Driving Me Too Hard", which then veers off into new territory, and it's a beautiful song. Keith's solo at the two-minute mark, rising and falling back into the rhythmic interplay between him and Ronnie, is one of the most affecting stretches of Stones music – the weaving of all those essential elements together – I've heard. It's a joy.
Keith's "Tell Me Straight" is more pensive than joyous, a song of mystery with Mick harmonising nicely on the chorus, and a weave of skeletal, reverberating guitars carrying it aloft as one if his finer late-period songs, its gnomic lyric engaging on several levels. "Sweet Sounds of Heaven" follows, and much has already been written about this grandstanding, freshly minted classic. It borders on bombast at times, but it's thrilling and all-enveloping, too, capturing that instantaneous, live-in-the-room gold that the Stones excel at. Rolled gold. "Play ya sumthin' huh!" shouts an off-mic Stevie Wonder in response to Mick's prompt following the breakdown, rippling away with some brilliant funk across two instruments at once. Then there's Gaga, chuckling over Steve Jordan's drums, as if she's finally found the release switch, then rising up to that falsetto battle with Mick that's simultaneously hilarious, totally over the top and totally brilliant.
Mick hollers and insinuates at his unleashed best, and Keith summons dark spirits out of those strings
Where do you go from there? You simmer it down to the two principals, one bullet microphone, a 1930 Gibson guitar, one pick-up, four amps in another room, a roll of tape, and their source song, Muddy Waters' "Rolling Stone Blues". It may well be a nod to their origins, but it's no nostalgic backward look, more a potent and penetrating fresh cut. Mick hollers and insinuates at his unleashed best, and Keith summons dark spirits out of those strings, pulling on them as if they were the sinews of a killer's corpse. It's killingly effective, and while it could be construed as some kind of raging against the dying of the light, that's not true, because here the Stones are still in full control of all the lighting. Long may they shine.
Hackney Diamonds is out on 20 October on Polydor
On 'Hackney Diamonds', they're doing what they do best, but at full throttle
rating
Explore topics
Share this article