Billy Bragg, Islington Assembly Hall review - a pep talk from the progressive patriot |

reviews, news & interviews
Billy Bragg, Islington Assembly Hall review - a pep talk from the progressive patriot
Billy Bragg, Islington Assembly Hall review - a pep talk from the progressive patriot
Which side are you on? The bard of Barking rallies the faithful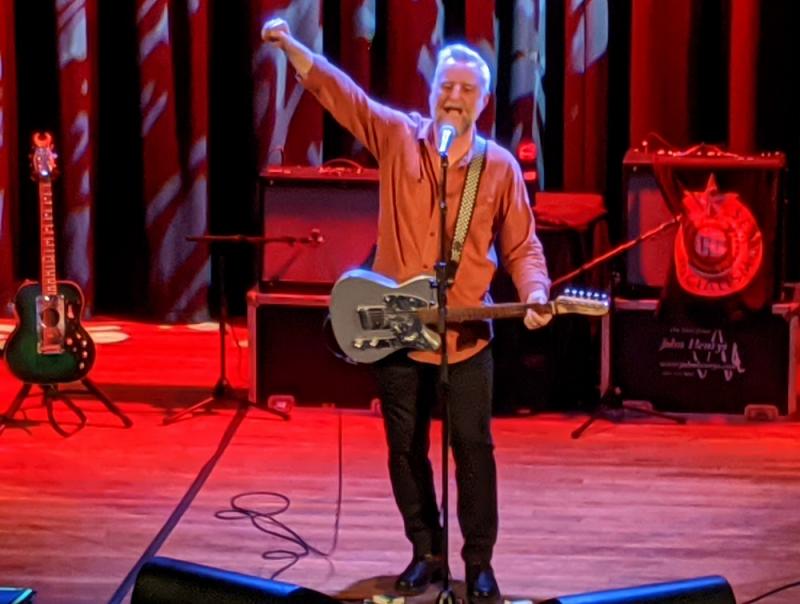 It's always good to be among friends and it's safe to say that everyone gathered at Islington Assembly Hall on Saturday for the third and final North London gig of Billy Bragg's One Step Forward, Two Steps Back Tour was left of centre. The tour began in July on the south coast, planned long before Borrissey, as Bragg calls the PM, conned the country in going to the polls but events have certainly given it a new urgency.
The gigs have been organised in groups of three – the first night ranging across Bragg's 35-year career; the second songs from his first three albums; and the third from his second three, Workers Playtime, Don't Try This at Home, and William Blake. Since his debut, Life's a Riot with Spy vs Spy, released in the year of Margaret Thatcher's second election victory, governments have come and gone and it does indeed seem that the advances of Labour years have been reversed, and by rather more than two steps. As Bragg reminded the audience having been prompted to check the date overnight, Saturday in Islington marked 29 years since the Blessed Margaret had stood down. He had been gigging in Ulster and the headlines screamed "Thatcher resigns". There was a loud cheer as he recalled the moment, most of the audience well old enough ro remember it.
From the moment Bragg stepped on stage, launching in to "Sexuality", the audience was totally engaged, bantering with him, cheering him on, singing along and occasionally breaking into choruses of "Whoa, Jeremy Corbyn!" No one had come expecting merely to be entertained – this was, of course, an audience of like-minds and what they got was a pep talk, a spine-stiffening reminder of what was at stake and why everyone needed to be pragmatic. Bragg has been on the campaign trail and that very day had been in Chingford, where there are hopes that IDS may be unseated, and in Ilford. But Labour isn't always the answer – it's necessary to accept "the unpalatable compromise of voting tactically. Are we prepared to pay the price for stopping Brexit?" he asked. Everyone cheered, though last time round Bragg got booed for his temerity.
His set included "The Price I Pay", "Thatcherites", "Little Time Bomb", "Valentine's Day" and "Waiting for the Great Leap Forwards". To loud cheers, Wiggy, part of his 1977 band Riff Raff, joined Bragg for "Accident Waiting to Happen". There were three encores: "Tender Comrade", poignant and a cappella; "Tank Park Salute" and "There Is Power In Our Union". Written by Bragg for striking miners and inspired by the song of the same title by Joe Hill, the American trade unionist executed on trumped-up charges in 1913, the song acquires a dual meaning this Brexit election with the union of our four nations under strain: "With our brothers and our sisters, together we will stand/ There is power in a union". Woody Guthrie said much the same thing
The progressive patriot was on good form, nicely self-deprecating as he joked "I'm much more slick than I used to be! But no one comes to hear me sing, or for my elaborate light show." The "currency of music", he said, was empathy, on which there's a war. "Music by itself can't change the world. Believe me, I've fucking tried." But every movement needs music. "There's solidarity in this room. You go home knowing there are people who give a shit. It's a recharging bout of activism."