Charlie Gillett 1942-2010 |

reviews, news & interviews
Charlie Gillett 1942-2010
Charlie Gillett 1942-2010
Worldwide tributes pour in to the much-loved world music pioneer
The music world is reeling from the death of Charlie Gillett. He was not just an influential DJ who was instrumental in widening the listening habits of millions of listeners on his World Service and other radio shows, a journalist, writer and a key figure in promoting global music. He was also a beacon of decency and rare integrity in the music world who affected so many people. Heartfelt tributes have been pouring into his site
with postings from complete strangers the other side of the world, to members of his family and even his post-man.
I found out the shocking news when Caspar Llewellyn-Smith called me and left a message; his regular reviews in the now defunct
Observer Music Monthly
which Caspar edited were always a delight - occasionally of artists he liked that hadn't actually got a distribution deal over here (you are supposed to review records that are actually available, or about to be). The rave review usually got them one.
Among many Charlie stories I was mulling over today was one told to me by the producer Ivan Duran. Duran, who lives in Belize, approached Charlie, who was a hero of his, on a beach in Belize where Charlie and his wife Buffy were on holiday with the early
Andy Palacio
tapes which became the
Watina
album. Charlie didn't mince words and said, more or less, and in detail, that it was terrible. Most of us would have been polite. It jolted Ivan into re-doing the project and the result was a classic record. Which Charlie, of course, was vital in promoting via a review in the
Observer
, on the radio, and in person - like so many other records. The album won Ivan and Andy a WOMEX Award.
For several members of
theartsdesk
he had been a mentor, and it feels like we have lost a favourite uncle. He was always a friendly, welcoming face at many concerts. He also, to my delight, had said he would contribute to
theartsdesk
and had promised a feature on Buddy Holly – emailing me from hospital to say he didn't think he was up to it. He also mentioned that his long-awaited world music/memoirs book was progressing. We hope that eventually that it may see the light of day in some form or another.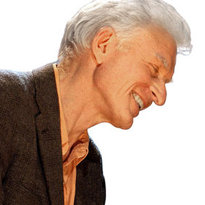 Below is a version of an interview I did with him in 2007
for the
Daily Telegraph,
in which I said:  "With the demise of John Peel, Gillett must be the most universally admired broadcaster in the land."
AT LAST weekend's Womad festival in Wiltshire, a lot of the movers and shakers of world music - the record company bosses, promoters and media types - were absent, put off by the floods and severe weather warnings.
Wags had dubbed it Womud. But it would take more than that to put off Charlie Gillett, the 65-year-old DJ and hugely influential world-music enthusiast, who I watched playing a DJ set at the small but appropriately titled Under A Tree Stage on the Sunday.
For his weekly programme on the BBC World Service, Gillett has a considerably larger audience than the Womad crowd - it runs into millions. "One guy emailed last week from Uganda," says Gillett, "to say he woke up from a nightmare, put on the radio and heard me playing Ali Farka Touré - he included his phone number, so I called him back." Other recent emails have come from US military personnel and ordinary citizens in Iraq.
I met Gillett the day after Womad, in the South London house where he has lived with his family and his massive record collection since 1969. He bought the place for £5,000. "The mortgage was less than my weekly paper bill," he says, which has helped him pursue his often poorly paid adventures in global music.
Next week sees the release of what has become the essential annual overview of the world music scene, his
Sound Of The World
compilation series. The two-CD set mixes better-known bands such as Tinariwen, Gotan Project and Ladysmith Black Mambazo with his latest discoveries. "One change in the last few years is the number of exciting new women singers," he says. "This compilation is two-thirds female."
Gillett first had the notion that he might have an ear for discovering music in 1962, when he became a Bob Dylan fanatic after hearing a track in a record store in the US, "months, at least, before anyone back home". His Masters thesis for Colombia University, a history of popular music, was published to acclaim as a book,
The Sound Of The City
, in 1970 and is still in print.
He began his first weekly radio programme,
Honky Tonk
, in 1972 on Radio London, where he stayed till 1978. While punk didn't much interest him - "the rhythms were too boring" - he did discover numerous artists, including Dire Straits. "I played the demo of 'Sultans Of Swing' and seven record companies had rung before the end of the programme." Other acts he brought to public notice included Ian Dury, whom he managed for a while, Graham Parker and Elvis Costello ("the only one who rang in to thank you for playing his demo").
He joined Capital Radio in 1980 but "left before I was pushed" in 1983. Listeners complained, and he was offered another show. "I told the radio station I was getting a lot of response to what I called at the time 'tropical' records" and he began
A Foreign Affair
, the first world-music radio programme.
"I knew from experience that not only would there be an audience, but they would put me right if I made mistakes, and introduce me to music I didn't know about." He was the first British DJ to play Youssou N'Dour and Salif Keita.
The conservative nature of British radio disappoints him. "If you think of how other aspects of life have changed - the number of foreign players in the Premiership, the diverse range of global restaurants in the high streets - radio here is pretty xenophobic." He is puzzled that multimillion-selling artists such as Spain's Manu Chao or Cesaria Evora from Cape Verde are so rarely played on Radio 1 or 2.
Gillett makes no claims to musical infallibility - he saw one of the first Velvet Underground gigs and "didn't understand them", and he has a blind spot for Brazilian music: "a lot of it is a bit too much like lounge music for me." But he follows his enthusiasms wherever they lead "regardless of what is deemed hip or fashionable".
A bout of illness caused him to resign last year from his popular BBC Radio London show - he hopes to "come back with something maybe next year" - but the internet means his World Service show is more heard than ever, and his website
soundoftheworld.com
has an impressively lively forum.
With the demise of John Peel ("I didn't like most of what he played - but he was great to listen to anyway"), Gillett must be the most universally admired veteran broadcaster in the land - and his enthusiasm remains infectious. I saw him as the sun went down on the last night of Womad listening to the Portguese fado singer Mariza, whom he, of course, has helped immeasurably.
"Where does she get that amazing voice from?" he asked, thrilled by yet another great global singer.
Below, a back-stage snatch of Charlie Gillett in action - "no-one knows what will happen"
Charlie Gillett - a personal response by Howard Male
The most significant impact that Charlie had on me is the fact that I wouldn't have become a music journalist if it hadn't been for his encouragement. About a decade ago, my wife and I were standing amongst a miniature city of cardboard boxes in the flat we'd just moved into, wondering how we were going to get through all the unpacking. But being a music addict, the first priority was to get some sounds on. Unfortunately the stereo was dismantled and deeply buried, so I had to fall back on the portable radio. I say "had to" because the idea that we had to settle for some tinny, over-compressed pop music to help ease our labours didn't exactly fill me with joy.
But fortunately it was early on a Saturday evening and my dial-twiddling located BBC London. Suddenly some old cumbia tune filled the kitchen, and putting saucepans in cupboards wasn't such a chore. Actually I didn't know it was cumbia back then, but I knew I loved it. As I did the track by Auktyon (a Russian rock band with oblique echoes of Roxy Music) that came up next. And as if there wasn't enough surprises, this quietly spoken, very un-DJ-ish DJ also threw in the odd 60s soul or rock'n'roll track amongst all the strange and beguiling new sounds.
The unpacking of all those boxes became effortless, and from that day onwards I rarely missed Charlie Gillett's Saturday night show. And if I did, I usually arranged for someone to be on cassette duty to tape it for me. But it wasn't that I was completely new to what – for want of a better description – we call world music. I'd listened to a fair amount of African music, and some Brazilian stuff. It was just Charlie's shows filled in many of the gaps, including the gaps that you didn't even know existed.
His unaffected enthusiasm always gave the listener the impression that he'd just discovered this new sound only minutes before he was sharing his discovery, whether it was something timeless and rootsy or something edgily modern. Before long I was emailing him about this or that artist, and proffering my own views. And to my amazement he generally responded, completely living up to the idea I'd formed of him from the radio as a compulsive enthusiast desperate to communicate his passions.
Then one day there was a concert he wasn't going to be able to make it to, and he casually asked if I could let him know how it went. The next day he responded to my report with the words, "Fantastic! This should really be in print somewhere." Although I can no longer remember who the band was, his exact words are still clear in my head. The reason for this is that they became a confidence-instilling mantra for me over the next six months as I tried to find out if indeed anyone did want to print my words.
But Charlie was like that with everyone; always generous with praise, advice and time. Keen to help people along whatever path they had taken, if he saw talent in what they were doing. But the flipside of this was that he could be as devastatingly honest in his criticism as he was in his praise, so that when I sent him the first draft of my novel a couple of years ago, he responded that he, "couldn't get past the first twenty pages." Once again, as you will have noticed, his exact words stayed with me. But no one else was going to tell me that what I had written was a clichéd murder mystery peopled by two-dimensional archetypes. When he finally read the book that I was challenged by his words to completely rewrite, he was a lot kinder and gave me a lovely quote I could use to promote it (even though his usual self-effacing modesty meant that he couldn't see how his opinion would win anyone over).
This has been a somewhat unconventional few paragraphs, as it's been as much about me as it's been about Charlie. There are plenty of other places where you can read about his considerable personal achievements in the music business he always stood slightly back from, retaining his own individuality. But this approach seemed to be the best way I could come up with to convey honestly and directly how he was wise enough to know that voicing enthusiasm for other people's creative efforts costs you nothing, yet is absolutely invaluable to those he supported and encouraged.
You only have to click on the link that Peter has given above to get an idea of all the very special relationships so many listeners, promoters and musicians felt they had with Charlie Gillett. Whether it was directly – furthering the careers of countless musicians who got scant exposure elsewhere - or indirectly, over the airwaves, as one of the most natural and spontaneous broadcasters this country has ever produced (one of his co-workers has reminisced that there was no difference between his off-air chatter and the self he presented when the red light went on), the connection he had with people couldn't be faked. That's what made him so unique and irreplaceable.
Sue Steward recalls some encounters with Charlie Gillett:
I met Charlie in 1973, when I was press officer for the new Virgin label and responsible for publicizing "Another Saturday Night, the compilation of Cajun, Zydeco and Southern R'n B songs on his new Oval label and an unlikely label companion to "Tubular Bells." The then label director, Simon Draper told me this week that he'd signed him because he had read and loved Charlie's book, Sounds of the City,  listened to his radio programme, Honky Tonk, and  knew that Charlie was already very influential: "So, when he came in with the proposal, I just signed him."
I remember Charlie walking into the Virgin office, a tall, lean handsome man with longish hair, and so unlike us Virgin hippy types. He reminded me of Clint Eastwood in "Rawhide". He came and delivered music from somewhere more appropriate to Rowdy Yates than Portobello Road. That music was hardly 'exotic' but it woke me from the boring diet of rock I then lived on, and helped launch me on the journey of discovery I'm still on. Through the record, Charlie opened my ears: until then, soul music meant Motown but suddenly I was listening to accordions, French lyrics, polkas…
I gradually learnt to reconfigure my understanding of music, and Charlie had to do that too, of course. He came from the American tradition and jumped right into African music, and from there, the World. And the adventure never stopped. But even when he was pretty well known and revered, there were inevitable blindspots. I remember he tried SO hard to like Brazilian music because he liked the culture and the people (and some did slip through). But he never did 'get' salsa, in spite of reading the literature, following the politics, and falling for Buena Vista songs. But hey, who likes everything - I still can't get most English folk music and most opera. He knew what he liked and praised and evangelized that, and that's the most important thing we remember him by.
Above: Charlie Gillett at the Big Chill Festival.
Explore topics
Share this article