KITE Festival, Kirtlington Park review - engaging speakers and tunes aplenty in the Oxfordshire countryside |

reviews, news & interviews
KITE Festival, Kirtlington Park review - engaging speakers and tunes aplenty in the Oxfordshire countryside
KITE Festival, Kirtlington Park review - engaging speakers and tunes aplenty in the Oxfordshire countryside
Grace Jones, Confidence Man and Delia Smith help to usher in the 2022 festival season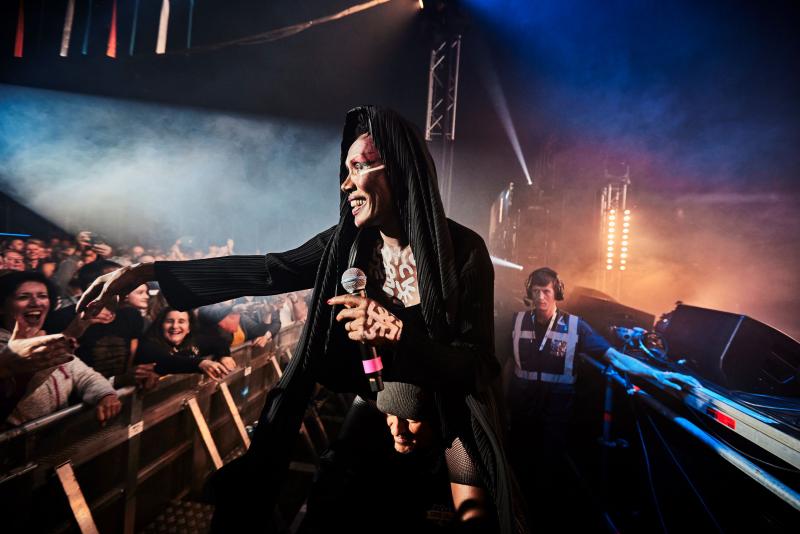 Grace Jones meets her public
The label of "Guardian man" or "Guardian woman" is one that is bandied about as something of an insult these days. But if you can get past the name-calling and think about what might appeal to this imaginary couple (and possibly their kids) while standing in lush, green parkland in Oxfordshire, you might well come up with the line-up of writers, celebrities and music for this summer's inaugural KITE Festival.
In some ways, this new event was a boutique version, for a crowd of 10,000 campers and day-trippers, of Hay-on-Wye's How the Light Gets In – but with better music – and was a gentle entry into Festival Season 2022, where no one was going to nick anything from your tent. In the mornings and early afternoon various polemicists and reasonably intelligent people (generally authors with new books of non-fiction to flog) were interviewed before an audience, while quirky bands of various hues played on some of the smaller stages. Then, in the evenings, the Forum Tent (which wasn't exactly a massive arena) was turned over to a few larger bands, while seemingly the whole of Heavenly Records' roster and a few of their mates played on their own stage.
The speakers were mostly of a liberal bent but their sessions were far from an echo chamber of polite conversation and while the bands, such as Saint Etienne and Grace Jones, were mostly aimed at the 30- and 40-somethings that seemingly comprised the majority of the crowd, there was also plenty of new sounds to be heard from the likes of Confidence Man and Gwenno.
Friday
Friday evening at KITE was a fairly gentle easing into the weekend with jazzy jams, mellow hip hop and psychedelic pop featuring heavily on the Heavenly Presents stage. Don't Problem were fine openers and deserved to be far higher up the bill with their more mellow take on the kind of noise that Melt Yourself Down conjure from a jazz and non-European musical palette. Shanaji laid down some mellow hip-hop and R&B, taking in a fine cover of Lauren Hill's "Doo-Wop (That Thing)" along the way, while English-Bahraini ensemble Flamingods brought a set of trippy psychedelic pop with a dash of nu-rave to the stage. They swapped instruments continuously during their set, knocked out tune after tune that were most certainly aimed at the hips, and generally gave the impression that their forthcoming album is going to be a doozy.
However, without any doubt, the stars of Friday evening were Nubian Twist. Their jazzy jams, which were powered by a three-piece brass section and a very funky rhythm duo, took in Acid Jazz grooves, funk with a Latin percussive drive on "They Talk", a soulful "Buckle Up", the Arabic and reggae grooves of "Tittle Tattle", as well as ska, dub and hip-hop, which had plenty in the crowd moving their hips and having a fine time of it as they got themselves ready for a weekend of fun in the sun.
Saturday
Saturday's speakers included the ex-Tory MP, but now supposedly reformed, Rory Stewart and Andrew Neil talking at length about how we're all going to Hell in a handcart, that Nick Clegg is actually quite a smart cookie – yet that the Liberal Democrats are completely underwhelming as a political force. This didn't really come as a shock, though. Jarvis Cocker similarly proved himself to be a bit underwhelming, as he talked about his new memoir Good Pop, Bad Pop, and had surprisingly few entertaining stories to tell. In fact, the most interesting speaker turned out to be Delia Smith, who revealed herself as something of a philosophical anarchist, making pleas for a world of freedom and peace through unity and the fact that everyone has something worthwhile to contribute, while dismissing our present world leaders as "tossers".
These sessions were punctuated from some of the smaller stages and bars with musical light relief by the likes of Kate Ellis' country pickings and by Zimbabwean duo Bulawayo, whose relaxed percussive sounds and between-song banter was just right for a hot and sunny afternoon away from the city. However, as the evening progressed, the musical big guns were brought out with Mavis Staples preaching peace and love and all good things from the main tent. Classics such as the old school R&B of "Come Go with Me" were followed by "Just Another Soldier in the Army of Love" and the bluesy "You Gotta Move" until there was an enforced interval, due to a power cut. This was soon rectified, however, and Mavis was back with a formidable take on the Band's "The Weight" and the funky grind of "I'll Take You There". She may be 82 years old but Mavis still proved herself to be a serious force of nature.
Next up were Saint Etienne, whose discoed-up easy listening and 60s pop grooves got plenty of love from the audience as long as they were playing their 90s hits like "Only Love Will Break Your Heart" and "Who Do You Think You Are?", while their more unfamiliar tunes seemed lacklustre in comparison. They were to be followed by Self-Esteem on the main stage, but I rather fancied seeing Confidence Man (pictured below) on the smaller Heavenly Presents stage and so wandered off to the other end of the site.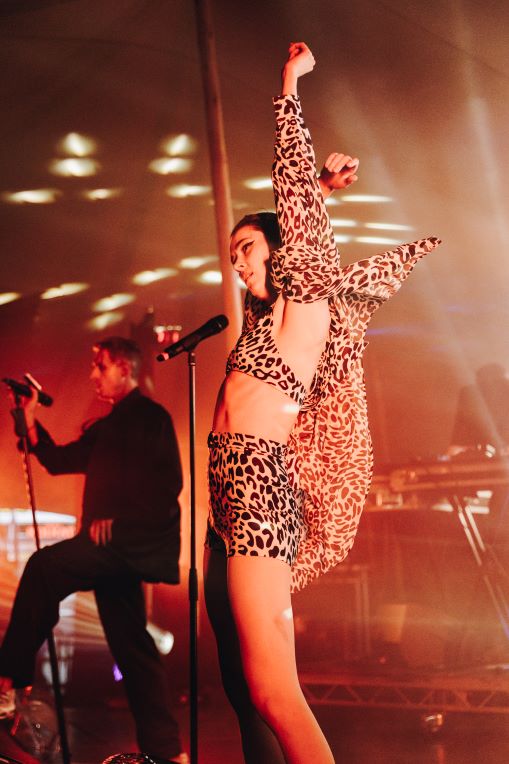 This was not a decision to be regretted, as Confidence Man's show of infectious hi-energy, funky rave pop had all their audience getting up on their feet and going nuts. The energetic duo of Janet Planet and Sugar Bones sang and bounced around the front of the stage, while the fully veiled Clarence McGuffie and Reggie Goodchild took care of the electronics and drums in a way that suggested mid-90s Aqua or 2 Unlimited but with much better tunes.
Ultimately, we were all here to see Saturday night's headliner though, and Grace Jones was everything that could be hoped for. She may be 74 years old but age has done nothing to slow her down in the slightest, as she demonstrated by slinking onto the stage in a feathered gold skull mask to belt out Iggy Pop's "Nightclubbing". Commanding the stage with industrial strength charisma and a fierceness that could bring anyone to heel, she then took in the deep dub funk of "Private Life", a raw "The Hunter Gets Captured by the Game" and a thumping "Demolition Man" – which had her beating the life out of a pair of cymbals while dressed in a black basque and a pair of storeys' high heels.
"My Jamaican Guy" was similarly raw and grimy and had Grace calling out to the crowd for a spliff to suck on, but to no avail, as the smell of weed was all but non-existent throughout the weekend. This didn't stop the audience lapping up everything that Jones had to offer though, as she moved from an acapella take on "Amazing Grace", to an earthy "Pull Up to the Bumper" with plenty of crowd participation and an extended "Slave to the Rhythm", with her hula-hooping throughout. In fact, just in case there was any doubt, Grace Jones put on a show that was awesome in every way.
Sunday
Sunday's entertainment at KITE, after Grace Jones' mind-blowing set on Saturday night felt like something of an easing down of things, rather than an energetic sprint to the end of the weekend. The speakers were again a mixed bunch with Richard Dawkins rattling on about the time difference between humans and animals achieving the ability to fly – and was ultimately a bit dull – while Tina Brown gossiped about the Royal Family. The most interesting session, however, had George Manbiot talking about the challenges of feeding the world without devouring the whole planet. This took in the necessity of reforming, if not transforming completely, the whole complex system of producing and transporting food in a way that pays considerably more attention to soil ecology and was fascinating and thoroughly engaging throughout.
Sunday's music offering, however, was a bit thin due to both TLC and Baxter Dury cancelling their appearances rather late in the day. Nevertheless, there was still plenty of gold to be found in a line-up that included Tom Misch's smooth lounge jazz and soul funk, and Black Country, New Road's indie pop cabaret.
In fact, the day's highlights proved to come from Fela's son Seun Kuti and his band Egypt 80, and a Celtic electro-pop set by Gwenno. Seun Kuti's show was an alternately sunny and fierce, brass-heavy Afrobeat session with plenty of call and response vocals that grabbed the audience by the guts, never mind the hips, and that preached tolerance and kindness to a truly multi-generation crowd. Gwenno, on the other hand, played a stripped back and retooled one-woman show, sung mainly in Welsh and Cornish, that took in the bubbling synths of "Eus Keus?" (for all the cheese lovers in the audience), "Tresor", "Chwyldro" and "Nid yw Cymru ar Werth" (or "Wales is Not for Sale"). It may have had the audience swaying and nodding rather than dancing energetically, but it was a mesmerising way to wind down after a fine weekend in the countryside.
But what about the mud and the toilets, I hear that irrepressible band of festival nay-sayers ask? A full weekend of sunshine meant no mud and the toilets were palatial for an event of this type – and the food was great, if not necessarily for the committed carnivore. In fact, KITE was an excellent easing into this year's festival season and one that it's to be hoped will be repeated next year.
Ultimately, we were all here to see Saturday night's headliner though and Grace Jones was everything that could be hoped for
rating
Share this article