Music Reissues Weekly: Heavy Metal Kids - The Albums 1974-76 |

reviews, news & interviews
Music Reissues Weekly: Heavy Metal Kids - The Albums 1974-76
Music Reissues Weekly: Heavy Metal Kids - The Albums 1974-76
Gary Holton's alleged punk antecedents turn out not to be so punky after all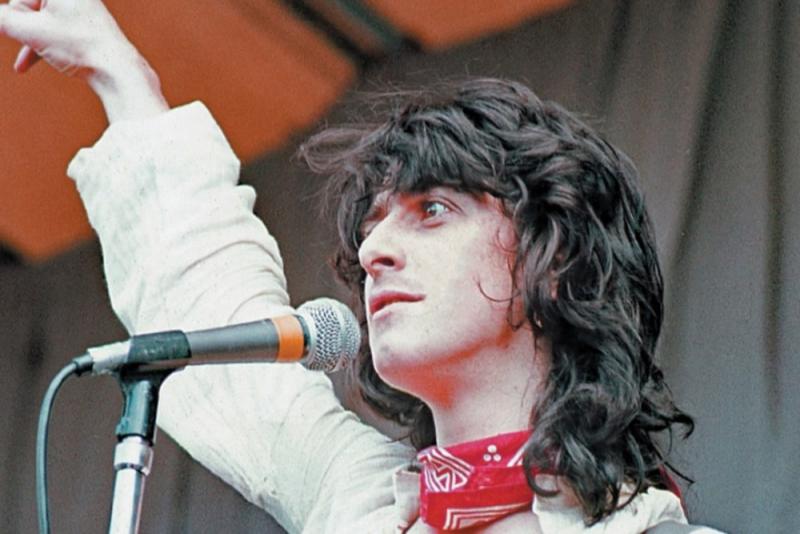 Heavy Metal Kids frontman Gary Holton in full flow
The booklet coming with The Albums 1974-76 notes Johnny Rotten saw Heavy Metal Kids live and that the Sex Pistol "ripped off" their frontman Gary Holton. It's an assertion in keeping with a default option where the HMKs are referred to as a precursor band to punk – one helping to lay the table for it.
This three-CD clamshell set offers a chance to dig into where the band fit in. Elsewhere in the booklet's text, The Damned's Brian James is quoted saying Holton and Co were "ahead of their time." HMK's keyboard player Danny Peyronel declares "we were one of the first bands to have the term punk rock used to describe us." Indeed but perhaps not in a punk rock sense, New Music Express said in August 1975 that the band "have the capability to produce some supreme punk sound shifts: Small Faces meet Mott meet...Oh, everything you've ever listened to." Later, writing in NME in June 1977, Chris Salewicz said "In recent weeks both [The Damned's] young Rat Scabies and [The Clash's] Paul Simenon have told me they used to really get off on Holton's antics."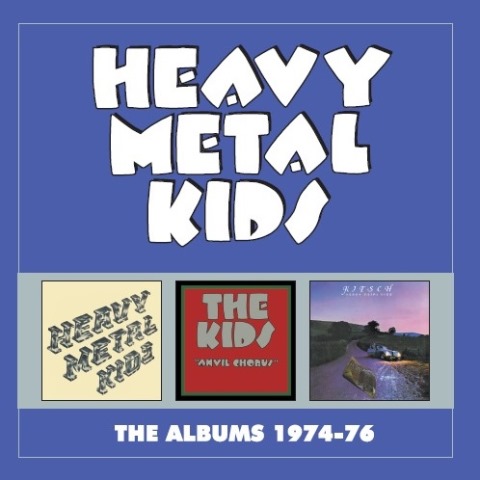 Fair enough then, some of the folks given a leg-up during the changes of 1976 and 1977 liked Heavy Metal Kids. Finding a quid pro quo proves harder though. The final track the band recorded in 1977 was for a then-unissued single. The proposed A-side was the – for its first half – very Thin Lizzy-esque "New Wave." It's collected on The Albums 1974-76 (contrary to the title, tracks from 1977 are included as are single-only sides). For "New Wave," Holton sings "you stop the traffic with the clothes you wear, you pierce your skin and dye your hair, you're not accepted anywhere, going nowhere, new wave what do you think you look like?" He doesn't seem particularly fond of what was going on. And it turns out, beyond a "gor blimey hello missus Jones, how's your old Bert's lumbago?" geezerishness and some implicit cartoonish loutishness, barely anything on The Albums 1974-76 chimes with punk.
Gary Holton (1953-1985) had been on stage from around age 11 (initially in opera) and went to Westminster School, the public school. All the while he acted, including for the Royal Shakespeare Company. He attended London's Central School of Drama and had a lead role in Hair. Heavy Metal Kids came together in 1972 and were co-managed by music business player Rikki Farr (spelt "Ricki" in the booklet: he gave them their William Burroughs-referencing name) and former Kray Twins associate Laurie O'Leary, who ran the music biz-favoured Speakeasy Club near Oxford Circus. They played there. The showcasing worked and the band signed with the UK arm of Atlantic Records in 1973. On stage, Holton was a lively presence – footage on the internet suggests the Artful Dodger role he'd previously played on stage was ported over to the band. Atlantic's PR blurb said HMKs played "agressive [sic] rock."
Their first single was May 1974's "Rock 'n' Roll Man." Heard now, it sounds like the Faces of "Stay With me" and "Pool Hall Richard." The eponymous first album came out at the same time. Its opening cut "Hangin' On" appears to intentionally cross Free or Bad Company with the Faces. There's some Alex Harvey in there too (Holton and Harvey were concurrently in Hair). Despite odd dips into rock ballad territory ("It's the Same"), the album sticks with the palette set up when it began.
Reviewing it for NME, Mick Farren said "They are a British rock and roll band, with a unique selling point of some kind of urban aggro. H.M. Kids are quite a tasty amalgam of a lot of what has been recognised as good over the last couple of years. They have a neat approach to the organisation for their rock and roll, the kind of thing that Bob Ezrin did for Alice Cooper. Much of the music has a strong resemblance to Cooper. When Holton relaxes a little he manages to sound like a not so booze soaked Rod Stewart. The real trouble with the Heavy Metal Kids is that there really isn't anything too original to hang on to."
The next album – issued as by The Kids: the "heavy metal" part of their name was obviously a problem – was 1975's Anvil Chorus. It's efficient, pretty much as per the first but with additional touches of Humble Pie-ish soul. The band were pushed hard, touring as support to Uriah Heep and (funnily enough) Humble Pie. In late 1975, they did a UK tour where half-price admission was possible with a token printed in the music weekly Sounds. They were shoehorned into the BBC documentary series Panorama in an episode on a purported teenage and pre-teen crime wave, where Holten is quoted in the voiceover as saying "in the Sixties it was all beads, peace and pot. Now it's all boots, bovver and booze." But despite their profile and the promotion, Anvil Chorus wasn't a big seller so Atlantic and Heavy Metal Kids parted company. Mickie Most's RAK label picked them up in 1976.
Kitsch, the RAK album, was meant to be issued in September 1976 but was shelved as Holton had left the band. They reformed and it was released in April 1977. It opens with the Queen-ish pomp instrumental "Overture" – not at all in tune with the times or even the band's previous music. Next up is the equally archaic Sparks-ish "Chelsea Kids," issued as a single in May 1977. The rest of the album has similar glam leanings and is dominated by keyboards on a string setting. Its "Jackie the Lad" is a horrible, ill-conceived cock-er-nee knees-up. The best track is the poppy rocker "She's No Angel." "Delirious," the September 1977 single issued instead of "New Wave," is a great full-ahead melodic rocker. At this time, the band traded as H.M.K. They left RAK in January 1978 and split that April.
"Delirious" aside, and despite the "boots, bovver and booze" vibe, nothing on The Albums 1974-76 makes a musical case for Heavy Metal Kids as in tune with punk. Perhaps it was necessary to experience the on-stage Holton to make the connection.
Next week: Innovations and Live At The BBC – British blues stylist Duffy Power is reissued
Gary Holton was a lively presence – the Artful Dodger role he'd previously played on stage was ported over to the band
Explore topics
Share this article