theartsdesk at the Savannah Music Festival, Georgia |

reviews, news & interviews
theartsdesk at the Savannah Music Festival, Georgia
theartsdesk at the Savannah Music Festival, Georgia
Georgian charm and high-quality roots music make for a delightful programme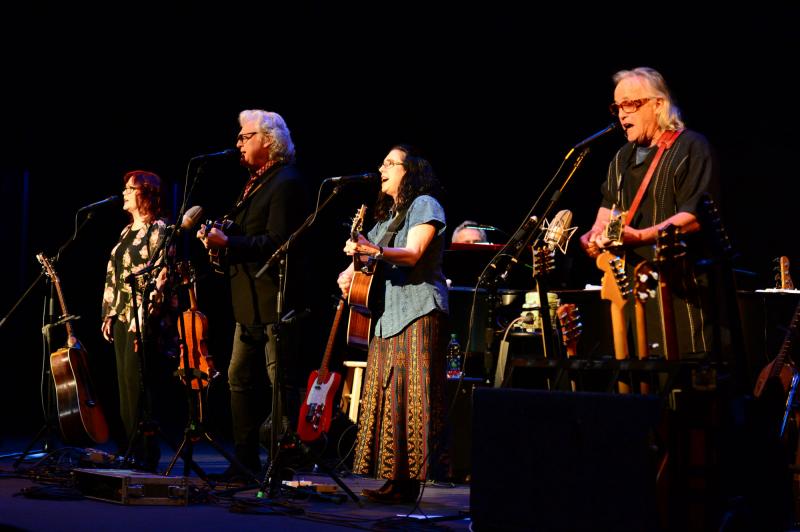 Ry Cooder with Ricky Skaggs and Sharon White
The name of the Savannah Music Festival might sound somewhat vague in these days of specialist events, but this is an (almost) three-week sonic orgy which treats all styles equally, blending classical beside bluegrass, jazz next to African, and country side-by-side with the blues. Multiple venues are used, some more than others. All of them are within easy walking distance, around the centre of this historically-attuned southern States city.
Landing down in Georgia from New York City, as did your scribe, the transition is immense. Down here, the traffic actually waits for pedestrians at all of the many crossroad intersections. The vibration is strikingly laid back, the climate is very warm, even at this time of year, and a multitude of tree-drooping, shaded squares dot the grid-map in a mathematically arranged profusion, regularly providing mini-glade respite from, well, the general non-busy-ness. Tourism is a major industry here, but the groups are puttering around on their guided tour trams, rarely getting in the way of our steadily gigging perambulations.
The concerts are regularly spaced, with a daily lunchtime set in the Charles H Morris Center, which also hosts doubled-up shows in the late afternoon and mid-evening. Then, the Lucas Theatre is the dominant big-gig location. It's right next to Reynolds Square, which is one of Savannah's quaintest pools of relaxation.
Most of the jazz artists had flown down from NYC, and represented the music's mainline incarnation. Leading his trio, the pianist Aaron Diehl did take a few excursions, featuring a Philip Glass étude (he has collaborated with the minimal man), jumping about from Dizzy Gillespie to Horace Silver tunes, and then sprinkling in some of his own original pieces. A double bill of singer Catherine Russell and The Hot Sardines showcased old school jazz of the hot and bluesy variety. Russell delights in double entendre material, sassy and rootsy in her slightly roughened delivery, whilst the Sardines have massively improved as an outfit, becoming way more confident, projecting via a repertoire of earthy R&B, New Orleans swaying, and general sepia sleaze numbers. Their French singer Miz Elizabeth Bougerol has strengthened her stage personality and her vocal thrust, whilst hoofer Edwin "Fast Eddy" Francisco adds some "virtuoso" tap moves.
Dwight Yoakam is still here, performing his nifty crab-walking, bent-knee shuffle
The Jamaican elder Monty Alexander was unusually disappointing, opening with unamplified melodica, pulled out of his bag for a calypso-ish number. The trio huddled together closely, tunes bouncing lightly, moving close to a samba feel. Unfortunately, the players were caught in the habit of quoting melodic fragments from popular songs, to an annoyingly great extent, at times heading deep into the cocktail lounge. Alexander is a dexterous pianist, but the set's conceptual discipline was lacking. It was like a stream-of-consciousness rather than a series of compositions, moving close to reggae, including a Jamaican reading of "Summertime". Bassist Hassan Shakur even managed to top his leader with an almost ludicrous abundance of snatches, including themes to The Munsters and The Pink Panther.
Later in the same evening, one of the festival highlights provided its sheer exhilaration as recompense. We don't have many chances to catch Ry Cooder these days, and it was unusual to sight him in a collaborative combo with Ricky Skaggs and Sharon White. It might have seemed that singer and guitarist White would be pushed forward to front the band, but the reality was that she almost had a guest-starring role, Cooder choosing to dominate with his vast array of guitars and almost-guitars. He was also the lead vocalist for large portions of this perpetually engaging set. Skaggs was his right-hand man, chopping about on mandolin, fiddle, banjo and guitar, also handling lead vocals on several songs.
The musical foundation was country music, with dashes of gospel, blues, R&B and bluegrass, keeping up a series of constantly changing mood-nuances. Cooder was frequently humorous, but delivered his sting every time he took a sliding solo. Joking that they weren't likely to play any songs penned post-1962, the crew played "Sweet Temptation" (Merle Travis), "The Truth of Me" (The Stanley Brothers), "Whiplash Boogie" (Jimmie Martin), the latter's twangy ruck followed by a tender "Tennessee Waltz". White's father Buck shone on piano during "Freight Train Boogie", an old Delmore Brothers ditty. Each member of this band was on top form throughout, the set being a rare joy, very personably delivered by these hardcore country-lovers.
We were still talking country music the following night, although transmogrified into some spellbinding David Lynch-ian time-warp back to the 1980s, then further back to the 1970s. The cavernous Johnny Mercer Theater filled up with beer-swigging country diehards, whooping so loudly that if any earplugs were needed, it was to protect against the crowd rather than the band. So, Dwight Yoakam is still here, straight from Los Angeles, looking exactly like he did at the start of his career (Stetson and ludicrously tight brushed, light blue denim jeans), performing his nifty crab-walking, bent-knee shuffle. This entire experience was simultaneously very strange and very directly country-rockin'.
Yoakam's guitaring is more riff-based, leaving his flashy lead axeman Eugene Jaramillo to burst out the rock'n'rollin' solos, but the secret weapon of this outfit stands to the rear, ostensibly a keyboardist, but switching his multitude of instruments on nearly every song. James "Elliot" Schwarzman delivered flighty solos on mandolin, guitar, pedal steel, accordion, banjo and fiddle. It was tough trying to hold the wildly amplified boom down in this theatre, but with all the baying of the crowd, did this really matter? The gig's entirety was smokin', hard to argue with as the band kicked out their shit, Yoakam's vaulting vocals emerging above the low-down ruck.
Contrastingly, the third week featured a shift towards folk music from further around the globe. Mali's Ballaké Sissoko gave a sensitive solo kora recital, a taster for the quartet line-up employed by singer Kassé Mady Diabaté that same evening. Both sets were pleasing, but that special kind of Malian evocativeness that often rears up was not present here, at least not subjectively to this writer's ears. Nevertheless, these were refined sets, with a hushed audience soaking up the delicate details of the extended pieces.
This is a diary crammed with the highest quality classic practitioners of nearly every form
On a quiet Sunday afternoon, the next day, bluegrass stanchions Del McCoury and David Grisman held intimate court in the Lucas Theater. Del (suave) and Dawg (grizzled, both pictured above right) are the names they have on the billing, both singers in holy harmony, McCoury playing rhythm guitar (acoustic) and Grisman flashing on mandolin, handling the dazzling solo runs. These are never overlong, but rather swift micro-messages that underpin or respond to the vocal lines. McCoury shows off his bassline phrases on his lowest strings, and relates tales of auditioning for bluegrass master Bill Monroe in his youth, high-hollering through "Dark Hollow". The set skirted from the ultimate melancholy of "Man of Constant Sorrow" to the slapstick chuckles of "I'm My Own Grandpa". Then that old chestnut "Tennessee Waltz" rolled out once more.
Making a strong complement to this show, on the following Monday, the younger acoustic bluegrass guitarist Bryan Sutton played the smaller Charles H Morris Center, in a double bill with Haas Kowert Tice, an even more youthful bunch who were mostly bluegrassy, but also with fingers dipping into mainline country-folk and general singer-songwriter pools.
HKT are beyond traditional, sieving the old tunes through their own lively playing personalities, occasionally sneaking in original material. Their fiddle, guitar and upright bass line-up was sometimes changed, either with swapping of instruments, or delivering a quick burst of a capella vocal harmonies. Tice sang one of his own songs from his debut solo album, but the majority of the repertoire was instrumental, often delivered at a fleet pace, with spirited musical embellishments to suit.
Sutton was more old-school, and the first guitarist of this weekend's run to focus on virtuoso picking, whether he was soloing or not: the notes never ceased flying. He also sang a few songs, with his three bandmates (fiddle, mandolin, upright bass) leaving him alone to play a Doc Watson song, "I've Been Around the World", taking another turn by zooming along on his fretless banjo, accompanied by just Mike Barnett's fiddle.
These clusters of different musical styles (jazz in the middle week, global folk in the third, country and bluegrass all over the place) are one of the strengths of the Savannah Music Festival, with its calendar of impeccable taste, and just about the only criticism to make could be that there is little room for musical experimentation or extremity here: this is a diary crammed with the highest quality classic practitioners of nearly every form of roots music on the planet.