theartsdesk on Vinyl Christmas Special 2020: Donna Summer, Tom Sanders, The Kinks, Tru Thoughts, Spice Girls, Style Council and more |

reviews, news & interviews
theartsdesk on Vinyl Christmas Special 2020: Donna Summer, Tom Sanders, The Kinks, Tru Thoughts, Spice Girls, Style Council and more
theartsdesk on Vinyl Christmas Special 2020: Donna Summer, Tom Sanders, The Kinks, Tru Thoughts, Spice Girls, Style Council and more
Reviewing the records that are ripe and ready for Santa
Rockin' around the Christmas tree
The music year draws to a close and theartsdesk on Vinyl presents its festive selection. We go easier on the cheesier at this time of year, but there are also gold nuggets in there too. Time to buy the vinyl lover in your life a little something?
Here's a vibrant cross section of many, many kinds of music on plastic, running the gamut from Neil Diamond to a
feminist
concept album about mermaids. Dive in!
VINYL OF THE MONTH
Tiña Positive Mental Health Music (Speedy Wunderground) + Tom Sanders Only Magic (Mosho Moshi)
Usually December's Vinyl of the Month is a Christmas album but this year, for the first time, we haven't been sent any, maybe because the Noeltide vibes are being affected by the viral ones. Who knows. This lack, however, gives an excuse to highlight a couple of albums that showcase two male singer-songwriters who come at their craft with notable originality. London band Tiña seem to be a safe space where frontman Josh Loftin can express himself, firmly backed by his quartet of musical cohorts. He has an idiosyncratic voice that's sometimes deep, piercing and nasal and, at others, a sharp falsetto. On songs such as "Closest Shave" he hints that everything isn't quite right in his world, hence the album's title, perhaps. As much, the music gives off a sense of oddball. The key to this is partly lyrics such as the "Dicks in the sky/Vaginas in my mind" chant from "I Feel Fine", but also persistent organ-lines nailed into the core of each track, like an abject indie twist on The Doors. Pink is the band's motif - there's a wonderful photograph of a blackbird wearing a pink cowboy hat on the photo/lyric inner sleeve, and the album
comes on transparent pink vinyl - but they have lot more going for them than colour-related gimmicks. Tom Sanders is the frontman of indie sorts Teleman but his debut solo album is created with a different musical palette. He has pared back his sound to just his emotive voice, alongside gloopy, twinkling electronically enhanced backing tracks. The songs feel like they've been composed on an acoustic guitar, then that instrument has been pulled out, leaving only free-floating tones and gentle keyboard motifs. The lyrics come over as a human response to a confusing world ("People don't really need Superman/They just needs someone to say hold tight/Tell me it's alright"), and seem perfectly fitted to our confusing times. Comes on pastel orange vinyl.
The O'Jays The Best of The O'Jays (Epic) + The Isley Brothers At Their Very Best (Sony) + Donna Summer The Wanderer (Driven By Music/Crimson) + Sophie Ellis-Bextor Songs From the Kitchen Disco (Cooking Vinyl)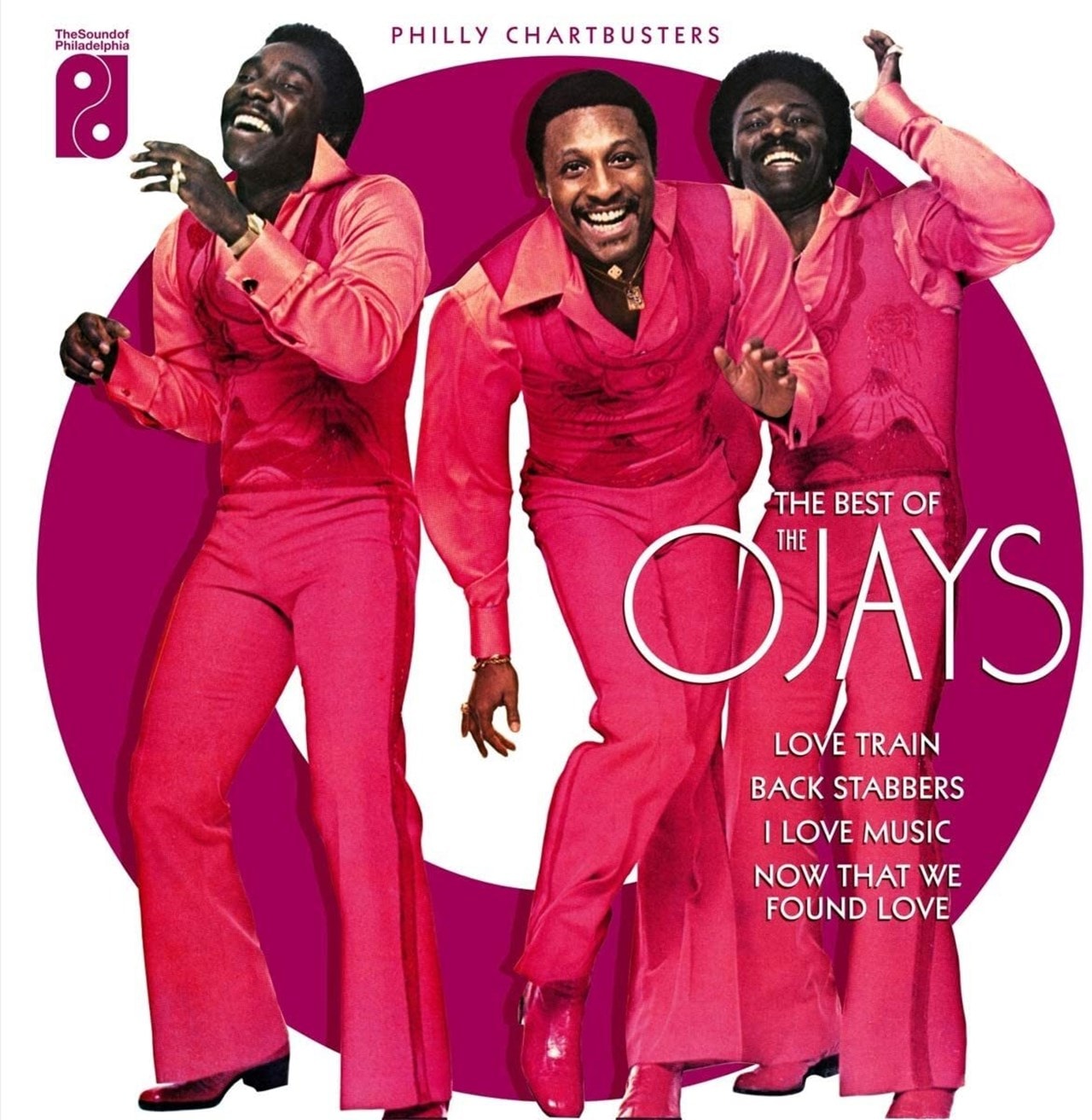 For those after a joyously retro disco-funkin' holiday break, here's a primary-coloured selection which just wants to put a smile on faces and have a grand time. The O'Jays had been around for over a decade, working hard to little acclaim, when they were taken up by Kenny Gamble and Leon Huff and given a fabulous make-over for a gold-run on Philadelphia Records that lasted the breadth of the Seventies. This double set presents a cross-section, ballads and all, featuring gigantic tunes such as the timeless "Backstabbers", the bongo-laced smoker "For the Love of Money", the overplayed "Now that We Found Love", and the soppy soul-doo-wop of "Use ta Be My Girl", alongside lesser later fare such as "Summer Fling". It comes on gatefold double, as does the similarly packaged
Isley Brothers' At Their Very Best. Again, mastered well, this greatest hits collection follows the sibling band through their Seventies glory years and on into their waning Eighties. Unlike The O'Jays, the Isleys had hits (on Motown) in the Sixties but it was via their own T-Neck label that they achieved their greatest moments, combining heady guitar lines with light, easy soulful grooves, resulting in timeless hits such as "That Lady", "Summer Breeze", "Harvest for the World" and "Fight the Power". Backed by the 24 carat production team of Giorgio Moroder, Peter Belotte and Harold Faltermeyer, Donna Summer wanted her first album for her new label Geffen in 1980 to mark a new beginning, even including the gospel-ish "I Believe in Jesus" to proclaim her Christian faith. Most of the album,
however, is jammed with proto-Eighties yacht rockin' dancefloor cuts such as "Breakdown". Listening afresh, it's possible to hear this sound as more influential on contemporary pop than I'd previously considered. The strange rock'n'roll electro of the title track is bizarre but intriguing. This 40th anniversary edition arrives on double in gatefold, one of the discs in light pink, and wordy inner sleeve notes featuring most of the players involved. The second record is all remixes, the ones by Figo Sound (who?) are forgettable but the arch Eighties-update polish of London's Le Flex are worth a go (check his Poolside Mix of "Grand Illusion").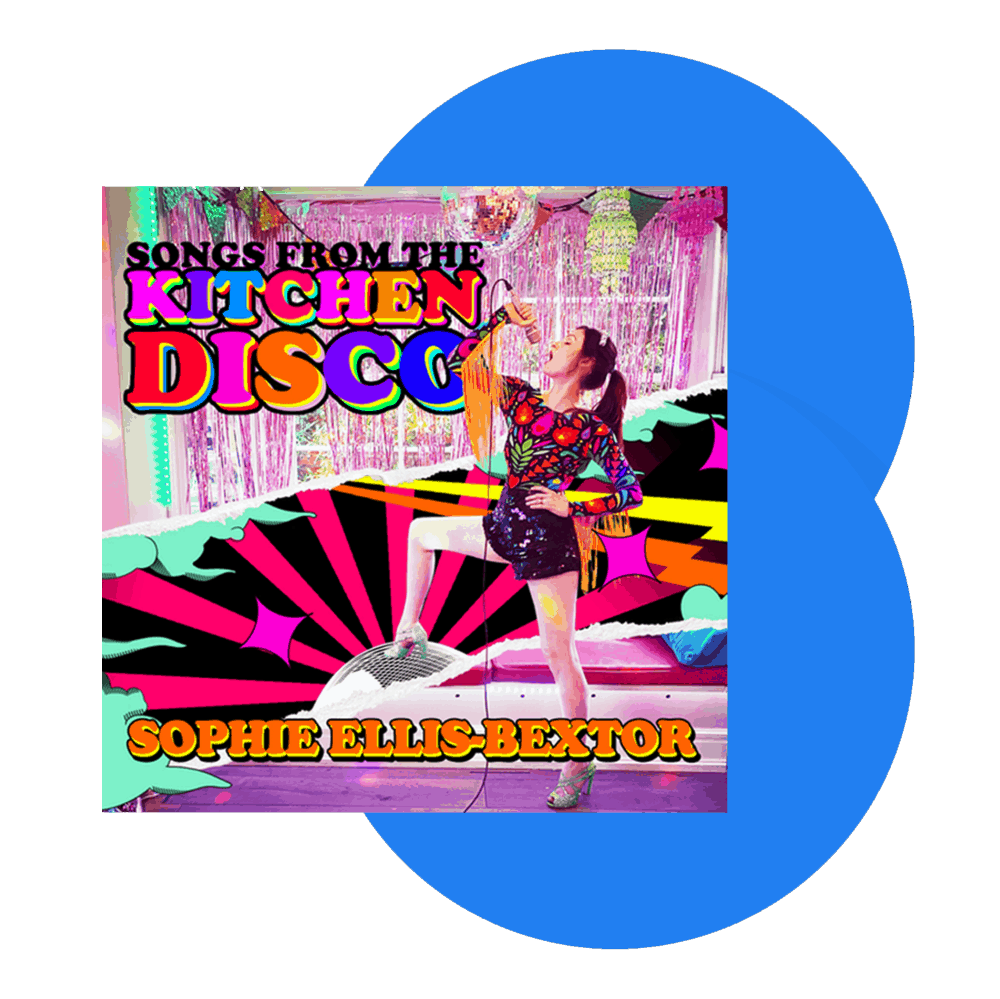 Finally, Songs From the Kitchen Disco is Sophie Ellis-Bextor's celebratory documentation of the Instagram-casts she did with her family every Friday evening during the original COVID lockdown. Except it isn't really, it's a greatest hits-plus collection which is packaged entirely in images from those lockdown sessions and a note from the singer about how fun it was to do them. Ellis-Bextor has maintained a successful international career long after many predicted her game would be done. She first came to prominence, after all, via Spiller's millennial dancefloor smash "Groovejet", here in its "2020" incarnation, but she also delivers songs ranging from a BBC session cover of New Order's "True Faith" to The Sound of Music's "Favourite Things" with apt gusto, alongside her hits ("Murder on the Dancefloor") and a brand new cover of Euro-disco gotgonzola, "Crying at the Discotheque" (originally by Alcazar). Against the odds, and taking into account the the time of year, it's a likeable, chirpy upbeat set of good-humoured pop, which comes on double on pale blue vinyl.
Various Covers 3 (Tru Thoughts)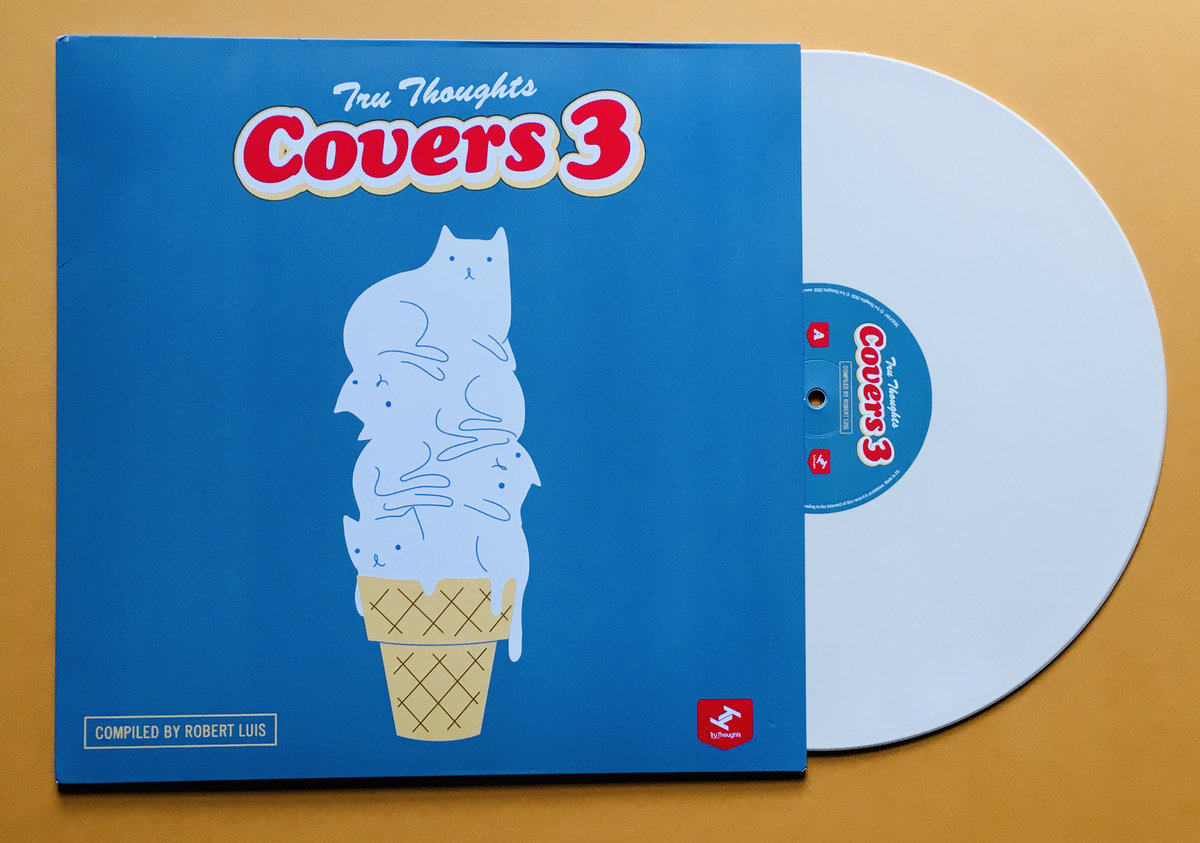 Brighton's Tru Thoughts label fires out another set of tasty cover versions, seven in all. On white vinyl and sounding LOUD, these range from J-Felix's fairly straightforward version of the much-covered Seventies soul classic "Be Thankful for What You Got" (albeit with heavy, Go Go-style thumbed bass) to DJ Madd's starkly electronic remix of Magic Drum Orchestra's reinterpretation of breakthrough Nineties junglist track "Original Nuttah". It's hard to choose a favourite as it's almost all vital stuff but near the top of the pile are Berlin-based Italian deconstructionist sUb_modU's squelchy psychedelic synthesizer take on Fela Kutis "Water No Get Enemy" and, conversely, Mark de Clive-Lowe & the Rotterdam Jazz Orchestra's sax heavy Afro-tastic explosion of Duke Ellington's "Caravan".
The Style Council Long Hot Summers (Polydor) + Various Eddie Piller presents The Mod Revival (Demon)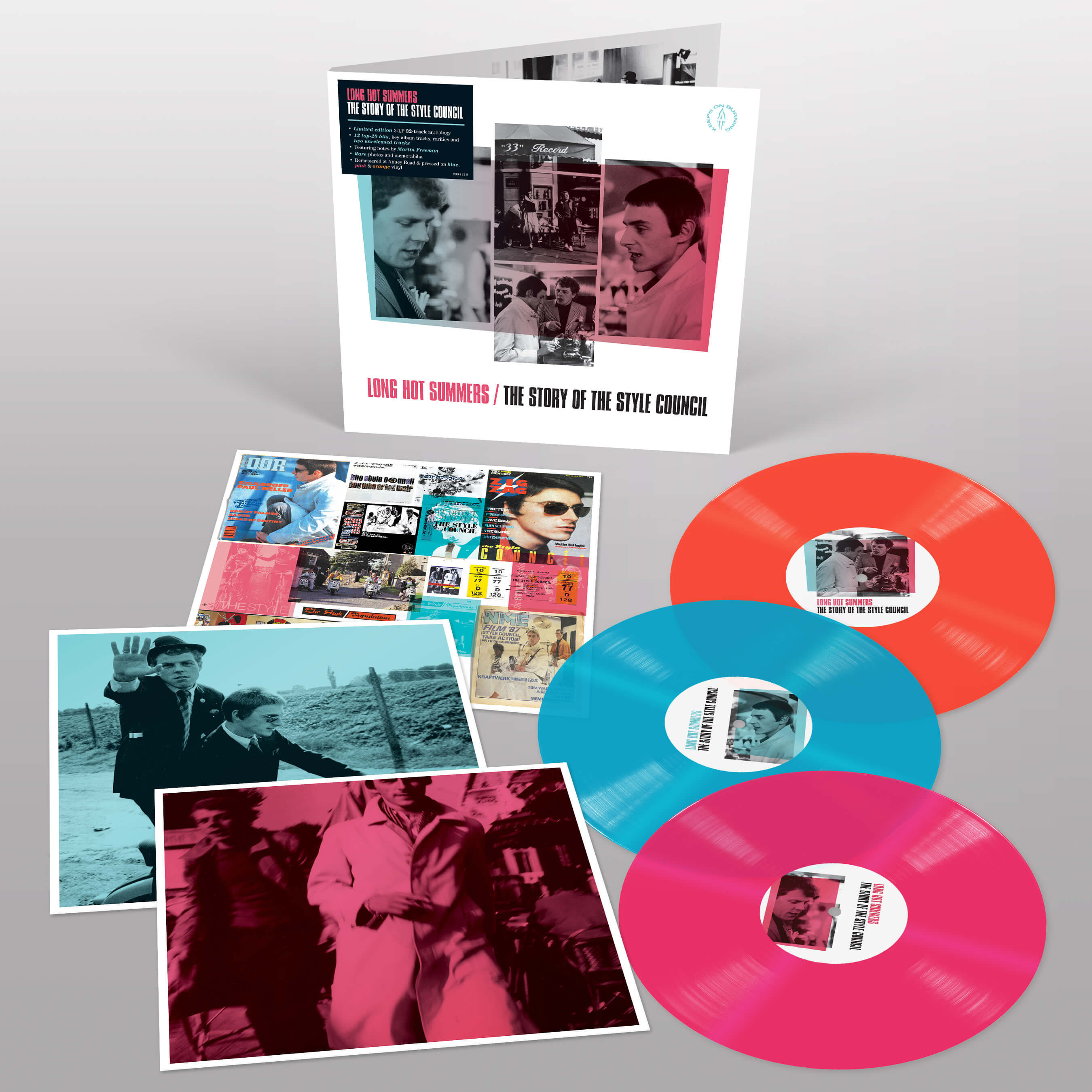 Two options for presents to give the old mod in your life. The Style Council set is a long-awaited career summation on three records in gatefold with inner sleeves full of photos and an essay by writer and Weller associate Lois Wilson, as well as a message from soul boy actor Martin Freeman. Paul Weller's post-Jam incarnation, whose career spanned the Eighties, were an acquired taste, dismissed by his old punk fans as poncing about with pop. That is exactly what they were doing and that was the whole point. Aside from a few missteps into weedy R&B, the results sparkle with hope and ideas. From the early wanna-be-Curtis Mayfield hits to slowie b-sides ("Ghosts of Dachau", "The Paris Match", etc) to the much-vaunted-at-the-time jazz period to the late career satirical brilliance of "Life at a Top People's Health Farm", here in a dancey 4/4 remix, it's all juicy stuff. There's also the added bonus for Weller geeks of two unreleased cuts, an alternate version of Café Bleu's "Dropping Bombs on the Whitehouse" and a demo of one of their best songs, "My Ever Changing Moods". Without Weller and The Jam, DJ and music man
Eddie Piller states in the extensive inner sleeve notes of his own two record set, there would have been no late-Seventies/early-Eighties mod revival. It was Weller who wove the energy of Sixties mod into his version of punk, as well as soul sounds equally beloved of mods. Piller collects together 28 tracks representing the mod aspect of the post-punk band explosion. Much of it is crude stuff, very much in the shadow of The Jam, but like those Sixties US garage bands who used to badly emulate The Stones, there's sometimes raw charm in that. The Jam are here, as are Madness, representing the ska side of mod, and Dexys too, as well as other known-to-mod sorts, Secret Affair, The Lambrettas, The Chords, James Taylor Quartet and The Untouchables. To theartsdesk on Vinyl's ears, the early Jam-alike stuff is less interesting, but after Small Hours' cover of George Jackson's northern soul staple "Can't Do Without You" things grow increasingly more-ish, from the organ-fuelled trash instrumental "Wormin'" to the preposterousm name-dropping proto-indie of The Times "I Helped Patrick McGoohan Escape" to the Dexys-ish "Confusion (Hits Us Every Time)" by The Truth to the excellent 1979 new wave "No Survivors" by Speednall. On one red and one blue record, the best of it grips, as well as offering a welcome window onto a tribal pop moment.
Jane Birkin The Very Best Of Jane Birkin (Mercury)
There is something innately kitsch about this set of Jane Birkin's almost completely Serge Gainsbourg-written songs. This isn't to take away from their fabulousness but most of them are hard to take very seriously in 2020. Take the superb "Ex-Fan des Sixties", for instance, which is a 1978 meditation on pop of the decade in question, Birkin's French interspersed with references to iconic stars of the era in clipped Queen's English. The earliest songs date from Birkin and Gainsbourg's tempestuous relationship then the compilation continues after that finished in 1980. The tone becomes more melancholic with this later fare, typified by 1983's "Baby Alone in Babylone". Birkin's voice thin quavering voice, especially when she reaches for soprano notes, is all part of the appeal, whether she's playing the breathy coquette (as famously on the orgasmic "Je T'Aime … Moi Non Plus") or attempting to emote seriously. These songs are miniature Gallic melodramas and, although the most recent one – "Á la légère", the only non-Gainsbourg song – was recorded in 1999, they all seem to hail from another age entirely.
John Parish & Polly Jean Harvey Dance Hall at Louse Point (Universal)
John Parish has been an integral part of PJ Harvey's career, right from its very beginnings, when she did her indie-land apprenticeship in his band Automatic DIamini. By 1996, however, when Dance Hall at Louse Point was made, Harvey was riding high on a trio of guitar-rockin' crossover indie albums. Her fans wanted more of that sort of stuff and disregarded this album, although it's an appealing set of songs. In fact, theartsdesk on Vinyl isn't really a PJ Harvey fan, but this one hits the buttons. On first glance, the songs appear be some sort of geography lesson, with each track appended by a bracketed place name (Bristol, Tokyo, Modena, etc), but such thoughts soon disperse as the listener settles in. Initially, the sound is stark acoustic avant-blues, very much not rock'n'roll, with Harvey's voice to the fore, but on Side Two things become livelier and quirkier, with the psychedelic organ freak-out "HEELA (Dorset)", a couple of cacophonic angular guitar assaults, and a somewhat unnecessary version of the Peggy Lee classic "Is That All There Is?". The overall effect is of going on an intriguing musical journey where the guides are determined to explore new songwriting modes without ever doing anything crass and obvious.
Tara Minton Please Do Not Ignore the Mermaid (Lateralize) + anrimeal Could Divine (Demo/Crossness)
Two albums of accessible experimentalism from two women determined not to go in though the front door when they can find other, more interesting entry points to our brains. Please Do Not Ignore the Mermaid is a pleasingly eccentric outing and the third album from Britain's premier session harpist (who is, actually, from Australia). It is, to coin that notorious Spinal Tap term, a jazz odyssey, a concept piece concerning the titular temptresses of the sea, but also a reflection of love and womanhood, all via the prism of evening time jazz. Lyrically led by Minton's bell-clear, precise voice, it's very pretentiousness should be off-putting but, instead, draws the listener into its various moods, riding along over the slowly persuasive
rhythm section of double bassist Ed Babar and drummer Dave Ingamells. anrimeal's debut Could Divine is equally unpredictable; scratchy, electronically enhanced weird-folk, splashes of strings, discordant guitar and glitching matched by sinister glooping and bass, the whole thing held together by the serious, semi-classical vocal intonations of anrimeal herself, London-based Portuguese artist Ana Rita de Melo Alves. Created under lockdown, Could Divine, takes its time building a mood that is midway between spooked and beautiful. Anyone after thought-provoking time out from the sometimes frenetic concerns of Christmas could do worse than bury their head in these two.
Keith Richards and the X-Pensive Winos Live at the Hollywood Palladium (BMG)
The festive season is a grand time to make in-roads into the spirits cupboard (if you're able to have such a thing in the house!). This album has something in common with that notion since Keef is a walking spirits cupboard. Recorded in the stunning 4000 capacity Art Deco Hollywood Palladium in 1988, it still sounds like a grizzled Bourbon dude having a jam with his mates in a roadhouse on some highway near Memphis, albeit the musical calibre of the band is very high indeed. And it's unlikely a roadhouse outfit would attempt the reggae number "Too Rude", a tune Richards had sung on the Rolling Stones album Dirty Work a couple of years previously. The Stones were famously in bits at this point, with Jagger and Richards amid a major fall-out, but Richards' X-Pensive Winos seem less like a serious attempt at a solo career than a guy filling his time and having a blast (unlike Jagger's equivalent efforts). This gig was at the end of a tour in support of Richard's first solo album Talk is Cheap, from which most of the material is drawn (along with an extended version of the Stones classic "Happy"). It's unashamedly blues-grungey guitar hero stuff that's hardly essential but fun if you're in a Keith Richards kind of mood. Comes on red vinyl, well-mastered, on double in gatefold with photo/info inner sleeves.
Various Jalapeno Records: Two Decades of Funk Fire 7" Boxset (Japapeno)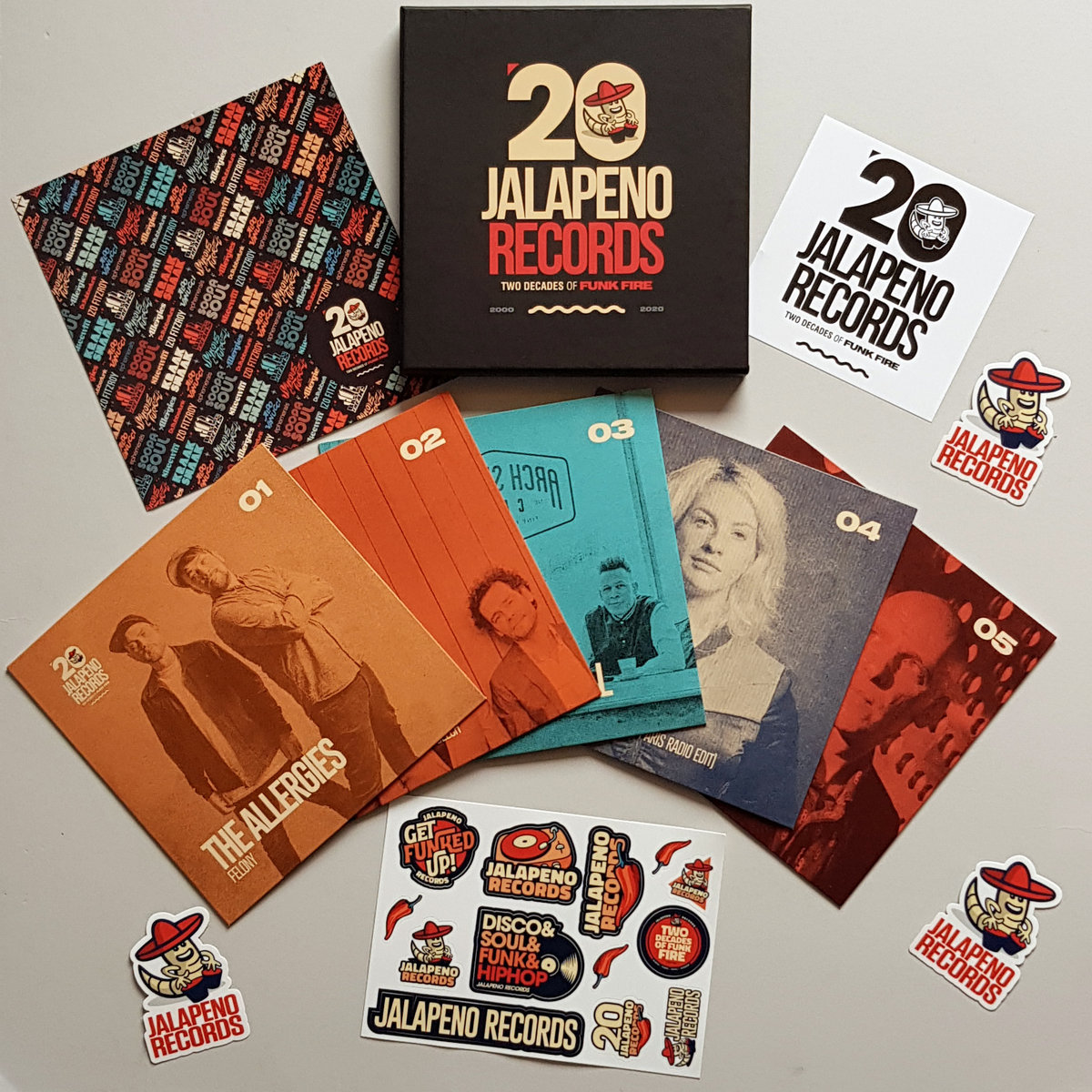 This one will also have many dancing around their living rooms in a festive frenzy. It's a Craig Charles-bait 7" boxset of five double A-side singles representing the bouncy party funk that the Brighton label Jalapeno revels in, each in colourful photo inner sleeves. Mine came with a bunch of cheery cartoon stickers too. Songs on board run the gamut from The Allergies recent sample-funk bouncer "Felony" to 2002's ridiculously jolly library music breakbeat frolic "Soul Bossanova" by Nineties chart-botherers Skeewiff; from the smooth jazzy disco of Dimitri From Paris's mix of "I Want Magic" by London soul belter Izo FitzRoy to the catchy "Squeeze Me" by Kraak & Smaak fronted by UK jazzier Ben Westbeech. Other artists include Aldo Vanucci, Basement Freaks and DJ Rubberfunk. There are those who argue that Jalapeno's output is a tad one note, and they have a point, but if you want Prozac foot-moving fare that tips its hat to Northern Soul and hip hop beats, with actual songs attached, it's a one-stop shop.
Spice Girls Forever (Virgin)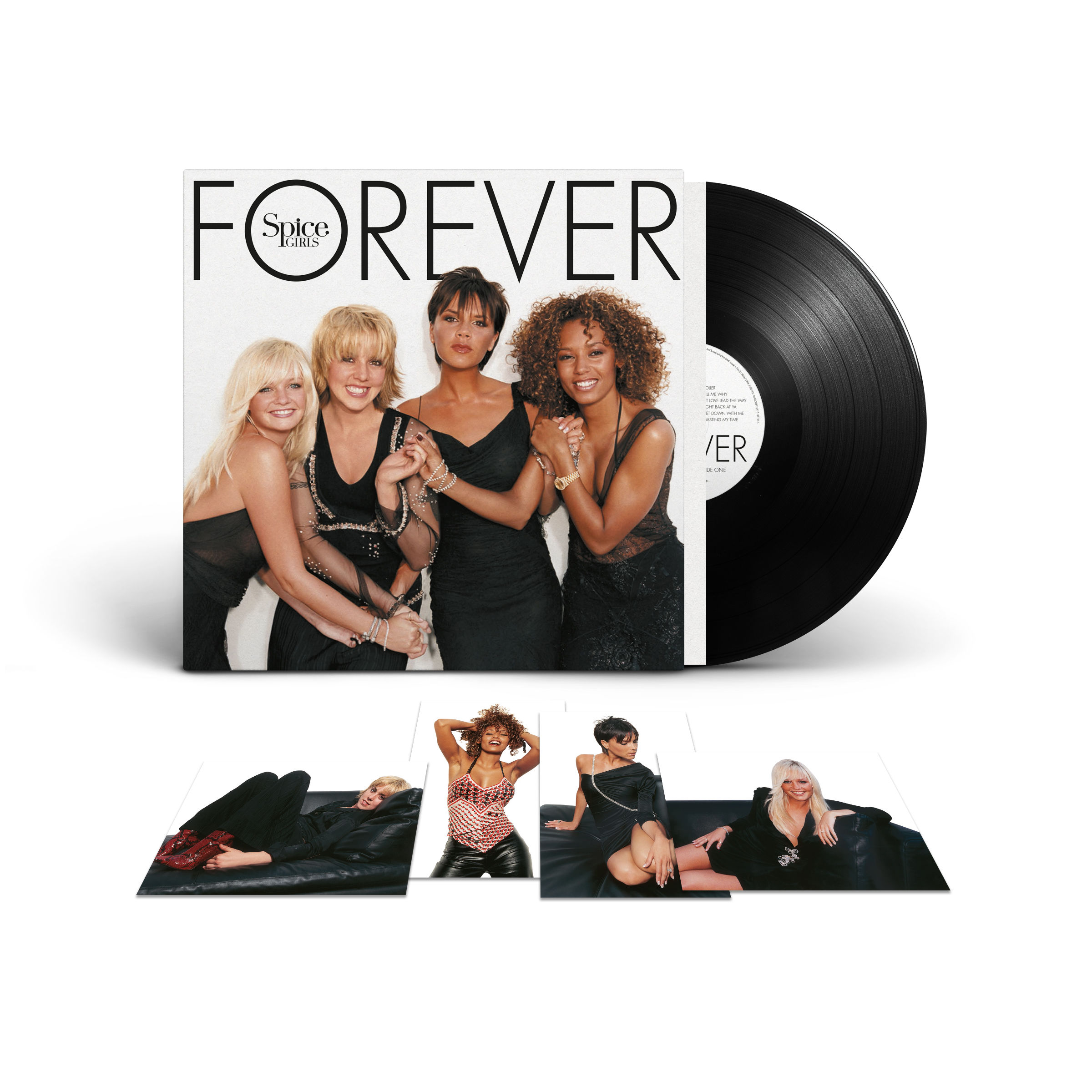 One of theartsdesk on Vinyl's principles is not to include anything unless there's something positive to say about it. In December this is further finessed; the rules are that any positive attributes are actively sought out, in the spirit of the season. Thus we approach Forever, Spice Girls third and final album from 2000, with ears even more open than usual. What do we find? The songs are mosty so-so but there are solid grooves here of which more could be made (check "Get Down With Me"), but the decision was clearly made to let US R&B producers Rodney Jerkins and Jam & Lewis have a field day with the sound. To be fair, at the time US R&B was making quantum leaps in the studio via the likes of Timberland and The Neptunes, and on the opening "Holler" and "Tell Me Why" Jerkins mains a certain electro punchiness. Overall, however, the album sounds defanged. Clearly Spice Girls were never going to be Pussy Riot, but this could have been where they mustered an electro-pop punch that Girls Aloud would introduce to girl bands a couple of years later. So, arriving on photo/art gatefold replete with four photos of the by-then-Geri-less band, it's occasionally enjoyable saccharine froth, rather like the annual tradition of drinking those sickly sweet Yuletide snowballs, and worth a listen to lend an ear to Scary's rapping on "Right Back At Ya".
The Kinks Lola Versus Powerman and The Moneygoround Part One (BMG) + Pretty Things Parachute (Madfish)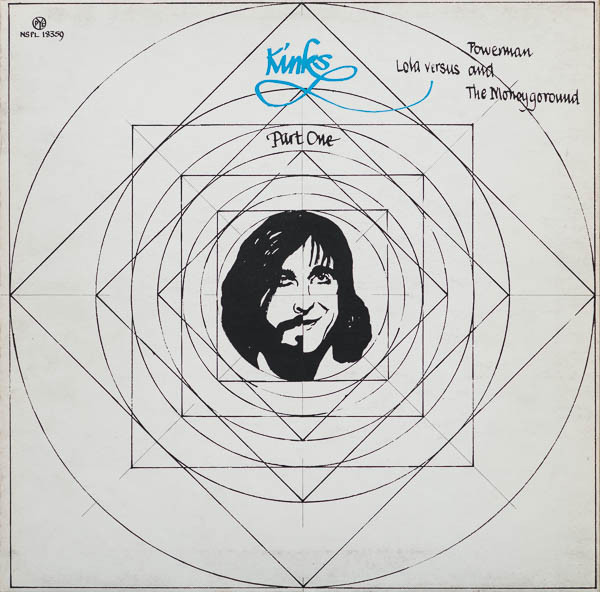 Two albums that saw Sixties bands making a tricky transition to a new decade. It's hard to believe that The Kinks embrace of concept albums was so badly received by the British public at that time. The band had been exploring this area with their previous couple of releases prior to 1970s Lola Versus Powerman. Boring prog bands with dodgy time signatures and classical pretentions would soon achieve success mining a similar seam, but with songs all about wizards and aliens. Rather like Floyd's later Wish You Were Here, Lola Versus Powerman concerns the travails of the music industry, spiced with the stunning tranny classic "Lola" and the bubbly "Apeman" (at least they were both Top Five hits). Ranging from the riffy proto-punk of "Top of the Pops" to the lovely psychedelic Beatles-ish "Get Back in Line", it's arrives in gatefold with a booklet of reflections and photos, a suitable celebration of an album that long-ago achieved rehabilitation. The Pretty Things, on the other hand, had to wait decades before
their 1968 psychedelic concept groundbreaker SF Sorrow was widely acclaimed. It's lack of success at the time was amongst the factors that precipitated the departure of guitarist and founder member Dick Taylor, who was replaced with the Edgar Broughton Band's Vic Unitt (rather lysergically fried at the time, according to the sleeve notes). The band's next album, 1970's Parachute was born out of stoned jammed sessions in London crash pads and is a raw fresh, energized thing, heavily based on roughly played acoustic guitar, with occasional hashy rock-outs such as the title track. SF Sorrow receives all the praise but, in some ways, I prefer this one, as its less self-consciously musical or Sgt Pepper-ish, with flavours even of Who's Next about it, a concept album that never was. It feels like it has arrived unedited from its artistic roots. It comes in lyric gatefold with a lovingly put together 12" x 12" photo/info booklet explaining the album's origins and a tribute to the late singer Phil May. The second record includes three non-album singles from the same period, alongside their B-sides, including the double header "October 26" and "Cold Stone", a top 40 hit in Holland, the A-side a plangent ballad espousing personal revolution, and the B-side a hearty blues-rocker. The final side of the album is given to an etching based on a drawing by May. All round a very tasty package, disinterring a forgotten treat, and a welcome window into a lost era of druggy dreaming and hope.
Clint Mansell featuring The Kronos Quartet Requiem for a Dream OST (Nonesuch) + Brian Eno Film Music 1976 – 2020 (Opal/UMC)
Two film soundtrack sets worth investigating. Twenty years ago classic druggy drama Requiem for a Dream consolidated Darren Aronofsky's position as a cutting edge director to watch. It was also the second time he collaborated with ex-Pop Will Eat Itself musician Clint Mansell, whose music would turn out to be very much integrated into the mood of the film. The new vinyl release breaks it down into the chapters Summer, Fall, Winter, and In the End It's All Nice, a side each in this double gatefold set. It never gives the listener time to grow bored, as short string sketches and tonal moods vie for space alongside madcap exercises such as the febrile Latin mash-up "Bigs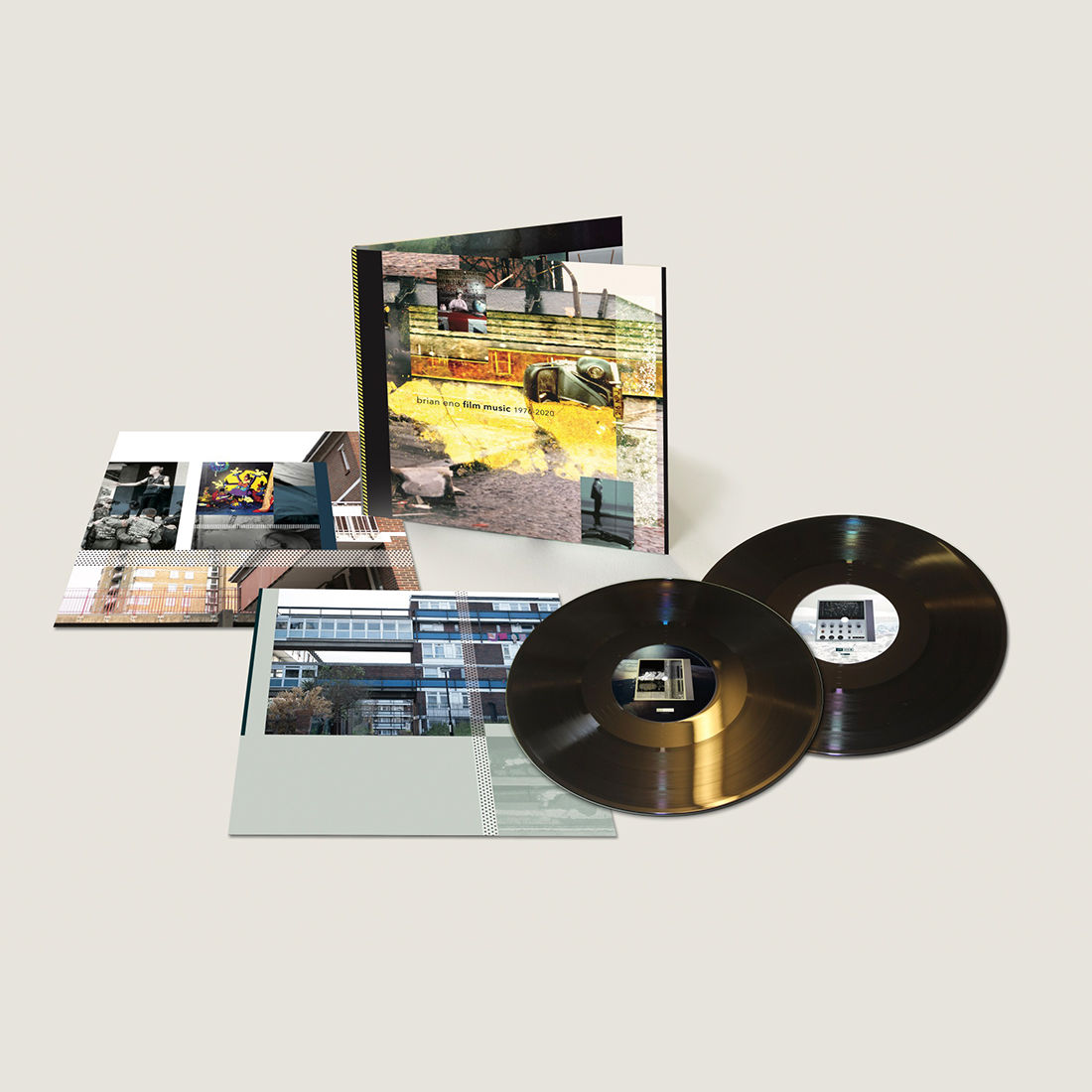 Got a Devlish Grin Conga" or the bangin' 30 second "Party". If the Requiem For a Dream is an exercise in jagged but entertaining listening, the selection of Brian Eno film soundtrack fare is more meditative, as anyone who knows Eno's work might guess. The pieces range from the Vangelis-ish "Prophecy Theme" from Dune to his "Top Boy Theme" from 2011, which is akin to his work on Warp Records. Some of these were pieces repurposed for films, such as "Deep Blue Day" in Trainspotting but originally from Apollo: Atmospheres and Soundtracks (also, in fact, an album based around a film soundtrack!). Actual incidental music is present, such as "Late Evening in New Jersey" from Heat and the tone music of "The Sombre" from season two of Top Boy, but other pieces, such as "Final Sunset", written for Derek Jarman's Sebastiane (but which later turned up on the1978 album Music for Films) are delicious examples of Eno's propensity for ambient ethereality, which reaches its apotheosis with "Ascent (An Ending)".
ALSO WORTHY OF MENTION
Bonobo Black Sands (Ninja Tune): Beatsy electronic Brit Simon Green has had a two decade career in the world of club culture but catapulted much more recently into the A-League with his 2017 album Migration, a Top Five UK hit. Black Sands, his 2010 fourth album, receives a tenth anniversary re-release on scarlet vinyl in photo-gatefold double, sturdily packaged with info inner sleeves that include a new note from Green himself. In this he describes how the album is a response to leaving Brighton and throwing himself into the burgeoning underground clubs of east London. That's how he sees it, but to these ears (notably on tunes such as " We Could Forever" and "All in Forms") Black Sands emanates bullish post-trip hop John Barry-ish twang and an accessibly cinematic sensibility, alongside requisitely sturdy computerized drums and bass, with singer Andreya Triana dropping in here and there to add smooth jazz club class. It's a likeable longform listening experience and hints at where Green was always truly headed. Now living in Los Angeles, I put money down that he'll one day end up as a Hollywood soundtrack composer. Comes with a 12" x 12" card insert panning out on the cover photo.
Greg Lake The Anthology: A Musical Journey (BMG): Christmas is a Greg Lake time of year. And, yes, the original 7" version of "I Believe in Father Christmas" is on this career-spanning double album set in gatefold, which arrives with a booklet full of photos and tributes to the singer and multi-instrumentalist progger. Over four sides Lake progresses from the light psychedelia of The Shy Limbs, through a brief live taste of King Crimson, and onto Emerson, Lake and Palmer, focusing on their lusher, less pretentious aspect, with balladic songs such "Lucky Man", "A Pebble" and "Oh, My Father", then settling to the bombastic pop of his solo career, before concluding, appropriately enough, with the sad sliver of a 1970 King Crimson cut "Peace – An End". Lake died in 2016 and, while not for this writer, this compilation collects his more accessible material for any potential new fans who fancy a dip.
CODE Ghost Ship (Lo-Tek Audio Ltd): Quarter of a century after their debut, Kentish electronic sorts CODE return with the next chapter. They create a palatable variety of song-led electronica, heavily seasoned with Nineties techno vibes (on the latter point, for instance, check the Leftfield-like "Love Perfection"). CODE, however, are not pastiche-makers and move over all kinds of sonic terrain, ranging from epic orchestrations to the moody New Order-ish electro-pop of "The Building". There's also a welcome appearance of Space Odyssey's HAL9000, once a staple of sample culture.
Babeheaven Home for Now (Babeheaven): Semantics in popular music, it drives you nuts if you stay around long enough. New terms for the same thing, old terms with re-engineered meanings. "Dream-pop" is a case in point. It has referred to multiple styles over the years, to the point where it is now relatively meaningless. Along the way, the music of the duo Babeheaven fell into this category. They consist of singer Nancy Anderson and Jamie Travis (son of Rough Trade founder Geoff). To these ears their music sounds almost exactly like late-Nineties trip hop. "Trip hop" is another term whose meanings have been muddled, referring to ether stoned samples-beats of the Mo'Wax variety or female-fronted pop based around mellow breakbeats. Babeheaven are in the latter category and their debut album is a sweet, floaty thing that arrives on lyric gatefold. Anderson has a fine emotive voice and the music around her massages the ears and brings thoughtful relaxation.
Andy White Time is a Buffalo in the Art of War (ALT): Andy White has been around forever (well, the Eighties, at least) but, despite having a coterie of famous fans and collaborators, his isn't a name that will be turning up in pub quizzes any time soon. Now, in his late 50s, the Northern-Irish singer-songwriter's latest album maintains the poetic use of language that his admirers value. And what an album title! Time is a Buffalo… is a double on photo/info gatefold that runs the gamut from Chris Rea-ish observational fare to orchestrated and acoustic version of songs that are elsewhere on the album in light indie-rock form. White is having an existential moment here, on humanity's behalf, and his lyricism is thoughtful, but the musical setting does not win this writer. Comes on photo/lyric inner sleeves.
k.d. lang Watershed (Nonesuch) + Neil Diamond with the London Symphony Orchestra Classic Diamonds (Capitol): A couple of easy listening outings in very different flavours. k.d. lang is not an artist anyone would accuse of being prolific. Watershed was her last solo album, and it appeared 12 years ago (the one before that appeared in 2000!). lang, whose lowercase surname initial sits uncomfortably at the start of a sentence, began her career in raw country folk, but this album is very far from that. Drowning in strings and elegant production, there's country in there, occasionally via the tasteful steel guitar of session perennial Greg Leisz, but this is fireside music, romance ahoy but a wry twist in the lyrics. It's the first time this album has been on vinyl and it's presented with a 12" x 12" lyric/photo/info insert. Neil Diamond, on the other hand, offers up his greatest hits and other biggies on a double album in gatefold, with the new selling point being that they are vast cinematic-sounding recalibrations featuring the London Symphony Orchestra. Other versions are probably preferable - The Monkees take on "I'm a Believer", for instance - but there are some guilty pleasure moments, the over-the-top take on "Love on the Rocks" being one of them. All in all, possibly suitable for Christmas schmaltzing but likely not any other time.
Peter Gabriel Secret World Live + Growing Up Live (Real World): Peter Gabriel has been firing out his old live sets recently on vinyl so I have to confess, before continuing, that my appetite for them as been overwhelmed. Nonetheless, these two sets, from 1993 and 2003, respectively, are mastered to vinyl with Gabriel and Real World Records' usual attention to detail – they don't stint on that front. To these ears, the 2003 set, Growing Up, sounds better, due to partly to various guest appearances, notably Nusrat Fateh Ali Khan and The Blind Boys of Alabama, but also because it dips deeper into a global flavour and is less Eighties-MOR-funky than Secret World. Growing Up is also a triple on gatefold, so will impress post-prog grannies and grandads more than the non-gatefold double Secret World, when it appears in their stocking.
Elvis Costello Hey Clockface (Concord) + Emmylou Harris Wrecking Ball (Nonesuch): Two that are worth a look but have been reviewed sufficiently elsewhere on theartsdesk (will provide click-through links as we go). Elvis Costello's more recent work has not generally sparked up theartsdesk on Vinyl but Hey Clockface, on gatefold double, showcases a bunch of songs that are boldly writ large, pressed clear as a bell, painted on a canvas that swivels about between art rock, acoustica, gypsy jazz, light electronics and much else. And the songs are there too. Its reviewed elsewhere - here - although I like it better than they do! Emmylou Harris's Wrecking Ball was released in deluxe triple form three years ago. It's a deliciously expressive album she made in 1995 with Daniel Lanois, but I'm going to stick with my original review here as I prefer all the bells and whistles which arrived with it over this single album version. In the end, of course, it's a great album, either way.
Sofiane Pamart Planet Gold (PIAS): Finally, with all that port and cheese sitting heavy inside you, the festive anticipation long gone, and wrapping paper overflowing from the recycling bin, you'll take a moment to reflect, especially this year. You'll need something quiet and contemplative for that so how about this set of piano solos from ivory tickler to the French hip hop elite, Sofiane Pamart. Planet Gold, however, is not hop hop, far from it, but gentle classical fare to drift to.
A grand time to make in-roads into the spirits cupboard
Explore topics
Share this article