Interview: Toumani Diabaté |

reviews, news & interviews
Interview: Toumani Diabaté
Interview: Toumani Diabaté
The mesmerising kora virtuoso discusses his new album and old friend
Toumani Diabaté playing with Ali Farka Touré: 'a dialogue, a beautifully meandering conversation'
I am talking to Toumani Diabaté on a phone line into Bamako that, as he explains with an audible shrug, sometimes works and sometimes doesn't. He was due in London a couple of weeks ago to promote Ali & Toumani, his album of duets with the late, great Malian guitarist Ali Farka Touré, but was struck down with malaria at the eleventh hour.
It rather puts the standard rock star bleating about "stress and exhaustion" to shame. "At the last minute I had packed my suitcase but I started to vomit and malaria came, it was really bad," he says. "Thank God, thank God, today I'm getting better."
Thank God indeed. Ali & Toumani is a wonderful record. Recorded in London over three days in 2005 and finally released last month on World Circuit, it is the follow-up to In the Heart of the Moon, the pair's first, Grammy-winning collaboration, released five years ago. The rapturous reviews have hardly come as a surprise; what was less predictable is the news that the album has entered the UK Top 50, carving out a niche amongst the assorted Rods, Whitneys and Robbies. It's yet another sign of Diabaté's growing stature on the international stage, as well as African music's long overdue drift away from the world music ghetto.


Diabaté describes Ali & Tounami as "a book -it's an education about music, about tradition, about a culture, and I think the world needs that today," but really it's a dialogue, a beautifully meandering conversation, not only between two of Mali's most venerated musicians - Diabaté, the prince of kora, and Farka Touré, the "African John Lee Hooker" – but also two human hearts, expressing themselves through the medium of music. Like In the Heart of the Moon the album was entirely improvised. Unrehearsed and open-ended, the music flows back and forth in ripples and waves.

"What we play isn't written," says Diabaté. "It's not like orchestral music. This music isn't like that - it's natural, and people don't always understand that. Ali never ever practised, he wanted to keep the natural things in the music, and me too. When I play the divine inspiration comes through my body and goes through to the strings. It came to Ali, too. Playing with him is a very good experience. I give and I also learn."

As well as a touch of the divine, there is also a breath of sadness drifting through the album. The recording was made just a few short months before Farka Touré succumbed to bone cancer in March 2006 at the age of 66. He knew he was dying, which makes both the achievement of making this music, and the music itself, all the more powerful.

"He was sick, and it was difficult sometimes," says Diabaté. "We had to stop the recording sometimes when he was in pain, but he wanted to continue. I remember one thing: he was always laughing, and when we asked him are you all right, he'd say, 'Yes, Toumani, I'm OK!' He didn't want people to feel he wasn't happy, he was always in the middle of things. I will never forget that. I'm very, very happy today that Ali and me had a chance, thank God, to record together for the world, for the future."

The album expresses the kind of profound, complicated ties of honour and fealty that can't adequately be explained in words. The bonds between the two men ran deep in their blood. The elder by a clear 25 years and a colossus on the African musical scene, guitarist Farka Touré championed the younger man as his star began to rise, and his loyalty was never forgotten. Shortly before his death, Farka Touré asked Diabaté to look after his son, Vieux Farka Touré, once he was gone. Diabaté now describes himself as Vieux Farka's father.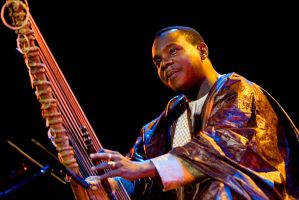 As well as expressing these deeply felt emotions, Ali & Toumani also describes the meeting and entwining of two cultures. Though each is Malian, the pair came from very different places. Farka Touré was a northerner, descended from the Songhai people in the western Sudan region of the country. Diabaté, on the other hand, comes from the south of Mali, from a family of griots, the west African poets and troubadours charged with keeping the culture's oral history alive, and whose bloodline runs back to the 14th century.

These vibrant connections to the past are deeply important. Diabaté famously claims to be the 71st of 72 generations of kora players in his family, stretching back many hundreds of years. His father Sidiki, musical royalty in Mali, the "King of Kora", was the 70th; Toumani's son, also called Sidiki, is the 72nd. Despite his father's prowess, Diabaté is self-taught, and he seems happier looking forwards rather than backwards. "My son, he plays kora and also piano," he says proudly. "I've played with him on a European tour, and we played together at the WOMAD festival. Now in Bamako he's playing a hip-hop concert, and you can see thousands of people wanting to see him."

A griot is both a cultural archivist and a shape-shifter. He takes the past and brings it into the present, re-forming it for the future. This is the tradition that Diabaté taps into. "When you listen to this music, you can learn the past, you can learn the present, and you can learn the future also," he says. "It's natural and fresh, but at the same time it's the old music. We've been listening to it for a long, long time – it's older than Mozart, or Bach, it's just not written."


It's precious, but it's there to be stretched and manipulated. For over two decades now Diabaté has enthusiastically mixed his music with other cultures and textures. He first recorded in London in the late Eighties, sessions that produced the still-wonderful solo kora album, Kaira. As well as collaborations with compatriots like Farka Touré and fellow kora player Ballake Sissiko, he has worked with Taj Mahal, Bjork, Damon Albarn, jazz trombonist Rosewell Rudd and flamenco group Ketama. He has performed at Glastonbury as well as WOMAD, and later this year is turning out at ATP, the none-more indie celebration of blog-rock culture, at the invitation of its curator, The Simpsons creator Matt Groening.

At 44, he is a truly global artist, eyes and ears ever open, yet the assimilation of different strands of music into his work always rings true, in no sense diluting the power of what he does. "When I play with other musicians, I don't play their music, I play my music," he says. "I don't let them play my music! I say, 'Play your music, and I'll play mine.' We put it together and it becomes a new music. That is a more interesting thing, and it's what the world needs today: more communication."

He takes his cultural responsibilties seriously. He is President and Director of Mandinka Kora Productions, actively promoting the kora in Mali through workshops, festivals, and numerous local events. He also teaches at the Balla Fasseke Conservatoire of Arts, Culture and Multimedia, which opened in Bamako at the end of 2004. He is delighted to be at the vanguard of artists whom he sees as representing the positives of his country – "the media are not talking about good things from Africa."


He points out that the West is aware of, at best, just five per cent of Africa's bounty. "I'm happy to be an ambassador," he says. "I am one of the musicians in Africa who come and stay in London, in Europe, in America, in the world, to let the people know about our culture. I don't think it's really difficult for people to understand this music. Music creates its own language – the G, the A, the Cm on the guitar, it's the same in London as it is in Mali, the same in Senegal, South Africa and Japan. You don't need to speak English to play with Ali Farka Touré. Toumani didn't need to speak American to play with Herbie Hancock. I don't need to speak English to play with Bjørk or Damon Albarn."

Actually, he speaks excellent English, but you get the point. It's convenient to ascribe terribly noble intentions to musicians from cultures a million miles from our own, while dismissing all Western pop stars as shallow, fame-hungry whores. The truth is that most musicians of any stripe aren't really in it for the money, but it is true that Diabaté seems almost preternaturally connected. Connected to his muse and his music, connected to his culture, connected to his heart. "I like to play in a soft way, ready to give and ready to learn, that's what I'm doing," he says. "It's not from the head, it's from the heart. To produce that kind of great music you need to have a good heart. Yes. Yes."

Diabaté will be gracing a select few British festivals in the summer playing the "Touré Variations", a further tribute to his late friend and mentor. "Ali didn't play his music only for Mali or Africa, he played the music for all the world. He taught love to the people and we need to pay him back. I'm ready to do that, to be at the head of that."
Watch Ali Farka Touré and Toumani Diabaté recording in London in 2005:
We've been listening to this music for a long, long time - it's older than Mozart, it's just not written
Explore topics
Share this article