Jewels, Royal Ballet |

reviews, news & interviews
Jewels, Royal Ballet
Jewels, Royal Ballet
A trip to see Degas would do wonders for this triptych of balletic gems
Wednesday, 21 September 2011
Gems lost by Melisande: Leanne Benjamin in Balanchine's Emeralds, the first of the triptych of Jewels
On six more occasions you can have an ideal experience of dance by visiting the Degas exhibition at the Royal Academy and then going to see Balanchine's Jewels at the Opera House.
The first part of this trio of abstract ballet gems,
Emeralds
, evokes the French dancing style of the Paris Opéra where Degas's deliciously intense dancing girls were employed, and it would do the Royal Ballet troupe good too to be bussed en masse to the RA to absorb the wistfulness of those girls in dawn-pink or sea-blue tutus, endlessly checking their shoes, endlessly waiting, endlessly longing.
Last night opened Dame Monica Mason's final season as director of the ballet, and perhaps she hopes that Jewels will show the Royal as adept in all the great ballet styles - the French of Emeralds, the American of Rubies, the Russian of Diamonds - that haunt Balanchine's imagination in this radiant, wonderfully constructed ballet about ballet. In the event, the show was more of a demonstration of sound English style, polite, right, not over-enthusiastic, and lacking imaginative relish except from a few exceptional individuals.
For one thing, the right conductor for Fauré, Stravinsky and Tchaikovsky would be someone with more zing in his baton than Valeriy Ovsyanikov, with fresher eyes on the familiar. Degas depicted the same subjects for 30 years, each one a distinct new search. Off to the Degas with Ovsyanikov too. And I'd definitely send the designers there to rub their eyes - the tacky curtains and overhead light fittings by Jean-Marc Puissant, the gaudy bauble-strewn dresses by Balanchine's designer Barbara Karinska, both belong in some tasteless casino hotel for the filthy rich (pictured below, Rubies)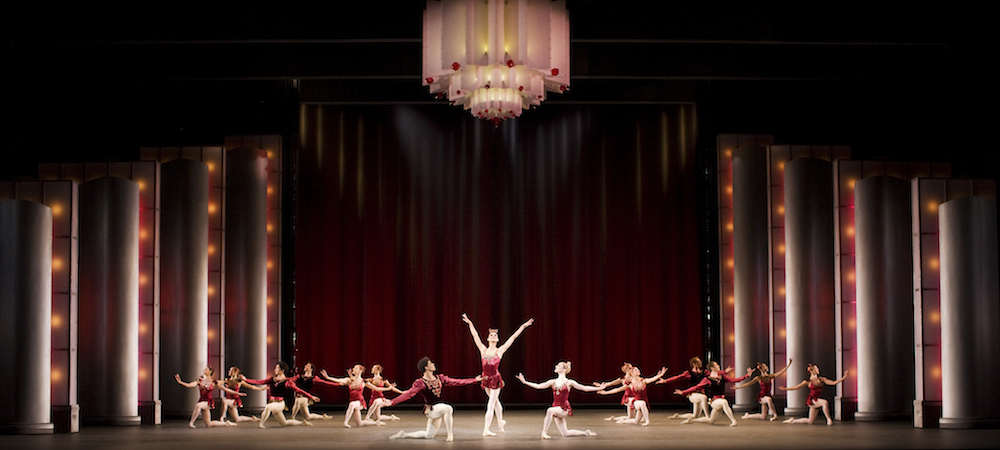 Yet the origins of Jewels make tacky reading: Balanchine visited the grand jewellers Van Cleef & Arpels in 1967 and decided to make a ballet dressed with emeralds, rubies and diamonds. PR photos showed him and Pierre Arpels draping gewgaws over the young ballerina Suzanne Farrell, who curtseys with an unreadable expression. Out of these vulgar circumstances Balanchine conjured the first completely abstract three-act ballet, not free entirely from vulgarity and waffle, but nevertheless a work of such ambition, vision and refined skill that only a genius could have come up with it.
Emeralds is blighted most by the stage designs. It's certainly the hardest to bring off, so much about suggestion and allusion, with its gentle Fauré music and its perfumed, courtly choreography. These would not be brash crown jewels but antique, mythical gems, found in deep streams perhaps, dropped by Melisande as she ran. The leading woman and her partner are surrounded by other women, yet they act as if alone, dancing together through mists, or water, the corps de ballet eddying and parting around them.
The images lightly echo Giselle and La Sylphide (check Degas's marvellously spooky evocation of the first sylph ballet, Robert le Diable, the precursor of La Sylphide). There are two extraordinary female roles, each with a remarkable introspective solo and a richly subtle pas de deux. Tamara Rojo's ability to conjure the most fleeting nuances of thought in her sensuously winding arms is unparalleled in the company.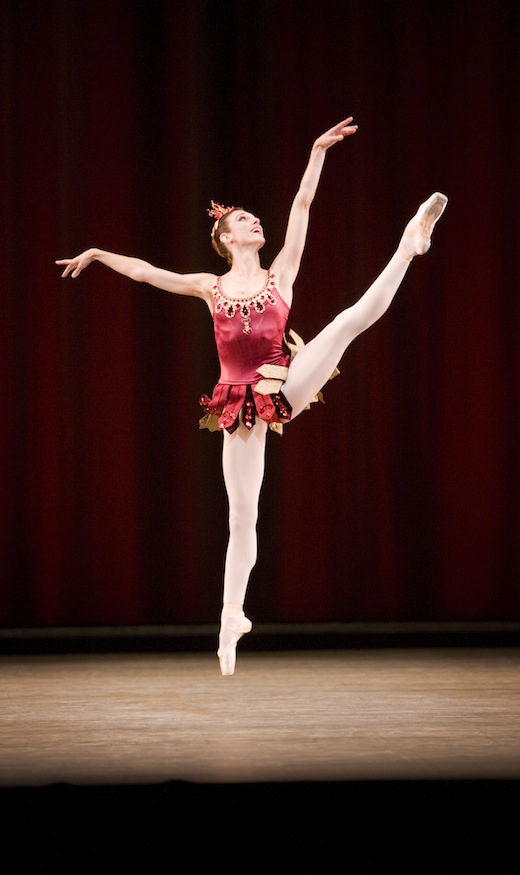 Leanne Benjamin, blithe and childlike in her Sicilienne solo, becomes alert and presentient in her haunting "walking" duet with Nehemiah Kish, her raised leg marking out the ticking by of time. There's incipient loss in almost every lovely image of this super-beautiful ballet. If only the corps de ballet had conveyed a personal identification with it.
They gave a more engaged showing in the Rubies section, one of Balanchine's prancing showgirl ballets, a sexy modern party. This time it's two ballerinas and a guy who provide the entertainment, a long-legged high-kicker - Zenaida Yanowsky enjoying being centire of attention - and a sassy gal with her boyfriend, who, like a commedia dell' arte couple, attempt to outsmart each other in double-takes and quickwitted moves. Steven McRae is, like Yanowsky, someone you want at your party, catching the audience's eye, leaping like a firework, and enjoying whatever repartee his gal chucks at him.
Last night Sarah Lamb wasn't quite as good as the Columbine to his Harlequin - she didn't quite cut the shapes sharply enough, she needs to switch on her own heat and light. As in Emeralds, the corps rather lumped its way through, the Twenties syncopations of Stravinsky's jazzy 1929 piano Capriccio not getting under anyone's skin. Some good heat and light from pianist Robert Clark, though.


Diamonds is a ballerina's best friend - it's the section of the triptych that they all long to be cast for. It was created by Balanchine for the instinctive daring of Suzanne Farrell, who with Peter Martins made something of almost glacial perilousness of the magnificently intense, long pas de deux. Farrell was famous for a control for balance so exact that she could tilt almost any which way as she wheeled in diving arabesques. The audience's sense of risk, of danger, of potential breakage of trust between man and woman, is what makes this astonishing pas de deux a psychological rather than stylistic derivative of Swan Lake.
Alina Cojocaru is a jewel of an artist, a petite princess of rarest sweetness, and every time she approached her tall partner Rupert Pennefather with her melting swoops and poised balances, it was as if to offer him the rapture of happiness and stability. It's painful for me to reject such a ravishing vision, but for all the exquisite musicality of her dancing, we never felt much risk or fear of falling. Diamonds do, after all, come from dark, deep places.
Rubies alone will be on an unusual double bill with Puccini's comic opera Gianni Schicchi this Saturday, 1 October
Watch Paris Opera Ballet perform an extract of Rubies, with Marie-Agnes Gillot, Aurélie Dupont and Alessio Carbone
PR photos showed Balanchine and Pierre Arpels draping gewgaws over the young ballerina, who curtseys with an unreadable expression
Explore topics
Share this article