Manhattan Minimalism and Rock'n'Roll |

reviews, news & interviews
Manhattan Minimalism and Rock'n'Roll
Manhattan Minimalism and Rock'n'Roll
What happened when art music and rock got mixed up
Saturday, 26 November 2011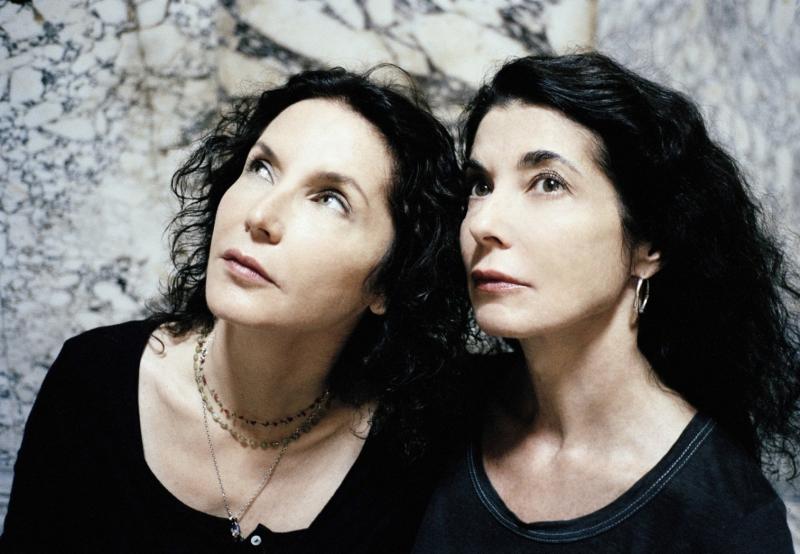 The Labèque sisters are doing it, minimally
This weekend's three-day Minimalism festival at Kings Place comes to an end tonight looking at the cross-over between rock and new music in New York in the Seventies. It seems to me that the collision between popular and high-art music produced some of the most dynamic movements of the 20th century, not only in New York.
In the 1920s, Paris had wildly original performances like Parade, with jazzy music by Erik Satie, design by Jean Cocteau and costumes (including dressing people up as skyscrapers) by Pablo Picasso, commissioned by the great ballet impresario Serge Diaghilev. Then there was Francis Poulenc's music-hall-inspired Cocardes, and George Antheil and Fernand Léger's Ballet mécanique, with music for player-pianos and aeroplane propellers.
New York in the Seventies featured a similar blurring between the avant-garde and popular music, interesting collaborations between artists and musicians, and a distinct group who were often critical but generally supportive of each other.
There was a kind of fearlessness in the air then which has disappeared
The same gang were as likely to be seen in a punk club such as CBGBs, a downtown gallery opening or an innovative performance venue like the Kitchen. Rock bands such as Television and Talking Heads had high-art credentials but played the punk clubs, while composers like Steve Reich and Philip Glass were reaching a rock audience.
And there was a new generation of women performers such as Patti Smith and Laurie Anderson (see video below), who were not relying on their looks and were ignoring the demarcation lines between art and pop.
Watch the video for Laurie Anderson's "O Superman"
"There was a kind of fearlessness in the air then which has disappeared," says New York critic John Rockwell. "It was pre-AIDS, which may have had something to do with it." Then and now, there have been both professional and personal connections within this group. In the Seventies, Patti Smith shared an apartment with the brilliant and controversial photographer Robert Mapplethorpe, and wrote touchingly about it in her memoir Just Kids, while Laurie Anderson was later part of a couple with Lou Reed, whose Transformer album was a mid-Seventies art-pop classic.
Part of the cohesion of any artistic movement is the opposition to the generation before. Jean Cocteau said in Paris in 1918, reacting against Debussy and the Impressionists: "Enough of clouds, waves, aquariums, water sprites and nocturnal scents, what we need is music of the earth, everyday music."
That could almost have been Andy Warhol (who promoted the pre-punk band the Velvet Underground) or David Byrne or the New York punks in the mid-Seventies objecting to the pompous Tolkienesque "progressive" rock they despised (the second Talking Heads album was called More Songs About Buildings and Food). There was also at the time a clear gap in the market for interesting contemporary art music, as the post-Schoenberg atonal school had lost its audience.
A key performance in 1976 was the influential Robert Wilson/Philip Glass opera Einstein on the Beach (see video below) which put both its authors on the international map. The opera was five hours of sensory overload, had no plot and included poetry of disturbed children and references to The Beatles and Patti Hearst.
Watch a clip of Einstein on the Beach
There was no interval, but the audience were encouraged to wander in and out. "It's a piece which seems a lot more radical now," says Philip Glass. "You can't imagine it being commissioned these days."
What's curious is that Glass and other members of this New York scene turned what seemed to be work that had a marginal audience into well-paying careers. Now they are in their sixties, and barely a month goes by without one of them popping up in a high-profile performance in the UK.
There hasn't been a similar sense of a New York scene emerging since the Seventies
I asked Glass about the Seventies New York art music scene when I met him in Vermont. "In those days, we didn't expect to make a living at what we were doing; it didn't seem reasonable," he said. "I was still driving a mini-cab at the end of the Seventies." Now Glass has a mini-corporation looking after a studio, live tours, publishing and a label and employs 12 people.
"After us, people thought they would make a living; commercial interests came in. Perhaps that led to a less adventurous approach. Or perhaps the world is just a much more conventional place these days." He told me he was surprised at the level of continuing interest in the work of his New York circle. "For one thing, I always used to tell people that the centre of the arts would be bound to move west, to LA or Tokyo, but that doesn't seem to have happened."
While there are several interesting New York art musicians of a later vintage, from Tan Dun to the Bang on a Can group, and all kinds of music from hip hop to new Haitian and Latin bands, there hasn't been a similar sense of a New York scene emerging since the Seventies.
Art dealer Mark Wilson says, "By the 1980s, it was probably more glamorous and exciting in New York to be an artist rather than a musician. And it also became cool to make lots of money and work in Wall Street." John Rockwell points out that: "It became very expensive to live in Manhattan. You can't avoid thinking of real estate in these discussions."
Inevitably, some of the energy and originality that made Glass, Reich and the others seem so refreshing at the time has worn off. As Glass put it, "I don't think we're exactly mainstream now, but nor is it possible to remain on the cutting edge for 40 years."
And it's true that some of the work they are producing, such as Glass's opera Galileo, for example, has elements of the overblown bombast the Seventies New Yorkers were reacting against.
Knock Knock. Who's there? Knock Knock. Who's there? Knock Knock. Who's there? Philip Glass
Nevertheless, their influence remains powerful, whether it's lo-fi rock bands like the White Stripes, elements of Radiohead or Sonic Youth (both represented in tonight's concert) or the film music of Michael Nyman, their fingerprints are everywhere today.
Indeed, much work of the last decade is timid compared with theirs - Nicholas Maw's Sophie's Choice, for example, seems ponderously old-fashioned beside Einstein on the Beach, and it's unimaginable that a radical piece of music like Laurie Anderson's "O Superman" would be a big chart hit now. Tonight's concert features that song, as well as The Who's "Baba O'Reilly", Glass and Glenn Branca, there are world premieres from a pupil of La Monte Young - the founder of experimental band Bowery Electric Lawrence Chandler, and French percussionist Raphaël Séguinier. The mini-festival is curated by theartsdesk's Igor Toronyi-Lalic, who sang in a Terry Riley piece, and the Labèque sisters, Katia and Marielle, who will be performing on piano.
For many, their Glass may be nearer half-empty than full. But here's a Glass joke anyway. Knock Knock. Who's there? Knock Knock. Who's there? Knock Knock. Who's there? Philip Glass. It may not be the best joke in the world – but then how many modern composers do you know with any jokes to their name?
I don't think we're exactly mainstream now, but nor is it possible to remain on the cutting edge for 40 years
Share this article