La Traviata, Welsh National Opera |

reviews, news & interviews
La Traviata, Welsh National Opera
La Traviata, Welsh National Opera
Verdi's realist tragedy played straight with conviction to moving effect
Jason Howard (Germont) and Joyce El-Khoury (Violetta): unhappy ex-laws
Famously, at its Venice premiere in 1853, La traviata had trouble with the censor, not only over the salty innuendos of the plot, but over the simple fact that it was set in the present day and in contemporary costume. A rule like that would finish off most updated modern stagings (and no bad thing at that). But David McVicar's now two-year-old staging of Verdi's early verismo masterpiece in Cardiff's Wales Millennium Centre wouldn't be one of them.
With a few tweaks, and maybe a mild slippage forward of a decade or two, it takes the work's demi-monde as it finds it, bustles and white ties and all, furnishes it in Empire style, drapes it in expensive curtainings (designer Tanya McCallin), and lights it (Jennifer Tipton) in a glowing mist of reds and mauves and oranges. The ugliness and degradation of high-class promiscuity, all this might be telling us, needs to hide behind a veneer of expensive beauty, just as death lurks behind the pretence of vitality. As for love, that's an entirely unexpected guest at such festivities and is certain to be misunderstood, although – and this is the final tragic twist of Dumas's original tale – it would make no difference. Death would win anyway.
She paced her scene with Germont to perfection, and found a marvellous inwardness
It's a pity to have to labour the point, but McVicar's production demonstrates that it's still perfectly possible to stage a mainstream realist opera in a stylish, non-ironic manner for a sophisticated audience without betraying (in either sense) your secret desire that all this operatic tosh should be sent to the devil ASAP. Like all Verdi, La traviata needs top-class singing. But unlike some, it also requires precise, psychologically informed acting, which is still not necessarily a priority with your average Italian opera star.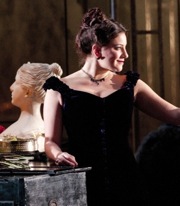 McVicar is fortunate in this revival in having a young Canadian soprano, Joyce El-Khoury (pictured right), making her European début, who can not only get round Verdi's coloratura but knows how to move, knows how to stand still, and knows how to react. As a singer she is decidedly interesting, if not yet completely formed. The voice, superbly controlled in the difficult soft lights of the final act, still sometimes lacks warmth in the lower registers, and can occasionally sound frail under pressure. Her "Ah, fors'é lui" was deliciously touching (and how cleverly she conveyed the anxiety of this sudden discovery of a genuine emotion); "Sempre libera" needed, perhaps, more body, if not more conviction – Violetta is, after all, fooling herself about keeping her freedom.
On the other hand, she paced her scene with Germont to perfection, and found a marvellous inwardness at that great moment at Flora's where, amid the accusations and counter-accusations, poor Violetta can only beg heaven to release her: "What to do? I feel I'm dying! Great God, have pity!" – done here with a certain helpless immobility, no gesturing or arm-waving. And when she tells Alfredo, after all his insults, "You'll never understand how much I love you", McVicar risks having her go to him and caress him, as if everything's going to be alright. Verdi's marking here is typical: "In a very feeble voice and (not "but") with passion." This is hard to get right, but El-Khoury succeeds. It's an overwhelming detail.
In general the cast support this approach admirably. The billed Alfredo, Carlos Osuna, had to withdraw for family reasons, but Leonardo Capalbo stepped in efficiently, looking and sounding at first like a stock Italian tenor from central casting, but warming to the production, to the extent, perhaps, of slightly overplaying "drunken despair" in the Flora scene. Jason Howard offers a stiff, slightly ponderous Germont, somewhat dry of voice in "Di Provenza il mar"; but Germont is stiff, an uncomfortable, provincial dignitary thrown into the cesspit of the demi-monde. His slow comprehension enables Violetta to grow in stature; and that's the whole point of the work.
Julia Jones directs all this from the pit with a certain discreet sense of style, so that one is hardly conscious of how well it's all going. She could give more intensity here and there, notably at scene ends, where you can always gauge the electricity from the audience response (however true or false to the quality). And as always with this company, the chorus is tiptop, minor roles excellent, especially Eddie Wade's ramrod Douphol, and Amanda Baldwin's Flora. Fluent, eloquent orchestra playing, and an eminently watchable gipsy ballet at Flora's, strictly not in the script (Verdi seems to have assumed some kind of chorus pantomime), but none the worse for that.
is at the Wales Millennium Centre until 2 March
With a few tweaks McVicar takes the work's demi-monde as he finds it
Share this article