Hänsel und Gretel, Royal Opera |

reviews, news & interviews
Hänsel und Gretel, Royal Opera
Hänsel und Gretel, Royal Opera
Henschel's splendid witch leads great cast in a delectable opera
Face-off: Jane Henschel's dimpling, terrifying Witch and Ailish Tynan's feisty Gretel
Fairy tales are fear tales really, the sweetening (and sharpening) of every child's worst nightmares, emotions long buried in adulthood but very easily tapped back into with good theatre productions. The Witch in Hansel and Gretel should be the queen of the team of the ogres who lurk in forests or homes waiting to kill children, along with lieutenants the Wolf in Red Riding Hood, Snow White's wicked stepmother and Carabosse in The Sleeping Beauty.
Last night's opening of the Royal Opera's revival of its jaunty 2008 production fielded in a splendid cast a tremendous Witch, Jane Henschel, the size of a ship in a cardigan, and with a voice that can still make the lulled auditorium jump.
Henschel has the right combination of a Wagnerian cackle and lascivious dimples to be able to say, "I am Rosina Sweet-Tooth and I am as friendly and innocent as baby," and for just a second make it credible. But then she turns around and you see her long tangled grey hair has a bloody streak down the back, the titanic body is squeezed into a fishtail tweed skirt. Next thing we're in a kitchen the size of Valhalla, two gigantic ovens, and a butcher block the better to chop up the contents of her huge chiller with. And I won't say what's in that, because it is a good coup de théâtre.
The American mezzo is only one of the many pleasures in this revival of Moshe Leiser and Patrice Caurier's 2008 production of Engelbert Humperdinck's delectable 1893 opera, led by Thomas Allen as the father and the brilliantly cast siblings of Ailish Tynan and Christine Rice. They make a deliciously tubby, well-fed pair of middle-class suburban schoolchildren, absolutely obsessed with hunger, sneaking about for food, dreaming of it, and the fact that they're relishably fatty morsels is all the more in keeping with the Witch's lipsmacking when she sees them.
Tynan is a wholesome little star, a very short, square-faced blonde with daffy rolling eyes and chubby legs, and a winning bolshiness when cornered by the Witch; her voice has a caramel lustre in its lower range that adds a haunting undertow to a top that is pure sugary magic - her song in the forest about the one-legged man was irresistibly charming (pictured right). Rice towers over her, very boyish, gawky and bossy, and their voices mesh perfectly under the swiftly responsive and picturesque conducting of Rory Macdonald, emphasising the feminine fragrance of much of this gorgeous music (unsurprising that Richard Strauss was its first conductor in 1893).
The styling is like a children's book, flat scissored sets, with a sharply wonky bedroom for the children (picture of ballerina on wall for Gretel), a forest like a layered collage of photographs (lovely, outdoorsy) and a Witch's kitchen the Aga country set would die for. It feels Forties-ish and mittelEuropean. Allen swaggers around the children's tiny bedroom with his beer bottle and Spar groceries, vocally ideal and leering tipsily at Yvonne Howard as his wife as they start some rumpypumpy on Hansel's bed (pictured below left), before collecting themselves. I don't think the bedroom setting works with the libretto (parents don't make their kids' bedroom the venue for their own sexplay - that's another fairy tale, surely?), but its deceptive cosiness suits the Grimm Brothers' deliberate softening of the original fable's frightening interchange of mother and witch.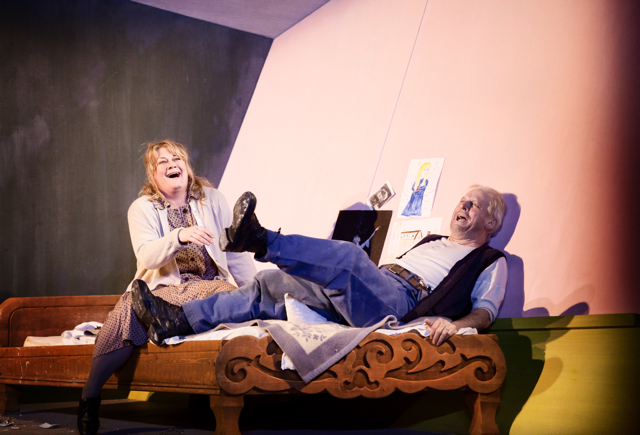 Deceptive, because this modernised context does highlight a new moral - that it's greed that got the kids into the near-lethal scrape. No darkness clouds the tale thanks to much benevolence inserted by Humperdinck's librettist, his sister, to ensure a light-hearted family evening. The kind Sandman and Dew Fairy offer two lovely sung episodes and the chance here for two fairyland costumes that tear away the drabness imposed by the family's condition: the Sandman with the illusion of a tiny dwarf body, the Dew Fairy a perfect Barbie princess in pink, wielding green Marigolds and an orange duster to sweep up mess and put all in order (Anna Devin particularly feisty as the latter, making a last-minute substitution for the ill Anna Siminska). The children's sleep is tranquil, the chance for Leiser and Caurier to stage a solemnly affecting Christmas dream for them, and the Witch doesn't detain the happy ending too long. Highly recommended for very sweet dreams.
This modernised context does highlight a new moral - that it's greed that got the kids into the near-lethal scrape
Explore topics
Share this article