Salome, Royal Opera House |

reviews, news & interviews
Salome, Royal Opera House
Salome, Royal Opera House
A musical triumph, visually this Salome is a bloody mess
Chamber of horrors: Salome (Denoke) and Jokanaan (Silins) play out their messy destinies
According to Oscar Wilde's Salome (and faithfully preserved in Hedwig Lachmann's libretto), the mystery of love is greater than the mystery of death. That may be so, but neither comes close to equalling the baffling mystery that is still David McVicar's production.
Not trusting the simple reds, moons and veils of Wilde's stylised original to conjure sufficient horror, McVicar takes his abused heroine to Nazi Germany by way of Pasolini and a backstory of physical and psychological trauma. Then he throws in an abattoir and plenty of blood.
To take such abstraction, the allusive possibility of Wilde's language and Aubrey Beardsley's images, and turn them into something so literal is to take a risk, especially in a climate of unshockable opera audiences. It's an approach that must work ever harder as the night continues, striving again and again for the ultimate coup de théâtre (naked breasts, buttocks and of course blood all playing their part), but whose efforts see exponentially less return as we become hardened to it all.
Angela Denoke has never felt like a natural or easy vocal fit for Salome
Es Devlin's designs are a miracle of grotty evocation however, with the split-level set giving us just a hint of Downton Abbey above stairs and Saw (via Salò) downstairs, a (de)basement that sits somewhere between municipal baths and abattoir. Curving its way steeply down between the floors is a staircase on which our cast can only descend. Return from such depths is, it seems, impossible.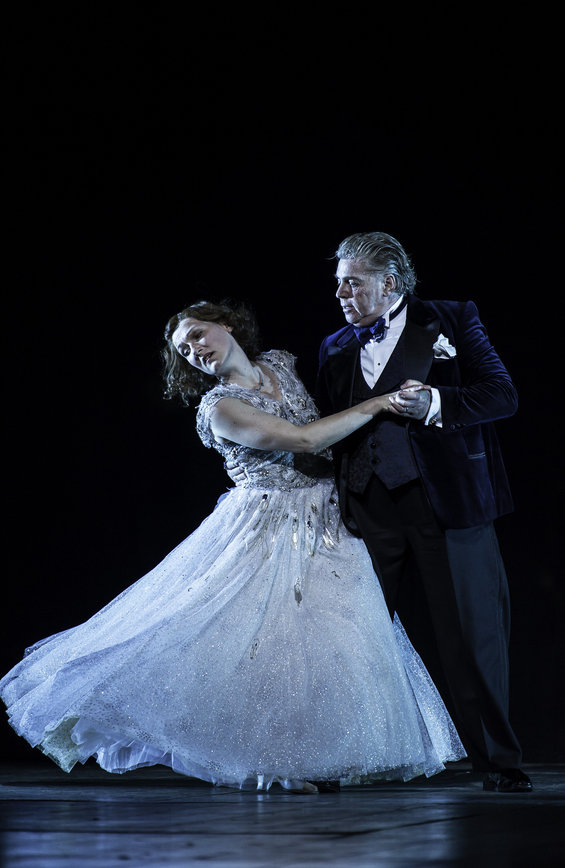 The main problem is one of tone. The death of Narraboth is deliberately bathetic – a background action that barely impinges on the foreground except as light relief, yet is balanced by a Dance of the Seven Veils that abandons straightforward eroticism in favour of a complex psychological sequence of tableaux. To the accompaniment of some terrific creaking from swift-moving sets (not quite the equal of Rigoletto's for volume, but equally distracting) we witness Salome and Herod (Denoke and Andersen, pictured right) moving through seven rooms, the seven stages of her corruption from innocence to all-but incestuous rape. It's a clever enough conceit, but this sudden interest in psychology and interiority seems at odds with the rest of a production that seems happy to daub itself with politics and naked women as a substitute for substance.
Given the right cast and the right conductor, none of this would matter. Last night we were half way there. Andris Nelsons galvanised the pit into a gasping frenzy of passion, giving Strauss's score all the space (and pace) it needs to flourish. Brass emerged epic, daringly held back for much of the evening (though still not enough to fix projection issues from the stage) so as to heighten the climaxes. The music emerged as a single breathed gesture, the sonic equivalent of Devlin's staircase – inevitable and organic in its descent.
On stage things were rather more mixed. A role debut from Rosalind Plowright as Herodias was authoritative and touching, vocally secure and with enough sexiness to play emotively into the tension with her daughter. Likewise Stig Andersen's Herod, though sung primarily for character rather than beauty, was vivid but never caricatured, throwing disconcerting emphasis back onto the deranged Salome herself. Egils Silins has the Old Testament voice to take on the rather loaded dice of cartoon prophet Jokanaan, but achieved nothing approaching chemistry with his seductress.
For all her experience in this demanding role, Angela Denoke (pictured above) has never felt like a natural or easy vocal fit for it. In 2010 she was just about solid through it, but last night seemed out of her depth both musically and dramatically. Singing persistently flat, and lacking both the gilded sheen at the top (Salome's much-needed innocence – so necessary if McVicar's insistence on chastity is to come off) or the power and grit at the bottom (her insistent demands for Jokanaan's head were never quite the shock they should have been), she also seemed unable to follow any phrase to its conclusion. Endings were snatched and brutal, disrupting the seamless line of music from Nelsons and the orchestra, and muting their technicolour diversity into a single vocal shade. Physically stiff, we saw too little of the child-innocent at the start to really lament her collapse, and too little sex appeal to really believe it.
Salome is a score you could stage in a shoebox and still come away from overwhelmed, and Nelsons' rendering alone makes this revival worth the price of a ticket. Though detailed and determined, McVicar's staging still feels muddled compared to the searing emotional clarity of the score. Excess on the page here is a dizzying delight, on stage it just seems like a mess.
Andris Nelsons galvanised the pit into a gasping frenzy of passion
Explore topics
Share this article