Heatherwick Studio: Designing the Extraordinary, V&A |

reviews, news & interviews
Heatherwick Studio: Designing the Extraordinary, V&A
Heatherwick Studio: Designing the Extraordinary, V&A
The British designer's work is exhilarating, exuberant and truly innovative, but this exhibition is just too dense and confusing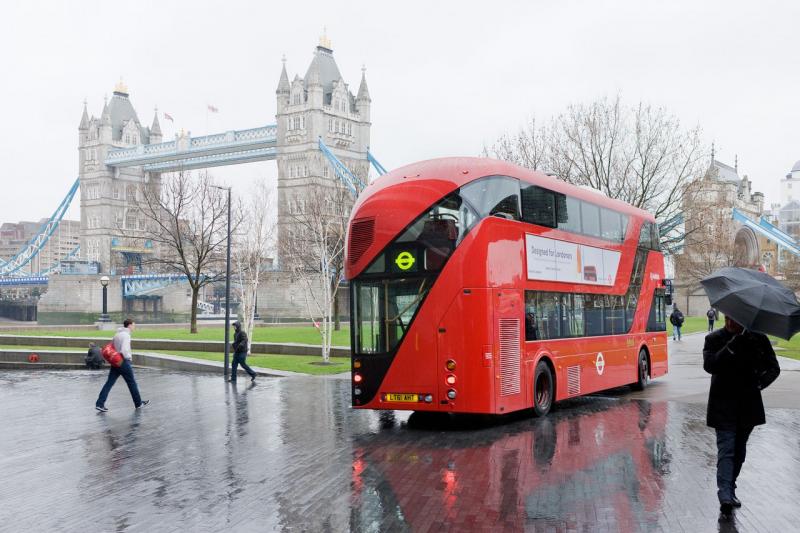 Heatherwick's new design of the Routemaster
Thomas Heatherwick, a boyish looking 42, is a creative polymath whose inventive and innovative approach to commissions ranges from bridges to lavatory doors, town planning to beach cafes, handbags to benches, staircases to transport (notably three new buses – the first new versions of the Routemaster for years - on the #38 route from Victoria to south London.) You may have been in a Heatherwick without knowing. Another five buses are turning up for the Olympics.
Heatherwick projects may at varying times be partly described as sculpture, architecture, furniture, fashion design, environmental planning and engineering. Although we recognise his discrete objects, from chairs to buildings, what he is most passionate about is infrastructure; he is scathing about current British weakness in this area.
In the past 18 years hundreds of people have worked in the Heatherwick Studio. One job title is director of innovation, and nothing could be more apt. Ideas requiring exploration, experimentation and three dimensional realisation are generated by the studio, but a crucial bonus is the outsourcing of specific engineering and material solutions: concepts calling for practical and pragmatic answers are like a drip feed into invention across a wide spectrum. The studio commissions a set of specific collaborators for each project.
He has an apparent lack of any preconceptions, which is extraordinarily rare
The East Beach café, Littlehampton (2005) was produced by a surprisingly tricky question: How can a seaside building relate to the sea? A series of metal folds, in shape like tip-tilted sideways sand dunes, it is not only quietly startling but a commercially successful café. In 2004 Heatherwick redesigned Longchamps flagship luxury shop in downtown Manhattan: the question here was: How do you make customers overcome their inertia and walk up flights of stairs to the first floor? Heatherwick Studio added another storey to the 1930s industrial building and flooded a new broader and subtly dramatic staircase with light, literally enticing the customers in.
Fearlessness is among Heatherwick's greatest gifts. Nothing is too far out to be considered. He also has an apparent lack of any preconceptions, which is extraordinarily rare. The scores of projects which have never been realised have contributed their imaginative research to the realised projects. The 1999 proposal for a Hairy Building at Notting Hill (pictured above right), cladding an ugly rectangular concrete box – shop and flats – with lit-up fibreglass tubes was to inform Heatherwick's inspired Seed Cathedral at the Shanghai Expo of 2010. The question here was: How can a building represent a nation? Without a hint of red, white and blue, and with a fifth of the budget allocated to other national pavilions, the Studio created a glowing pavilion, in part recalling fields of grass ruffled by the wind, so that the outline of the building was not fixed but seemed to move into the sky. The structure was made of 60,000 silvery acrylic tubes, about 22ft long, each internally lit at night on the outside. The inner tip contained a seed from the famed Kew Millennium Seed Bank, one of the world's great ongoing conservation projects. Altogether there were 250,000 seeds; as was rather drily remarked, it is the most bio diverse place in all of China. The Chinese called the Pavilion a dandelion.
Furniture is an abiding passion. Question: Can you squeeze a chair out of a machine, the way you squeeze toothpaste out of a tube? Legs, seat and back were to be indissolubly one. In the crossover from industry to art, the resulting aluminium bench (2009) manufactured by the largest machine in the world, in China naturally, was exhibited at Haunch of Venison, and the process is currently being further explored to make as large a bench as might be needed anywhere.
Not built but possible as of now is the Large Span Rolling Bridge, prompted by the question: Is it possible to make a rolling bridge long enough to span the River Thames? Answer yes: a prototype section of the utterly charming rolling bridge in Paddington Basin (pictured below) is in the exhibition, complete with rolling-up mechanism. Delayed but still planned is the visionary 2009 Teesside Power Station. Can the regeneration of a post-industrial area be driven by a new power station rather than a new art gallery? Answer yes. And it won't burn fossil fuel but rather biomass, delivered by river. The enormous city projects – Hong Kong, Singapore – which are being realised are innovative, imaginative solutions to easing daily life, and just adding to its potential pleasures.
However, the exhibition itself, in spite of detailed captions and little video stalks which demonstrate work in action, is simply too dense and therefore at times confusing in the space available.
The catologue describes all the projects to date and is indispensable: Heatherwick's text is clear about aims and methods, but even here it would have been helpful to have more information and statistics as to materials. Throughout the exhibition there isn't a style so much as a feeling: exuberance, exhilaration, aesthetic elegance and surprise. These designs are surprisingly emotional. Patrons private and public take note, we need Heatherwicks. His studio is a new industrial revolution all on its own.
Fearlessness is among his greatest gifts. Nothing is too far out to be considered
rating
Explore topics
Share this article