Forests, Rocks, Torrents: Norwegian and Swiss Landscapes, National Gallery |

reviews, news & interviews
Forests, Rocks, Torrents: Norwegian and Swiss Landscapes, National Gallery
Forests, Rocks, Torrents: Norwegian and Swiss Landscapes, National Gallery
They celebrated their native land but with imaginations too firmly grounded
In a gallery full of stormy seas, Alpine passes (with the occasional mountain goat), fast-moving streams and huge skies, two more unfamiliar geographies are on view. We may suspect that Switzerland is home to more than centuries of worthy stability and the cuckoo clock, and Norway, after centuries of occupation by her neighbours, more than Nordic commonsense, Northern Lights and all that oil; but hands up whoever can name the outstanding 19th-century painters of Alpine and fjord landscapes that inhabit the museums of Oslo and Wintherthur?
Johann Christian Dahl probably does just make it, but Johann Gottfried Steffan? Peder Balke? Francois Diday? Adam-Wolfgang Toppfer? Knud Baade? Even the most substantial of all, Alexandre Calame? They're all here making their presence known, mostly for the first time in London.
In this selection from the specialist collection of New York-based Norwegian-American lawyer Asbjorn Lunde, we are shown a romantically inclined, occasionally picturesque and often sublime response to land and seascape. A familiar 19th-century point of view is here brushed in by almost completely unfamiliar artists. Jean Jacques Rousseau's 18th-century rhapsodic commentary on nature is a philosophic bedrock: "Imagine the variety, the grandeur, the beauty of a thousand stunning vistas; the pleasure of seeing all around you… an altogether different nature, and finding oneself in a new world."
The combination of Switzerland and Norway throws up surprising similarities in spite of contradictory geographies. Yes, Switzerland is landlocked but awash with lakes and rivers - Lake Lucerne is here a star, Calame admiring its blue, green and turquoise waters from its coastal cliffs (main picture above: Cliffs of Seelisberg, Lake Lucerne, c 1861) - and Norway provides as much coastline as glacier and mountain pass.
All these waterfalls, vast skies, rocky paths and mountain peaks, these wilderness vistas, are punctuated only occasionally by signs of human involvement, even cultivation. A determined
Fisherman at Derwentwater
bent against the wind, is wading through whatever nature throws up in the scenic choreography of Thomas Fearnley's excursion to England's mini-wilderness in 1837. In Robert Zund's
Storm Study,
sheep, shepherd and dog flee for cover under a darkening sky. There are vertiginously clambering goats in Johann Christian Dahl's
Mountain Farm
, 1854
(pictured right)
, the humble farmhouse itself perched atop a huge rock, testifying to rural tenacity. And are those sheep, goats or rocks in Dahl's view of the
Feigumfuss in Lysterfford
, 1848? It is a mix of all three contemplated by a lone shepherd, who looks a very long way from home.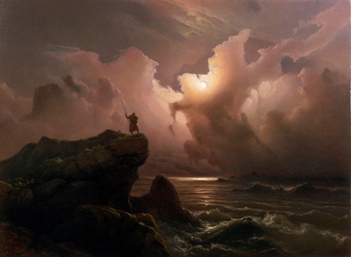 Most of the paintings are based on acute observation, though legend can be called upon with just the placement of a figure: Knud Baade's achingly romantic
Scene from the Era of Norwegian Sagas
, 1850
(pictured left)
, is that archetypal subject - the helmeted warrior, spear in hand, on a rocky promontory at the edge of the sea, irradiated by the dying light, and seemingly about to be engulfed by the vastness of encroaching cloud. Not so surprising perhaps, as Baade was persuaded by his compatriot Dahl to come to Dresden, where Dahl was not only teaching but sharing premises with the German Caspar David Friedrich, the great German painter who endowed landscape with divine significance.
A rediscovery is Peder Balke, a Norwegian born into rural poverty who achieved a peripatetic career. Balke studied in Oslo, Stockholm and Dresden, walked the Norwegian landscape, received a royal commission in Paris and eventually painted for himself in relative but prosperous obscurity. His brilliantly wilful seascapes in tones of black, white and grey are sombre in mood, intimately grand and beguilingly lively in execution.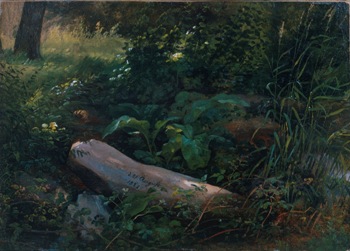 Everybody travelled, and several were naturally seduced – who wouldn't be after all those northern nights? – by sunlit Italy. A selection of Fearnley and Dahl's euphoric Italian views prove a piquant contrast to all the geological explorations and stormy carry-on. And there are surprises: Dahl's exquisitely detailed, mesmerising
The Grosser Garten Dresden,
1822
(pictured right)
, anticipates the hallucinatory close-ups of pre-Raphaelite and Ruskinian gardens.
This anthology is certainly a good place to cool down if the sun ever comes out in our monsoon summer; but the overall impact is perhaps a little tame. These major minor masters are patriotically wedded to the beauties and grandeurs of their native landscapes, but their imaginations are at times just too firmly grounded.
Explore topics
Share this article