Don McCullin, Tate Britain |

reviews, news & interviews
Don McCullin, Tate Britain
Don McCullin, Tate Britain
A great war photographer has used his camera to survive and celebrate living
Berlin 1961: 'There is just a lot of looking – confused, amazed, puzzled - going on'
Photography isn't looking, it's feeling. If you can't feel what you're looking at, then you're never going to get others to feel anything when they look at your pictures. Thus Don McCullin, quoted on the information board of a new display at Tate Britain of around 50 black-and-white silver gelatin photographs, chosen and printed by the artist himself. No digital here, the process of the darkroom is under his control.
The subjects cover anything but his direct war work, although his wholly justified fame rests on decades of hideous risk-taking (he was wounded several times and the lucky escapes are countless) in zones of conflict and outright war all over the world. It is a roll call of 30 years of horror in such host countries as Vietnam, Biafra, Cambodia, Bangladesh, Lebanon, Uganda, the Congo, Israel, and in the Troubles in Northern Ireland.
Most of his terrifying, emotive, inescapably immediate portfolios were taken over 18 years on assignment for The Sunday Times magazine in its heyday as the mass publication of documentary reportage. His 1990 autobiography, perhaps accurately titled Unreasonable Behaviour, is dedicated to "All Those Who Did Not Survive".
Young McCullin was briefly involved with gang culture in Finsbury Park, his family home (the early death of his father meant he had gone to work at 15, leaving behind a scholarship to art school). The photographs of his peers were published in The Observer in 1959, initiating his lifelong career; he had had what turned into a long apprenticeship as an art student, a draughtsman and copyist for Larkins Cartoon Studios, and two years of National Service as a photographic assistant. He suffered from severe dyslexia, which may well have sharpened his uncanny visual acuity.
Does the biography matter? McCullin over the years has been eloquent about the dreadful nature of much that he has witnessed and made us share through the appalling potency of his images. He has been clear about his final determination to leave the war zones, perhaps both in his professional career and domestic life.
Lately it is his personal vision that has informed his choices, leading to sequences of still lifes and a survey of the ruins of the Roman empire (neither on view in the show), and of landscape, irradiated by passionate attachment to the Somerset countryside where he lives.
At Tate, Berlin is the only foreign setting. It came at a formative moment in McCullin's career, when he interrupted his second honeymoon in Paris with his first wife to rush to the city where the Wall was just going up, and ended up having seminal photographs published in The Observer. The sequence from 1961 is the earliest set of visual essays on view, and shows a gritty metropolis infiltrated by soldiers - difficult to tell if it is East or West. We can glimpse the Wall in embryonic form, with the civilian spectators and the tense young soldiers all mixed up; there is just a lot of looking – confused, amazed, puzzled - going on.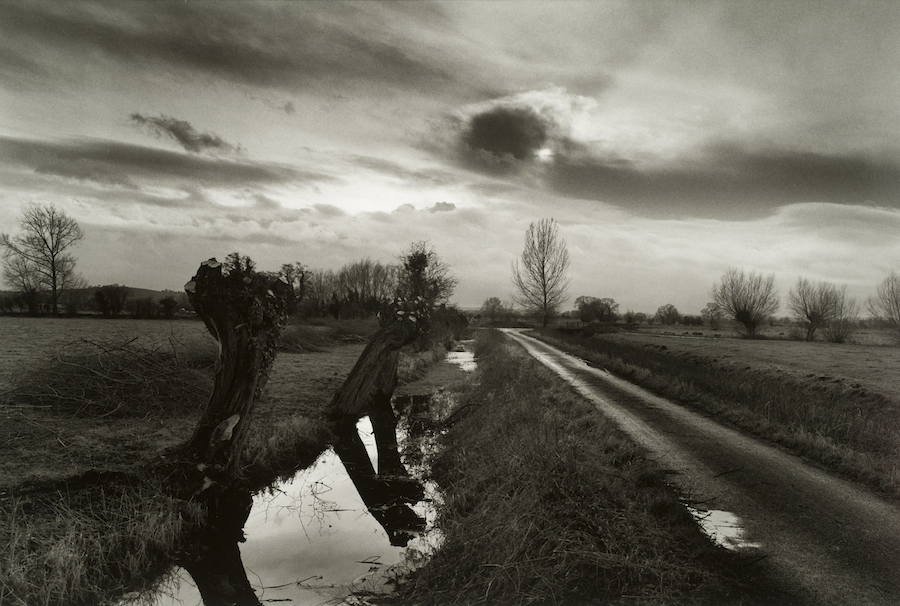 The latest sequences shown at Tate are deeply melancholy, romantic even, darkly brooding and affecting studies of the Somerset Levels (pictured above), an Iron Age fort, Hadrian's Wall. His prints are almost notoriously dark, the silvery greys tarnished. There is a curious tension between serenity and disquiet. What McCullin's subtly magnificent landscape compositions make you grasp is the way the landscape has been used and changed over millennia: he makes you feel the past, and the immediacy of the present. They are reminiscent of Dutch 17th-century landscapes, the eye led in and focused by path or stream.
'Seeing, looking at what others cannot bear to see is what my life is all about'
One of the most bleakly eloquent is an empty landscape, the eye led by a curving road, the whole under a brooding sky: The Battlefields of the Somme, France, 2000 - of course a conflict none of us experienced, but which still profoundly affects the present.
McCullin's paradoxical vision means that he infuses with dignity, solemnity, even grandeur, the most disquieting of subjects. The staring, filthy, bearded face of a homeless Irishman (pictured left), his hair standing on end, taken in Spitalfields, 1969, almost has the look of a persecuted saint: the image was published in The Sunday Times magazine in 1973, with an accompanying essay on the "Crisis in Skid Row", the crisis that of the property developers moving in.
A 1970 photograph of two tramps, one with his arm around the other, standing in front of a small fire in a litter-strewn vacant lot, speaks of the spark of human connection. There is a kind of perverse human triumph. In Bradford, 1970, a young girl wheels a pile of bright-white laundry past a bleak junk yard of broken-up cars.
McCullin is a visual reporter of unparalleled insight, and an artist: however, what we are not given in this exhibition, which sits like a cuckoo in the nest at Tate, is any sense of the context, the sense of the assignment, how and where many of the photographs on show were once used.
As McCullin has said, "Seeing, looking at what others cannot bear to see is what my life is all about." He has moved beyond, though, to not only a sense of survival but even of celebration.
Don McCullin at Tate Britain, Millbank, London until 4 March, 2012
Shaped by War, a retrospective of 200 photographs by Don McCullin, will be at the Imperial War Museum, London, 7 October-15 April, 2012, accompanied by a photographic book of the same title, available from Amazon
Photographs shown: Jean, Whitechapel, London, c 1980 (Eric and Louise Franck Collection); Early morning, West Hartlepool, County Durham, 1963 (Archive of Don McCullin, courtesy of Hamiltons Gallery, London); Somerset Levels near Glastonbury, c 1990 (Archive of Don McCullin, courtesy of Hamiltons Gallery, London); Homeless Irishman, Spitalfields, London, 1969 (Eric and Louise Franck Collection)
Explore topics
Share this article