Santa Sangre |

reviews, news & interviews
Santa Sangre
Santa Sangre
The world's a bloody Mexican stage in Jodorowsky's thinking person's horror flick
Wednesday, 19 September 2012
Whose are these hands with daggers? Santa Sangre's mother-son revenge team in action
Circus and church, and a whole lot of other extremes, come up against each other in bewildering opposition in Alejandro Jodorowsky's re-released 1989 Santa Sangre, a cult film of which it could truly be said, "They don't make them like this any more." It's practically a one-off, visually spectacular and musically vibrant; if you're looking for equivalents, Buñuel, Ken Russell at his most hysterical, and the Italian horror-and-gore genre of the Seventies (think Berberian Sound Stu
dio) are the nearest you might get.
The opening scene finds hero Fenix seriously out-of-his-tree (literally) in a lunatic asylum. (The director kept casting in the family - one son, Axel Jodorowsky, plays the adult Fenix, another, Adan, the character in childhood, with other relations in smaller roles.) Flashbacks suggest just how strange that childhood was. Fenix is a child magician in a travelling circus, Circo del Gingo, which seems stuck in a small Mexican town - though the playfully wooden dialogue is in English, the atmosphere is exclusively Latin American. His boozy American father Orgo (Guy Stockwell) has a speciality act throwing knives at "the Tattooed Woman" (Thelma Tixou, pictured below right), who taunts her own deaf-and-dumb daughter Alma (Sabrina Dennison) to improve her tightrope technique. Alma is Fenix's special friend, along with a midget and a pack of clowns, and the lad much loves the circus's diminutive elephant.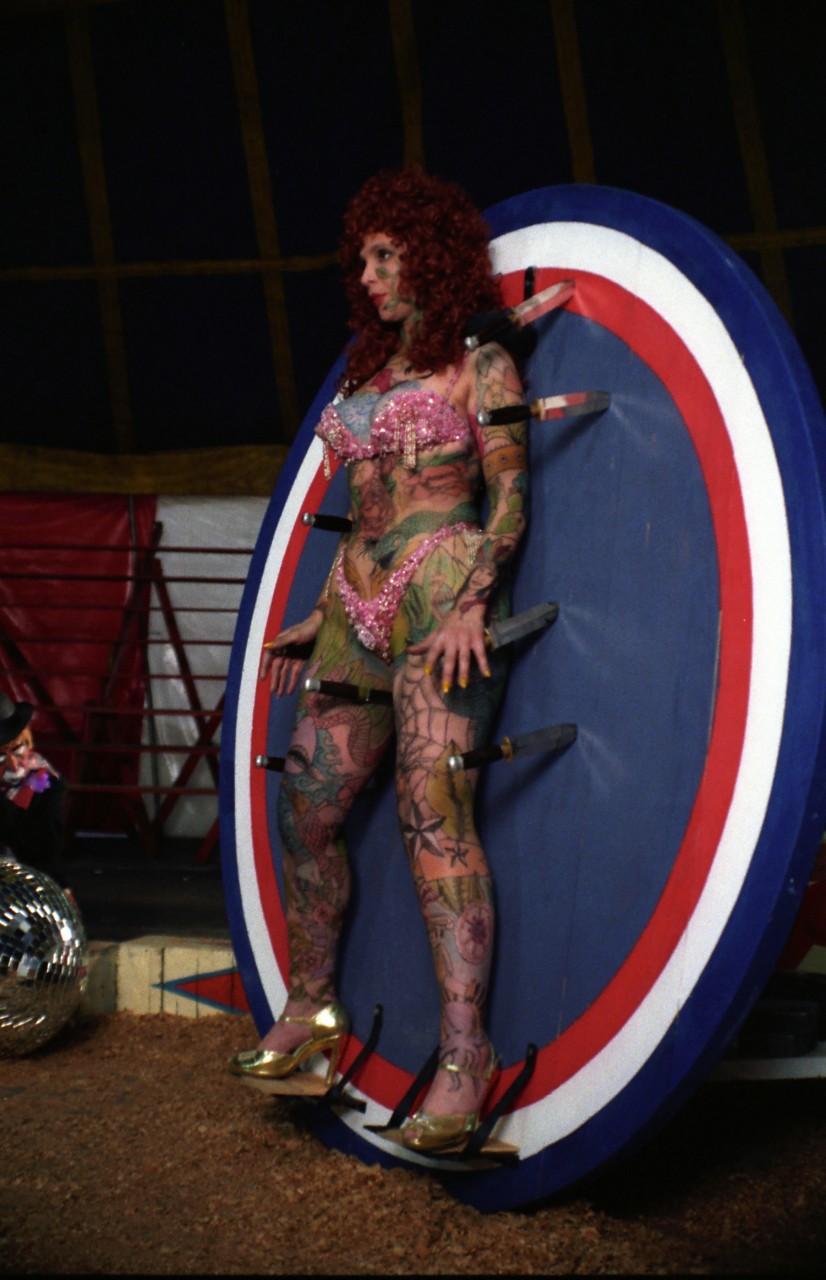 Somewhere across town Fenix's mother Concha (Blanca Guerra), whose speciality is wire acts, is doubling as the leader of a church sect devoted to the memory of a wished-for martyr who died at the hands of attackers, her arms cut off (a motif that runs throughout the film); the "holy blood" of the title refers at least in part to the red pool in their ramshackle church, outlawed by the religious powers-that-be and duly demolished by developers.
Concha returns to the ring, as the sacred and the sexual meet, combined with generous screaming. What Fenix gets to see would keep a child psychiatrist occupied for a lifetime. Back in the asylum his company seems to be predominantly Downs Syndrome children (an element it would perhaps be harder to get away with today), which makes for some weird collective excursions into the city.
But the real voice calling Fenix, from outside his cell window, is his (now armless) mother. He seems to be under her spell, and together they create a creepy double-act, "Concha and Her Magic Hands", by which he works his arms in conjunction with her body and voice. She's also pursuing vengeance against a whole range of those who have wronged her, and those who threaten her bond to Fenix. His knife-throwing skills come into their own, which is at least more elegant than other sheer slasher murder scenes. There's so much hallucination and hypnosis involved that working out what is real and what imagined frequently seems impossible, although the final scene does seem to have Fenix finally exorcising his devils.
Jodorowsky creates an atmosphere of crazy fiesta, a psychedelic extravaganza of luridly bright colours shot by Daniele Nannuzzi and frenetic music (by Simon Boswell), from roiling organs to strident Spanish vocals. The quantity of blood that gets spilt owes something to Italian directors like Roberto Argento, whose brother Claudio produced and co-wrote Santa Sangre, and passed on much to a later generation of teenage death pics coming out of America.
But there's more than sheer horror here: there's the surreal, certainly, the occasionally darkly comic, but also a sense of at times perverse beauty (Fenix in one of his imaginings, pictured above left) that stands apart from the bloodshed. The extremes of religious faith that we see at the beginning of the film in a way counterpoint the extremes of human violence that come later. Heady, paradoxical stuff.
Santa Sangre is on limited release from 21 September

Watch the trailer for Santa Sangre
Alma is Fenix's special friend, along with a midget and a pack of clowns, and the lad much loves the circus's diminutive elephant
rating
Explore topics
Share this article