Akram Khan's Desh, Sadler's Wells |

reviews, news & interviews
Akram Khan's Desh, Sadler's Wells
Akram Khan's Desh, Sadler's Wells
Autobiography as poetry; after recovering from injury, the dancer returns to the stage
Thursday, 04 October 2012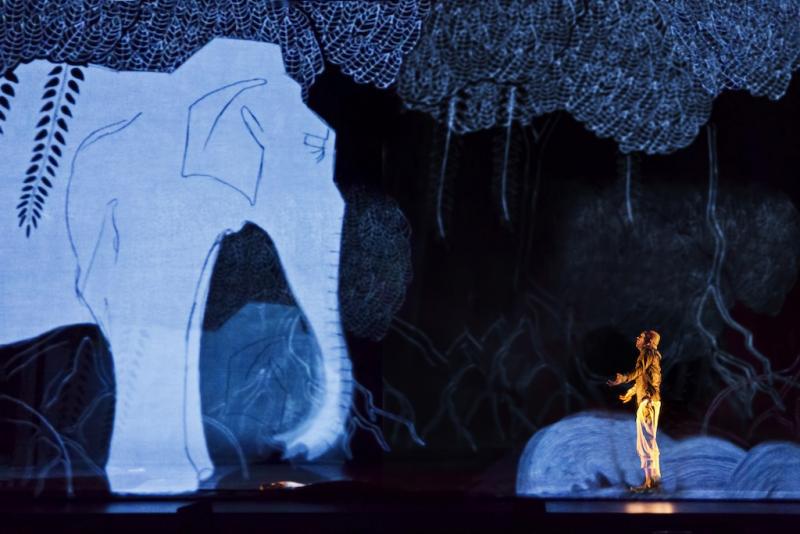 Khan encounters Tim Yip's superb animation, which turns autobiography into fairy tale
I've seen Akram Khan's Desh twice. The first time I sat in my favourite spot – the front row – close enough to smell the sweat drenching his shirt as the demanding physicality of this ambitious solo work became evident.
But I could also see him apparently lip syncing to recordings of his own voice and, despite the potency of his close physical presence, this created a profound sense of disjunction, as though he were emotionally disengaged from the recollections and stories being told.
The work is autobiographical or, rather, an exploration of identity – of what it means to be born of Bangladeshi parents living in England. "We're always trying to find out who we are", says Khan. "It doesn't stop... I can't get away from identity, that seems to be my curse." And if the emotional complexity of this search for a sense of belonging does not come through, the performance simply becomes a sophisticated exercise in dance theatre rather than a deeply affecting journey of discovery.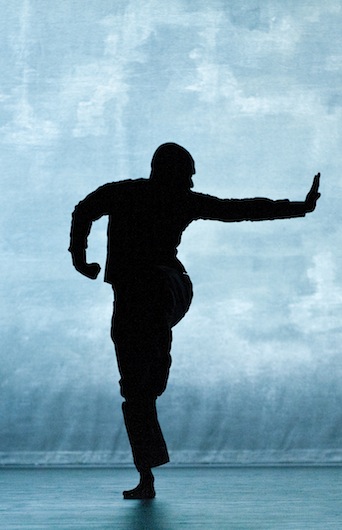 So this time I sat in the first circle, far enough away for the nuts and bolts to be hidden so that the magic could work; and everything came together to weave a narrative which moves between fact and fiction – from historical record to a children's story, or a boy's bad dream to the nightmare of partition. And whether braving the traffic of a busy street in Bangladesh or trying to make contact on his mobile, this time Khan seemed like a wanderer lost in a dizzying miasma of noise and confusion, searching for a sense of self.
Effortlessly slipping between roles, he plays his father at different ages as well as himself as a child, a stroppy teenager and an adult. Father and son are at loggerheads, and through his body language, Khan transforms these misunderstandings into an internal conflict – a misalliance between the British and the Bangladeshi aspects of himself, as well as a failure of one generation to comprehend another.
The father tells his small son the story of a boy who ventures into the forest and climbs a tall tree to steal honey from the wild bees. Tim Yip's delightful animations create a storybook realm of exotic woodland populated by birds and butterflies while an elephant wanders through and a crocodile basks on the riverbank. The drawings are absolutely magical yet, close-too, the interaction between dancer and graphics simply doesn't gel; from a distance, though, it is easy to believe that the boy is lying in a cartoon boat bobbing downriver on billowing waves, or shinning up an outline tree and greedily stuffing honeycomb into his mouth.
The dancing is superb. As though driven by an indefatigable urge to keep moving, Khan rolls, churns and spins around the stage before accelerating to whirl at astounding speed with the intensity of a Dervish. He recounts the hideous story of how, during the war of secession when East Pakistan sought independence, a soldier cut the soles off the feet of a man from the future Bangladesh: "now you walk and see if you can stand on your own two feet". Khan lies on his back kicking like an infant before shuffling on his arse across the stage, feet held painfully aloft as though discovering how to propel himself along and protect raw flesh – a powerful metaphor for rebirth, as well as a moving exploration of trauma.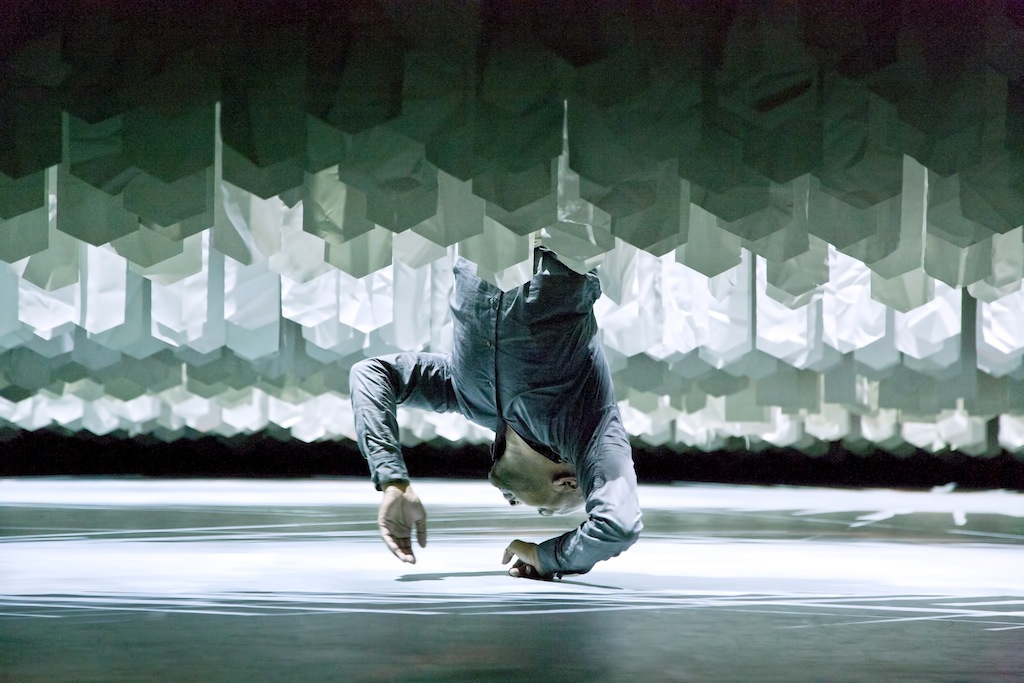 Alongside the urgency and the horror, there's also humour. Khan lowers his head to reveal a face drawn on his bald pate and assumes the character of a cook (his father?) who feeds all 200 people in his village. Then, in an inspired piece of choreographic wizardry, he plays with his head as though it were a football – apparently dropping and catching it or rolling it along his arms.
Last night the piece ended six minutes early. Banks of curtains evoking the tall grass recalled by his father swish in the wind before rising and falling. Taking off his western shirt, Khan crawls through them and dons the kurta worn by Bangladeshi men, a sign that finally he has embraced his origins and reached some kind of closure. At this point the curtains are meant to rise, but a technical hitch brought them to a grinding halt at floor level. Akram Khan's apology was greeted with a standing ovation; it didn't matter that the theatrical spell had been broken, because we had already accompanied him on an amazing journey full of visual surprises and delights.
Watch excerpts from Desh
In an inspired piece of choreographic wizardry, he plays with his head as though it were a football – apparently dropping and catching it or rolling it along his arms
Explore topics
Share this article