The Makropulos Case, Opera North |

reviews, news & interviews
The Makropulos Case, Opera North
The Makropulos Case, Opera North
Janáček's cautionary tale blazes in an unfussy, detailed production
Vintage Janáček: Robert Hayward, Ylva Kihlberg and James Creswell in 'The Makropulos Case'
Has any other composer managed to pack so much into such a compact time span? You'd recognise this score as vintage Janáček after hearing just a few seconds – those yawning gaps between muted tuba and piccolo, the frantic, unforgiving string writing. Minimalist motifs scurry, circle, always on the verge of delivering an exultant peroration, which, frustratingly, rarely materializes. The Makropulos Case is full of music like this.
Disappointment evaporates quickly as the next orgiastic climax builds. It's exasperating, exhilarating, and feels completely appropriate for the plot of this black comedy, whose heroine delights in teasing and infuriating her supporting cast.
Janáček's source material was a play by Karel Čapek encompassing courtroom drama and metaphysical navel-gazing. Norman Tucker's English translation is used, allowing the dark humour of the opening scenes to shine through. A tortuous, long-running legal dispute over a contested will is muddied by the arrival of Emilia Marty, a charismatic opera singer displaying an uncanny knowledge of the case's history. Janáček's skill in fusing different genres is matchless, and this compact opera seamlessly shifts from low-key, drily witty office drama to a profound exploration of what it means to be alive. Emilia Marty eventually confesses that she was born in 1587, having been dosed with an immortality potion by her father, court physician to Emperor Rudolph II. She's drifted through life ever since, changing her name to avoid detection, though always retaining the initials EM.
Ylva Kihlberg as Marty (pictured above right) is a find. The voice is occasionally shrill, and sometimes overwhelmed by Janáček's heavy brass. But she looks fantastic – an Amazonian stage presence oozing haughty glamour, unable to suppress the cynicism and world-weariness inevitable after 300 years of vacuous existence. There are moments when she wallows in her spider-like ability to ensnare the opera's males, who encircle her, enraptured, oblivious to her waspish put-downs. Genuine affection is fleetingly expended on Nigel Robson's sharply characterised Count Hauk-Sendorf, an ageing former lover of Marty in an earlier incarnation who's perplexed and delighted to become reacquainted with someone he's presumed to be long-dead. Paul Nilon's Gregor, initially infatuated by Marty until it transpires that he's actually one of her descendants, sings beautifully without convincing physically, though his clumsy naivety is appealing.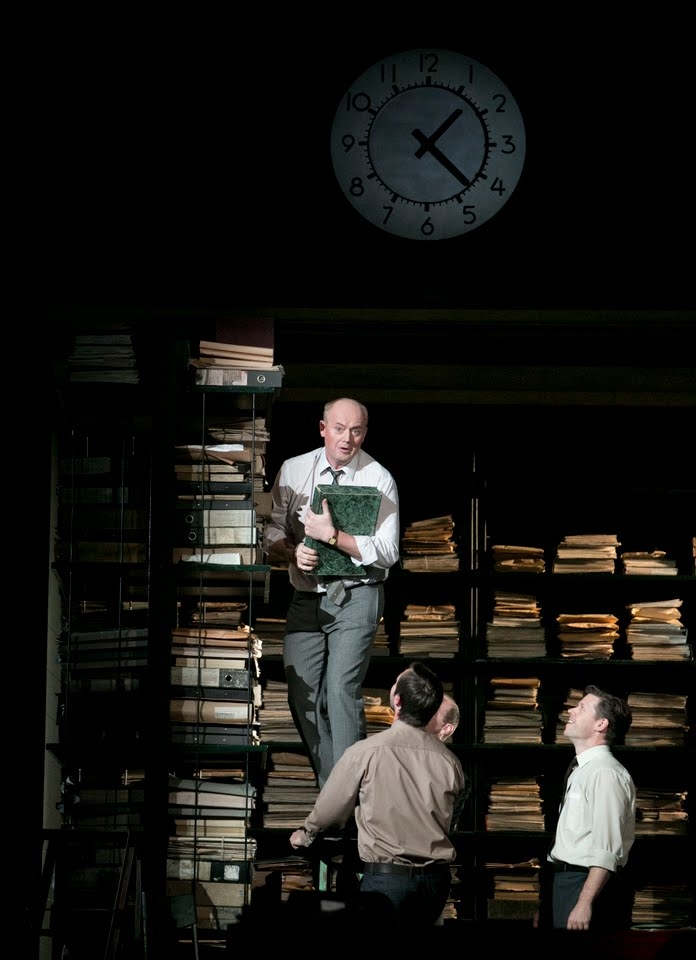 Most of the male characters are buttoned up, besuited, grey and dour. Toiling away against the backdrop of Hildegard Bechtler's detailed, dusty office set (pictured left), it's no wonder that they're outshone by Kihlberg. There's some sweet, low-key comedy between Sarah Pring and Matthew Hargreaves as two backstage staff at the opera house where Marty is performing. Having the applause directed at Marty coming from chorus members placed strategically in the auditorium is a neat gesture – typical of Tom Cairn's unflashy, subtle direction. It's rare to see an opera so convincing as staged drama, the music often slipping below the radar behind a display of naturalistic, credible acting.
The final 20 minutes are devastating. The downside of Marty's over-extended existence is laid bare and her efforts to offload the life-extending Makropulos formula as she dies are painful. She slips away without a fight. Stephanie Corley's Kristina shuns the formula's potential, setting it alight as the curtain falls. There are no longueurs: the opera lasts barely two hours. You leave the theatre buzzing. Every quirk in Janáček's orchestral writing is highlighted in Richard Farnes's incandescent conducting, the music alternately brittle and burnished. One of the 20th century's greatest operas? Definitely.
Ylva Kihlberg as Marty is a find – an Amazonian stage presence oozing haughty glamour
rating
Explore topics
Share this article