theartsdesk in Wexford: L'Arlesiana/Le Roi Malgré Lui at Wexford Festival Opera |

reviews, news & interviews
theartsdesk in Wexford: L'Arlesiana/Le Roi Malgré Lui at Wexford Festival Opera
theartsdesk in Wexford: L'Arlesiana/Le Roi Malgré Lui at Wexford Festival Opera
Tragedy and comedy go head to head in Wexford's 2012 season
Little Venice: Chabrier's 'Le Roi Malgre Lui' collides cultures to riotous effect
"Last night's tenor was superb, wasn't he? Such Italianate passion at the top of his range…" In the pub, the streets and – in this case – over the cereal and croissants of a hotel breakfast, there's only one topic of conversation in Wexford for 10 days every autumn: opera. During festival time this tiny Irish town on the river Slaney undergoes something of a sea-change.
Doctors, plumbers and shop-assistants all transform themselves into the festival staff, ushering audiences, erecting staging and assisting artists.
It all makes for an atmosphere of excitement, further fuelled by the festival's determinedly unusual programming – forgotten operas that often haven't seen a musicologist, let alone an audience, for several centuries. This year's lineup is no exception, setting Cilea's compact domestic tragedy L'Arlesiana against the finessed French comedy of Chabrier's Le roi malgré lui.
Cilea's lyrical, expansive score can take any amount of emoting
On paper it's the Cilea that whets the appetite; French operatic farces are 10 a penny, while a shy little Italian melodrama with progressive psychological overtones, from the composer of Adriana Lecouvreur, seems an altogether rarer and more enticing prospect. In performance however it proves a fair fight between Cilea's rich score and Thaddeus Strassberger's riotous production for Le roi malgré lui.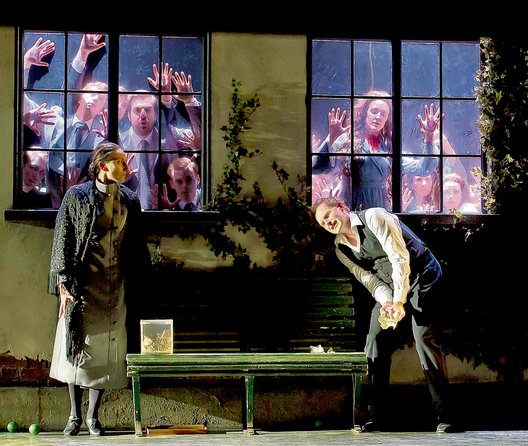 Originally performed in Milan in 1897, Franceso Cilea's L'Arlesiana is based on the same Alphonse Daudet play that would inspire Bizet's L'Arlésienne Suite, originally written as incidental music. But in contrast to Bizet's bright, folk-inspired dances Cilea's music delves rather deeper into the psychology of its bizarre tale. A young man, Federico, falls in love with a girl from distant Arles and plans to marry her. But when another man appears with proof of her inconstancy, Federico goes mad with grief and eventually kills himself.
While the tragedy is standard enough, what is striking is the absence of the opera's namesake. This catalyst for death, jealousy, maternal grief and even madness has no part in the action, not a single line to sing, either in defence or seduction. In Rosetta Cucchi's production however she becomes a visual idée fixe, a single silent figure who becomes multiplied into a crowd of sinister doppelgangers as the action reaches its climax in an insane asylum.
The opera's libretto is littered with the language of health and sanity, and Cucchi seizes upon this as an opportunity to offer a darker take on the "was it all just a dream?" scenario. If the girl from Arles is in fact a phantom, a projection of a disturbed mind, then what does that tell us about male sexuality, desire and his relation to the female? Here, unfortunately, the answer feels a little forced, the tragic dice a little too heavily loaded. I'm not sure either that for most people's first encounter with the opera such a revisionist take is helpful, nor that the reversing of a rare operatic instance of a woman as architect rather than victim of tragedy is entirely welcome.
Nevertheless, if the onstage action offers some issues then there is ample consolation from David Angus's pit. Perhaps a little over-wrought at times, his charged reading (and the excellent playing of the Wexford Festival Orchestra, whose string section in particular is a joy) is only appropriate for such a production. This lyrical, expansive score can take any amount of emoting, and it says a lot that on leaving the theatre I heard someone whistling Tosca. Puccini is just over the fence from Cilea's finer moments, and the structural coherence of music that has its climax in sight even as we start is as effective as it is impressive.
Too many intervals did little to emphasise this continuity, but the cast did a fine job of guiding us back each time into their torrid dramas. Dmitry Golovnin's Federico (pictured left) releases into a superb howl of an aria as his doom becomes evident, and after some dodgy intonation at the start, Mariangela Sicilia's lovelorn Vivetta proves herself an attractive, if dramatically matter-of-fact, path of reason. I didn't warm to Annuziata Vestri's vocal histrionics as Rosa Mamai, but Christopher Robertson's Baldassarre anchored things nicely for the younger cast.
What a contrast greeted us the next night, however, in Strassberger's irrepressible vision of Le roi malgré lui. Originally seen at the SummerScape festival in New York's Bard College earlier this year, the production takes an already complicated romp of intrigue and identity and does it all backwards and in high heels. There's little here to carry a severe, modernist reading, with a score whose moments of brilliance (a stunningly bluesy lament for gypsy girl Minka, a glowing, throbbing duet between her and the Duchess Alexina) are heavily outweighed by G&S-style pastiche and silliness. So Strassberger's answer is to go with the flow and outdo the excess.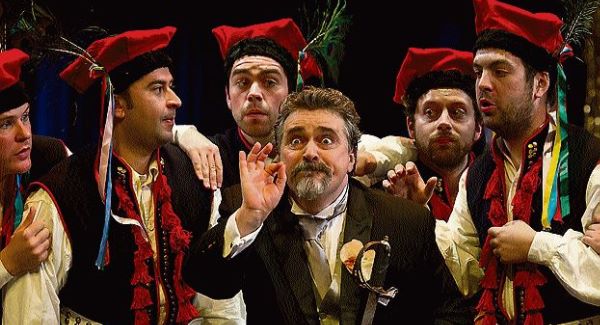 The result is endearingly smart and gloriously vulgar for the first hour and a half, and then becomes exhausting. Unlike the stiffly controlled Cucchi, there is no end to Strassberger's creative invention. But when silent sub-plots are playing out in every corner, and three scenes are always playing at any one moment (it really does feel like split-screen cinema) the relentless stimulus becomes too much.
It all starts so well, as 18th Century ladies and gentleman are freed from a storage facility packing-case, their card party jostling with a contemporary rival gathering across the stage. The world of Poland and Paris collide in a lost-in-translation plot that sees Henri de Valois named king of Poland. Banished from his homeland, he finds himself the chief schemer in a plot to overthrow himself (I told you it was G&S) and romping with a variety of local women, only to find his erstwhile paramour Alexina (originally seduced in Venice, and now accompanied everywhere by a gondola) suddenly reappearing together with her husband le Duc de Fritelli (Frédéric Goncalves, pictured above). Got that?
Sunbeds, gondolas, Strictly Come Dancing and a troop of overgrown toy soldiers all play their parts in this fantasy-farce, with Strassberger's inspired rewrite of the ball as a Mitteleuropean TV spectacular working particularly well. There's plenty of serious singing to balance the silliness however, with the cast led by Mercedes Arcuri as the beguiling slave Minka. Delivering her showstopper arias with complete control, gorgeously floated upper register and clean coloratura, she balanced the rather bland vocals of Liam Bonner as Henri – seemingly cast for his body rather than his baritone. Frédéric Goncalves spluttered and gurned in the character role of Fritelli, expostulating with aplomb in at least three languages in the spoken sections.
Wexford is a stimulating start to the autumn opera season, but above all it's fun
The Wexford Festival Opera Chorus were out in full force here as soldier, courtiers, French maids and folk-dancers, and embraced Strassberger's characterisation with gusto. Some excellent singing (particularly from the female chorus) was matched by energetic acting, and if the overall effect was a little much, then it's nothing that some judicious cuts to a score that could easily lose 45 minutes and not miss them wouldn't fix.
A trip to Wexford is always uncertain, and that in the best possible way. The experience of three nights of new operas, surrounded by a crowd experiencing them all for the first time too, is a high you don't get often in the metropolitan centres, with their thousands of seats to fill and their endless Toscas and Turandots. This quirky little festival has carved out its niche, and by sheer energy and commitment (not to mention the always-glossy productions) has convinced the world to come and squash into it once a year. It's a stimulating start to the autumn opera season, but above all it's fun – something to take the edge off all those Ring Cycles, to send you back smiling and refreshed to Mozart, Verdi and Puccini.
If the girl from Arles is a phantom then what does that tell us about male sexuality, desire and his relation to the female?
Share this article