La Rondine, Opera Holland Park |

reviews, news & interviews
La Rondine, Opera Holland Park
La Rondine, Opera Holland Park
Summer romance courtesy of the operatic master cannot fail to charm
Kate Ladner draws eye and ear as Puccini's conflicted Magda
With opera houses in Britain now ringing to the four-letter cries of Anna Nicole and Two Boys (not to mention the rather more elderly, but no less explicit utterances of
on theartsdesk">Le grand macabre) verbal taboos it seems are a thing of the past. Yet one word remains tainted, perpetually and immutably filthy, never to be voiced in polite cultural company: operetta. Whether or not Puccini's
La rondine
actually falls into this genre is debatable, but like the heroine at its heart we shouldn't allow this silken embrace of a work to be tarnished by a label, however obscene.
If you were seized unawares by the opening orchestral flourish of La rondine, operetta might be among the politer designations to come to hand. For the first 20 or so bars the score resembles nothing so much as a Hollywood soundtrack of the 1940s. Camp little flute sallies are countered by the brass, all dissolved in a Technicolor wash of strings. It's heady stuff, yet sets the scene for a surprisingly demure romance, despite Gheorghiu and Alagna's best attempts to sex it up.
Magda, the swallow of the title, is a woman kept by her wealthy lover Rambaldo in a relationship of convenience. Encountering the respectable young Ruggero, she is overwhelmed by emotion and leaves Rambaldo. When Ruggero proposes marriage, however, she realises that she loves him too much to deceive him or taint him with her reputation, so forsakes him to return to her loveless situation.
Slighter than a consumptive ingénue, it is conversely the plot's very simplicity that gives La rondine its poetic weight. If it makes occasionally for rather static drama, it also yields one of Puccini's most devastating scores, tune layered upon tune like the soft folds of the Belle Époque dresses that waft so gracefully about in Tom Hawkes's new production for Opera Holland Park.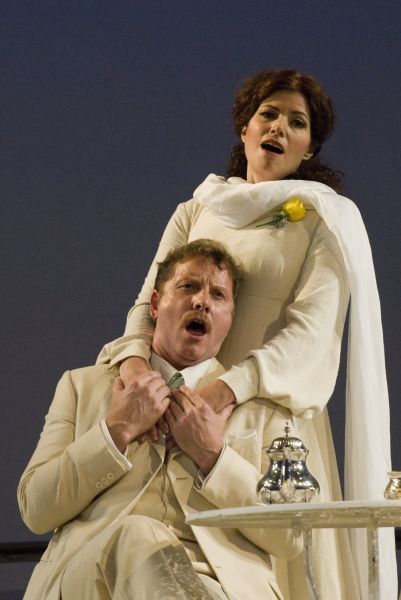 Playing it straight, Hawkes and designer Peter Rice trust the opera to do its work, understanding that the original setting, with its tantalising hints of the Art Deco freedoms (both aesthetic and moral) so shortly to come, is what gives this fragile tragedy its pathos. So we find ourselves comfortably settled in the salons, bars and seaside promenades of fin de siècle France, with the colours of the first two acts draining out to evocative creams and whites in the final farewell scene.
Issues with the OHP pit (long and thin) have been a repeated refrain of mine, and here with woodwind placed centrally things finally gelled, with Peter Selwyn's orchestra producing the most blended sound I've heard in this space. A strong cast of singers allowed the players the freedom to really release, and the result was as mature and balanced as a tent acoustic can ever hope to produce.
Magda sits somewhere between the tragic Butterfly and the flighty Mimi as a character, joining the operatic line-up of fallen women in the vicinity of Violetta and Manon, but in Kate Ladner's (pictured above with Sean Ruane) portrayal archetype falls away and she is freed up to be specific, illogical and human. Blessed with lyric tenor Sean Ruane as her Ruggero (who matches his lover dramatically if not quite vocally), Ladner is able to keep things impressively interiorised without ever losing the charge. Her "Chi il bel sogno di Doretta" does everything it should, and if she occasionally forgets to cosset the ends of her phrases, the control and vocal colour of her letter aria ("Figliuolo, tu mi dici") more than redeems her.
Although Ruane is a little tight at the top, the rest of the supporting cast (led by a pertly precise Lisette from Hye Youn Lee and Hal Cazalet's characterful Prunier) excel, buoyed by some strong work from the chorus (particularly the men) who populate Act II (and a "Bevo al tuo fresco sorriso" that sits just the right side of a big Lloyd-Webber number) with a generous complement of Toulouse-Lautrec caricatures.
I've sat placidly through umpteen productions of Tosca and Madama Butterfly, and never yet found a Bohème that could move me to anything other than frustration at the posturings of this astonishingly unpleasant group of characters, but whether it's Selwyn's account of Puccini's score or Hawkes's elegant production, Opera Holland Park's La rondine could romance the most cynical of souls. When faced with such overpowering musical seduction, does anyone really care whether it's opera or operetta? Proverb has it that one swallow doesn't make a summer, but La rondine may just have made mine.
Tune is layered upon tune like the soft folds of the Belle Époque dresses that waft about in Tom Hawkes's production
Explore topics
Share this article