At Your Service: The Birth of Privates on Parade |

reviews, news & interviews
At Your Service: The Birth of Privates on Parade
At Your Service: The Birth of Privates on Parade
As Simon Russell Beale drags up in the West End, the playwright Peter Nichols recalls serving in the military concert party
Saturday, 01 December 2012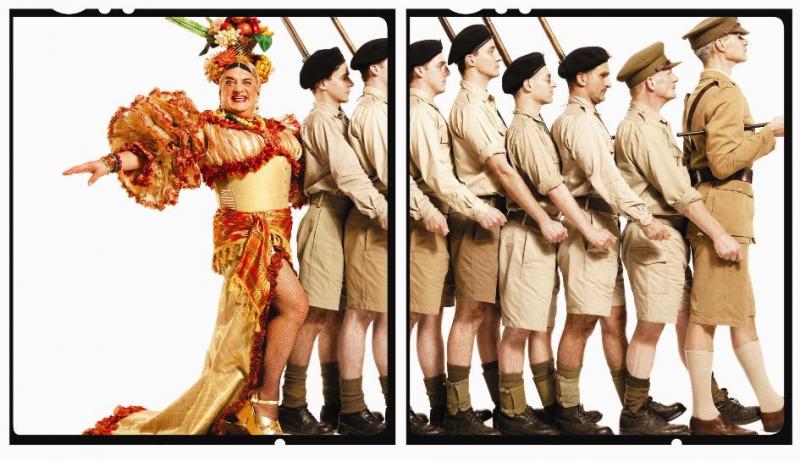 Peter Nichols's men of the service. No prizes for spotting the odd one out
It was in Singapore in 1947 that my real education began. For the first time I read Lawrence, Forster, Virginia Woolf, Melville, Graham Greene and Bernard Shaw's political works, becoming a lifelong Leftie. When Stanley Baxter explained Existentialism in our billet block, we nodded intelligently. When Kenneth Williams spoke Parlyaree, we were in advance of the rest of the nation who wouldn't hear of it till Beyond Our Ken.
Our post-war National Service was spent defending our far-flung (and about to be abandoned) empire. Twelve of us were in a revue called At Your Service. In the opening number we shouted rather than sang:
"We're men of the service,
We're at your service - Entertaining you!"
...stamping and pointing on the last word lest there should be any doubt. Ken followed with imitations of Bette Davis and other less-known stars. Later there was heavy-footed tap-dancing, conjuring, a torchlit choir singing "Pedro the Fisherman" and a cod panto mostly written by Stanley. Whenever a black-out was managed for the choir (not too often in open-air theatres) Kenneth would move along behind the rest, goosing us and making it impossible to whistle the final chorus.
We were never in real danger, despite the quality of the show
We toured the island, mainland Malaya and Hong Kong in search of an audience. Other troupes did Sri Lanka (then Ceylon) and Burma (Myanmar) but the latter was in anti-British turmoil and it was feared our show may have been the last straw. There were occasional bombs and murders of rubber plantation managers, as 5,000 Chinese guerrillas prepared to create a State of Emergency, as the war was always called. They held down a force of 10 times their number of British forces, mercenary police and native home guards. This insurgency was only declared over in 1960, 12 years later, and then conscription ceased.
We were never in real danger, despite the quality of the show. Reluctant conscripts watched it in a mood somewhere between resentment and astonishment. They had no idea they were getting a free glimpse of seeing two future stars. Other parties included conjuring by the film director-to-be, John Schlesinger.
Back in real life in the 1950s, Kenneth took me to see our leading (civilian) drag artiste in a show called Boys Will Be Girls, aptly showing at the Queen's, Poplar. "Five pounds," promised the posters "if you can spot a girl in this show." There wasn't one in ours either, though there is in Privates on Parade. No prizes for spotting her but there are 200 seats at £10 for each performance!
Reluctant conscripts watched it in a mood somewhere between resentment and astonishment
Share this article