Glasvegas, Garage |

reviews, news & interviews
Glasvegas, Garage
Glasvegas, Garage
Sentimental Scots gets into a sweat with some short, sharp rock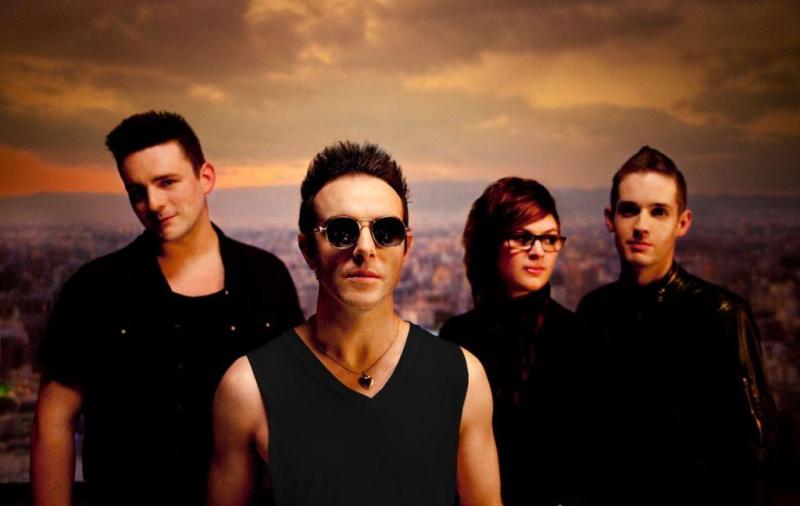 Glasgow's finest garage band find themselves back in the Garage
Before Glasvegas took off James Allan played professional football in Scotland. He did not quite make the highest echelon in his soccer career and after a blistering start, when his band was championed as the Next Great Guitar Group, things haven't been looking too hopeful in his music career either.
Glasvegas was dropped by Columbia Records after their second album, and when I heard they were playing this small club in the run-up to the 2013 release of their third album,
Later...When The TV Turns To Static,
I wondered if maybe their record label had a point.
How wrong I was. This brief "Crying Onion" tour is surely just a warm-up before a bigger campaign next year. A chance for the Glaswegian quartet to get match fit before a final buffing up of their album. It is a chance to road test new material, but mainly an opportunity to perform old favourites for their hardcore followers. James Allan explained wth a smile that he had met one fan outside earlier who had come from Australia: "My sister manages the band and she said she wouldn't even come from Australia to see us!".
A cynic could spend the whole gig playing spot the influence
The odd thing about Glasvegas is that apart from Allan's porridge-thick accent – and one could argue that The Proclaimers got there first – there is nothing particularly original about them. From their leather jackets to their passionate posturing, it has all been done before. From his quiff to the way he bends his knees James Allan looks like he is biding his time waiting to be cast as the lead in a Joe Strummer biopic. A cynic – and my subscription to the cynics' club is fully paid up – could spend the whole gig playing spot the influence. The Jesus & Mary Chain and the Manic Street Preachers are two big ones, alongside The Velvet Underground and Phil Spector – a lyrical nod to the Velvets' "Heroin" and a Sixties girl group appearing on footage flickering behind the band gave the game away.
Yet it is all about the alchemy. Oh, that and the beefy singalong choruses. And the fact that the lyrics go to emotionally raw places where most bands fear to tread. "Geraldine", greeted by rapturous cheers, is easily the finest song ever written about social work. Rumour has it that Lady Gaga wanted to collaborate with the band when she heard it. "Flowers and Football Tops", meanwhile, is a heartbreaking lament inspired by the murder of teenager Kriss Donald in 2004.
The new album sounds as if it does a pretty thorough job of mixing the political and the personal. "All I Want is My Baby" found Allan charting the collapse of a relationship, and possibly a custody battle and economic issues, with the anger in his voice rising to volcanic levels as the song built to a climax. Stylistically it sounds like a return to basics after the band smoothed over their rough edges on the second album, Euphoric Heartbreak. They are doing what they do best. They haven't gone dubstep, they haven't grown their hair, they are back in black after a period when Allan could be sighted in white.
While Allan was the star the rhythm was dominated by recently recruited stand-up drummer Jonna Löfgren, who does her best Mary Chain-era Bobby Gillespie impression and thumps away as if she has a grudge against her drumkit. New song "If" featured a particularly ferocious military thwack. Löfgren can also be more nuanced, particularly on the guilt-stricken "It's My Own Cheating Heart That Makes Me Cry", in which the singer blames another down-the-pan relationship on his bad behaviour. This rich mix of regret and despair cropped up again on the final song, "Daddy's Gone", during which Allan clutched the microphone so tightly one feared it might shatter. The singer might not have made it to number one in football, but on this showing Glasvegas could still get promotion to rock's Premier League.
Follow Bruce Dessau on Twitter
Watch the video for "Euphoria, Take My Hand"
James Allan looks like he is biding his time waiting to be cast as the lead in a Joe Strummer biopic
rating
Share this article