Meet the Russians, Fox |

reviews, news & interviews
Meet the Russians, Fox
Meet the Russians, Fox
The Russian invasion of London - so far, it's style over substance
Thursday, 26 September 2013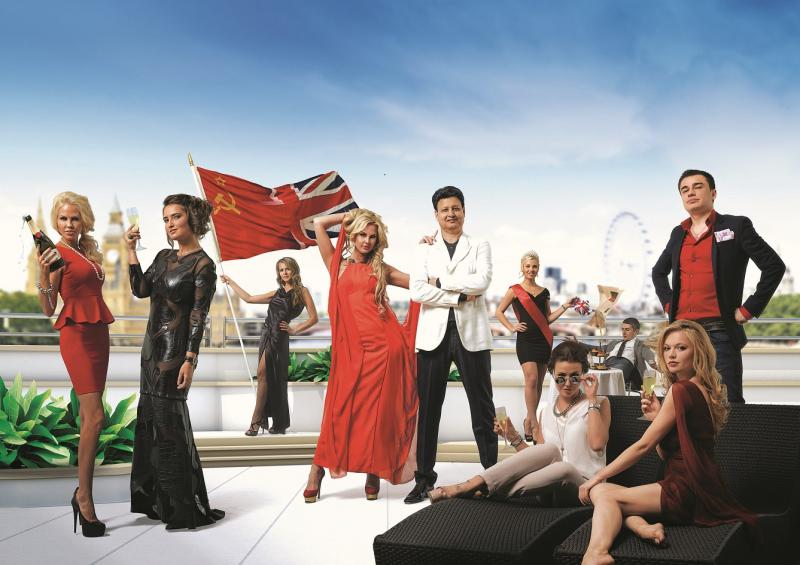 Some of the cast of 'Meet the Russians': giving a new definition to over-the-top
There's a great line near the beginning of Fox's nine-parter Meet the Russians: "Money can't buy you taste. It can buy you a personal shopper." If this show's participants had splashed out on a bit of PR advice as well, you wonder whether the answer would have come back to steer clear of such television exposure, even when Fox came knocking.
Not because there are any dreadful secrets to be found in those ample closets – unless you count some of the interior design – but because the result makes them look a bit like they're out of a bad soap.
It's all so easy to mock. Just as it's easy to forget that there are close on half a million Russians who call Britain their home. And easier still for the filmmakers to ignore the 99 percent of them who are here in rather more ordinary capacities than those featured here (if you're looking for the blessed ordinary, then keep an eye out for the Russian couple in The Midwives, for starters).
Which is a shame, because there must be different stories to tell even here, if only someone else was asking the questions. Like what you really feel about sudden luxury beyond wildest dreams when you grew up in a shared flat where a number of families queued for one bathroom. Or what it feels like when you can only send the kids off to school with a bodyguard (Vinnie Jones gave us a brief, if parodic insight into that last week). In London keeping an eye out for cyclists when stepping down from the Rolls feels like the closest to danger we've seen so far.
At the centre of the cast so far is pop singer Kamaliya and her husband (centre in the marvellous publicity shot, main picture above), though actually they're a bit of an exception. They're from Ukraine for one thing, the finer points of the ex-Soviet world being beyond this show's remit. Next, we actually see husband Mohammad with his wife most of the time, including at their original Kiev home, which is like an outpost of Versailles with a menagerie to match (Kamaliya, with pet falcon Leila, pictured right). The other participants have been the female money-spenders rather than the male money-makers, with sightings limited to London. Last but not least, that Mohammad, though he made his half-billion or so in Ukraine in metals, actually came to that country 40 years ago from Pakistan as a student, giving him a considerably broader worldview than anyone else.
Kamaliya, real name Natalya, won Mrs World 2008, a pageant that must have a Slavic following since another of the film's subjects boasted comparable achievements. Kamaliya is aiming for an international musical future, while hubbie has invested $20 million so far in "exploring her career", which may move (cue alarm bells) into film as well. Actually, they couldn't seem a nicer couple, and you really hoped it won't end for them in the British divorce courts – a London locale that you have a hunch some participants have seen from the inside already.
Other players were involved in fashion in one way or another (amble down Mayfair's Maddox Street, and you'll find a trio of their outlets). This opening episode focused on "Russian Week", which began with a night at the ballet and ended with a formal do, complete with a fashion show from couturier Olga Roh, who actually worked very hard, and included her daughter, the sophisticated but curiously innocent Nicole, on the catwalk (Nicole and Olga, pictured left). You may have to look for it quite hard, but there's an interesting subtext here about how different generations have reacted to their circumstances, the younger ones buoyed by a confidence from an education within a world that their parents came to fresh in the Nineties.
Everything seemed to be going swimmingly, even if we weren't sure how fully those attending were at their ease with one another, let alone, by extension, with the wider London around them, beyond the parts of it in their direct or indirect employ. Guests were serenaded by a girl band, albeit a rather unusual one, the Buranovo Babushki, a group of seventysomething lady crooners from out on the Volga, who perform their repertoire (including a cover of "Let It Be") largely in the Udmurtian language. You may know them as runners-up in last year's Eurovision Song Contest with "Party for Everybody". Let's hope someone makes a film about them, too: I'd rather spend a single episode in their company than another eight with the present lot.