Philomena |

reviews, news & interviews
Philomena
Philomena
Judi Dench touches the heart once again in the Dame's latest bid for Oscar glory
In 1998, Judi Dench slayed audiences on the London stage in Filumena, playing a former prostitute who learns belatedly to cry. The tears come more quickly - both for Britain's best-loved acting Dame and her public - in the comparably titled Philomena, the Stephen Frears film that tells an otherwise entirely dissimilar story about a doughty Irishwoman determined to locate the son wrenched from her a half-century or more before.
The working-class widow's accomplice in a quest that turned the real Philomena Lee into a publishing sensation is onetime BBC journalist Martin Sixsmith (Steve Coogan), who takes up the elderly woman's cause rather than write the weighty tome on Russian history that nags at his loftier journalistic impulses. Nor does it hurt that he has a beady-eyed Fleet Street editor (Michelle Fairley) thirsting for a scoop and to that end funding the pair's travels up to and beyond the point that Philomena, for one, ponders whether the pair ought not to call it quits.
That they persevere is no surprise given the film's origins in Sixsmith's 2009 non-fiction account of an odyssey that led this unlikely duo down many a blind alley and bureaucratic impasse before reaching a conclusion that finds room for anger aplenty amidst the sentiment. Nor will it come as news to hear that the odd couple centre-screen manage along the way to trade various life lessons before arriving at a (minimum) three-hankie denouement whose success in artistic terms owes something to that feeling of barely suppressed rage.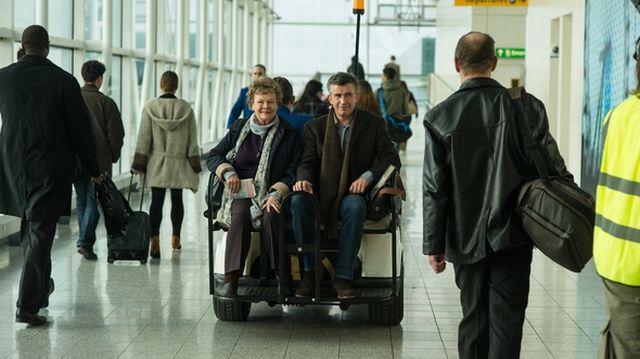 It helps to have in Frears an abidingly honest director whose integrity is matched every step of the way by his sweetly wigged and accented leading lady. In lesser hands, this could have been merely the tale of a cute old Irish dear (Philomena more or less announces herself as that at the start) and the pent-up Oxbridge type who starts to soften under her tutelage. But just when the divisions between the two look set to go the standard-issue route, the film commendably widens its focus, stirring Reagan-era politics, the oppressiveness of the Catholic church, and the perennial appeal of the romance novel into an ever-thickening moral brew. You leave the film moist-eyed, to be sure, as well as wise to the hatred attendant upon so many in life. And that Philomena without a trace of sanctimony refuses to let into her heart.
Coogan might be thought to pretty much be the film, since he not only co-stars but gets producing and co-writing credits, as well. And you can feel the serious actor in this celebrated comic tearing into the film's eleventh-hour broadside against organised religion in a face-off in Philomena's onetime convent that finds the magnificent Barbara Jefford in memorably implacable form. (Those who remember Peter Mullan's 2002 The Magdalene Sisters will discover equivalent terrain here.)
But the movie wouldn't be under Oscar's seasonal radar without the flinty, often funny presence of Dench, who sees out the occasional scripted lapse (an unnecessary confession scene, to start with) to compel interest in this quiet crusader - a kind woman whose will is sorely tested as she reflects upon the flesh-fearing environs from long ago that have eaten away at her since. Peter Hall once said of this actress that she possesses a unique combination of "sex and wit, wit and sex". To those qualities, add an unsparing emotional engagement, whatever the liberties taken with the actual narrative in its passage to the screen.
"Just because you're in first-class," an airborne Philomena admonishes her uppity companion, Martin, "doesn't make you first-class." (Serious product placement here for BA, by the way.) And who better to spout such homilies than that acting rarity: an unassailable class act?
DAME JUDI DENCH ON THEARTSDESK
A Midsummer Night's Dream, Rose Theatre (2010). Judi Dench is a glorious Gloriana in Peter Hall's flat production
Jane Eyre (2011). Dench plays kindly housekeeper to Mr Rochester in invigorating version of the novel with Michael Fassbender and Mia Wasikowska
Skyfall (2012). Dench's M (pictured) is written out of the franchise in possibly the best ever Bond movie
The Best Exotic Marigold Hotel (2012). The Dames have it in John Madden's tale of British travellers abroad
J. Edgar (2012). Dench as Hoover's mother lacks commitment to her American accent in flawed Eastwood biopic
Peter and Alice, Noël Coward Theatre (2013). Judi Dench and Ben Whishaw step through the looking glass in Michael Grandage's elegiac production of John Logan's new play
Spectre (2015). Dench's M cameos in a video message beyond the grave as Daniel Craig and Sam Mendes carry on without her
The Second Best Exotic Marigold Hotel (2015). The expats are back in that rare sequel that betters its predecessor
The Winter's Tale, Garrick Theatre (2015). Judi Dench brings gravitas to Kenneth Branagh's West End season opener
The Hollow Crown: The Wars of the Roses - Richard III (2016). Dench is a matchless veteran opposite Benedict Cumberbatch chills's crook-backed king
Overleaf: watch the trailer for Philomena