Yuletide Scenes 5: Winter |

reviews, news & interviews
Yuletide Scenes 5: Winter
Yuletide Scenes 5: Winter
Ivan Shishkin's snow-laden forest is a majestic paean to the Russian landscape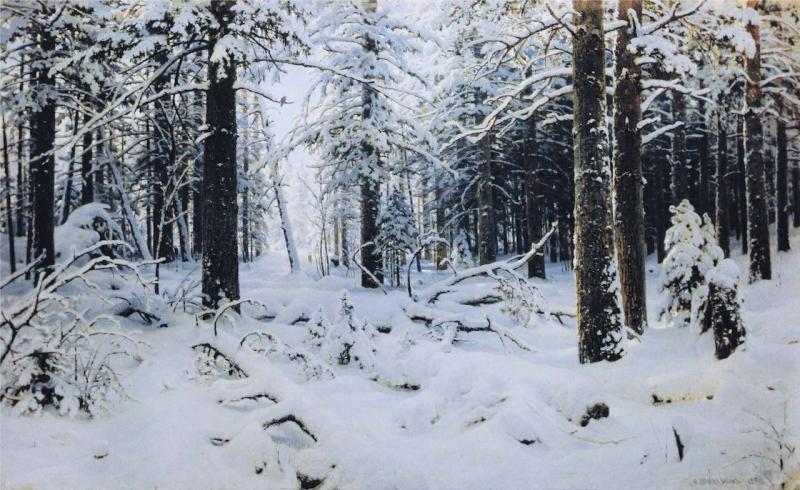 Winter, 1890, a magnificent evocation of frozen nature
Russia is the largest country on earth, unimaginably vast. Its people naturally have a great attachment to their country – and its landscape – in spite of their turbulent history, and in the late 19th century painters portrayed with deep feeling their native environment, their feelings for the motherland perhaps intensified among the more sophisticated the more they had travelled and studied in Europe.
One of their leaders was Ivan Shishkin,1832-1898, known as the patriarch of the forest, and head of the landscape school at the Imperial Academy of Arts in St Petersburg. Well-read and highly educated, he had travelled and worked in Germany, Switzerland, and central Europe, and was a founder member of one of the first significant groups of Russian artists, the Wanderers, who masterminded travelling exhibitions of art. His Winter, painted in 1890, is a huge and magnificent evocation of frozen nature, a painting nearly five feet high and more than seven foot across.
The only animated being on view is a small bird perched on a high branch
The gently glistening crystalline snow is illuminated by a ray of winter sunlight that indicates the glow of a pale sky and tells us there is more snow on the way, while the light intensifies the bluish, pinkish shadows. Snow carpets the forest floor, cascades down the trunks of the formidable trees, embraces the small young pines still covered in their needles.
Fallen branches bearing their own burdens of snow seem like fragments of strange unimaginable creatures in a landscape where anything might happen. The only animated being on view is a small bird perched on a high branch. There is not an animal or human track to be seen in the delicately varied snowy whites layered over the forest floor.
Shishkin's skilled depiction can feel perhaps too icy and is rare in his oeuvre, as he preferred the other seasons. He made lots of preparatory drawings, and the unusual nature of the subject, for him, may have led to its curious and captivating intensity. Shishkin's version of romantic realism can almost touch the sublime in its seemingly endless vista of a Russian forest quiescent under its deep blanket, asleep until spring.