The Musketeers, BBC One |

reviews, news & interviews
The Musketeers, BBC One
The Musketeers, BBC One
Is this an Adam Ant video? No, it's a BBC Sunday primetime failure
What, no plumes? Luke Pasqualino and his companions attempt to rejuvenate the swashbuckler
It's costume drama meets adventure story, it's got smouldering manhood and heaving-bosomed women with sex, swordfights, politicking and even beautifully lit Prague doubling for 17th-century Paris, but the question hanging over the BBC's lavish new Sunday-night primetime series The Musketeers is: what exactly is it? And then Hugo Speer's Captain Treville loses patience and barks: "You three, my office, NOW!" and it hits you: this is Charlie's Angels in thigh-length boots.
Okay, we're not in Seventies LA but there's almost as much product on the (artfully arranged) hair of our three heroes who solve weekly crimes, sorry, plots against King Louis XIII. To be entirely accurate, there are four of them since the opening episode was all about the arrival of hot-headed, doe-eyed young D'Artagnan, Luke Pasqualino (third from left, main picture above) who (a) is determined to avenge the death of his father – murdered in the first five minutes – and turns into a Musketeer-wannabe and (b) looks like an escapee from a boy band.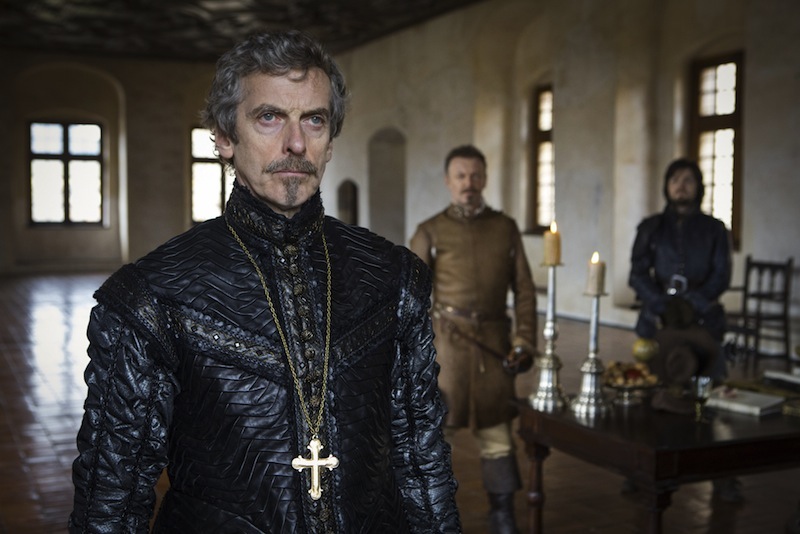 That too-cool-for-school look is crucial to an enterprise determined to sex up the swashbuckler, or as creator and writer Adrian Hodges puts it: "Too often the adventure genre is lightweight and disposable. It just doesn't have enough weight to captivate a modern audience that is perhaps more cynical and certainly more aware of storytelling tricks than any before it." If that led the BBC to believe they were getting something sophisticated, they – and we – will have been sorely disappointed. The confused result doesn't seem to know who it's aimed at. Its post-watershed scheduling is at war with its jocular, bathetic tone which feels like it was aiming for the pre-watershed Doctor Who and Merlin crowd.
In its defence, the opening episode had acres of exposition to wade through. In addition to setting up the world of courtly power and popular resentment, there are heaps of running characters, so much so that they each get a sole defining characteristic. Leading the field of baddies is Cardinal Richelieu (Peter Capaldi, brought to us courtesy of Velázquez, pictured above) who, determined to reduce the power of the musketeers, is Chillingly Manipulative. He's partnered by his vicious mistress Milady (Maimie McCoy, pictured below) who Will Stop At Nothing.
All the female characters are ranked in terms of being biddable or, rather, beddable, from High Status Flirt Queen Anne to married Constance (Tamla Kari) who, struggling with her attraction to D'Artagnan, Speaks Her Mind. In case you think this handling of women too sexist (perish the thought), Constance's character upbraids the menfolk via contemporary feminism: "If only men would think instead of fight, there might be more good ones left."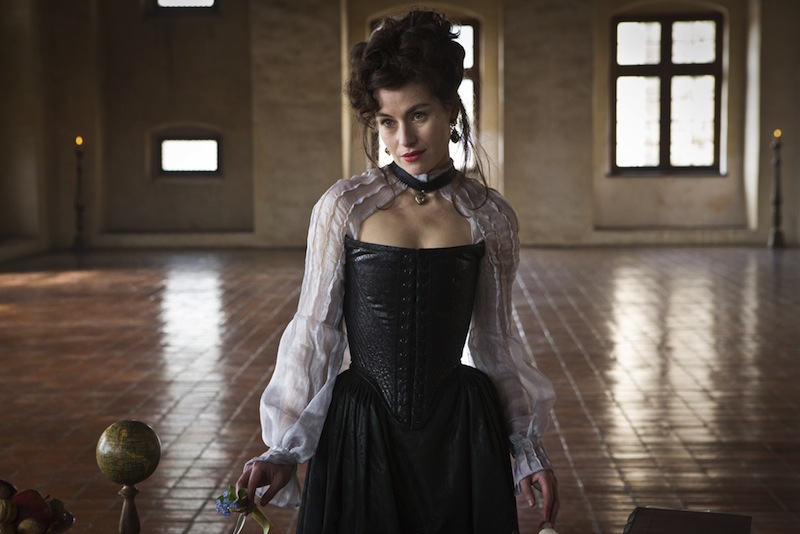 Sadly, even the second episode fails to develop the leading characters any further. The underrated Tom Burke (one of the few standouts in the second season of The Hour) emerges with his dignity intact as Athos, the drolly smart one; Santiago Cabrera's Aramis is the sexy one and poor Howard Charles's Porthos is, well, the other one. It's a case of all dressed up – in Pirates of the Caribbean via Camden Market style – and nowhere to go.
Outside of the action sequences, the only thing giving the programme any bite or pace is the huge score by Murray Gold. Cleaving to doomy, dramatic D minor almost throughout, Gold adds low double-bass for tension and the rhythmic, stabbing strings and percussion themes that are such a feature of his scores for the likes of Torchwood and, chiefly, Doctor Who. Lacking the wit, energy and smarts of the latter, this lame rebooting of a classic leads one to cry, "Where is Russell T Davies when you need him?"