Pat Metheny Unity Group, Eventim Apollo |

reviews, news & interviews
Pat Metheny Unity Group, Eventim Apollo
Pat Metheny Unity Group, Eventim Apollo
Metheny the guitarist in the form of his life, though some later pieces clouded by gimmickry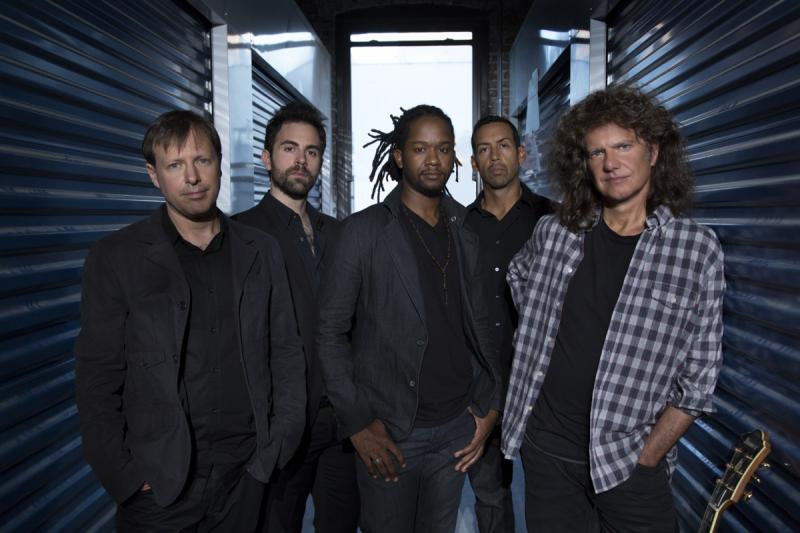 Brilliant and committed musician needs to avoid gadgets
The Eventim (Hammersmith) Apollo, where Pat Metheny's Unity Group last night gave a spellbinding, if sometimes baffling, performance, has hosted a goodly range of gigs in its time. Few of these can have offered such diversity within a single evening. Piece after piece left last night's audience whooping with exhilaration, though Metheny's fondness for mechanical innovation briefly threatened the audience's otherwise adoring reception.
Metheny opened with a solo on his 42-string Pikasso guitar, a Hydra-headed invention with a very delicate harp-like upper register. Watching him grapple in the gloom made for a dramatic start, but the instrument's ethereal articulation was smeared into electronic noise by the background looping. The next five pieces, however, reminded everyone why Metheny can still fill the Apollo, 35 years after his breakthrough. In quartet formation, without multi-instrumentalist Giullio Carmassi, they played a combination of early eighties' originals like "James", and reworked Metheny classics such as "Roofdogs" and "New Year" (which appeared on the 2012 album Unity Band).
Flirting with the boundaries of jazz, rock, folk and funk, these arrangements are relatively straightforward as compositions, but they require consummate technical skill to pull off. With this group, that's a given: Metheny's playing was by turns nimble and precise, then ecstatic and scorching. He swerved between the genres effortlessly, serving a twang of Americana here and a juicy funk chord there, with raw country harmonies on the side. He was matched step by step by Chris Potter's saxophone, and their two lines entwined like lovers in the throes. Bassist Ben Williams also had moments of brilliant melodic improvisation, though drummer Antonio Sanchez, while clearly a player of huge technical gifts, was, for me, too much of a power rocker for the occasion. His solo felt like a workout, not a spiritual encounter.
Metheny addressed the audience between sets, explaining that the band was changing direction, trying to explore other kinds of playing. Fair enough, of course, though the new material, with Carmassi joining the band to play from the group's recent album Kin, has divided critics. Some regret the diffusion of the key guitar-sax relationship, and query the album's seeming generic befuddlement. But "Rise Up", with Metheny busy on acoustic guitar, and Potter on soprano sax, took those players' deep rapport somewhere reflective and spacious; while "Sign of the Season", with Potter again on soprano, and Metheny on electric guitar, climbed slowly to a heady, swirling vista of piping, chiming melody, less driven, but more textured than early Metheny.
Metheny's final encore was the kind of playing that makes you understand why grown men play air guitar in their sleep
Then, for "Improvisation #1", Metheny fired up his orchestrion. I'm not a fan. Part threshing machine, part Dr Jekyll's laboratory, the whole concept - a huge electro-mechanical contraption of pipes, bottles and levers that Metheny can control with one hand - seems unmusical, its metronomic time-keeping paralysing the band's rhythmic flexibility, and clanking sound burying Metheny's pealing guitar. It offers a certain amount of orchestral texture, but surely nothing you couldn't better create on a laptop.
Metheny played for nearly three hours, about twice what you get from most touring bands, though the rapturous crowd, all three thousand of them in the palm of his hand, seemed ready for the same again. His final encore, a guitar solo of exquisite soulfulness, was the kind of playing that makes you understand why grown men play air guitar in their sleep. No musician of Metheny's talent would be content to play the same repertoire for forty years, however thrilling it is. The question for Metheny is whether his new directions build on his extraordinary musicianship, or tie it up in superfluous bells and whistles.