Tosca, Longborough Festival |

reviews, news & interviews
Tosca, Longborough Festival
Tosca, Longborough Festival
Puccini in a Gloucestershire barn impresses despite first night tremors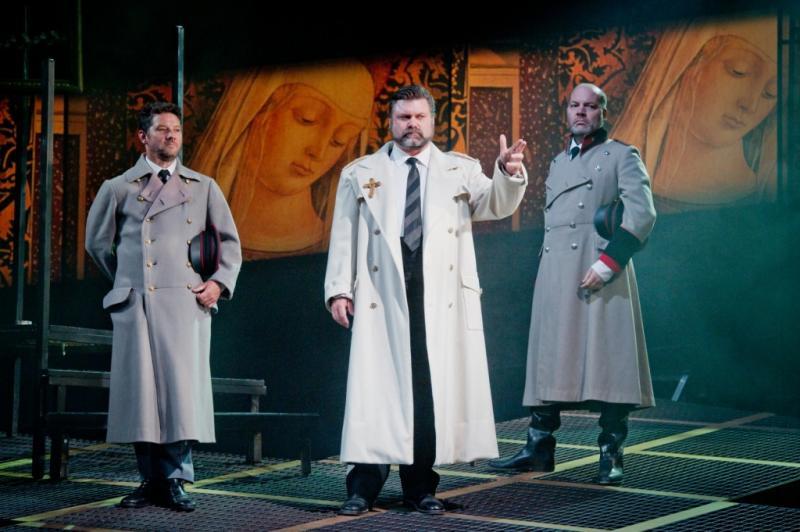 Scarpia (Simon Thorpe) with sidekicks and Madonna in Richard Studer's 'Tosca'
For Longborough to open their new season with Tosca after last summer's triumphant Wagner is to invoke Joseph Kerman's famous diatribe against Puccini's "shabby little shocker" in his fifties book Opera as Drama. Kerman used Wagner's theories to pick holes in Puccini's at times flagrant theatricality: which only goes to show what an untheoretical thing opera can be.
Because
Tosca
is a work that rarely fails in the theatre, even on so apparently unsuitable a stage as that of Longborough's converted barn, with a cut down orchestra, a barely adequate chorus, and soloists accustomed to projecting across much bigger spaces.
Not that Richard Studer's production was without its first night problems. There were shaky moments in the opening scene in Sant'Andrea, not helped by a perilous-looking floor in the form of a heavily raked grill, and updated costumes that presented Tosca and Cavaradossi as a pair of shapeless forty-somethings. Puccini, interestingly, survives reduced orchestration less well than Wagner, perhaps because there is less to spare. And certainly Tosca can't be doing with a chorus of seven or eight in the offstage cantata of Act 2, or with a children's choir of ten in the first act, nicely though they may (and do) sing. This is music that needs a quality of attack to go with its heady dramatic aura of brutal and unrestrained violence. It's the operatic reverse of a limp handshake.
It's to Studer's credit, though, that the production weathers these troubles, perhaps not entirely in the first act, but emphatically in the second, as rivetingly directed and sung as I can remember. Well, it's also musically the strongest act and the fastest moving. Studer, who is his own designer, gets the Palazzo Farnese atmosphere – that characteristic blend of the bon vivant and the psychopath that links Scarpia to Mussolini – with the simplest means: no clutter, no interfering concepts. In the first act a few columns and a crucifix locate us in church; in the third, a single dead tree reminds us, perversely, that Cavaradossi will not hang but will, nevertheless, perish. This is exemplary stage management, which spreads also to the cast, making them the centre of attention and ensuring that the drama is conveyed through their singing and acting.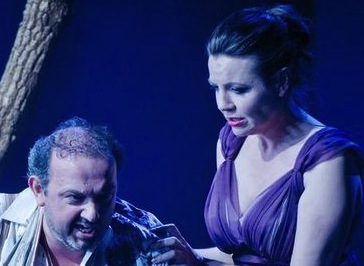 They don't betray this trust. Lee Bisset (pictured right with Adriano Graziani) may not have the vocal grandeur of the greatest Toscas, but she uses what she has with real brilliance, and with a musical intelligence that is reflected in her facial as much as in her vocal expression. She is, to the life, the frail female driven to heroism by a potent mixture of passion and piety. Opposite her, Adriano Graziani is a stylish, alert Cavaradossi, trying hard to look like an artist (in shirt and braces) rather than an Italian tenor, still slightly underpowered in his "Vittoria", but touching and eloquent elsewhere.
Simon Thorpe is a youngish Scarpia, perhaps too prone to outbursts of sexual frustration for a successful police chief, but forceful of voice and presence. His minor victims, the agent Spoletta (Richard Roberts), and the escaped political, Angelotti (Nicolas Legoux), tremble before him – as Tosca puts it over his corpse – very convincingly. Wyn Pencarreg is a nice, bumbling Sacristan, the work's sole representative of the common man, and musically important too in his duet-asides with Cavaradossi.
Jonathan Lyness, whom I heard two weeks ago conducting an excellent chamber Don Pasquale in a Herefordshire barn (for Opera Projects), switches easily to this bigger canvas. This is a Tosca as dramatic as it must be and as well-scaled. It only needs a touch more warmth and precision at exposed moments to clinch a notable production.