theartsdesk in Setúbal: Youth and music under the jacarandas |

reviews, news & interviews
theartsdesk in Setúbal: Youth and music under the jacarandas
theartsdesk in Setúbal: Youth and music under the jacarandas
A festival with a difference in a stunningly situated Portuguese port city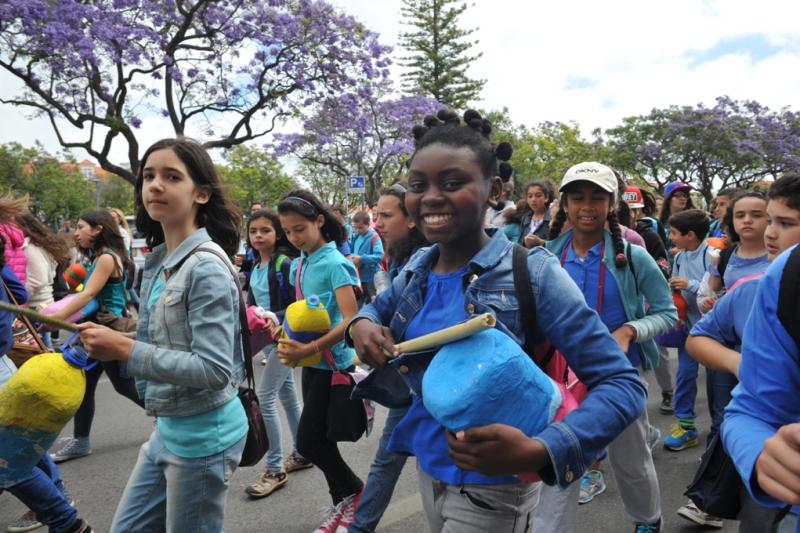 Bang on a drum with a difference: the percussion parade passes under the jacarandas of the central Avenue Luisa Todi
José Mourinho is Setúbal's most famous son. Non-Portuguese readers are not expected to know the two other celebrities most feted by this extraordinary port city on the estuary of the River Sado, with miles of sandy beaches opposite where a school of dolphins resides and the lush national park of the Arrábida mountain range just to the west. Luísa Todi, the Portuguese mezzo who graced the court of Catherine the Great, gives her name to the lovely garden avenue which is the city's most relaxed hub; poet Manuel Maria Barbosa du Bocage's statue looks over the central square in his honour ("hardly anyone can resist taking a picture next to the monument", gushes the skimpy tourist literature. I resisted).
The annual Setúbal Music Festival celebrates locals who may never reach for the stars in the same legendary way, or have their names in lights, but who nevertheless take the limelight for four days in late spring after a whole year of preparation: the city's youth, singing and playing alongside professionals at the highest level. The thousand or so young people are, as artistic director Ian Ritchie puts it, the base of a long term pyramid-building, made possible by an enlightened municipality led by a vivacious mayor, the much-loved Maria das Dores Meira, and by the unflagging presence of another strong and determined woman, Helen Hamlyn, whose Trust ensures the continuing development of a dream. Lady Hamlyn is not, she was at pains to point out, the kind of person who writes out a cheque and says, "Get on with it". She attends each event not like a lady bountiful but as someone very much involved with every aspect of the work involved.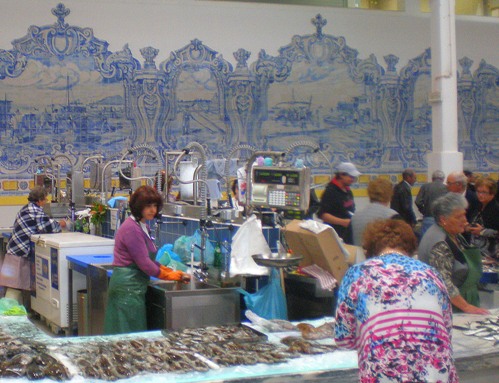 I fell in love with Setúbal on the very first morning of exploration, weaving down from the hotel through the colourful sidestreets of the vibrant western district, astonished by the number of beautiful old buildings in ruins – palaces, houses of the once-renowned – to the Avenue Luísa Todi. Uninstructed, I simply stumbled across the great covered market, recently restored along with its back wall typical Portuguese azulejos or blue and white tiles (though what the tourist information won't tell you is that several workers were killed when the wall collapsed). Setúbal is the fish capital of this stretch of coast. Although international tourists don't for some inexplicable reason come here much, Lisboans flock on Sundays for their seafood lunches – and the market (pictured above right) shows off the breathtaking array hauled in at the nearby harbour of swordfish, tuna and chocos (cuttlefish) to be bought and fried (chocos fritos is the local dish).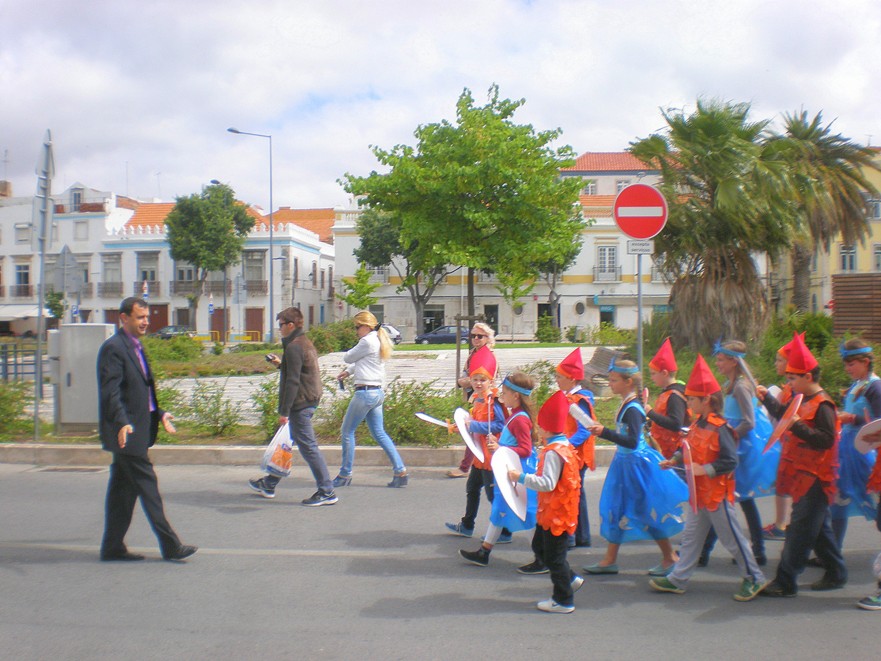 But it was the small fry we were headed for, making up a mighty children's percussion parade. Times are especially hard in Portugal now, as we know, and there had been little budget for each school or group to make any lavish splash with the festival theme – what better, given Setúbal's location and trades – of the sea. But necessity is the mother of invention, and the costumed parade was colourful and impressive, especially so as it moved down the stretch of the avenue with the famous local jacaranda trees in full purple bloom and scent. Top marks to the Ukrainian group (pictured above left), part of a population which begun in hospitality for victims of Chernobyl, with their fishy scales and proud national colours; and soundwise, the special needs group put on an amazing show with a young black drummer absolutely outstanding (we were to hear more of him the following day).
It was at Ritchie's insistence that such very special individuals were incorporated – and it says rather too much of Portugal's slow-moving change of attitude that in one acronym "deficiência mental" looms too large. Next afternoon we heard eight school groups perform the "canções do mar" or "songs of the sea" they had composed with their teachers, expertly directed by galvanizing co-ordinator Carlos Barreto Xavier (pictured below right) with a superb traditional instrumental support group. Moving to tears, much of it, especially the song with elaborate mime sequences adopted by us all, which had been devised by the special needs group.
The home for this, as for other major events, was the state-of-the-art, handsomely refurbished Fórum Municipal Luísa Todi. Its intendant, João Pereira Bastos, hails from Lisbon Opera House – where the funding has recently been cut by 80 per cent – and has years of experience in several of the world's major opera houses; for a place of this size, the annual opera programme is ambitious. The acoustics are excellent. There are countless other venues which are, or in some cases should be, used for festival events; investigating an open door to a dance hall just down the avenue, we had a rather sad little conversation with the engineer who runs the Club Setúbal, where classical concerts are held in the vast ballroom once a month. If the organistion wasn't involved in the festival, it seems it was because it hadn't come forward when all were invited. Here's a classic case of a building which, much as one would hate to see it lose its 1930s time-capsule identity, could do with a splendid makeover.
But the whole city is the real outdoor theatre, and the weather was kind indeed. The biggest community involvement was an afternoon of music-making starting in the central square from young violinists and percussionists, and in the next by a superlative clarinet ensemble, progressing – or at least on our itinerary – to one of the city's distinctive bright green car ferries across to the Tróia peninsula with serenading from an equally good saxophone ensemble (some of its members with their tutor pictured left). The dolphin group aren't usually expected to come this far up the estuary, but there they were as we headed back from the sandy beaches, leaping around a tourist boat.
Two of the evening events showcased major Portuguese musicians. The first, in the beautiful church of Santa Maria which serves as the city's cathedral, integrated students from the Conservatório Regional de Setúbal in plainsong and a new variant on the guiding marine theme of the Ave Maris Stella (Hail, Star of the Sea) by Lisbon composer and choral conductor Raul Avelas. But its undisputed stars were six voices from the Grupo Vocal Olisipo who threaded sequences from Victoria's Missa Ave Maris Stella with even more remarkable anthems and mass settings by Portuguese 16th and 17th Century composers and splendid declamations from the actor and singer Luís Madureira – I don't grasp much Portuguese but I could hear the musicality in them - from the Historia Tragico-Maritima of Miguel Torga.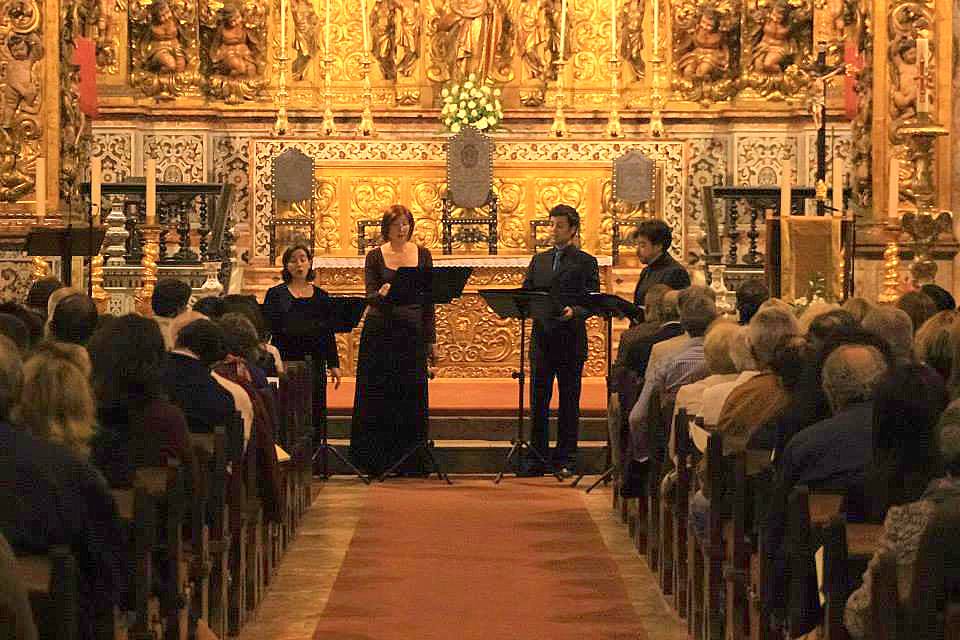 All the Olisipo soloists, handsomely framed by the almost excessive opulence of the gilt altarpiece, are stars who know how to blend, from director-baritone Armando Possante up to one of the most singular soprano voices I've ever heard, the wonderful Elsa Cortes, who rounded off many of her pure phrases with a very distinctive and apt touch of vibrato.
There was a curious nocturnal interlude on my second full night in Setúbal, held in the Museu do Trabalho Michel Giacometti, a handsomely converted fish cannery with exhibits on several floors showing the history of marine and agricultural labour in Setúbal. The "concert-installation tribute to the Portuguese Fisherman" was guided by "composer, multi-instrumentalist and sound artist" Fernando Mota, who played the guitar, accompanied the singer Carla Galvão and led the Children's Chorus of Setúbal in several beguiling rituals against a changing sea-scape and archive footage of the fishermen's lives on a big screen.
Sunday was full-on. We drove to the glorious Arrábida National Park and its monastery, surely the most beautifully situated historic monument in Portugal. Founded in 1532 by a Franciscan brother and maintained until 1834, the year of the religious orders' abolition in Portugal, it was purchased in 1990 by the somewhat mysterious – to me, at any rate – Fundação Oriente, which keeps guest rooms and a handsome living area down the hill from the old buildings and monks' cells (which I'm convinced could still make simple sleeping quarters for more visitors).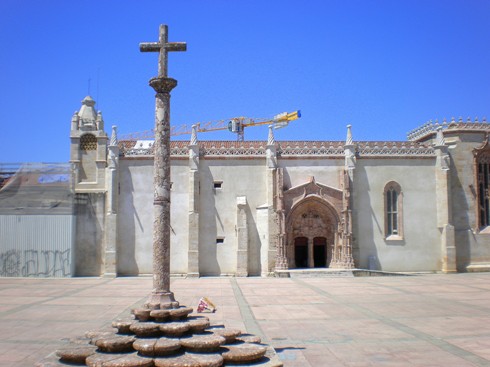 The splendidly named Don João de Lencestre, who made it possible for the first monk to maintain his hermetic existence there, also added a splendid cross to the square in front of Setúbal's finest building and national monument, the Convent of Jesus (pictured left), with its Manueline plaited columns and porch of mottled reddish Arrábida stone.
Visits to the Arrábida Monastery are less easy to arrange, so it was hardly surprising if locals and visitors jumped at the chance to attend three mini-concerts around the site. Armando Possante was back to conduct the wonderful young singers of the Instituto Gregoriano de Lisboa in Carrapatoso's O meu menino and Water Night – fitting in with the festival theme – by the deservedly popular (because unconventional) Eric Whitacre. We climbed up from the first courtyard before the chapel to hear a recorder consort in an outside loggia, and into the tiny chapel itself for more from the choir.
Then it was down to the baking hot terrace of the more recent buildings with breathtaking views over to the monastery to hear a first-class wind quintet from the Portuguese Chamber Orchestra braving the full sun (pictured right) in English aquarelles, Malcolm Arnold's irresistibly brilliant fantasias on three sea shanties – so much for my joke that they might play "What shall we do with a drunken sailor", because that was the third – and neat arrangements from Handel's Water Music.
Our itinerary was slightly thrown out of kilter – no vineyard visiting and wine tasting, but I did insist on a dip in the emerald sea nearby, and then there was just time for lunch back in town with the thousands of Lisboans who come for Sunday seafood lunch by the harbour (excellent) before the next event at the old, part-open port building. Here yet more youth groups, one specializing in contemporary music, came together to tackle scores of varying interest. A couple, to be frank, were a bit of an endurance test, one limited rather than enhanced by the five-note possibilities of that admirable new solo instrument for musicians with disabilities the Skoog (pictured below left). It was no surprise, though, that Steve Reich's Clapping Music came off best of all, the young performers sitting in a semi-circle on the ground.
As far as the mass celebrations went, that was an all too abrupt termination. What a pity that parents weren't encouraged to bring their children along to the final concert back in the Forum, that the all too small audience seemed mostly to consist of older festival supporters. For it's all very well to encourage everyone to join in, but quality has to remain paramount – and this was it, in a rather curiously programmed exchange between a young Portuguese soprano who's already impressed as one of the Royal Opera's Jette Parker Young Artists, Susana Gaspar. On this evidence she's the total package as an accomplished operatic and concert performer. How she survived conductor Pedro Carneiro's sluggish tempo for "Zeffiretti lusinghieri", one of two arias for Ilia in Mozart's Idomeneo, is a mystery; sheer force of personality carried it through.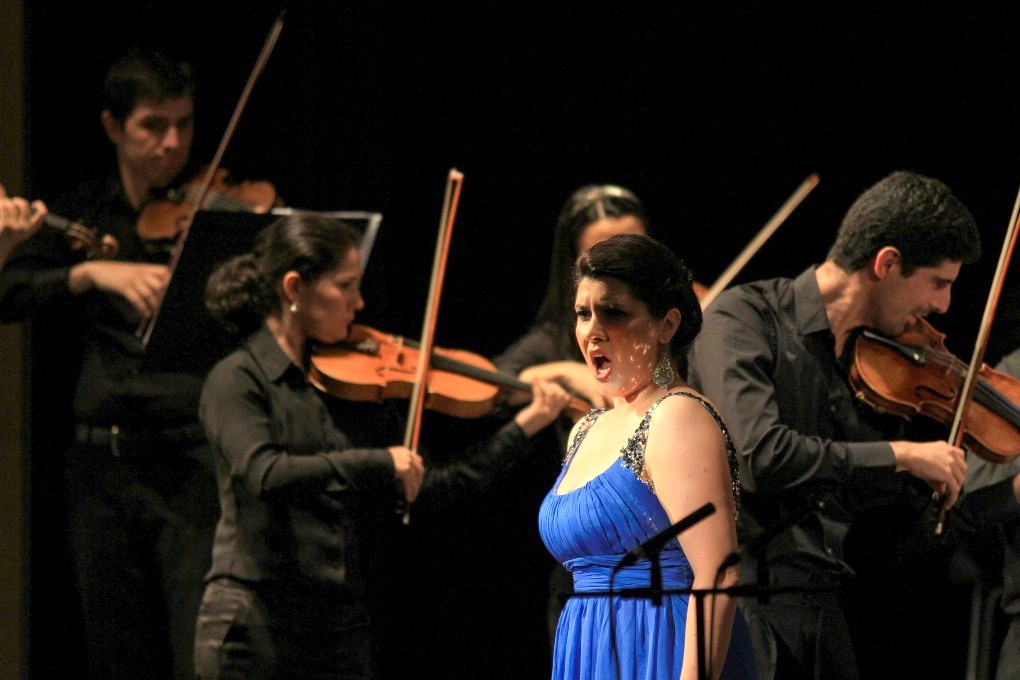 After the interval, the conductor was livelier in the four movements from Haydn's Symphony No. 96, the "Miracle" interwoven – a strange idea, which might have worked better with less going on and off in between – with three songs from Berlioz's Les Nuits d'été. Gaspar not only had the technique for their more difficult phrases; she lived the world of each, exhilarating us with the final journey to the "unknown isle". And those splendid woodwind, especially the oboist, really came into their own for the Haydn.
We had a blissful last full day in and around Setúbal before the flight back, exploring possibilities for a return visit: would our base be the luxurious posada in the panoramic fortress at nearby Palmela, in deepest wine country, or the simpler equivalent high above Setúbal? One thing was for sure: there's an infinite amount of walking, swimming and sightseeing in this magnificently situated gem. What makes it special, though, are the people – and by attending the Festival de Música, I really felt part of something remarkable. It could and should, as Ritchie points out, happen everywhere, and in each place what the locals can bring to it is bound to be unique.
What makes it special, though, are the people – and by attending the Festival de Música, I really felt part of something remarkable
Explore topics
Share this article
Subscribe to theartsdesk.com
Thank you for continuing to read our work on theartsdesk.com. For unlimited access to every article in its entirety, including our archive of more than 10,000 pieces, we're asking for £3.95 per month or £30 per year. We feel it's a very good deal, and hope you do too.
To take an annual subscription now simply click here.
And if you're looking for that extra gift for a friend or family member, why not treat them to a theartsdesk.com gift subscription?