Grand Central |

reviews, news & interviews
Grand Central
Grand Central
Doomed love story set in a nuclear plant stars Léa Seydoux and Tahar Rahim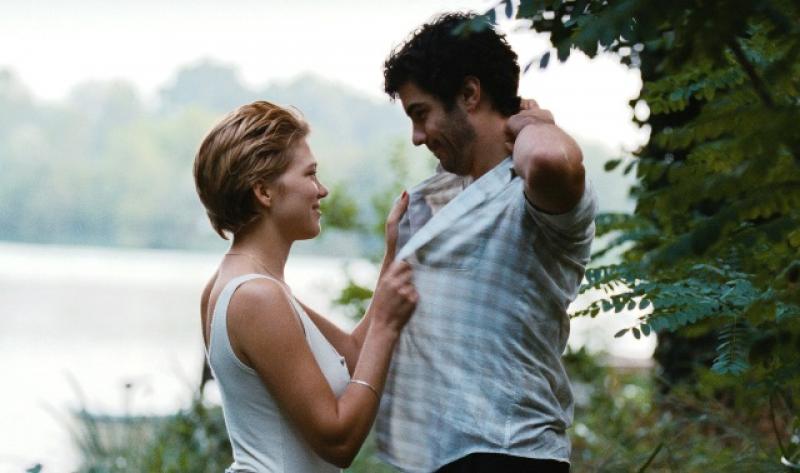 Love in a nuclear climate: Karole (Léa Seydoux) and Gary (Tahar Rahim) consider the effects of radiation sickness
Finding a new angle for a forbidden romance film must be tough. Telling the story of a couple where one is married, in a relationship or in some other situation impeding the path of true love or lust is not enough. New settings are needed. In the French drama Grand Central, the problem is solved when love blossoms inside a nuclear power station and the surrounding encampment.
Grand Central tells of Gary (Tahar Rahim) and Karole (Léa Seydoux). From near Lyon, he has pitched up in the Rhone Valley and finds a job as a decontamination worker at a nuclear power plant. Karole works there and is living with Toni, an older, grizzled veteran of the dangerous job. They all work and live together – the itinerant workers occupy caravans at a camp overshadowed by the plant. They also play together – drinking, carousing and bonding. The two hothouse environments coalesce. Workplace gripes spill into the evening. Personal clashes are played out in the workplace.
Gary and Karole soon become entwined. He's brooding, handsome, uneducated, says little, keeps his head down and wants to work out his contract. When away from the plant and the protective suit she has to wear, Karole sports shorts, and is bra-less in her tight top. The romance runs smoothly for a while but inevitably goes off the rails, as does Gary's attitude towards his own safety in the workplace. After some accidents and scares, just as it is with Karole, he takes risks he shouldn't. (Pictured right: Léa Seydoux as Karole)
Drawn from Elisabeth Filhol's nuclear-industry-set novel La Centrale, this is screenwriter Rebecca Zlotowski's second full-length film as a director, and follows 2010's Belle Épine, which also featured Seydoux. As with her debut, Grand Central is co-written by Zlotowski with Gaëlle Mace.
Although assured and with a tense undertone – it was filmed in a real, never-commissioned nuclear power station in Austria – Grand Central is hard to warm to. Zlotowski plays out her characterisations as distanced and slightly cool. Rahim reprises his now finessed introvert-in-a-difficult-situation, last seen to greater effect in The Past. As the conflicted sexpot, Seydoux isn't required to do much and is underused. Metaphors are clunky (apparently love feels like radiation sickness). The workers' salt-of-the-earth grittiness is overplayed. (Pictured above left: Tahar Rahim, centre, reports for work)
As a depiction of the lives and attitudes of the workers inside the plant, Grand Central feels well researched and unforced. No management, beyond a works supervisor and low-level administrator, are seen. The plant has two car parks – one for them and one for us. It's a world where there are "the EDF snobs and us in the galleys". Life within the plant is also akin to prison. This is where the film works best. It has picked up an award at Cannes and has been a festival favourite. But it is not easy to engage with. No wonder Gary and Karole's romance is doomed.
Overleaf: watch the trailer to Grand Central