theartsdesk Q&A: Tenor Michael Fabiano |

reviews, news & interviews
theartsdesk Q&A: Tenor Michael Fabiano
theartsdesk Q&A: Tenor Michael Fabiano
American singer on the brink of superstardom talks Verdi, competition and inspiration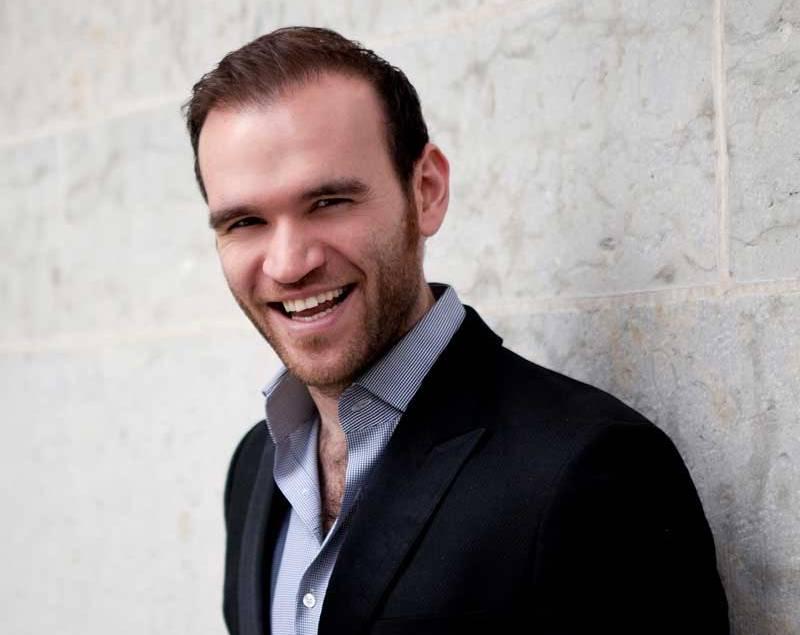 Fabiano: learning from the competition
You can usually trust the buzz around rehearsals. From Glyndebourne, five weeks into preparation for La traviata, which opens tomorrow, one of the team working on Tom Cairns' new production declared in an e-mail conversation that newcomer soprano Venera Gimadieva was possibly the most definitive Violetta yet.
And when I was havering over whether to interview American tenor Michael Fabiano, not by then having watched a wealth of stupendous videos on his website, the response was "you absolutely must".
I soon saw why Fabiano at 30 is feted in the States as one of the most exciting lirico spinto tenors around, winner this year of two big prizes for established artists who are expected to do even more, a singer with the looks and physique the new wave of tenors is expected to offer but with a voice of infinite sensitivity and range beyond most of the others. If we don't yet know him so well over here, believe me, we will (below, with Renée Fleming after a performance of Lucrezia Borgia).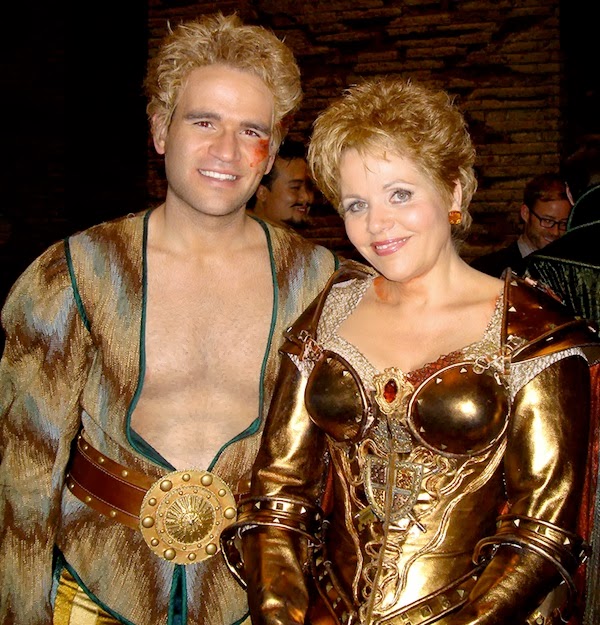 So down I went, by train and company bus – much gossip from my singer neighbours about Robert Carsen's impending revival of Rinaldo – to Glyndebourne in the pouring rain (the only time it's not been gloriously sunny in the past three years I've been there). The interview was not, I had been warned, to flow freely: Michael had to go off to the Ebert Room to receive production notes after a quarter of an hour, and than after another 30 or so minutes, we'd be able to finish before a costume fitting.
He was intense, focused in that almost scary – to me, at any rate – American high-powered way, extremely careful about what he wanted to say, but so steered us that I hardly wanted to cut a word, and haven't for the most part done so. Not for Fabiano at first the genuine eulogies that singers tend to give about working in such a special place.
DAVID NICE You've now been immersed for five weeks – this is the Glyndebourne way. Is it an unusual experience for you to work for all this time, and with such intensity?
MICHAEL FABIANO It's a very long process, I don't find it necessarily to be intense. I find it to be enjoyable, fun, sometimes challenging. I think that the combination of different personalities and people with extremely different opinions coming together is a challenge, but it's an important challenge to realize that we have a good product at the end, and it wouldn't be a great experience if it were not for varied opinions and ideas. It's less fun when a group comes together and all they have is one contribution, one colour. It's interesting to have different colours, because red and blue make people, and if it's simply red, no-one is going to know if it's the right product. I do think something wonderful can happen here, bearing in mind that we all have different disciplines and different ideas.
This is your first time at Glyndebourne – you may well have had equally valuable preparation periods, but for a lot of people it does seem to be unique, you're very much steeped in the environment – are you staying nearby?
I'm staying fairly far away.
So you commute…
By car. This is not the first experience of being in a more remote environment and doing a long job. I was in Santa Fe last summer, which is also fairly remote and rustic, doing Traviata too (pictured below with Brenda Rae as Violetta), with a different team of wonderful experience and discipline, so to me, is it unique to me that I'm doing a production like this? No, it's not unique, there are many places in the world where this happens and I happen to be here now. I don't find it necessarily unique, I just find it challenging.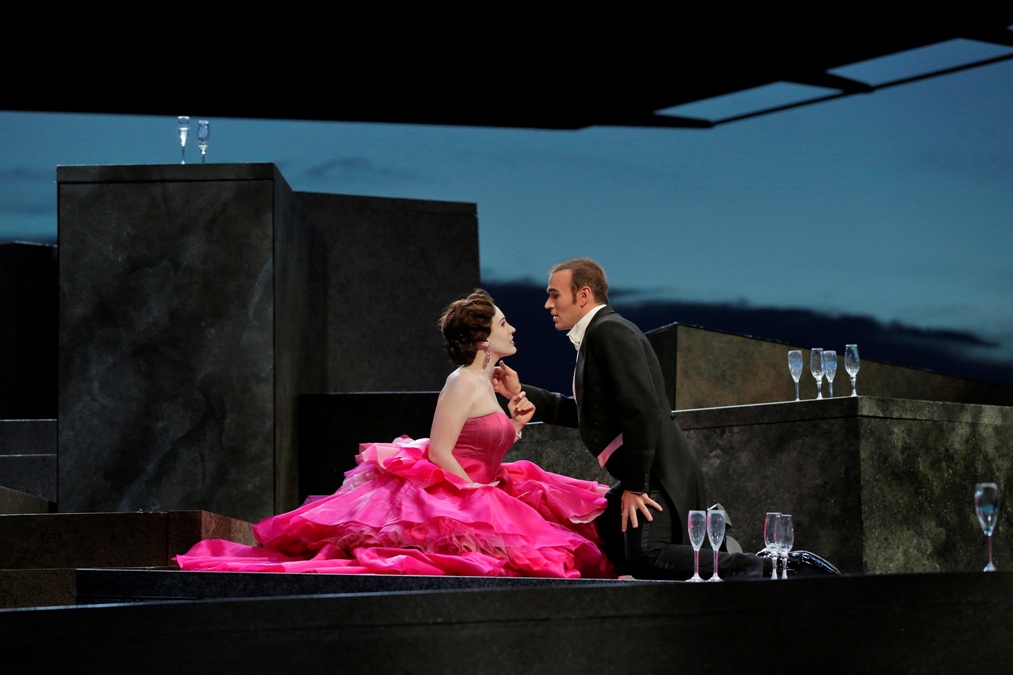 How many Traviatas have you done now?
A lot. I can't even count now.
So how does this one differ? You've got Tom Cairns directing…
Like I said, going back to my first comment, Tom definitely has his opinion of what Traviata is, and Mark Elder has his, and I certainly have mine, and we've tried to put it together as a show with crossing our ideas, and with Tom from the beginning it was very clear he wanted a very open time period. He didn't want to set it in an exact time period like we usually see. Sometimes Traviata's fixed in time – it can be 1950 or 1840 or way before, it depends. Here he gave me various examples of how he wanted to embody the show, from 1980 to today, that the costuming would embody a palette of different people, retro, today the past, Violetta for instance, one of her costumes is very ornate and would suggest something that's way before the 1980s, but then later she wears something that is very fashion-forward. So I think we get a sense that we are in a timeless place, and he does that by choice by having Violetta onstage a lot more than she normally would be. She's placed in a bed at the side of the stage so that everyone can realize her illness throughout the whole night. Even if something else is happening, we're conscious that she's dying.
That has been done, of course, in the Zeffirelli film for example.
Sure, but the indication is that it's timeless, we even have had debates about how much time elapses between the end of the party scene in the second act and the beginning of the third when she sings "Addio del passato", It's a very open case for him. And working with Tom has been new for me, because he's very much about the open canvas and painting as we go and discovering as we go and figuring out the people he's working with and how to deal with them, and in me I have a very clear idea of who Alfredo is and what the show is, and it's been good for me to have been able to say, this is what it is, and this is how I play it, period.
And then modify that?
He's asked me to do certain things, he has an idea of what it ought to look like. I'm grateful to Mark Elder because he has very much guided the ship forward, and challenged a lot of people to find extra layers in the text or the music that we don't often find, or why a sixteenth note exists rather than an eighth, and not for a pedantic reason. No, she's singing a sixteenth note because she's out of breath and because she's out of breath it causes the next three notes to be what they are. Those kind of conversations for me are enlightening, I love that, and that's why I say that it's exciting from the beginning, because although I've done Traviata a zillion times, I'm still discovering new things, and I thank Mark Elder for that.
This is an interesting case, isn't it, because I would imagine that Alfredo is a rather straightforward character, and for a lot of directors the interest is entirely on Violetta. Or do you have a more complex way of seeing him?
Ah, there's the book [Alexandre Dumas the Younger's La Dame aux caméllias]. It's framed through the light of Alfredo, isn't it, and at the beginning we witness Violetta's funeral through the lens of Alfredo, and I think that is interesting in itself. We don't do that here, we don't see Alfredo watch her coffin being brought into a graveyard alone, or him lamenting it, but we can get an idea through that. And I think that with a show that showcases the descent of a character through illness, one can't just watch someone die and that's it, that doesn't create enough empathy unless you see someone else living the death, and that's why we see it through a prism more of Alfredo than Violetta even, if the Alfredo's good enough.
One can see and sympathise with the struggle of someone seeing someone else collapse through a period of time, maybe several months, there will be many people in the audience who will be able to say, I've witnessed the death of my spouse, I've witnessed the death of a grandparent, I know what he's going through and yes, when the loved one who's dying says I don't want you – I'm going to step out of Traviataland for a minute and imagine a loved one saying I don't want you in my hospital room, I don't want you seeing me like I am now, the loved one could snap in an instant and get so angry at the person, do destructive things, throw flowers on the ground, and I think we see that with Alfredo when Violetta basically says, I'm leaving, after "Amami, Alfredo", he goes crazy. Not out of sheer jealousy but because this man has been wedded to the idea of caring for someone for so long, and for that to be broken is destructive.
It's interesting because one often loses sight after the first act of the fact that Violetta's ill in the second, it doesn't really come to the fore, but it's there, isn't it?
For me it's a case of a dual responsibility. There's a responsibility on the part of the Violetta to show a collapse over the course of the evening in her health. But number two, there has to be a power, a range of emotion in Alfredo. He mustnn't be just sheepish and nervous and then angry. There has to be a sense of, I care for this person so terribly, and she's dying, it's so horrendous and what that feeling is of being rejected, thinking she's sold out, and then the remorse about it all, it's a wedding between the two, and you don't have Traviata if you don't have both.
Absolutely. In the sense with Rodolfo when Mimi dies [in Puccini's La Bohème], with Murger [the original novelist] it's the farewell to youth, and with Alfredo you're growing up and presumably going through a process of learning to love someone and then learning to lose them, do you see it like that that?
I see them both as very similar, and I've sung both roles many times. I think Rodolfo's realization of Mimi's illness is very late, that's where the difference is, he doesn't accept until the bitter, bitter last moment that it's over. In Traviata I think Alfredo if he's done the right way has a pretty good indication that this woman is condemned to death but stays with her, and if a family member told me they had terminal cancer. I'd be conscious of it, but if they were still living and still having parties and going to the beach on Sunday, I wouldn't be crying with them walking to the beach and lamenting the inevitable. And I think that's what Traviata is about – I know that the inevitable is coming and I'm going to choose to carry on life, but be nervous when this person breaks that. And I think that the moment when she says, it's over, I'm going off with the Baron and that's it, it's not the fact that she's going to have sex or do horrendous things [interruption for the note call; Fabiano replies, "I've got to finish this because I'm on a train of thought"] It's not that that she's necessarily going to fornicate with someone else, it's that she's betraying the commitment that someone else has made to her in her illness. That's where the conundrum is with Alfredo. Now we don't necessarily see that, we think, the whore is cohorting with other people again, blah, blah.
We're already hugely sympathetic towards her.
And the bond which he has had, caring for this ill person, and not even caring but watching from afar, is broken. Can we continue later?
[We do, and in the meantime I meet Fabiano's coach, Laurent Philippe, in the staff cafe and we have a long chat, mostly about Berlioz and Benvenuto Cellini. After some time, we take up where we left off].
I think we got through the dramatic sweep of it. As far as the vocal side, and obviously I want to move towards specifically your voice, does it present many challenges for you now or is it a straightforward sing?
Oh, Alfredo's a wonderfully easy sing for me. I shouldn't say easy, nothing is easy, but – it's funny, I just did my first [Gounod] Faust in Amsterdam before this (pictured left with Irina Lungu as Marguerite), and before I did it, people said, oh, Faust, it's long, it's dark, it's low, it's this, it's that, a million things about Faust. For me, Faust is the perfect range for my voice because it tends to sit a little lower than standard lyric tenor, I enjoy a slightly lower partial in my voice even though I like to go up to C, C sharp.
It was always clear that that was the sort of voice you were going to be?
If I step outside for a moment what I was talking about…
I'm sorry..
No, no, I'm glad to. I'll go back to it. It's funny because in the beginning of my career people were very cautious with me. You can't do this, no, no, no. And I always find it interesting that people want young singers to be free, but they set all these conditions about what they ought not to do and should not. Well, hjow can a singer be free if that's all they can think about when they're on stage and crafting their career? I can't do this and this and this because so and so told me so. That's a horrible way to help a young singer. Because I've always been a bit of a renegade or don't always follow the trend, I didn't listen to everybody, I chose to listen to the advice of a select few. And it led me in to a path that actually settled very well for me, that I was singing a repertoire that I ought to have been singing when I was in my mid 20s and not for instance having to sing a lot of Così fan tuttes and Don Giovannis because I was supposed to do that because of my age. It would have been worse for me personally vocally, it would have put a lid on my capacity to open up at the top of the instrument, to have a bel canto style because Mozart is so restricted, but there's this methodology that Mozart is meant for young people, which I think is wrong. The pathway for every singer is totally different, and there's no one solution for everybody. That's what the great singing teachers and coaches will say, and I've been fortunate to have some really wonderful people around me that have given me that.
So that's the tangent. Let's go back to what I was talking about, which was Faust. Faust put me in this low environment but with the ability to do mezza voce, messa di voce, both. And when I went I thought, I'm not really cut out to do this sort of super-piano singing. But I discovered it, and it worked, and if there was any compliment that I got from doing Faust it was, wow, Michael can do this super-piano environment singing that we hadn't heard before. To go back to Traviata, I realized that there were a few things in it that I hadn't been able to do before, and now I can. And I haven't touched Traviata except for last summer for maybe a while. For example in "Parigi, o cara" I really try – I make the effort to be extremely dolce, and not breathy but sotto voce.
Which you can especially do here, because it's more intimate.
Absolutely, that's the joy of this place, that it's just so live. I think the trap is that one gets very comfortable doing that and then turns to the side and the voice gets lost in the wings. I'm glad to be able to try the whole gamut of colours here, from very big to very quiet. And Traviata gives me that opportunity.
So where are the limits so far? Do you have any idea of a trajectory from bel canto outwards? Because Faust is one change…
Absolutely. I think in the next few years you're going to find me start wading deeper into the Verdi pool.
You've already sung the Duke of Mantua, which is light-ish?
The Duke, I've sung Corsaro, Lombardi, Cassio [in Otello], well, that doesn't count, really – it counts, but it's not a lyric leading tenor role. But I'm going to be trying some other ones, and some other big bel canto works as well, big Donizetti (small Donizetti right, Nemorino in L'elisir d'amore with Ava Pine as Adina) – pay attention to the announcement for next season here – I see my voice going in a midway Verdi opera type of path, that's what I feel comfortable in and enjoy singing. For instance I'm studying Luisa Miller right now, Simon Boccanegra, those are things that I'm wading into the pool of. Ballo in maschera too. But I can't wait to do the next Rigoletto, more of that, I just did Corsaro for the first time, fantastic, I loved singing it because it was a challenge, it was long, but I wasn't having to force my way through it. I think the challenge with some of the Puccini operas in comparison is that you have to battle a thicker [orchestral] layer than you would in a Verdi evening. Even though the orchestra might be in the pit, essentially the same size with some small variations here and there.
So that depends on the conductor's ability to keep things down.
Yes, but also because Verdi truly did write really great for the voice. He knew how to write in an ascending line. He knew when to move the strings into pizzicato instead of heavily orchestrated over the singer. And even when to craft the diminuendo over a phrase that might have been layered. Whereas with Puccini,.yes, there's tons of colours, there can be moments of joy in the silence or the quiet, but quite honestly for me Verdi and Donizetti are elixirs for the voice, they really are. And I'm relishing the chance to sing more. This, Traviata, is for me like a wonderful appetizer, I'm waiting for the real plate of food.
Not Otello just yet.
Not yet [laughs].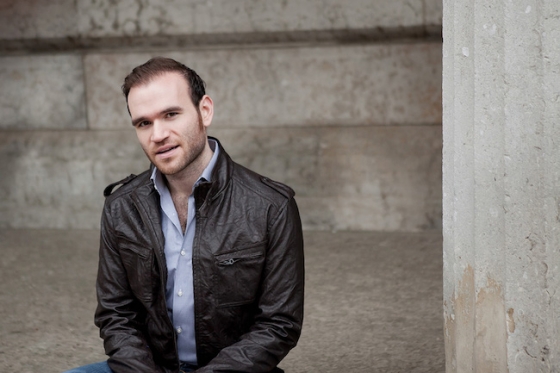 You're half Italian, right?
Yes,
And does that make a difference, does it help?
I always say that I'm American, I happen to have an Italian last name and I have Italian parentage. There's very much an Italianità in my family.
Do your parents speak Italian at home?
Grandmother, great-grandparents when they were alive, never my parents. I don't really know how to answer the question of the Italian-American issue because I am an American, I have Italian roots, they're extremely important considering how the Italians migrated to the States, what the migration meant for our country, there are a lot of stories to be told from it, but I don't necessarily feel like I'm an Italian – my mother is of an Irish-Dutch-English parentage. So there's a lot in my lineage which makes me – an American with colour.
Have you found any roles so far which you thought, never again?
No.
So you haven't done anything which was uncomfortable?
I have. But I wouldn't say I would never do them again.
Can you say which?
I really don't want to because I don't want to give the indication away that if I happen to run into something in the future that I have not enjoyed that much that people say, Michael doesn't like that role. Forgive me.
No, I can understand that totally. So this year was a big one with the two prizes – the Beverly Sills Prize and the Richard Tucker Prize?
It was a total surprise, both. When the Met called me for the Beverly Sills Prize I thought they were calling me because I had missed a rehearsal. I spoke to Sarah Billinghurst and asked, what's wrong? And she said, do you have a moment, and I had this irrational fear that I was getting fired, or something was happening. And she said, you've won the prize. I started laughing out loud, hysterically, not as if I were going to cry or something, but like, this is a joke, you're playing me, because I didn't think it was even on the cards. When the Tucker happened, I thought for sure it wouldn't happen because I'd just won the Sills, so the fact that both happened in the same year was I would say extraordinary, humbling and shocking. And it comes with a very big responsibility, which I accept.
Forgive me for not understanding the background, but you didn't have to do a competition for either?
No. Both of those prizes are for singers that are either on the precipice of an international career of consequence, or that are beyond the precipice, that are in it, that have had achievement, they are both defined in that light and are given to people up to the age of 45, and it's always selected in both cases by distinguished people in our business. I don't know what else to say about it except that there are a lot of wonderful singers from my country, for whom I have a lot of respect.
It's the first time it's happened, isn't it?
Yes, that's why it's especially humbling, because I didn't ever contemplate it at all.
So it would be fair to say that in the States you're extremely well known, less so here – you came to English National Opera and sang the Duke of Mantua (pictured right by Chris Christodoulou with Anthony Michaels-Moore as Rigoletto) which sadly I didn't see, is that right?
Yes, it was the first really important job of my career, and I have a lot to thank ENO for, Jonathan Miller, Stephen Lord the conductor, because they opened my eyes to a lot of things I did not have my eyes opened to as a student. Being a student brings you only so far, and, not to excoriate academia or education, but the real learning takes place when people work, not when they're being taught in a school. And it's important to go to school and I learned a lot of wonderful lessons there, but the greatest learning I've done has been working with colleagues and directors and conductors of note, who have experience and who can say, no Michael this doesn't work, try this, there's 2800 people in this theatre, if you sing like that 1500 of them are not going to hear you. In a school there's only so much you can do.
You would have taken part in productions there, too, though.
But the challenges are vastly different, in a school dare I say one doesn't have the competition of other great colleagues around, only other great students. This is something that I've been criticized a lot for, that I believe all industries are competitive, and as an artist I believe we're competitive, but being competitive doesn't mean I'm out for blood, I'm out to kill someone or I'm out to steal someone else's job. Competition for me means a challenge for myself, a self-inflicted challenge, a challenge to do better. So when I see a colleague of mine who has experience and decorum that I don't have, I see that they know how to carry themselves when they sing this phrase of music, and they know how to enter the stage in a way I don't know. I have to work at that. I have to go home at night and look in the mirror and learn how to walk on stage, how to hold myself when I'm singing a very important phrase. That's competitive. Because I'm looking at an artist and saying, I can do that and figure it out for myself too.
So it's not really competition, it's more learning, what you're absorbing from others.
Yes, but it is to me, because it's a healthy challenge, a self-challenge to be better. And if I was working with that chair over there which is doing nothing, I would have nothing to fight for, because I would already be better than that chair. But there's something wonderful if a woman is sitting on that chair singing a phrase for nine hours without a breath. You'd better go home at night, take that blue chair, sit on it and try to sing a phrase for nine hours without breathing. That's competitive.
That singer is your peer.
For the record I want people to understand that's how I think. And I think it's important that all performers think like that. Because it's up to us to make each other better, not just on ourselves. The community helps each other. And if we empower ourselves by singing the goods that others bring to the table, the whole form elevates.
But that's more of a collegial thing, isn't it. Because some singers do come in their own little worlds. And you know instantly when a singer on stage is not really relating to others on stage, they bring their own performances with them.
It's so critical to be conscious as an artist of the people around you, of what everybody brings, regardless of their stature or status in the field. Because – sometimes I've worked with colleagues who have less stature than me, less experience – being 30, it sounds weird, but I've worked with conductors in major theatres who are far younger than me. And there have been cases where they have definitely been able to offer things that I have never considered. And it's my obligation to consider what they have to say. And if I disagree with it, or realize later that it's not the right thing, that's up to me. But it's my duty to try and gauge it.
As an American I believe that we operate in a marketplace of ideas that we all contribute to, and we have the right to say, I like that idea, I don't like this one, and this is how I'm going to formulate my next plan. And that's what I do, that's how I've learned how to sing on the big stages. By taking the ideas of others and the people that I can say that have really helped me are – Renée Fleming, Aprile Millo, Neil Shicoff, Julia Faulkner. Those are all wonderful singers that have graced the big stages, and I have gleaned a lot from them.
Can you be specific?
Sure. With Miss Fleming I did three engagements. And I remember sitting down with her during a rehearsal of Lucrezia Borgia (Fleming and Fabiano pictured left in the San Francisco Opera production) and – I want to be careful how I explain this, because it's a sensitive, private moment. But I'll just say that Miss Fleming helped me figure out how to sing piano by a very simple demonstration. I had never considered what she had said to me as a process by which a tenor could sing piano. And I listened, I'd always been told the opposite, she said this is what I do, take it or leave it, try it, and I tried it and it worked. I use it now, and it went contrary to what my teacher had taught me. I'm glad she taught me that. That's how I will frame it, without impugning the conversation in any way. Because I think that conversations with great performers, some of them are sacred. They're sacred little jewels of moments. With Aprile Millo, she's given me these wonderful moments of how you engage the public, and how to have the voice cry in the right way, and those are things that I will hold on to ever, because not everybody has those experiences.
And you realize you're part of this continuum.
Absolutely – and, knowing that I've learnt some of these things, and I'm learning immense things, day by day, it's my burden as a younger man in my 30s to give that to others as I can, as my abilities are. Because as you say it's a continuum, there's nothing finite about this art. We look at Picassos or Matisses, they're still there, they don't move, they exist. They might be put in a new frame, be moved to a different museum, but they exist. And I think that the art form we have, it's still there, still living, and it's our burden to carry it on, as if we're Olympians carrying a torch around.
I can't remember if it was Nicole Cabell or Pretty Yende who was talking about the living process of each performance, which is that the character is a fusion of what that character is and what your personality brings to it which makes it always new. So there can never be such a thing as "yet another Traviata", too much Traviata, if the performers live the roles.
That's an interesting way of saying it, that's actually wonderful. I would concur with that, I would say that every singer brings something special and unique to a role, and when you leave a performance you know if it's been truly special if they're able to bring who they are, and take what's in the words, the story behind the words, and add it on top. What you said was really well said, so there's not much more to say, I would agree. With this Traviata, it's me. I'm envisioning being a man that has watched this woman from afar, maybe not from afar, someone that I've cared for deeply, loved this person for a very long time, and I put myself in that framework too, as Michael. Other people that are in my life, maybe that I'm not in the closest contact with and yet care deeply about, I'm watching them – this is going to sound a little sappy, but my grandmother has very bad health at the moment, and I'm not so close that I'm next to her, but you'd better believe I want to know what's going on, and I'm asking the doctors is she eating right, is she having probiotics, how's her health today? And so I take that energy, that deep care I have for someone even though I can't necessarily touch them, and apply it to this. So I think Pretty or Nicole, whoever it was, said something very logical.
You mentioned singers who have touched you, what about any experiences with conductors or stage directors that you can pinpoint or who suddenly switched a light on for you in any particular way?
The singers I named, I'm going to touch singers again and then go on to conductors and directors, because I want to make this very clear, the ones that have really inspired me truly have been the four I mentioned..
Julia Faulkner I must say I've only heard of but don't really know.
Oh, you should look her up, she had a wonderful career in Vienna, she sang all the Strauss heroines, she's definitely been a very big mentor of mine. [The tenor] George Shirley was my first voice teacher. And naturally I have immense respect for him, he's still a mentor of mine – all these people apart from Renée have all been mentors of mine, who've all been on the stage, and I think that's very important to note, that people I've gleaned the most from are people that have lived it and breathed it and know what the stresses are, where it's tough, and no-one knows better than the artist that there's a clear moment of separation between the moment that the curtain closes and one's on stage, and then one leaves the stage and goes home alone after the high of a great performance. As the years pass now, it's more palpable what that feeling is like – that you have a great moment, you've finished Lucia di Lammermoor, and the audience is enthusiastic, and you feel, why I've really accomplished something, and the public has lived it with me, then you go home.
Or else you're alone in a hotel room…
And you order some kind of dinner that's brought up on a cart, that's warmed over. So those people have definitely given me the most. George is above all the one that compelled me to sing. My aunt Judith Burbank, who sang all over Europe and had a different pathway and now she's a teacher, she's always the one that encouraged me along with my family.
She was the first, then?
Well, there are so many firsts, and it's always hard to say one is the first, I'll do a disservice to the others, it's not really fair – in honesty, I can't. There have been many that have been instrumental in helping me find the way. Pertaining to directors and conductors, I'm a very old-school, old-fashioned kind of singer.
[Knock on the door - time for the costume fitting. To the Press Officer: "they'll be fine without me for a few minutes". To me: " they've had me do a zillion different fittings, they'll be fine"].
Let me finish, and I didn't mean to be brief with her, I have so much to say and so little time. I'm very reticent, I have to be careful how I say this, to work with directors that want to redefine the art form that we love. I'm very happy and excited to work with the directors who live and breathe the work that they're creating. That's so important. If it results in a modern production but it's born out of an extreme knowledge of the subject, I will pray at their mantle. If it's a modern principle that has nothing to do with what is happening on stage, I will be a very dissatisfied artist. And I think a lot of my colleagues would agree with me at this time, and we're becoming more vocal about it, and I think we ought to be. Because in my opinion the ones who do not understand the subject matter and do it in just an optical or a visual way are ruining the art form.
It's becoming, and John Tomlinson was commenting on this, much more the visual artist's opera – you get a lot of people who are concerned merely with the look of it and say, you singers, stand to one side.
Exactly right. And that's a shame, because at the end of the day if you take away the music, you have nothing. And I always say to people, if I sit in the stalls of the theatre, and I close my eyes and just listen, can the whole story flash in front of me without even seeing it, and then when I open them am I shocked into horror because it doesn't match with what I'm listening to, or does it make sense? This matters, because the aural aspect has the greatest importance, and the directors who acknowledge that and focus on that are the ones I respect. I love Jonathan Miller, I think he's magnificent, he gave me the most as a director so far [in an interview with Igor Toronyi-Lalic, Miller returned the compliment]. He was the most patient with me as a young person, he focused so much on what I was doing as an actor and an artist, and I'm eternally grateful. I should also mention the immense knowledge and excellent company of my coach, Laurent Philippe. There are too many conductors to name but I tend to like the old school type, I like Nicola Luisotti, I like Maurizio Benini, I've enjoyed working with Stephen Lord. It's really tough because there are so many, and if I say four or five, there are four more. Carlo Rizzi has been wonderful, I love working with him. I haven't worked with Antonio Pappano yet..
I was thinking of him when you talked about Puccini and balance, because he always balances well. Will you be doing something together at the Royal Opera?
Hold on [laughs]
I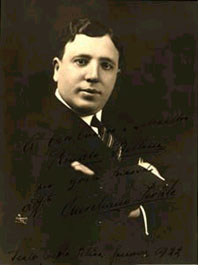 can't not finally touch on tenor voices that might have had an impact on you, very briefly.
[Aureliano] Pertile (pictured right) number one, he's one of my demigods, he is the absolute core of what a lirico spinto voice was and is, and we should look up to. I think Corelli for sheer heroism and intensity, and Carreras for lyricism. I would say those are my triumvirate. There's Del Monaco, I really have immense respect for him, and Luciano Pavarotti. Those are the five. Notice they're all Italian except for one. Now I love Jon Vickers and some things he did I worship, and by the way I think he's one of the greatest Don Josés there's ever been, oddly. I love Richard Tucker, one of the great Don Alvaros (in La forza del Destino], one of the great Des Grieux in Massenet's Manon. But the ones I named are I think for me the absolute tops.
And then it's a fusion of what you've learned from them and your own personality.
Yes, and there's so many more. It's not like there's just a few, there's Neil Shicoff who is one of the great Hoffmanns. There's so many out there.
And you keep discovering…
You asked earlier what other things I wanted to do. I want to sing The Dream of Gerontius again. I did it one time, everyone said you're so young to sing Gerontius, I said, so? I can sing it and I love it and I can't wait to do it again.
Overleaf: watch Michael Fabiano in Verdi's La traviata and Requiem
Michael Fabiano sings "De' miei bollenti spiriti" from La traviata
Fabiano sings the "Ingemisco" from Verdi's Requiem
Competition for me means a challenge for myself, a self-inflicted challenge, a challenge to do better
Share this article