WOMAD 2014, Charlton Park |

reviews, news & interviews
WOMAD 2014, Charlton Park
WOMAD 2014, Charlton Park
Sold-out world music festival warms to revolutionary Ukrainians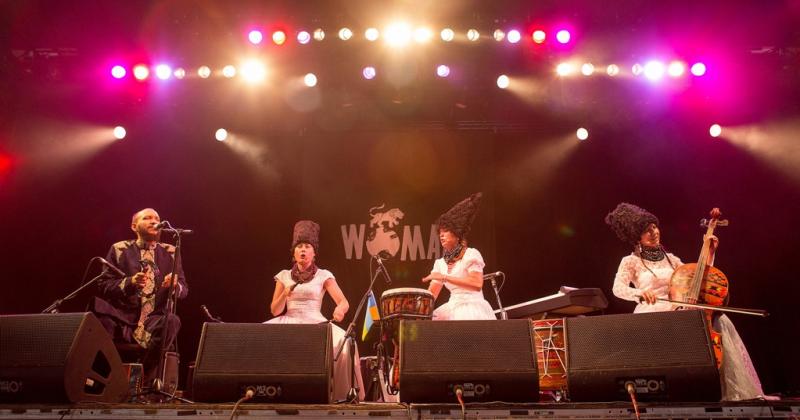 Sound of a Revolution: Dhakha Brakha
If I had to pick the highlight of this sun-drenched WOMAD it would have to be the fresh, emotionally charged set of Ukrainian band Dakha Brakha. I can't recall seeing such a unanimously positive response for a relatively unknown band at the Festival. It wasn't as if the music was obviously crowd-friendly, and parts were quite challenging, mixing soulfully sung Ukrainian folk tunes with other influences – Nigerian drumming, Bulgarian singing and Japanese koto.
They call it "ethno-chaos". As an untypical folk band, their jaunty stovepipe hats are not traditional but do give them an instant identity. Having spent time with them recently in Kiev I was positively disposed to them, but it was wonderful to see them totally connect with a receptive audience. Of course, part of the appeal was that they were ambassadors of the Maidan Revolution but sensibly they didn't hit us with politics, only a flag jammed into an African djembe and an understated mention of "We're from Free Ukraine."
There were plenty of more seasoned, veteran campaigners here, the ones I saw giving strong performances, as opposed to some in previous years, when some such as Rai veteran Khaled, seemed to be merely going through the motions. Notable were the ever-energetic Youssou N'Dour, who has returned to music after a political phase and the reunited super-group Les Ambassadeurs from Mali, who were instrumental in kicking off the original "world music" boom in the 1980s and featured the great albino singer Salif Keita (pictured, above, at WOMAD), whose Soro was perhaps the first Afro-futurist record, and Amadou Bagayoko, one half of the million selling Amadou and Mariam.
Even older were The Radiophonic Workshop, who played in the new Society of Sound venue, helped by the tent being furnished with stacks of fantastic Bowers and Wilkins speakers. They played TV music excerpts from programmes like The Hitchhiker's Guide to the Galaxy and some recent pieces like "Wireless" from a forthcoming album and finished with, inevitably, their big "hit" the Doctor Who theme tune. They could make a plausible claim to be the English Kraftwerk, but instead of cultivating any mystique came over as amiable boffins who said how lovely it was that people were applauding them.
As I got there on Saturday, Womaders were still raving about the collaboration between harpist Catrin Finch and kora player Seckou Keita (theartsdesk contributor Andy Morgan has written a small book on this delicious pairing) and the sexy, superior funk from a revived post-Katrina New Orleans scene from Trombone Shorty. Perhaps the most soulful music all weekend was from the Iranian Vahdat Sisters , who are unable to sing in public at home, being - through no fault of their own - female.
For all the recent talk that World Music's glory days were back in the day when the Buena Vista Social Club and Manu Chao sold millions, this was the first WOMAD at Charlton Park that actually sold out its 40,000 tickets, and there seemed to be healthy numbers getting albums signed at the Songlines tent. The weather gods helped, of course. But there were enough new strains of work to suggest the music is in a healthy state, notably 9Bach, who seemed to have found a fertile area somewhere between the doomy trip-hop of Portishead and Welsh folk music. One of the highlights was an intimate set by Canadian Chloe Charles who thankfully, rather than the whiny egomania so prevalent in singer-songwriter types, instead had some strange songs about psychics and, backed by a couple of violinists and a keyboard, was reminiscent of the great Lhasa de Sela. The recently deceased Bobby Womack was missed (Sinead O'Connor took his slot, too late to see for the last train) and there were 184 performances from 106 artists in what must go down as one of the best WOMADs yet.
Follow Peter Culshaw on Twitter @peterculshaw
For all the recent talk that World Music's glory days were back in the day, this was the first WOMAD at Charlton Park that actually sold out
rating
Explore topics
Share this article