Lilting |

reviews, news & interviews
Lilting
Lilting
Hong Khaou's impressive debut feature charts the landscapes of grief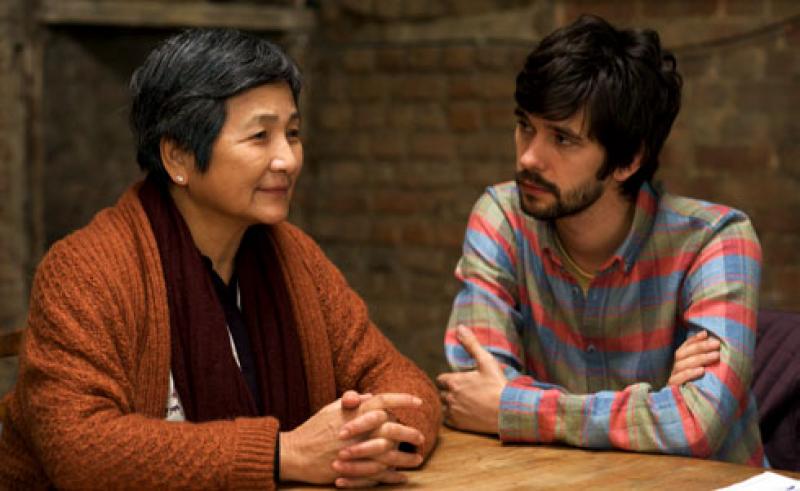 Islands of sadness: Junn (Cheng Pei Pei) and Richard (Ben Whishaw)
"Only connect!" E M Forster's life-wish is reprised in Cambodian-born, London-based director Hong Khaou's powerful debut feature Lilting. However, it's not the hope for connection between lovers that his film explores, but between strangers after love, bound together in grief, in this case those who were closest to the film's object of love.
The connection is stretched by cultural differences, and only exaggerated by differences (and therefore misunderstandings) of language.
Lilting moves between a loose, if undefined realism, and a certain kind of hallucination. That tone is set in its stylized opening scene, in which a son comes to meet his mother. The son is Kai (Andrew Leung): he's late and apologising to his mother Junn (Cheng Pei Pei). Nothing strange in that, you might think, until we understand that he's not coming to see her at home, but in her somehow artificial-looking (relish the wall-paper designs!) living quarters in some sort of sheltered accommodation; her being sent there, since it was clearly the son's decision, is doubly isolating because this Cambodian-Chinese woman's grasp of English is distinctly limited, and her only connections to her London environment have been through her son.
Khaou's script jumps in and out of literal time
It's unsettling, and the feel of hurt – that of a mother who has been pushed away by her child, contrary to all their cultural traditions – is palpable, but it's an encounter played half-jokingly, with the playful love and reproach that defines such mother-son bonds. Until we realise abruptly that Kai is there only in Junn's mind: it's a visitation, not a visit. Kai is dead, we come to understand, and the abiding presence in this film is grief.
The old lady's first real visitor appears in the second scene: Richard (Ben Whishaw) had been Kai's partner for four years, though the latter never told his mother of the reality of their relationship. Junn thinks of him only as her son's "friend", and the one she holds responsible for separating her from him, a resentment that runs underneath their interaction until the cathartic final scene of this far from protracted drama (Lilting runs at a slim 86 minutes).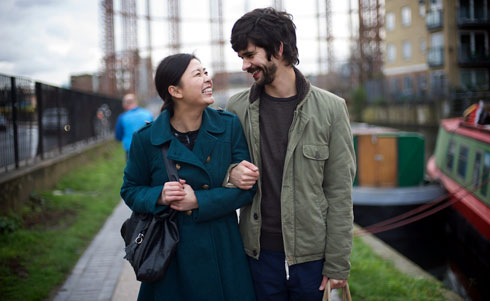 Richard feels the opposite, some sort of responsibility for the fractious Junn, and a connection through her to his dead lover. Meanwhile Junn is diverted from her grief by a sub-plot courtship: Alan (Peter Bowles), refered to jokingly as the home's Casanova, is wooing her with flowers, their contact limited by their lack of a shared language. Richard's desire to help this relationship along has him bringing in Vann (Naomi Christie, pictured with Whishaw above right) to translate for them: the charismatic and engaging young woman, who on occasions goes beyond the formal limits of her duties, is also there to facilitate the film's main interaction of grieving mother and grieving lover.
Telling the story of Lilting in such abbreviated form risks making the film sound almost melodramatic: that's the last thing it is, however, even if the courtship-in-age strand did leave me for a moment remembering Last Tango in Halifax. Its light comic strand is a welcome counterpoint to the overwhelming sadness that pervades the main body of Khaou's film. (There's an occasional acerbity to the old folks' banter though: when each is asked to speak honestly of the other's fault, Alan complains that Junn always smells of garlic, to which she replies, "Your whole body smells of urine").
Khaou's script jumps in and out of literal time, with flashbacks to the tenderness of the two men in bed and in their casual everyday interaction, which reveal among other things Richard's willingness to include Junn in their life, a subject on which Kai is more conflicted. The grief flows in oceans, and Whishaw and Pei Pei (pictured, left) play it in different keys: for the former it's a gutted, almost hangdog grief, for the latter it's raw, with a precarious hostility restrained only by the old woman's dignity. (Hard to imagine it from Lilting, but the Chinese actress is a martial arts film legend, nicknamed Hong Kong's "Queen of Swords" for a lifetime of action roles: she's best known to Western audiences as Jade Fox in Crouching Tiger Hidden Dragon.) Both work wonders with their eyes, and in their final scene the need for translation mysteriously drops away: connection has been made.
There's a fragility of feeling to Lilting. "I smell him, too," Richard replies to Junn in the final scene when she comes down from visiting the bedroom where Kai's possessions remain, as if he hasn't gone away, his identity still hanging there in the air. Khaou is sparing on details: though we sense that the setting is contemporary London, it's a location barely defined beyond a couple of urban exteriors. We see the home in which Richard and Kai have lived, but learn practically no other details of their lives (how they met, what they do, the usual everyday questions).
With another director this might have been unsatisfactory, but for Khaou the main means of definition is atmosphere – Hong Kong director Wong Kar Wai must surely be an influence – in which he's brilliantly assisted by his cinematographer Ula Pontikos and composer Stuart Earl. Pontikos, who won the cinematography award at Sundance this year, captures a visual "otherness" to the scenes of Junn's surroundings, unusual interior visuals and haunting frozen morning scenes that underpin the film's sense of loneliness; the latter creates a score that's in itself a magic presence in a film where words (at least words that are understood) are sometimes secondary. Lilting is a very impressive debut indeed, and Hong Khaou a director to watch.
Overleaf, watch the trailer for Lilting
The grief flows in oceans, and Whishaw and Pei Pei play it in different keys
rating
Share this article