10 Questions for Director Hong Khaou |

reviews, news & interviews
10 Questions for Director Hong Khaou
10 Questions for Director Hong Khaou
Fresh new talent on film-industry diversity and his debut feature Lilting, starring Ben Whishaw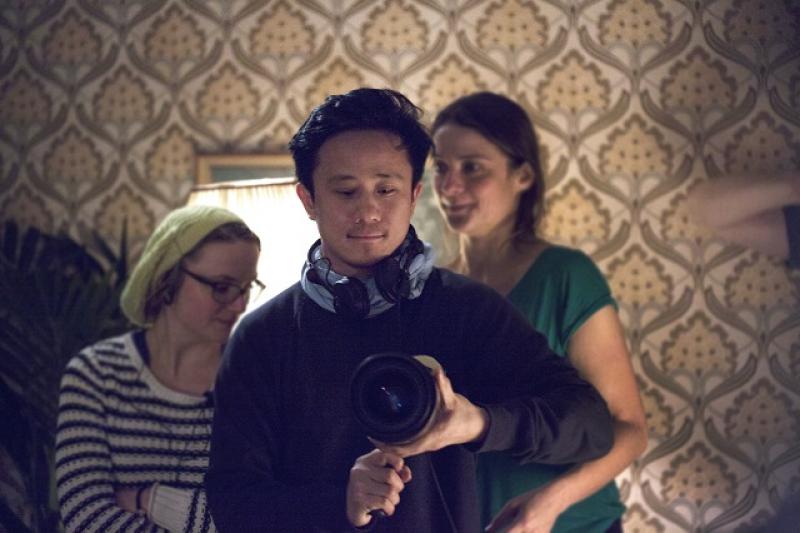 Hong Khaou: talking about his experience working with Ben Whishaw and showing his film at Sundance
I sit down with Cambodian-born, London-based director Hong Khaou to talk about his experience making his first feature film, Lilting, which showed at Sundance film festival in competition, took home the award for best cinematography in the world cinema category, and opened the 28th BFI London Lesbian & Gay Film Festival to great acclaim. A cheery mood fills the room, his softly-spoken, intelligent musings inflected with an excitability which is utterly endearing.
After working in film distribution for years, Khaou finally decided to take the leap over to full-time filmmaker last year. He speaks of how he persuaded Ben Whishaw to take the leading role and offers his thoughts on the recently revealed BFI diversity strategy.
His enriching drama picks apart loneliness, longing and displacement. A grieving mother and boyfriend have to learn to put their differences aside to get to grips with the loss of a loved one. As they battle their way through misunderstanding - the mother only able to speak Chinese, an interpreter their only way of communication - we witness their long journey to acceptance.

KATHERINE MCLAUGHLIN: What's the significance of the title of the film? Did you have a different working title?
HONG KHAOU: Originally it was called Lilting to the Past and I think some of the execs felt it didn't really mean anything. The title has divided some people. It's a word we don't use often, not in every day speak anyway, but I really like it. It means to move to something rhythmically. The film has a lot of lilting qualities to it, the language, the music, the dancing and the way the camera moves. It suits the film. Once you've seen it, it makes sense.
Lilting showed at Sundance, which is quite an achievement, what's been your highlight of the festival circuit so far?
Definitely Sundance! It was amazing.
How did you get Ben Whishaw and Pei-pei Cheng on board?
I always wanted them. I'd been a fan of Ben for a long time, since I saw him in Perfume. I remember being really scared when we were making this film because it's dialogue heavy and it is entirely performance led. There's nothing to hide behind. We don't have car chase sequences, and I knew that I needed really strong actors or else the writing would feel clunky and maudlin, like a kitchen sink drama. I wanted actors that could get those beats and tones right and also he plays such an important character, he links up the whole story. I think if you're not from that culture it's very much a foreign culture so he takes you in that world and it really needed someone with that kind of charisma, vulnerability and strength as he's always carrying grief on his shoulder. We sent a script to his agent, and actually I wrote a letter explaining why I wanted him. I wasn't just giving it to someone who was big, there was a genuine reason why I thought he would be good for it.
With Pei Pei, it was odd, we couldn't find who represented her and I spoke to a filmmaker friend in Singapore who introduced me to a producer in Malaysia who knew her manager in Canada. It was random.
They work really well together…
In the film she doesn't have a lot to say, but she's so expressive and he makes you cling onto every word. He has such a truth about him.
You wrote and directed Lilting. Which presented the most challenges for you?
I really enjoy the process of writing, though it can be agonising at times. It's so solitary – I think I prefer that because I'm quite a solitary person. I love directing too as that's when the film comes alive, and editing too. I think the whole film was difficult, because of the budget and we had to shoot it in seventeen days and we shot it in the winter so there was less daylight. It was really tough and because this was my first film I think I was even more stressed. And then we got Ben [Whishaw] and then I got really stressed! But he was so down-to-earth and normal.
I think you handled the themes of displacement and immigration really well. How much of that comes from your personal experience?
We're an immigrant family, and I'm very much westernised, but I wasn't born here. I'm bilingual and I think my mother finds it very hard to assimilate. To this day she doesn't speak English. Those feelings are very close to me. It's not autobiographical as my mum isn't like [Junn] but those characters feel very dear to me. I wanted to talk about the immigrant experience without being too heavy handed about it.
How do you feel about the new BFI diversity scheme? Do you feel underrepresented in film?
Yeah. There's a lack of diversity, and change doesn't happen at the rate you want it to. It's a tough one. You only have to look at TV these days and the Chinese are still cast as takeaway owners. We are underrepresented. Hopefully they will see the scheme through and if it's not working then they should tweak it, but at least there's something like this happening. I feel the industry needs it.
Your cinematic language is elegant. Which filmmaker has influenced you the most?
I don't know if they directly influenced Lilting but I'm a fan of the old masters, like Fellini and Fassbinder. In terms of Lilting, there were a few films that directly influenced me as far as the cinematic language goes. John Sayles who made a film called Lone Star which moved between the past and the present and I remember when I was thinking about how to do flashbacks I didn't want to chapter it. We're talking about memory and dealing with grief, so that's continuous. It happens on the same plane, instantly really. He had done it, but I didn't want to rip his idea off, so I took it a bit further and had the actors change their clothes as well. I think he really influenced that element of Lilting.
Ben Whishaw plays a grieving man who is also hiding his sexuality. Where did you draw inspiration for this character from?
The premise started with the mother… I start on the premise and as I stew on the ideas these characters start coming in. There wasn't any direct inspiration. I don't like characters who are too easily defined and I hate it when people assign traits to themselves because even though, for example, my characters are stubborn but equally they are not. I don't like characters who fit in too neatly.
You used to work for distribution company Pecadillo, how has working in the film industry shaped the final product?
It definitely has. I used to go to go to a lot of film festivals and I was part of the acquisitions team so I saw a lot of films. I saw the kind of films that were actually being bought. With Lilting, I felt if I achieved the things I wanted to with the script I felt there was a possibility we could sell it to certain places. It could have a life. I thought it may have a chance at showing at certain festivals. I'd been to enough to have an idea of films that were being shown. But they're not concrete things – they're just a feeling. I think if there was a formula we'd all be doing it.
What's next?
I've got a script called Monsoon coming up next. I'm just writing it at the moment. It went through the Sundance screenwriters' lab. I'm off to Vietnam in October to finish it. It's about the repercussions of the Vietnam War.
Lilting is released in cinemas this Friday
Overleaf: watch the trailer for Lilting
I wanted to talk about the immigrant experience without being too heavy handed about it
Explore topics
Share this article