Otello, English National Opera |

reviews, news & interviews
Otello, English National Opera
Otello, English National Opera
A dark and potent version of Verdi is David Alden at his best
Sunday, 14 September 2014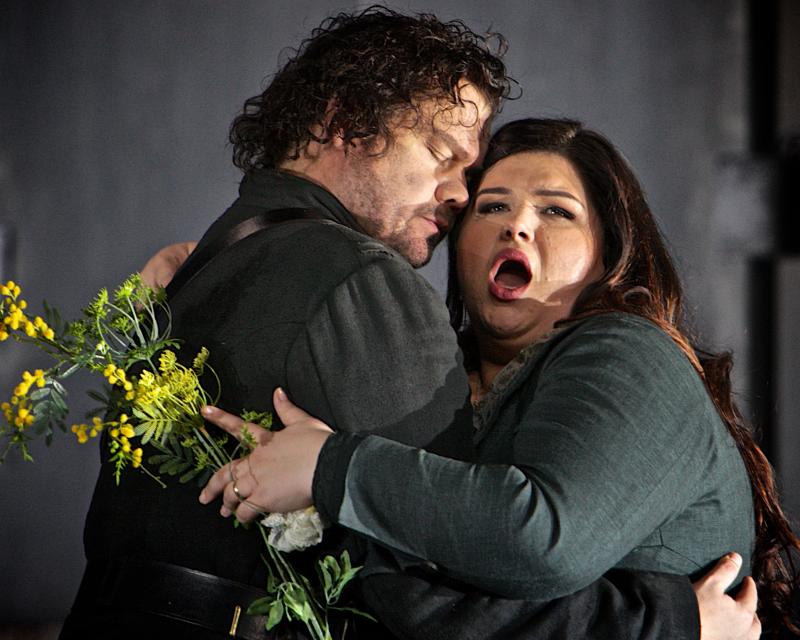 Otello (Stuart Skelton) confronts Desdemona (Leah Crocetto) in his pusuit of the "ocular proof" of her infidelity
From one great operatic storm to another. 2014 opened at English National Opera with David Alden's Peter Grimes, gale-tossed and wet with sea-spray, and now the director turns his attention to Verdi's Otello. Restlessly urgent, Edward Gardner's opening assaulted us with timpani thunderclaps, stabbing into the silent auditorium as Otello himself would do just a few hours later.
Tragedy is written into the musical fabric of Verdi's opera, and in Alden's new production we have a pervasive emotional horror that matches it blow for blow.
2014 marks Alden's 30th year working with ENO. Anyone feeling uncharitable could suggest that, on the basis of this Otello, the director hasn't aged an artistic day – still returning to all his favourite dramatic ticks and reflexes. But although this production has the Alden signature, it also has something of that same clarity that cut so heartbreakingly through Peter Grimes.
This Desdemona is unwilling just to sit, smile and receive flowers, fighting subordination at every stage
Alden's Cyprus is a walled stone courtyard. Occasionally a door slides away to reveal a skyline beyond, but our characters never step outside this claustrophobic no-place. Crucially it's a public space, where the chorus cluster during the opening storm, where the Venetian delegation later stand and observe, and where eventually Otello will murder his wife. Nothing in this bleak arena is truly private.
Updating the action to the 1920s casts the Desdemona-Otello conflict in the light of greater social changes, setting pervasive militarism and masculine politics against a quiet female emancipation that is still ahead of its time. This Desdemona is unwilling just to sit, smile and receive flowers, fighting subordination at every stage. Unlike Desdemona and unlike Shakespeare's own condemned Emilia, Verdi's handmaiden (sung here by Pamela Helen Stephen) survives to accuse her husband, a figure of hope on the threshold of a new age.
Not everything here works, however. Maxine Braham's movement direction is jarringly self-conscious; a mad woman (seemingly borrowed from Christopher Alden's Rigoletto) rampages around to little obvious end, and there's altogether too much chair-throwing and wall-caressing going on for dramatic conviction. But these details dissolve on contact with an exceptional cast.
Making his role debut here, Stuart Skelton's Otello (pictured above with Jonathan Summers) has more than touch of the Grimes about him. With no racial distinction made, this warrior's otherness stems from his physicality. While others talk their conflicts he can only hurl objects or lash out in violence, caged within the social codes of a world that is not his own. Vocally he dominates, finest in moments of extremity – the mock-marriage duet with Iago, the confrontations with Desdemona – though as yet less in command of the more delicate vocal details of the psychological collapse.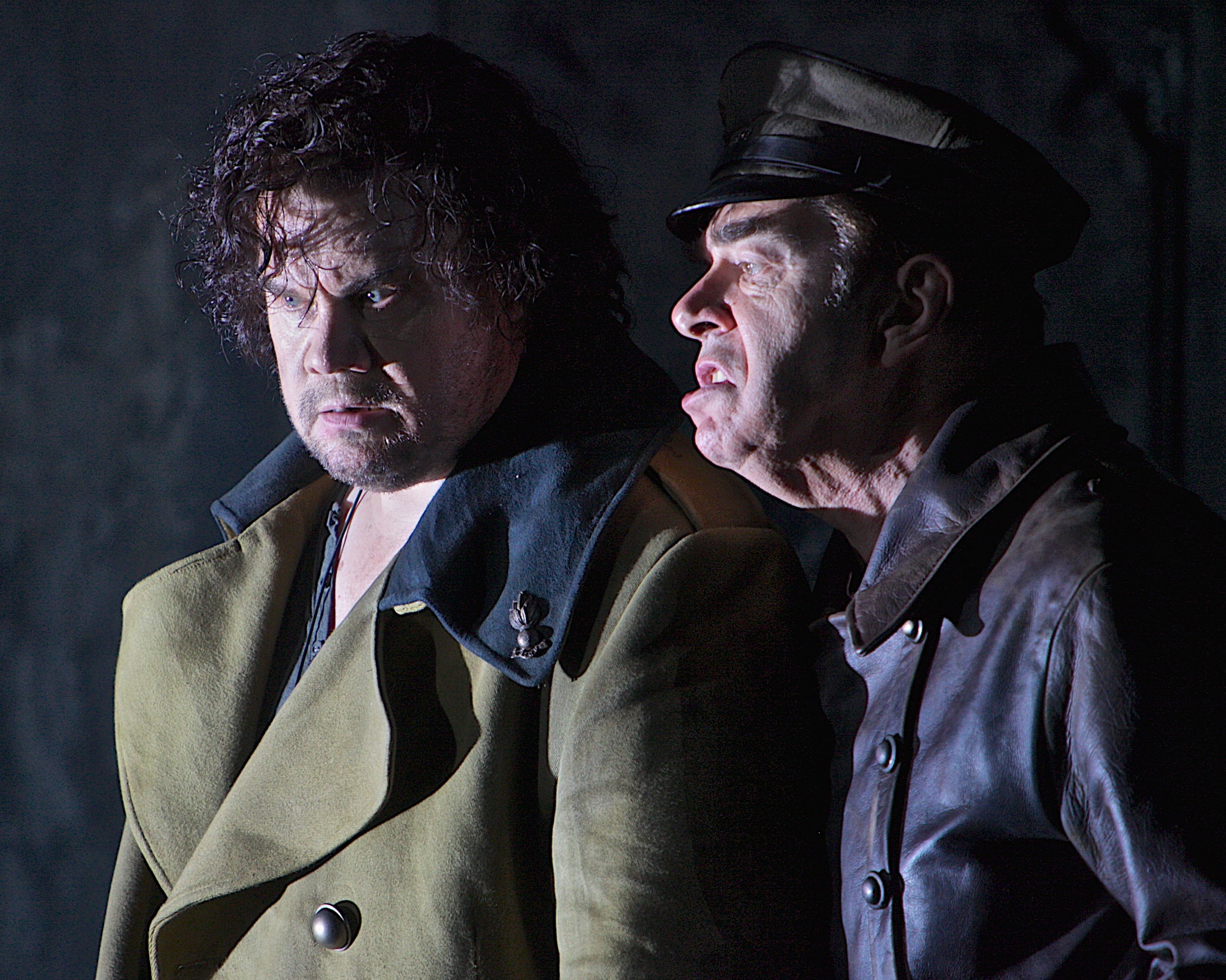 Leah Crocetto's Desdemona is thrillingly assertive, both dramatically and vocally. This is a woman who won't be silenced, who returns to plead her case no matter how many times her husband denies her. Crocetto's vocal force re-negotiates the opera's power dynamics. For once we're not reading against the text, but setting Otello against his musical equal. Crocetto's Willow Song is the mature, dramatic allegory of a woman who goes knowingly to her death, not the artful musings of a woman-child, while the Ave Maria (sung, in a final twist of the knife, to a Virgin used as a dartboard in the previous scene) is a model of simplicity and elegance.
Dramatically captivating, Jonathan Summers' lived-in Iago (pictured above with Skelton) stands apart. Far from beautiful, Summers' singing has the roughness and bluffness we might expect of "honest Iago", his every unphrased utterance giving the lie to his carefully crafted persona. He finds his opposite in Allan Clayton's Cassio – gorgeously sung, every syllable (even the drunken ones) beautiful and poised.
Exquisitely lit by Adam Silverman, the sombre visuals of this Otello are all a play of shadow and illumination – a subtlety and a control echoed in Alden's psychological drama. This is a production that pierces both ear and heart.
Leah Crocetto's Desdemona is thrillingly assertive, both dramatically and vocally
rating
Explore topics
Share this article