Otello, Grange Park Opera review - angels and demons |

reviews, news & interviews
Otello, Grange Park Opera review - angels and demons
Otello, Grange Park Opera review - angels and demons
A charismatic Iago and radiant Desdemona anchor Verdi's tragedy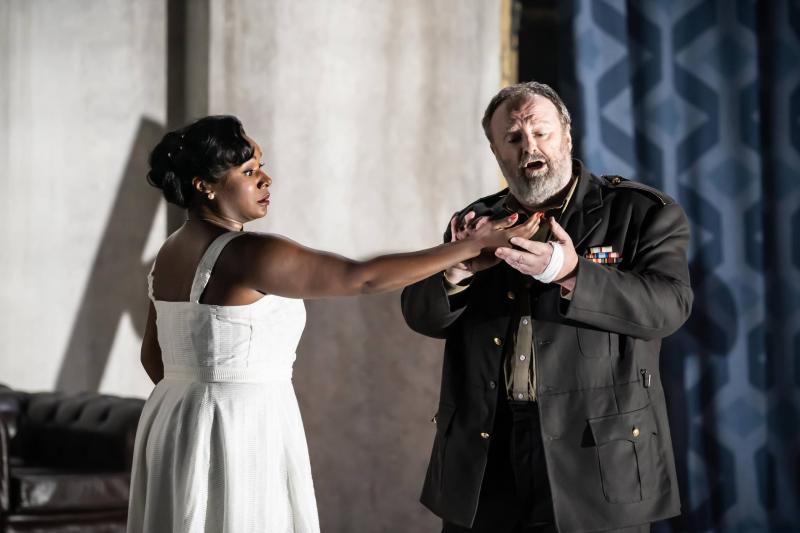 Shadowed by lies: Elizabeth Llewellyn and Gwyn Hughes Jones
The devil, in Verdi's Otello, doesn't quite have all the best tunes. Desdemona trumps him there. But the arch-manipulator Iago boasts a part of such polished, seductive wickedness that (as in Shakespeare's tragedy) the villain can often make off with the show.
At Grange Park Opera, the great Simon Keenlyside (pictured below) threatened at several points to overwhelm David Alden's new production: a dominance rubbed in by his silent, watchful presence at the edges of the stage, even when he had no words to sing. That this bluff, leather-jacketed baritone wrecker didn't run away entirely with the evening owes much to Elizabeth Llewellyn's rich, radiant Desdemona, and some terrific ensemble work. If Gwyn Hughes Jones's heartfelt and poignant Otello at moments seemed eclipsed in his own drama, he wasn't the first or last Venetian Moor to face that fate in a plot where gullibility sinks dignity.
Colour-blind casting this may be, but the frisson of a white Otello who turns his paranoid, murderous rage on a falsely-accused black spouse inevitably shifted the power dynamics of the piece. Clad in saintly white on a set (designed by Charlie Edwards) that mingled Catholic imagery with mid-century wartime uniforms and starchy formal dress, Desdemona became the doomed prey of every kind of slanderous injustice. Thanks to Llewellyn's warm, huge, creamily lush soprano, she never sounded like a timid, girlish victim of hatred and calumny.
Beset by rumours of betrayal and disloyalty, public and private, Alden's Cyprus became a semi-circular ring of fear: a suffocating arena where truth, rumour and falsehood contend. A sign proclaiming "Constantia" (a Roman city on the island, here with symbolically wonky lettering) hung over the soldiers' café. Gabrielle Dalton's Forties costumes blend hints of Mussolini's Fascist Italy, and the island's British colonial past. In this testosterone-fuelled militaristic world, the hearty, jesting men strut and plot while women have only the restricted movement embodied in the tight pastel suit sported by Olivia Ray's Emilia. Only, in the first act, a solitary black-clad dancer – Arianne Morgan – among the uniformed officers can leap towards liberty (Lynne Hockney devised the striking choreography).
Alden enriches his version with some fine strategic touches: above all, the ubiquitous giant shadows cast by the singers (Tim Mitchell designed the excellent lighting). They remind us that, in Otello, fantasy and delusion twist reality into distorted shapes; mental spectres bred by insecurity overshadow truth. A few of Alden's choices could be fussily intrusive: like the onstage fire that flickers, burns or dies, often at Iago's behest. Although rooted in both text and score, the Desdemona-as-Madonna motif felt slightly overdone, especially when a picture of the Virgin became a dartboard for the bad guys in their plot against virtue. And I fail to see why, as the murder and suicide weapons, guns should replace pillows and daggers, even in a modern-dress setting.
Still, little of that detracted from Llewellyn's embrace of the role: maybe strained at the top at first, and laying on the vibrato with an over-lavish hand, but soon lustrous in the transcendent "Gia della notte dense" duet with Otello. In the second half, Llewellyn (pictured above) glowed and even burned. With a soul-searing Willow Song and Ave Maria, she managed to thin out that usually luscious, smoky and velvet-plush sound into a clear, pure beam of innocent sorrow. The spectrum of feeling and intonation in her "Salces" delivered a dramatic-soprano masterclass in itself. As Otello arrived to complete his mad design, her angelic top notes floated heartbreakingly into an abyss of pain.
"Honest" Iago has to sound as open and transparent as Otello takes him to be, and Keenlyside projected that insinuating authority from his first notes. He played the audience as he did the cast, a magnet for eyes as well as ears as he prowled on the fringes of the action when not directing it. Given the charismatic, muscular assurance of almost every phrase he sings, the solo, non-Shakespearean profession of faith in evil and nothingness that Verdi's librettist Boito gave him – "Credo in un Dio crudel" – can sound like melodramatic excess. Here, his Nietzschean nihilism had a tinge of anguish as well as gloating. You sensed the pain behind the scorn.
As Otello, Hughes Jones (pictured above) commanded a plump, fruity and glossy tone that suited his passages of tenderness more than his outbursts of jealous fury. I believed in his love more than in his rage, although his farewell sequences – "Or e per sempre addio" – soared and touched. And his final "Un bacio ancora" confirmed that this voice can attain a tragic tenderness. Inevitably, Iago took the lead in the terrifying vengeance duet that closes Act II, although I felt here that conductor Gianluca Marcianò – a Grange Park favourite – could have tightened the focus and upped the pace as we galloped headlong into hell.
Elsewhere, from the electrifying opening tempest to the suspenseful cinematic music prior to Desdemona's murder, he drove the action with dramatic poise, precision and flexibility. Marcianò drew some splendid tone-colours and shattering climaxes from the Gascoigne Orchestra (formerly the Garsington Opera Orchestra, renamed in honour of Grange Park's late patron and champion, Bamber Gascoigne). Individual instrumental parts – trumpets, cellos, harp – made some crucial, well-accented contributions.
The minor roles had no weak links, with Olivia Ray first a brisk, then a deeply affecting, Emilia, Elgan Llyr Thomas, an elegant, even sympathetic Cassio, and the white-suited Anthony Flaum a plausibly dandyish but still pathetic Roderigo. The estimable Matthew Brook lay down the law of St Mark as a scarily impressive Venetian ambassador. Although Otello narrows into a chamber-piece for its three deceived or deceiving principals, the political dimension matters: Alden staged the Moor's public breakdown – when his voice and self collapse and the banner lauding the "Lion of Venice" tangles him into immobility – with stagecraft of care and flair, enhanced by the well-drilled, high-impact chorus. In contrast, the end came amid bare space with pistol shots beside a virginal bedstead: a grim, sacrificial austerity negated by the warmth and colour of the voices around it – Desdemona's above all.
Desdemona never sounded like a timid, girlish victim of hatred and calumny
rating
Explore topics
Share this article