theartsdesk Q&A: soprano Elizabeth Llewellyn |

reviews, news & interviews
theartsdesk Q&A: soprano Elizabeth Llewellyn
theartsdesk Q&A: soprano Elizabeth Llewellyn
Returning to ENO to sing Verdi's Luisa Miller, a great singer-actor reflects
Wednesday, 12 February 2020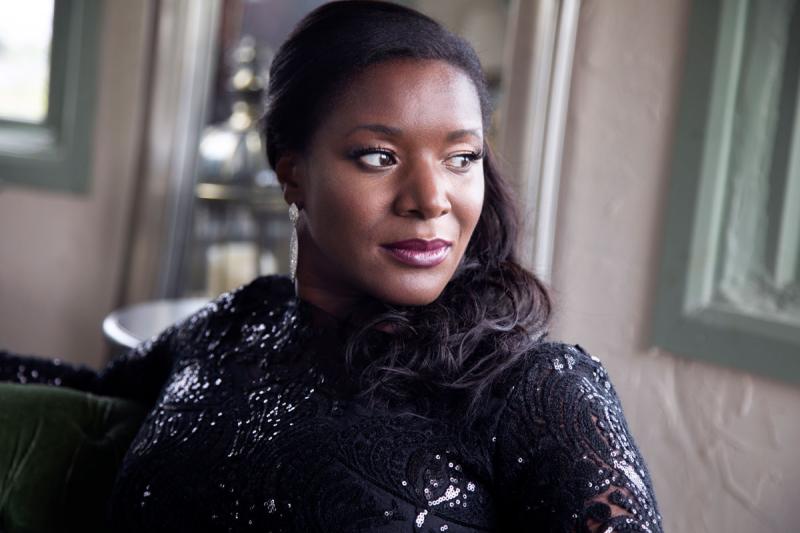 Elizabeth Llewellyn: 'it always felt a bit of a shame that the British audiences didn't get to see what British money had paid for'
Elizabeth Llewellyn was Brixton born - with what she calls a usual childhood, recorders and chime bars at primary school, followed by special opportunities at a secondary independent girls' school which had "a lot of everything, sport, music, debating", then on to the Royal Northern College of Music "where I really was very much the runt of the litter" but is now a Fellow - National Opera Centre trained and Peter Moores Foundation funded. She made a huge impression at the Coliseum as
Mimì
in a 2010 revival of Jonathan Miller's production of
Puccini
's
La bohème
; then as a step-in
Figaro
Countess and as
Micaëla
in Bizet's
Carmen
. That was in 2012. It's taken eight years for her to reach another major role there, and even longer for the
Royal
Opera to continue more or less ignoring her (and thereby hang several tales, which she talks about in the interview).
Otherwise, you may have caught her as a superlative Magda in Opera Holland Park's staging of Puccini's La rondine - a happy experience all round though with the sadness of coming closer through the loss of a company member in the Grenfell fire– then as Manon Lescaut in a less successful OHP production, a regietheater step too far, in which she survived 11 performances with laryngitis, and as Marguerite/Helen in Chelsea Opera's concert performance of Boito's Mefistofele. As she points out, 95 per cent of her work has been abroad, in Germany to which she returns to give further performances of her first Aida, in Copenhagen and at the Met where she's recently sung Gershwin's Bess.
Watch the Opera Holland Park encore of the Act 2 ensemble from La rondine dedicated to the victims of the Grenfell Tower fire
The voice is world-class quality, the acting instincts perfect; she's beautiful, funny, bright, an incredibly hard worker - and generous both to other singers and with her time (we sat talking in the foyer of the Coliseum for what turned out to be over two hours). We started by talking about the Holland Park Rondine and the connection between Puccini and Rodgers and Hammerstein - she hears their musicals anticipated in 17 bars of Puccini's second act.
DAVID NICE There is emotional truth in both which stops short of being over-sentimental. There's such restraint in Puccini, particularly with Mimì, which is where I was going to start, because that was the first role I saw you in.
ELIZABETH LLEWELLYN Oh really? Gosh, yes, right at the beginning of the story. 2010. Hasn't time flown? It's 10 years. Even now I find it quite strange…
There was always this question, when ENO was bringing in so many American singers, they were good, but we were asking, what's going on? It looks as if they're returning to what they should be doing - to try and build up a more British company.
I think so. It's hard to comment, because I'm not here, I'm not a company member, and there have been a lot of changes at the top, so that has an effect on the rest of the company. It's certainly lovely to be back and singing a bit more in the UK than I have done.
Your work has been more in Germany?
Germany, Denmark, Bergen, more recently the States, Seattle, the Met. I really enjoyed singing Bess, it's an amazing house to sing in, an amazing stage to sing on, it's very atmospheric, as you can imagine (pictured below: as Bess in Seattle, by Philip Newton), so in the intervening time I've been busy but there's always a part of me that's been a bit sad – I was trained here, the Peter Moores Foundation were very generous to me, and ENO as a young artist when I was at the Opera Studio, it always felt a bit of a shame that the British audiences didn't get to see what British money had paid for – I don't want to sound arrogant, but you kind of want to give back to the country where you were given the most.
And we've wanted to follow your career.
Of course, I think there's a real hunger…
Because we get lots of good singers, but we don't often get the class…
That's very kind.
Well, it's obvious. Why nothing at the Royal Opera? Louise Alder [who sang Zerlina there] was saying recently that they don't value their British singers –
And I retweeted that, I thought it's interesting that someone who's been employed by the Royal Opera House recently –
That's courage.
That's real courage, and it's using her platform really, which is lovely.
She's very well established now.
She is, and rightly so, but it's interesting that even she made that observation, and was prepared to voice it, and – who knows what goes on beyond closed doors, and what discussions are made, and everyone has their favourites and the people that they want to promote, one man's meat is another man's poison, beauty is in the ear and the eye of the beholder, all those things are true, but I think that particularly for my voice type that if you're a light lyric soprano, you do quite well, if you're a young dramatic soprano heading into that repertoire like the Natalya Romaniws and Lise Davidsens who are extraordinary singers.
There's a need, they get snapped up.
And because they're quite young and they have these incredible voices that are clearly going in a dramatic direction, that is really exciting to listen to, also dangerous – you need to have good management, I guess, but I get the feeling that if we were in the 1950s, 60s, 70s, my voice type would be singing the Mimìs, the Micaelas, the Amelias in Simon Boccanegra, the Elsas, all of that full lyric-slash-lirico-spinto – we don't really recognise that voice type now, I don't think, because the fact is I've really had to rethink my repertoire, I did an audition for Mimì – I won't say where – and I was told that my voice was kind of beyond Mimì, which I thought was quite interesting, but then they cast almost a dramatic soprano in it, and I thought, there seemed to be an inconsistency, and often the roles that would have been my roles had we been sitting here in the 60s and 70s, are now either being taken by light lyrics or by young dramatics, so Mimì, even Elsa, Micaëla, sometimes even Vitellia in La clemenza di Tito – light lyrics. It is quite fascinating, because there's an aesthetic or fashion for casting in certain ways vocally, particularly with women, which I don't think is actually consistent with the vocal writing.
The trouble with those Puccini roles is that they tend to start lyrically and then they get more powerful.
Oh yes, yes.
Even Tatyana in Eugene Onegin is often cast with a lyric who can't carry the last duet.
And weirdly enough Marguerite in Faust is often cast too light, because she has to be able to get through that final act, and if she's too light, she'll just be subsumed by the sheer volume of the sound. I just have had to navigate my way through these fashions in vocal casting and still make sure that I'm doing things that are good for me and that are suitable and safe, because there are some who've heard the timbre in my voice and have thought 'dramatic' and have just pulled a bit too far in that direction, and I've had to say no to quite a lot of that, to a few Isoldes and Sentas, and that was a few years ago. (Pictured below; as Aida in Bielefeld).
Maybe eventually?
Well, it's important as a singer to understand the essential qualities of your own instrument, and there are essentials and then there are add-ons, tools you can pull out of the bag if you need to because of the writing, and I think my instrument is essentially a lyric instrument, but if I have to pull out a more steely sound because of needing to cut through an orchestra, I can do that, but I can't sustain it.
I came across a singer who talked about capital and interest on the voice, it's a bit like that, isn't it? But it would be detrimental to your vocal health in the long term to draw on the interest too much.
Because you have to work out where your voice is most comfortable, and that is your instrument, and then everything else, if you can do coloratura, if you need a bit more steel…
Can you still do coloratura? Could you sing Violetta?
I couldn't sing Violetta.
But Luisa Miller…
It's got some and then some more. It starts out sounding very much like a Donizetti opera, I have my first aria which is all coloratura and all staccati, all of that, and then there's a duet which is along those sort of lines, and you'd be forgiven for thinking that it was a Donizetti opera. And then as things start to go wrong for the characters, it begins to move into the more recognisable Verdi that we know from the middle period, or even middle and late – some bits sound like Traviata, some like Macbeth, some like Otello, particularly as we get into Act Three, so that's quite interesting, because you almost hear Verdi maturing through the opera. Then you look at the timeline of what he did after that or what he revised after that, you can hear in Luisa Miller where's he heading, and that's going to be his established style. This role requires a good amount of coloratura, not just at the beginning but also in what I call the "daddy" duet, that soprano-baritone combination that Verdi loves so much [Schiller's tale is based on the disastrous conflict between the Millers and the aristocracy].
The Amelia-Boccanegra is the best of all…
Yes, this is a bit like that but on steroids, there's coloratura, there's top D flats, there's four top Cs and a D at the end, and it's quite full-on singing, it's got everything.
I've been listening to Caballé in the role.
Very good. I've been listening to Caballé, obviously, and Katia Ricciarelli, which was the first I listened to. My preferred recording is a live one with Marina Rebeka, can't remember which house, the tenor sounds as if he's having a bit of a bad night, but she has much more muscularity than the others, which I like. She has the ability to float things and to spin a beautiful line, but in the confrontation scenes with [the evil Count] Wurm or the father-daughter duet or in the end when she's confronted with what Rodolfo has done, she is able to pull something out of the bag which is a bit more Tosca-esque…
More tigress-like
Exactly, I like that very much.
Does that help, to find interest in the character, which could be generic?
I think so. She could be like a little girl, because of her age and because of how she's treated by the other characters, but – have you read the Schiller play [Kabale und Liebe]?
Some years ago.
Are you one of those who've read it in German?
No, my German's not up to it.
Well, I only had time to read it in English, I hoped to have time to read it in German, but anyway it was really interesting. OK, it's quite stylised, you look past that, but emotionally and in terms of levels of wisdom and understanding, even though she's 16 years old, she seems to have this understanding of the human condition, and not in a saccharine I-forgive-you-your-sins and all the terrible things you've done, it's just understanding that people are not perfect, and that Rodolfo is really troubled, and that he's in just as difficult a situation in many ways as she is, it's just that their stations in life are different, and the depth of that understanding leaps off the page from the play. But without being – sometimes operatic heroines I feel are over-forgiving, so when someone says I've just poisoned you, you're not going to say, that's alright, love, back you go, there's going to be this "what the hell have you done to me?", indignant quality, and I think that's right for a person of that age, after all that she's been through in the story.
So experience teaches her?
I think so. It's interesting doing the comparing and contrasting, because right at the top of the play there's another character who doesn't feature in the opera, there's a Mrs Miller, and you think, she's got a mum, you've assumed it's a single-parent family. But then in the play mysterously Mrs Miller disappears, they both get taken to prison and only he comes back, and nobody says, where's your wife – it is a bit odd, an inconsistency in the play. Part of me wonders whether Laura in the opera is a kind of replacement, because she and Luisa are supposed to be friends, but there isn't the give and take in the friendship – Laura is very protective of Luisa, I would think Mrs Miller has been turned into Laura. Certainly throughout the opera it's very much father and daughter against the world, and whether she agrees with how her father reacts.
As in the relationship of Gilda and Rigoletto; there are anticipations of that, aren't there?
I think so. And after she decides she's not going to kill herself and they're going to leave, there's a very beautiful lyric moment in this translation where she says "you get some sleep now, I'll come and wake you in the morning, then we'll leave'. There's something quite maternal in that, even in the sounds of the music, even if you didn't know what the words were, or what they meant, there's something of a role-reversal and she is making the decisions. He does start the "Andrem raminghi e poveri" bit of the duet, but it's her taking the initiative of what is going to be best for their family, which makes it even more tragic when she is snuffed out by some insane jealousy, you just think, why couldn't he leave it alone, but the nature of privilege, misogyny and sexism at its worst, means that he feels entitled, that is the only course of action.
The class element is important in the play.
It is, it's quite stark, the entitlement just drips out.
Schiller chooses what in the opera seems to be a ready-made operatic, melodramatic plot. But that element stands out.
Exactly, and it speaks to our times in many ways, doesn't it?
Is the production contemporary?
More or less. This is a revival, they've changed the costumes, it's set in South America. I think it works very well in visual terms, the colour, the warmth of Luisa within her community, you have to buy into that because it all starts going pear-shaped pretty quickly. The space is bigger than in Wuppertal, where the production originated, we've got a bigger chorus, some extra chorus, they really pack a lovely Verdian punch which is brilliant. I would love to be able to watch it, there's so much to see and understand about the characters, and we have four dancers who are almost extensions of Wurm and his evil, and the more darkness presses in on the main characters, the more active they become. What starts as a white set ends up being spoiled. But it happens quite gradually, at first you think it's quite entertaining, then you realise it's not – by the Act One finale, you realise there's only one way this is going to go.
Do you have to adjust to this particular space? Some singers find it difficult to sing in.
I don't think it is difficult, I think it's very kind to singers, probably kinder to upper voices, but we have two basses and a baritone that have no problems with projection whatsoever. It's a nice acoustic, it gives back enough so that you know where you are. Yes, there were adjustments to be made from being in the studio, particularly with the number of people that we have on stage, and we have a young Luisa and young Rodolfo as well, so that we understand a bit about their relationships with their fathers, and how or where things start to go wrong. Now we're on the actual set, there's much more depth and width, so we just had to adjust some of the storytelling so that things are clear. So far so good, what a super orchestra – it's nice to be reminded just how good they are.
This company has always kept up the standards whatever happened with the politics and the administration.
It was extraordinary that around the time of the crisis, the company, the chorus, the orchestra were sweeping the board with prizes, winning everything at exactly the same time that they were struggling with their leadership, so I think it's a huge testament…weren't they doing Mastersingers at that time? They'd kind of won and done everything. I was gutted – I was asked if I could sing Eva for that, but I'd already accepted something at the house in Bergen. I would have so enjoyed it.
I was very interested that you talked about the lyric cusp, and that you could sing Aida lyrically, that it was a question of how the house would support you in singing the role.
I think that's important. The Bielefeld casting director came over to London on his way to Bristol, and I sang a bit of Margarita in Boito's Mefistofele to him, because that's what I was doing at the time – I enjoyed it more than I thought I would, it's a bit of a bonkers score, all over the place, and vocally it's hard to get your fingers into (pictured above: taking a bow with the Chelsea Opera Group). We were discussing Aida and he said he already had in the company an excellent dramatic soprano who would sing the role of Amneris, which has a lot of blade and height, and for the storytelling he just felt that he didn't want another dramatic soprano, and when I sang my first Elsa it was in Germany in another house of a similar size, where they wanted a full lyric soprano rather than a dramatic soprano, partly because of the size of the house, but also I think it tells the story better if you have a dramatic mezzo as your Ortrud, and you have these contrasts and different vocal colours. So that even if you couldn't see the production you could hear that there's a difference in ages, in understanding the world, in status, all those things, that motivation, I think the same kind of thing is going on in the Aida – I've pressed pause on it while I'm here singing Luisa Miller, and as soon as I've finished here I get straight back on a plane to Germany to sing Aida again, another four or five performances until the end of May.
So that's been lovely to feel that you're singing a role with your own voice, there's still quite a range of colours that you need to be able to employ, and Aida is generally that much lower, I'd say in general a minor third lower than Luisa Miller in terms of where it sits consistently, which is very interesting. We had a week between performances of Aida, I had ten days off, and I wanted to spend the time working on the Luisa Miller, and I went back, and Aida suddenly felt so low suddenly, gosh, the Nile scene really felt quite hard work (sings "fuggiam gli ardori inospiti" with exaggerated darkening of the sound). It's been really interesting for me to weigh up which I feel more comfortable with – oddly enough, I think it's Luisa Miller, it seemed to come together much more quickly. I took both to my singing teacher, Lillian Watson, in those small windows of time where it was possible to actually have lessons, to work on particular bits that I wanted to concentrate on. It was interesting to see that Luisa Miller came into focus much more quickly on its own, especially the high coloratura.
Is it a while since you've sung coloratura?
Yes, we were trying to work out why one seemed easier, because we both thought Aida would be easier, and she said, well, remember where you started, with Handel and Mozart, and that's kind of how you learn to sing. I'd actually learned Alcina and Rodelinda wholesale – I never got to perform either, but I had them waiting.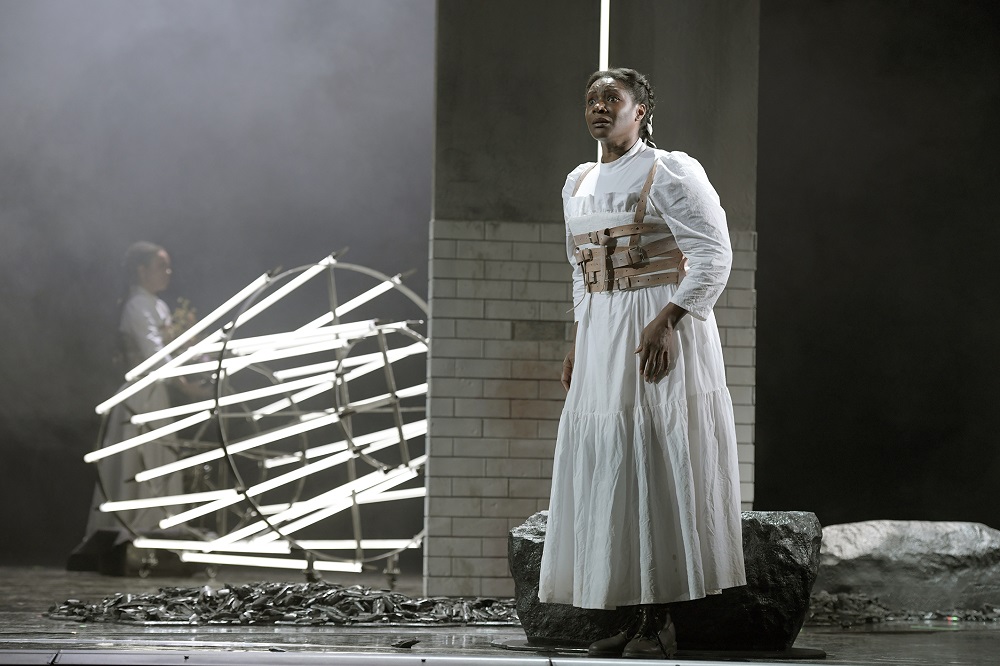 Would you sing either now?
I don't know, it depends on the conductor and again, beauty is in the ear of the listener, I did do an audition recently for an eminent Handelian conductor who had absolutely no problem with my voice and the size or the timbre, and seemed quite excited about it, and that was quite exciting for me, because I felt, maybe that door hasn't completely closed, it just depends who and where or what, God, I'd love to sing an Alcina or a Rodelinda now, that's the most beautiful music, heavens.
And Alcina has every type of aria.
Yes, yes, it's a real marathon. And it has a really great trio. It's a bit like – I'm not comparing myself to Anna Netrebko, you understand, but she essentially still has those Adina qualities in her voice. I think she posted some footage of her singing Susanna in Le nozze di Figaro, and she still has that quality, even though she's now slated to be singing Turandot at the Met next season, those qualities actually haven't left her voice at all, so she can still sing Leonora in Il trovatore with those incredible floated, beautiful phrases.
It's such a voice, but for me Netrebko doesn't always engage with every word, every phrase, it feels somehow generalised. I read you discussing a book on acting that you'd read, that you found revelatory.
Yes, Different Every Night by Mike Alfreds. Read it, it's a bit heavy-going simply because there's quite a lot of details, and he bases it around Chekhov's The Cherry Orchard, using that as a framework to make his points, but it's applicable, I think, to everyone who works in straight theatre, opera, musicals. It is really important, I think, not to be generalised. We live in very different times in terms of how people take in information visually and aurally to when I was a child, but the last dress rehearsal I sat in on was of Porgy and Bess at the Met, and a bit like here, they have loads of schoolchildren coming for free, and they're all in the balcony, and the energy is electric. What's really interesting is that they have grown up in this age of Netflix and everything on your phones or tablet, but they were the best audience – they were really rejoicing with Bess when she seemed to be able to extract herself from Crown, they were literally cheering as she ran up the steps, and then when she stopped and turned around, they went "Oh NOOOO!", and the whole place just went crazy. It was fascinating that they were like a true theatre audience, even though this may have been the first time some of them had been to a theatre.
And you have to grab them with the way you communicate.
Yes, if you're telling a good story and you're telling it well, then I think you can take anyone with you, and audiences are much more intelligent sometimes than directors give them credit for. I think sometimes we spoonfeed our audience, or play to their expectations of how an opera should go, and not think, look, I'm going to tell the story, but perhaps in an unexpected way, or they're going to have to use their imaginations there, or join up the dots themselves, just make them work a bit harder – I don't think that's a bad thing. And not just for the director, for the singers, I think we need to do our homework really well, to the best of our ability, whether we're singing in a small company or on a larger stage like this, the devil is in the detail, and even if people are first-time operagoers or first-time theatregoers, they can tell instantly when someone starts going through the motions. There's just something in the pit of your stomach, you know, I'm bored, or I'm disengaged, I'm not quite sure why, and it's one of my sadnesses that often we focus so much on amazing voices, when actually the voice is a means to an end, it's not an end in itself. If it was an end in itself we'd all just buy CDs and stay at home, you know? It's getting that balance, our vocal technique, our voices are the tools to tell a story with, and we shouldn't get stuck in just producing a great sound, and I think it's harder for those people who have really spectacular voices, because that's all people are effusing about. We should celebrate the Lise Davidsens and Natalya Romaniws and – David [Junghoon] Kim [singing opposite her in Luisa Miller], that's an incredible voice! I'd love to be around to hear his Otello when and if he sings that in ten or so years' time.
Do you think he will sing Otello, then?
Well, have a listen, come to opening night and let me know what you think. I can hear it, he's got the build of the Kristian Benedikts and the Stuart Skeltons, he just looks the part, and therefore he's got the physical heft, and will have the vocal – he really does pack a punch at the moment, but I think as he gets older, it wouldn't surprise me at all if that's where he ends up. Anyway, I think it's harder when you have a great voice to think, I'm not just going to settle for an amazing sound.
And hitting the top note at the end of an aria.
And quite frankly that's all a lot of audience members want to hear, they just want to hear the top note. I remember my first Tosca (pictured above in Magdeburg by Nils Bohme), on opening night, and just before "Vissi d'arte", I turned around and for the first time in my life I felt the pressure of having to deliver this iconic aria in the way that these people in the audience expect me to, and that's the first time I've ever felt that I had to be something other than I was, and it's quite difficult to describe, but it felt as if people were waiting for most of the aria to be over so I could get to the note, and I thought, I want you to be interested in what she's singing about here, it tells you so much about the woman and her childhood and her world-view, and therefore how she approaches what comes next, and I think you do feel that pressure of hitting the money notes, and how what comes in between is incidental and run-of-the-mill, and I think that's a real shame, but such is the world, such is life, isn't it?
Ideally you can do both.
Ideally. Sometimes you're aware that an audience can almost punish you if you don't quite make one of your high notes, and there's a disappointment, and you think, it's a note. In three and half hours.
It's the same with horn players in orchestras…people complain about a cracked note, and you say, do you have any idea how wonderful that playing was overall?
And that's one of the joys of live music, why we come to an auditorium rather than listen to a CD where they've had six takes of the same few bars to get that note just right, and being compared to recordings as well is a bad thing, an unhelpful thing, because what is possible on a recording isn't always possible in a production – and in this production I'm very active physically, right the way through, and that's tough. I've still got to deliver the vocal goods as if I were standing in a concertante performance, but I've got to deliver as an actress as well as a singer.
Do you ever say no to a director if you think a physical action will affect you vocally?
It's been an interesting rehearsal period. Alex[ander Joel, the conductor] is married to a singer, so he's sympathetic to singers, and he's very good at stepping in and saying, actually I think we need to think about this, or, you can try it but be aware of how difficult it is, and Barbora [Horáková, the director] used to be a singer herself, so she understands these things. I'm of the opinion that's it's always important to try and be open to suggestions, because you might be surprised to find that the thing that seems hard actually helps you vocally.
I remember Anne Evans talking about the late, great Harry Kupfer directing her in Wagner's Ring at Bayreuth, asking a lot physically but saying, if it's uncomfortable, you have the final say on whether to do it or not.
Barbora's the same – because I'm – well, not fearless, but up for trying and experimenting and pushing myself to see how far I can go in any direction, and she's been good about saying if you really feel uncomfortable about something, we can find a way of getting through it so that you can still deliver to the text and the music as well as delivering physically. There have been some things, like my first aria, that when we first ran it and decided what we were going to be doing physically, I was literally out of breath and I thought, let's stick with it, because the more I do it, the easier it becomes…
The muscle memory kicks in…
...and you remember how to keep your breathing lower so that you're not fighting against that. If it really doesn't work for me and the way my instrument works, which is different from the next soprano's and the next, then we'll go back to the drawing-board and have a look. In various scenarios I've seen some of my colleagues put up the barriers and say, no, I don't want to do that – when we did Carmen here the first time, Ruxandra Donose was singing Carmen and Adam Diegel was the tenor, and I don't know if you remember the Don Jose-Escamillo duet where they're jumping from one car to the next singing, and the first time they did that both Adam and Leigh Melrose, who are both physically fit young men, were sweating, out of breath, couldn't sing a note, and Calixto [Bieito], who was directing the revival said, look, the rehearsal room is a gymnasium for the voice, so the first time you are directed to do something, it may seem impossible, but the more you do it, the easier it becomes, the muscle memory comes, you feel your way physically and vocally through it, and I think it was the most thrilling scene, for my money.
I love that third act in Bieito's production.
And that particular duet, it just brims with testosterone and this feeling that someone's going to die – it's just really exciting, because it is edge of the seat stuff, and I think it's a price worth paying at the front end…
It's true music theatre, isn't it? And it doesn't always have to sound beautiful. Many performances I've seen here may not have been vocally at the very highest level, but they've stayed with me much more than many of the vocally beautiful ones.
The fact is that every singer worth their salt is always going to try and sing brilliantly. We all breathe a sigh of relief when we get to the sitzprobes, because we think, thank goodness, we can just sing and enjoy that feeling of being with the orchestra and delivering the best vocal performance we have in us at that time, and that's a really lovely feeling.
Then you get the critics on the first night.
But there's space for the entire gamut of people who have the greatest instruments but aren't the greatest actors, people who seem to have 50/50, great voice but also great acting skills, some of whom are incredibly beautiful – Ailyn Pérez, amazing voice, great acting, attention to detail and she seems to have everything in spades, doesn't she? And some people you wouldn't necessarily want to buy their greatest hits in terms of the sound or timbre of the voice, but what they do with it…you'd pay a lot of money to see them at work, and they may not have been blessed with the most incredible instrument, but they use every scrap of it plus their intelligence and the detail in the text, and you really want to watch those people as well as the ones with the incredible instruments.
Can you name some idols? You mentioned Ailyn Pérez…
She's also going out with Solomon Howard [singing Wurm in the ENO Luisa Miller], so she's in my head and I saw her at the Met, we bumped into each other at the final performance, we have a mutual friend, Golda Schultz, and we were chatting, and I saw her in the foyer. I really admire her work, and I thought, this is possibly the only opportunity I'm going to have to say thank you for doing what you do, because it's inspiring and it raises our industry. I think it's important not just to say thank you to supporters and sponsors, but also to your colleagues who are inspiring and who raise the bar for what is possible in our artform. Years back she did a couple of Rosenblatt recitals, I went to the first one, but I saw footage of the seconed, and in that she sang the Willow Song and the Ave Maria (from Otello). It's probably still on the Rosenblatt website, I'd recommend you look at it, she's wearing a beautiful red dress. And I don't think she'd actually sang the role of Desdemona by then, but the intensiy and the focus and the musicality were just absolute perfection. So when we get to the "Ah, Emilia, Emilia, addio" it comes out of nowhere and socks you between the eyes. It really was absolutely gripping. And that's just her with a piano in St John's Smith Square. But - oh, idols, idols.
Maybe that's the wrong word – perhaps just singers who have influenced you, who you've listened to or seen on stage.
I guess I'll start with the two that come to mind for different reasons. [The chapter and verse here are fascinating, to my mind, but since I can't reproduce the full two hours' worth, let's be selective: the choices are Jessye Norman, "an incredible sound, so intelligently used, a stretchy breath control which was one of her USPs, an incredibly beautiful face", and "THE recording of Strauss's Four Last Songs,"; and Leontyne Price, "as much as a person as an artist, she's had to chart a difficult career, she has a warmth but also a kind of steeliness at the core, an understanding of who and what she is. When I was studying the Verdi Requiem, I watched th film of her. She stands actually motionless throughout, but when she got to the Requiem moment in the Libera Me, all the hairs went up on my arms and the back of my neck. It sounded like the collective voice of people who had died hundreds of years ago. It was very odd, an extraordinary sound, more than beautiful, like a medium. You can't fake or coach or teach that, it's just there. And her final performance of Aida at the Met, in every word you could tell that she was saying farewell, the Met was her patria, and "mai più ti rivedrò" ["I'll never see you again"]. Other artists? I really enjoy intelligent singer-actors, I remember watching a dress rehearsal of Adriana Lecouvreur at The Other Place [the Royal Opera], there's a big scene where everyone pours on to the stage and Gheorghiu is at one end of the stage and Kaufmann is at the other, the electricity between them, there could have been another 100 people on the stage, but all we were concerned about was this relationship and who was going to break first. Kaufmann is one of those very, very intelligent singers who will use what he has. I've used obvious examples. Russell Thomas, who's actually up for an opera award – in Simon Boccanegra at The Other House, Gabriele's Act 2 aria is very hard, he came on and just sang everyone else off the stage, just through commitment and not going through the motions.
[She mentions Thomas alternating Otellos with La clemenza di Tito, and we discuss Rachel Nicholls, probably the only soprano who still sings Bach and Isolde. She's singing Salome and Elektra now. Would Llewellyn like to sing the more lyrical Strauss roles? I imagine she'd be a perfect Arabella.]
I'd love to sing Arabella, it's a discussion I've had with my agent, again it's slightly fighting against casting in those kind of roles, and weirdly enough roles like the Marschallin and Arabella tend to be cast lighter than even me. I would love to sing a Strauss role with Donald Runnicles, for whom I sang the Four Last Songs in Scotland, back in 2012. There is in Strauss a moment where the note is stretched over the barline, and I've never sung with a conductor who literally had the orchestra at the very tip of his baton like he did to give me the total freedom. There's not much other German rep I'd sing – Eva, Elsa, Elisabeth, I think, Agathe in Der Freischütz. But I'd love to sing a Marschallin, Arabella, Chrysothemis. Ariadne, I don't know, it depends on who you're speaking to as whether they'd be prepared to cast you. I've seen and heard Soile Isokoski sing Ariadne at Glyndebourne, and it was her that coached me as the Marschallin, for a three-hour session down there, she was so kind and gracious, a really lovely person, very generous with her time, I learned so much from her. I'm in my mid-forties now, almost late forties, and I can identify with some of the things she says about her stage in life. I'm not the sort of person that would go round my house and stop all the clocks, but I understand the feeling of changes in your body and the way the world sees you and your worth, and how do I now interact with the kids. You're in another chapter of your life which is no less interesting and exciting, but it's not that any more, one door has shut.
But I'm thinking you can still sing [Janáček's] Jenůfa, who is a girl.
[An off-the-record here – let's just say she should have sung the role at ENO]. The reason I felt it quite keenly was, it's not often that you open a score and you listen to it that you can hear yourself in it. A lot of roles like Aida, Tosca, Giorgetta in Il tabarro, even Luisa Miller I couldn't hear myself in at the time, but I ended up doing them. But here I thought, yes, this is me, I can really do this. So it was a massive disappointment when I wasn't able to do it.
Those Janáček roles are emotionally draining. Do you ever cry on stage?
No, I can't do an Ermonela Jaho, I don't have that facility – and it messes your technique up. I remember when I sang [Puccini's Suor] Angelica for the first time in a Damiano Michieletto production at the Royal Danish Opera (pictured below in Suor Angelica), and the conception was that Giorgetta and Angelica were the same person. The first two operas of the Trittico were sung without a break. The shipping containers turn round to form what essentially is the set of The Magdalen Sisters. The scene with the Zia Principessa is particularly harrowing because Angelica/Giorgetta's child is still alive but because of the argument between the two women, the Aunt lies and says he's died, though she's brought him along. I'm glad I didn't watch the final scene on film – Angelica slits her wrists, and as she dies the little boy comes running on and throws himself on her body. He's pulled away, but does it again, and at that second time you can hear grown men weep in the audience. I was lying there thinking I'm so glad I'm not in the audience. It's brutal. You need Gianni Schicchi after that. I think Opera Roma have done Michieletto's production since. I was talking to Pat Racette – do you remember the revival of Richard Jones' Trittico production in 2016? I was covering both Ermonela and – it was meant to be Martina Serafin, and it ended up being Patricia Racette, and it transpired that was her first Giorgetta.
You got to cover, but why the hell didn't they cast you?
[Laughs] Therein lies quite a scandal, which I won't commit to record, but it's crazy, because I had literally just stepped off stage at the Royal Danish having just sung both roles 15 times, and you know what I was saying about the personal tastes of casting directors and administrators, all round the world they have their favourites and the people they want or don't want to promote, and it doesn't matter whether you're the most experienced singer or whether you've literally fallen from heaven with the voice from God, if you are not what they want, they will find ways of not having you.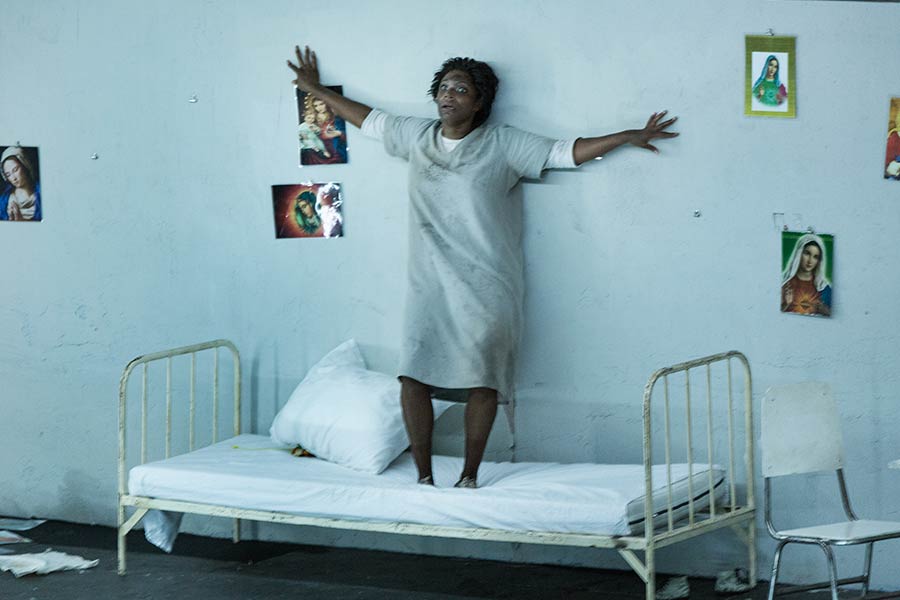 It's a big life lesson for you, the way people behave, and you've weathered it, and learnt not to take it personally, but in a way it is personal.
It is, but you have no control over what someone else chooses to do or hear.
I would be very surprised if this were the case in the opera world, but do you think there's ever an element of racism there?
Who knows what people say, think, do, behind closed doors or in their heads? I can't second guess. The fact is, we live in an imperfect world and one of the things about it is that power can have an effect on people, they know they have the power of raising someone up or keeping someone down, they know that they can shape something after the fashion that pleases them, and there are lots of reasons – not just within the opera world, but within the world generally. OK, Trump was impeached and found not guilty, but that doesn't mean he wasn't – he was.
Sometimes the clock goes back, which is a shock for my generation which assumed progress. Racism hasn't been kicked.
It really hasn't.
Have you consciously experienced it?
It's life, it's the world, it's harder, as sympathetic as people may be, if you've not walked a mile in someone else's shoes, you don't understand all the issues, some are more subtle than others, and I'm hesitant to talk about race because it's such a big issue, and it goes back further than all of us and it comes from what has subliminally been taught to all of us, over centuries. All I would say is that we're all being incredibly naïve if we think there aren't decisions based on how someone looks or how we perceive someone might be, because that's just the way we're wired, it's one of the bad things about human nature – we've got to come to terms as a nation with where we find ourselves with Brexit – why we're doing that beggars belief. Various commentators have said, we really need to take a long, hard look in the mirror, it's going to be really uncomfortable. The Generalmusikdirektor at Bielefeld is a real Anglophile, and I said to him, I think things are going to have to get a lot worse in Britain before they get better, because a lot of us are living in denial about where we actually are. Until we hit a sort of rock bottom, I don't think we're going to be able to put things together again until we look at different parts of our society, even industry, including television and theatre – that applies to people of every colour and every background and every extraction, we all have a kind of unconscious bias in some way, shape or form. Some people are much more open about it and active about doing something about it, and some are not.
I do think that any opera house or theatre, large or small, in any city ought to reflect the population it serves, and I think London has an especially big responsibility, we're so diverse here and go in so many different directions. It's not just a colour thing, it's also a question of disability, class – it's a big ask, but we're a big city. So many people like Sadiq Khan are working really hard, and that's encouraging, but you can't become complacent. Of course at the same time you want to maintain the highest of standards in our art form, we want the best voices, actors, musicians, in the pit, on the rostrum, we want the best professionals backstage and in the workshops, we should always strive for that.
But there must also be the opportunities, starting with schools.
Even at nursery and primary school, that's where we establish ourselves as people, our likes and dislikes, where we stand in the world. That's where all those messages are learnt and taught. By the time you get hold of a child at 11, it's too late. They already have a body image, an idea of where they stand socially, an idea of skin colour and the pros and cons of that. Musical and arts education in schools is so important, even if kids don't go on to be practising musicians, we need audiences, we need to fill this place, with two and a half thousand people every night – where do these people come from? That feeling of love and interest and "this is for us" starts way back. It must feel as natural as going to the O2 to watch Adele, or going to the Emirates Stadium to watch a match, that's how it should feel – this is their place.