Sarah Jane Morris, Union Chapel |

reviews, news & interviews
Sarah Jane Morris, Union Chapel
Sarah Jane Morris, Union Chapel
Singular vocalist launches her most complete, most memorable statement to date
Friday, 19 September 2014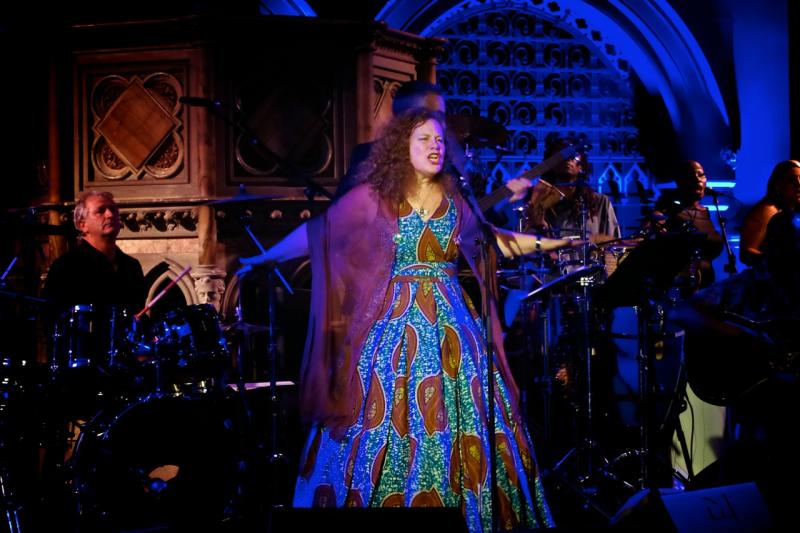 A vice-like hold on your imagination: Sarah Jane Morris
Recorded in the UK, Johannesburg, Paris and Tel Aviv, Sarah Jane Morris's latest album, Bloody Rain, is undoubtedly a labour of love. Hearing it performed live last night in the Union Chapel, in front of an adoring audience, confirmed that it is also her masterpiece.
Devoted to the people of Africa and the music of that continent – with melodic, rhythmic and lyrical influences permeating the music-making – the album's themes ranged from homophobia ('David Kato') and corruption ('Bloody Rain') to honour killings (the heartbreaking 'No Beyonce') and child soldiers ('Comfort They Have None'). But also love, notably the stripped down soul of "On My Way To You", penned for her husband Mark, whose delicate acoustic guitar filigree provided something of a coup de théâtre. Morris pulled off a quite spectacular artistic feat, couching the - at times, painful - subject matter in the most mellifluous, seductive melodies imaginable. You take in the message by stealth, rather than by submission.
From the elemental desert blues of 'Deeper Well' and the compelling arrangement of 'Coal Train' (which saw Morris emit one of the most blood-curdling screams the Union Chapel has witnessed) to the Captain Beefheart stylings of 'Get Them Out', the singer maintained a vice-like hold on your imagination. Morris's vocal performance was instinctive, fearless, and utterly compelling, the timbral richness of her voice matched by her complete absorption in the moment.
The evening featured an incredibly rich textural palette – by the time Morris dusted down her 1980s hit with The Communards, "Don't Leave Me This Way", I counted 23 musicians on stage. The band line-up featured guitarist and co-writer Tony Rémy, acoustic guitarist Tim Cansfield, acoustic bassist Davide Mantovani, drummer Martyn Barker and percussionist Adriano Adewale, plus the mighty brass section of Pee Wee Ellis (who penned the horn charts), Mornington Lockett, John Eacott and Roger Golsyn. The equally remarkable array of backing vocalists included Janine Johnson, Cleveland Watkiss, Sarah Gillespie, Sandy Dillon, Emma Divine, Otis Jack Coulter (the singer's son), Roberto Angrisani and more.
Arriving onstage to join Morris for a barnstorming duet version of "Piece of My Heart", vocalist Ian Shaw professed his undying admiration for her, while bringing the house down with a quip that a tweet he'd just sent about how great a night it was had just just been retweeted by 'Fans of Norman Wisdom'. An a cappella version of John Martyn's peace anthem "Don't Want To Know", recorded by Morris on her 1999 album, Fallen Angel, provided the evening's benign benediction.
Overleaf: Watch a clip of Sarah Jane Morris discussing the making of Bloody Rain
Morris couched the - at times, painful - subject matter in the most mellifluous, seductive melodies imaginable
rating
Share this article